Class 2A Week 8 Rankings, Notes & Picks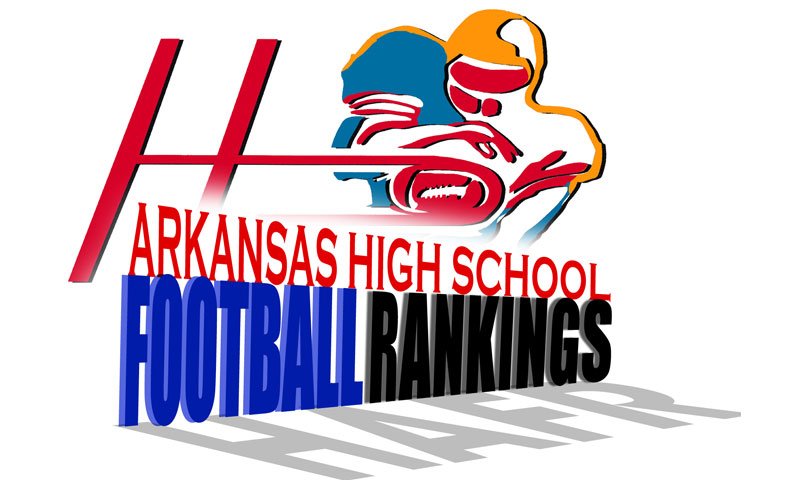 hootens.com Rankings
Class 2A, Week 8, 2018
Copyright Hooten Publishing, Inc.
1. Foreman (7-0)
2. Mount Ida (6-1)
3. Junction City (4-2)
4. Hazen (6-0)
5. Conway Christian (5-2)
6. Earle (6-1)
7. Hampton (3-2)
8. Fordyce (5-2)
9. Salem (5-1) 
10. Gurdon (5-1)
11. Des Arc (4-3)
12. Mineral Springs (5-2)
13. E. Poinsett County (6-1)
14. Mountainburg (5-1)
15. Mountain Pine (4-3)
16. England (3-4)
17. Poyen (5-2)
18. Hector (5-2)
19. Magnet Cove (3-4)
20. Lavaca (4-3)
21. Quitman (5-2)
22. Rector (3-3)
23. Bigelow (3-4)
24. Magazine (3-3)
25. Cross County (2-5)
26. Bearden (2-4)
27. Marked Tree (1-6)
28. McCrory (4-3)
29. Hackett (2-3)
30. Parkers Chapel (1-5)
31. Murfreesboro (2-5)
32. Carlisle (2-4-1)
33. Clarendon (2-4)
34. Strong (1-6)
35. Brinkley (1-6)
36. W. Yell County (2-5)
37. Marianna (1-5)
38. Cutter M. Star (1-6)
39. Spring Hill (1-5)
40. Lafayette County (1-6)
41. Dierks (1-6)
42. J.C. Westside (1-6)
43. Midland (0-6)
44. Marvell (0-7)

HOOTENS.COM GAME OF THE WEEK
No. 3 Junction City at No. 7 Fordyce
Junction City covets back-to-back league titles (won 6-3A in 2017), while Fordyce eyes its first league title since 2016. JC whipped Fordyce 50-14 last year when both teams were members of the 6-3A. Fordyce senior linebackers Wanya Morris (52 tackles, six TFL) and Ja'Rod Allen (39 tackles) and super sophomore LB Josh Harrington (34 tackles) pace a speedy defense. Junction City's defense has tightened in recent weeks, paced by junior DE Kyle Kidwell (39 tackles), sophomore LB Tanner Barnett (33 tackles) and senior LB Jvacye Cook (30 tackles). JC's big line averages 265 pounds and clears lanes for leading rusher Jakiron Cook (664 yards, eight TDs). Fordyce added four passing touchdowns last week in a 50-10 blowout of Parkers Chapel. Sophomore QB Jaheim Brown has completed 55 percent of his passes for 1,038 and 15 TDs with five interceptions. Junior Dearius Sledge has caught a team-high 19 passes for 303 yards and six TDs.

TV LAND
Hooten's Arkansas Football airs at 10:30 Saturday mornings on KATC (ABC Little Rock) Ch. 7, previewing the Razorbacks and their opponent.

LAST WEEK
Hootens.com correctly picked 16 of 21 games (76 percent) played last week. Hootens.com has picked 154 of 190 (81 percent) for the season. 

WEEK 8 PREDICTIONS (favored team in CAPS followed by point spread)
3-2A
E. POINSETT COUNTY (9) at Cross County: EPC pulled away from McCrory last week with a pair of long passes, including a 35-yard TD from sophomore QB Preston Rains to junior TE Hank Knapp. EPC junior RB Rayshon Gates ran for 152 yards and two TDs behind a senior-dominate line. Cross County allowed 348 yards in a 30-8 loss to Rector.
SALEM (22) at McCrory: After dropping three straight league games, McCrory is at risk of missing the playoffs for the first time since 2007. Salem senior RB Jordan Turner (1,624 yards) runs behind a solid line anchored by senior left guard Mitchell Broyles. Junior LB Tommy Perkins paces Salem with 50 tackles, while junior DE Gabe Miller has six sacks.
Midland at RECTOR (18): With just five seniors, Rector defeated Cross County last week for the first time since 2000, racking up 348 yards. Junior RB/LB Max Ford, who leads Rector in rushing, also tops the tackle chart with senior MLB Kale Hardin and junior LB Trace Sanders. Rector junior QB Parker Bucy has passed for more than 400 yards. Rector topped Midland 18-12 in OT last year. Rector last reached the playoffs in 2001.
MARKED TREE is open.

4-2A
MOUNTAINBURG (8) at Hackett: Mountainburg, with the meat of its schedule coming up, sits atop the 4-2A standings in position to capture the first conference crown in school history. Mountainburg beat Hackett twice in 2017. Hackett has endured multiple injuries and heartbreaks this fall, losing to Mansfield by two points, Panama, Okla., by by eight points and twice in overtime, including 48-42 last week to Hector.
Lavaca at HECTOR (2): Lavaca racked up 373 balanced yards last week in a 10-point win over Magazine, which ran away from Hector 39-21 two weeks ago. Lavaca senior RB Jimmy Hall carried for 105 of the Golden Arrows' 199 rushing yards last week, when Hector senior Cody Day posted his best night as a first-year QB. Day carried 30 times for 204 yards and five TDs, while completing 19 of 30 passes for 283 yards and two TDs in a 48-42 OT win over Hackett. Hector junior Caleb Profitt caught nine balls for 150 yards, while senior LB Ethan Church amassed 16 tackles.
J.C. Westside at MAGAZINE (35): Magazine scored quickly but not often enough last week in a 34-24 loss to Lavaca. J.C. Westside fell hard at Strong 42-6.
WESTERN YELL COUNTY is open.

5-2A
Bigelow at MAGNET COVE (10): Magnet Cove bounces back from a 33-24 loss at Mountain Pine, where MC senior Landon Stone erupted for 131 yards and a TD on seven carries and 61 yards on two receptions. Freshmen promoting after the junior high season finale Thursday could boost the back half of the MC defense.
CONWAY CHRISTIAN (45) at Cutter M Star: Conway Christian's Eagles soaring toward consecutive conference titles after another blowout win last week, 42-15 over Quitman. Thirteen Eagles made tackles while forcing two turnovers and holding Quitman to 68 yards and four first downs.
Quitman at POYEN (4): Teams have identical 5-2 records and are similar in points scored, but Quitman allows four more ppg in league play. Poyen amassed 244 yards in a 42-12 loss to Conway Christian; Quitman managed 217 yards in a 42-15 loss to Conway Christian.
Mountain Pine at ENGLAND (6): Mountain Pine jumps to No. 15 in the rankings after upsetting Magnet Cove 33-24 last week when 6-4 senior receiver Josh Walpole caught two TD passes and made critical receptions on third and long. MP junior QB Collin Smith ran hard and converted on a fourth-and-3 to seal the win. England won at Magnet Cove 12-10 Week 4.  

6-2A
HAZEN (4) at Earle: This should decide the 6-2A championship. No. 6 Earle boasts the most team speed in Class 2A with explosive senior QB Tavarius Thomas providing big plays when Earle needs them. Junior RB/NG Jaylon Coopwood (6-2, 260) punishes defenders as a lead blocker or running back. No. 4 Hazen counters with junior RBs Ay'Jon Green (560 yards, 13 TDs) and Tarrell Penn (543 yards, nine TDs), running behind a line anchored by senior center Jackson Shellman and tackle Kade Perry. Junior QB Blayne Toll (6-5, 240) has accounted for more than 600 balanced yards, and his shift on defense from end to tackle solidified that unit. The last time Hazen travelled to Earle (in 2015), the host Bulldogs won 60-14 to avenge a 36-16 loss to Hazen in 2014.
DES ARC (21) at Marianna: Des Arc defense holding opponents to 253 yards and 22 ppg with senior LB Will Kearby recording a team-high 66 tackles and senior LB Zeke Tacker logging 50 stops. Sophomore Luke Morton and junior Jackson Morton have rushed for a combined 1,079 yards and 13 TDs.
Clarendon at CARLISLE (1): The winner takes sole possession of fourth place in the 6-2A. Clarendon defeated Marianna 22-14 two weeks ago, while Carlisle topped Marianna 38-30 a week ago.
BRINKLEY (12) at Marvell: Marvell forfeited to Earle and did not play last week, while Brinkley gave up 367 rushing yards in a 42-14 loss to Des Arc.

7-2A
FOREMAN (23) at Mineral Springs: Top-ranked Foreman ran past Mo. 2 Mount Ida 34-13 last week when senior QB Kyren Batey bolted 11 times for 191 (and five TDs) of the Gators' 382 rushing yards. Mineral Springs averaged 10 yards per snap in a 50-0 rout of Murfreesboro. MS senior Tahji Beal returned a punt 75 yards for a TD, and junior Devon Swopes returned an INT 44 yards for a score.
Dierks at MOUNT IDA (19): No. 2 Mount Ida needs to avoid a hangover after its 34-13 loss at Foreman. MI gave up 412 yards (10 yards per snap) to Foreman, including four plays of more than 30 yards. Dierks knocked off Lafayette County 42-26 for its first win of 2018.
Spring Hill at MURFREESBORO (2): Murfreesboro ends a three-game losing skid and notches its second league victory. Murfreesboro senior RB Zayne Flaherty ran 20 times for 98 yards last week in a 50-0 loss to Mineral Springs.
Lafayette County at GURDON (39): Gurdon quietly 4-0 in league games and plays host to Mount Ida next week. Senior safety and first-year player Isaiah Harper leads Gurdon in interceptions, while senior Kam Lollis paces the Go-Devils in tackles.

8-2A
JUNCTION CITY (6) at Fordyce: See Game of the Week.
HAMPTON (18) at Bearden: No. 6 Hampton was open last week, while Bearden managed 108 yards and six (two by penalty) first downs vs. Junction City's first-team defense in a 40-0 loss. Hampton out-gained Junction City in yards (245-231) Week 5 but lost 30-12.
Parkers Chapel at DOLLARWAY (6): PC has struggled with consistency all season, but senior receiver Amari Bell has made eight TD receptions from junior QB Caleb Jacobs, who has passed for 1,090 yards and 12 TDs with seven INTs. Junior DE Clayton Ballance, junior LB Tyler Killingsworth and senior LB Ryan Simpson pace the PC defense.
Strong vs. CLINTON (40) (at LR Christian): This is a non-conference game scheduled when Class 3A Rose Bud and 8-2A member Woodlawn cancelled varsity seasons. Class 3A Clinton screaming toward consecutive 10-0 regular seasons and its third straight conference title.