Class 2A Week 9 Rankings, Notes & Picks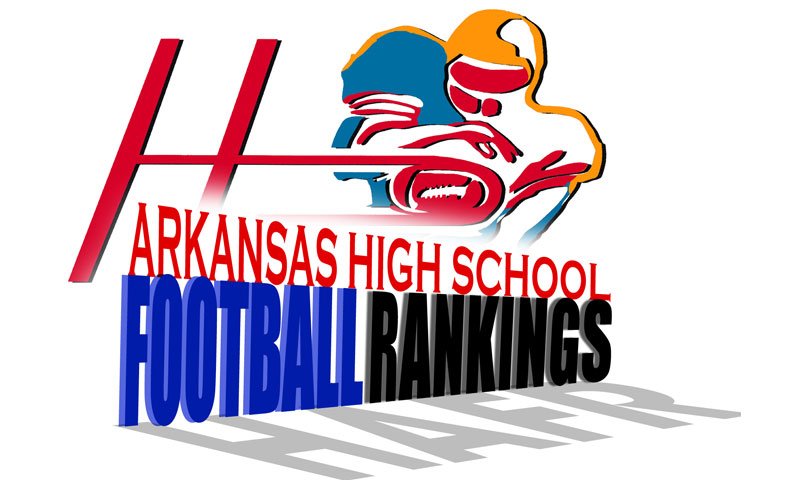 hootens.com Rankings
Class 2A, Week 9, 2020
Copyright Hooten Publishing, Inc.
1. Fordyce (8-0)
2. Gurdon (6-1)
3. Junction City (4-2)
4. Poyen (7-1)
5. Des Arc (8-0)
6. Dierks (6-1)
7. Clarendon (5-1)
8. Bigelow (8-0)
9. Foreman (3-5)
10. Hampton (4-4)
11. E. Poinsett County (5-3)
12. Cross County (4-1)
13. McCrory (3-3)
14. Magazine (6-2)
15. Hector (4-3)
16. Mount Ida (4-5)
17. Quitman (4-4)
18. Magnet Cove (3-4)
19. Hazen (3-3)
20. Carlisle (2-6)
21. Murfreesboro (4-5)
22. Marked Tree (2-3)
23. Bearden (4-4)
24. Earle (2-5)
25. Mountainburg (2-4)
26. Mineral Springs (3-5)
27. J.C. Westside (2-4)
28. Parkers Chapel (1-7)
29. Strong (1-5)
30. Cutter M Star (0-8)
31. Cedar Ridge (1-5)
32. Yellville-Summit (2-6)
33. England (1-6)
34. Marvell (1-5)
35. Lafayette County (1-5)
36. Conway Christian (0-7)

GAME OF THE WEEK
No. 19 Hazen at No. 20 Carlisle
There is no conference title at stake, but this Highway 70 rivalry between towns separated by 10 miles never cools. Carlisle has dominated the series, winning 23 times since 1988, but Hazen has won five of the past six meetings by an average of 36 points. Hazen limps into this game after losing a different player to a season-ending injury the past three games, including senior LB and tackle leader Donavan Harris. Junior and top receiver Austin Duck broke his foot last week at England. Five freshmen have promoted to bump the Hazen roster to 17 players. Freshman RB Braylon Anderson carried 11 times for 118 yards and two TDs in the 30-6 win over England. Carlisle counters with senior Collin Jinks (777 rushing yards, 30 tackles) and sophomore Jason Sullivan (1,020 rushing yards, 14 touchdowns, 20 tackles). Junior Gage Parker has logged 24 tackles, two fumble recoveries and an interception this fall.

LAST WEEK
Hootens.com correctly picked 14 of 14 games (100 percent) involving Class 2A teams. It is 134 of 162 (83 percent) for the season.

3-2A
MCCRORY (3) at Cross County: This game was scheduled for Week 7 but postponed. McCrory did not play the past two weeks after thumping Cedar Ridge 42-16 Week 6. Eleven McCrory starters return from quarantine Tuesday and another on Thursday. Cross County, off the previous two Fridays, forced five turnovers last week at EPC but committed four and lost 30-21. Common opponent: EPC beat McCrory 32-26 and Cross County 30-21.
E. POINSETT COUNTY (14) at Marked Tree: No. 11 EPC sits alone atop the 3-2A standings and can sweep league opponents with a win Friday night. EPC senior QB Preston Rains has been steady all season. He ran 19 times last week for 80 yards and three TDs and passed for another TD in a 30-21 win over Cross County. Senior LB Austin Baker logged four TFL and three sacks. Marked Tree has not played the past three Fridays with two cancellations sandwiched around an open date.
EARLE (5) at Cedar Ridge: Both teams were idle last week. Cedar Ridge was supposed to play Marked Tree, while Earle was open. In a 30-6 loss to EPC Week 7, Earle junior RB Ardell Smith ran 31 yards for the Bulldogs' lone score. 

4-2A
Hector at BIGELOW (28): No. 8 Bigelow maintained its scoring and points allowed averages in conferences games last week by whipping Quitman 47-9. Bigelow rushed for 478 yards with Hunter Alexander carrying 16 times for 211 yards and a TD. Junior QB Keithlin Brown (163 yards, three TDs) and senior RB Brayden Jones (105 yards, two TDs) also topped 100 rushing yards. Bigelow held Quitman to 8 rushing yards on 23 attempts. Hector's game with J.C. Westside was canceled. Hector senior Ty Day has rushed for 996 yards and 14 TDs, so far, in an all-state type of season.
Mountainburg at QUITMAN (6): Quitman's top two receivers left with injuries in the first quarter last week of a 47-9 loss to No. 8 Bigelow. Both are possible for this week. Quitman senior LB Jett Silor posted another excellent performance, recording 14 tackles and an interception in the loss. Mountainburg notched its second win of the season by defeating Conway Christian 44-16. Junior QB Noah Jonson ran for 121 yards and two TDs, while sophomore S Zach Walker returned an interception 94 yards for a TD. 
Yellville-Summit at J.C. WESTSIDE (2): J.C. Westside's game last week with Hector was canceled, while Y-S fell to Magazine 41-14. Y-S senior LB A.J. Jones collected 21 tackles in the loss. J.C. Westside junior ATH Dakota Beavers has accounted for more than 1,000 all-purpose yards this fall in five games.
MAGAZINE (35) at Conway Christian: Barring upsets, Magazine appears to a be a lock for the league's second playoff seed with potentially a nice draw. Magazine rushed for 262 yards and took advantage of four Yellville-Summit turnovers last week in a 41-14 win. 

5-2A
Mount Ida at GURDON (33): No. 2 Gurdon snapped the football 45 times last week, 27 out of its Wishbone formation, and rushed for 402 yards in a 42-7 win over fourth-ranked Poyen. Senior TB Jameson Threadgill carried 14 times for 209 yards. Watch extended highlights of Gurdon vs. Poyen HERE, vs. Magnet Cover HERE and vs. Prescott HERE. MI clipped Cutter Morning Star 50-22 with senior tackle Hunter Humphries, sophomore tackle Ramsey Gilbert, junior guard Blake Collum, sophomore guard Chandler Perkins, junior center Nate Sommerkorn and sophomore TE Ashton Humphries clearing the way for 356 rushing yards and seven TDs on 56 attempts.
MAGNET COVE (13) at Cutter M. Star: Magnet Cove did not play last week after managing less than 100 yards of offense Week 7 in a 49-20 loss the second-ranked Gurdon. MC should be the healthiest it has been since Week 0, missing just three of those opening-night starters this week. CMS lost three costly fumbles last week in a 50-22 loss to Mount Ida.
POYEN is open. Watch extended highlights of Poyen vs. Gurdon, vs. Drew Central HERE and vs. Dierks HERE,

6-2A
Hazen at CARLISLE (8): See Game of the Week.
England at DES ARC (39): Des Arc's Eagles soaring over the 6-2A with a Week 10 showdown up next at No. 7 Clarendon. Des Arc first-team defense, led in tackles by senior LB Luke Morton and sophomore LB Jack Kearby, held Carlisle to 91 total yards two weeks ago and Marvell to 47 yards last week. That trend continues Friday against 1-6 England.
Marvell at CLARENDON (49): With five underclassmen and no junior high team this fall, Marvell may not field an 11-man team in 2021. Clarendon moved past Carlisle 52-34 last week and plays host to No. 5 Des Arc next week for the 6-2A title. Missing three defensive starters, Clarendon allowed 28 first-half points at Carlisle. Senior LB Edgar Herrera made 12 tackles, while junior S Kanye Cohen logged 13.5 stops. Junior QB Kaleb Williams rushed for 200 yards and two TDs and returned an interception 100 yards for a TD.

7-2A
DIERKS (39) at Mineral Springs: Barring major upsets, Dierks is going to win its first league title since 2013. The Outlaws ran over Murfreesboro 46-8 last week after leading 30-0 at halftime. Junior RB/LB Konnor Shelton paced Dierks in rushing (93 yards, one TD), tackles (11), and he recovered two fumbles. Mineral Springs was open last week after whipping Lafayette County 42-16 Week 7.
Lafayette County at MURFREESBORO (23): Murfreesboro rushed for 53 yards and totaled 158 yards last week in a 46-8 loss to Dierks. The Rattlers lost three fumbles and failed on nine of 10 third-down attempts. Junior LB Brayden Oakley and sophomore CB Lane Nolan tied atop the tackle chart with 10 stops apiece. LC committed five turnovers and allowed five sacks in a 46-0 loss to Foreman.
FOREMAN is open.

8-2A
FORDYCE (21) at Hampton: In its best performance of the season, Hampton tied JC 22-22 with two minutes remaining but lost 30-22 when JC scored with 17 seconds left. Hampton senior QB Ashton Rice completed 15 of 18 passes for 128 yards and two TDs with classmate Easton Welch catching eight of those balls for 71 yards and a TD. Senior FB Cymeon McRae carried 10 times for 76 hard-earned yards and logged 13 tackles at linebacker.  Fordyce starters played into the third quarter last week in a 55-12 win over Parkers Chapel. Senior QB Jaheim Brown completed eight of nine passes for 200 yards and a TD. Senior WR JaQuez Cross caught three passes for 70 yards and three TDs. Senior DE Gary Lewis and LB Josh Harrington combined for eight TFL. Watch extended highlights of Fordyce wins over Rison HERE and over Monticello HERE.
JUNCTION CITY (16) at Bearden: No. 3 Junction City drove 63 yards in the final two minutes last week to repel upset-minded Hampton 30-22. Senior Jamal Johnson ran 26 times for 220 of JC's 272 rushing yards and four TDs with three two-point conversions. JC has started a  different combination of players on both lines in every game. Bearden slammed Strong 48-8 behind a superb night by QB/S Dominic Hammond. The junior ran for 158 yards and two TDs and recorded five tackles, two TFL and a sack.
PARKERS CHAPEL (27) at Strong: PC scored on its first two possessions last week at top-ranked Fordyce but lost 55-12. PC senior QB Trace Shoup completed nine passes for 117 yards and two TDs. Strong lost at Bearden 48-8.