Class 3A Week 11 Rankings, Notes & Picks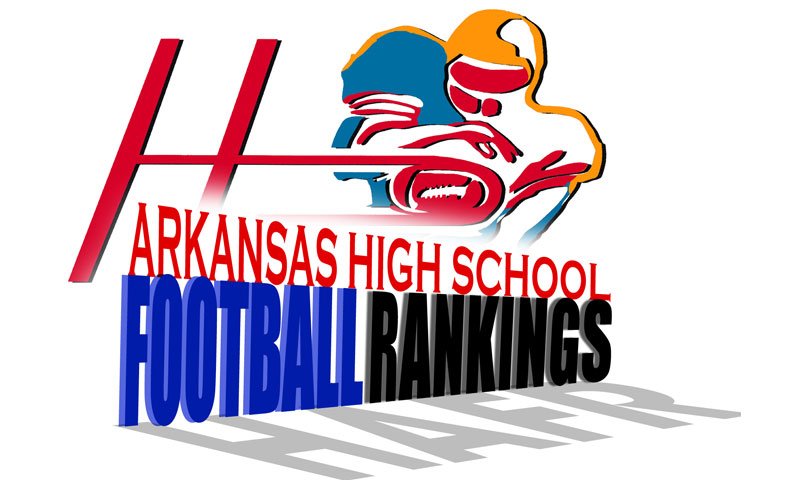 Hootens.com Rankings
Class 3A, Week 11, 2018
Copyright Hooten Publishing, Inc.
1. Booneville (10-0)
2. Smackover (9-1)
3. Osceola (9-1)
4. Clinton (10-0)
5. Prescott (9-1)
6. Glen Rose (9-1)
7.  Newport (8-2)
8. Mayflower (9-1)
9. Rison (10-0)
10. Harding Academy (7-3)
11. Lamar (8-2)
12. Danville (7-3)
13. C. Harmony Grove (7-3)
14. Walnut Ridge (8-2)
15. Charleston (6-4)
16. Atkins (7-3)
17. McGehee (7-3)
18. Melbourne (7-3)
19. Mansfield (7-3)
20. Piggott (6-4)
21. Centerpoint (6-4)
22. Barton (4-5)
23. Greenland (6-4)
24. Hoxie (5-5)
25. Baptist Prep (4-5-1)
26. Harrisburg (4-6)
27. Cedarville (4-6)
28. Yellville-Summit (4-6)
29. Jessieville (4-6)
30. Lake Village (6-4)
31. Palestine-Wheatley (4-5)
32. Fouke (4-6)
33. Dollarway (3-7)
34. Mountain View (2-7)
35. Perryville (2-8)
36. Manila (3-7)
37. Drew Central (1-8)
38. West Fork (1-9)
39. Bismarck (2-8)
40. Horatio (3-7)
41. Genoa Central (1-9)
42. Marshall (1-9)
43. Corning (0-10)
44. Paris (0-10)
45. Two Rivers (0-10)
46. Cedar Ridge (1-4)
47. Rose Bud (0-3)

HOOTENS.COM GAME OF THE WEEK
No. 15 Charleston at No. 4 Clinton
This is the first meeting of the schools.
Charleston, which just completed its worst regular season since finishing 5-4 in 1987, has won at least one playoff game every year since 1995. However, the Tigers enter the playoffs on a two-game winning streak after thrashing 8-2 Lamar last week. "That was our best game this year, by far," Charleston coach Greg Kendrick says. "We may have been better in certain areas of other games, but as far as defense, offense and kicking game, we had it all going against Lamar." Junior QB Brayden Ross has started every game since Week 6 and completes 62 percent of his passes for 1,057 yards and 10 TDs with four interceptions. He's added 186 rushing yards and three scores and racked up 41 tackles. Junior Tanner Jones (team-high 99 tackles and six for loss) and sophomore Breckon Ketter (87 stops, three TFL) lead a defense that allowed just 15.7 PPG in league play, holding four opponents to one TD or less.
Clinton seniors have been a part of 30 victories, the most of any class in school history. Clinton has won 23 straight regular-season games and 25 of 27 outings since 2016. The Yellow Jackets last year advanced to the second quarterfinal in school history, losing in the final seconds at Class 3A runners-up Junction City. The Yellow Jackets are led by senior Sky Davidson, who leads the team in rushing yards (747 on 9.8 YPC), rushing TDs (12), tackles (64), tackles for loss (8.5) and sacks (4). Junior QB Weston Amos (completes 63 percent of his passes for 683 yards and 12 TDs) triggers Clinton's Wing T attack, which rushed for 2,873 yards this season (8 YPC) and 43 scores. The Yellow Jacket defense allowed 12 points in their final four games.
Clinton will be bigger than Charleston in the trenches but the Tigers' Spread will test the Clinton secondary, which allowed 226 passing yards in a 49-27 Week 4 win at Harding Academy and 353 through the air Week 5 to Melbourne.

LAST WEEK
Hootens.com correctly predicted 18 of 24 winners (75 percent) of games involving Class 3A schools. Hootens.com has correctly picked 236 of 276 winners (86 percent) of games involving Class 3A schools for the season.

WEEK 11 PREDICTIONS (favored team in CAPS followed by point spread)
TOP HALF OF BRACKET
SMACKOVER, outright champions of the 5-3A, receives a bye. The Buckaroos won their first league title since 2015 this season. It was their fourth league championship in six years. Smackover hosts the victor of the Yellville-Summit-Danville game. 
Yellville-Summit at DANVILLE (21): Yellville enters the postseason with some momentum behind three straight wins (two on the field), but have not won a playoff game since 2011 (39-7 against Mansfield). Yellville mauled Marshall 52-12 last week to win the Battle of the Buffalo Trophy for the fifth straight year. Danville lost this year to Lamar, Mayflower and Glen Rose (combined record: 26-4). The Little Johns have qualified for the quarterfinals three straight years and have won their last four games by a combined 150-28. 
Fouke at OSCEOLA (37): Fouke travels to play winner of Melbourne-Mansfield while Osceola hosts that victor. Fouke's school-record playoff streak reaches six seasons. The playoff started last week for the Panthers, who downed Horatio 6-0 for the final postseason spot from the 5-3A. Junior QB Hunter Lansdell connected with senior Blake Uncel for the game's only score. It was Fouke's first shutout since Week 9 last year. Osceola earned its most impressive win of 2018 last week at Newport, 62-45. The Seminoles led 35-2 in the third quarter. Senior two-way Osceola standout Jariq Scales racked up nine tackles, deflected a fourth-down TD pass and caught two TD passes at Newport. Sophomore QB Kam Turner racked up 361 yards and seven TDs. 
MELBOURNE (2) at Mansfield: Winner hosts Fouke or travels to Osceola in Round Two. Mansfield makes its first playoff appearance since 2011. The Red Tigers snapped a three-game losing skid in last week's 49-13 victory over winless Paris. Junior-heavy Mansfield is led by QB Ethan Stovall and playmakers Tyler Holmes and Layton Howard. Junior Jaicy Griffin and sophomore Randall Claude pace the Mansfield defense with 65 stops apiece. Melbourne enters postseason play on a three-game winning streak and last week shutout Class 2A East Poinsett County 34-0. Junior Noah McSpadden sparked the Bearkatz offense in the second half of the year and sophomore Eli Harrell has emerged as a player in the secondary. 
Hoxie at RISON (14): First meeting of schools. Hoxie travels to Dollarway or Mayflower if it should win, while Rison would host. Hoxie owns a quality win over 3-4A co-champion Trumann but the other four 3-3A playoff teams outscored it by 57 points this season. Rison, outright 6-3A champions, won the 32nd conference championship in school history and the 26th of the modern playoff era (since 1970). It was the school's 24th season of 10 wins or more. Seniors D.J. Watson, Malik Chavis and Landric Lea anchor the top scoring defense (5.1 points per game) in Class 3A. Rison allowed two teams to score more than seven points.
Dollarway at MAYFLOWER (24): Winner hosts Hoxie or travels to Rison next week. Dollarway returns to the playoffs for the first time since 2015. Dynamic junior QB Terrance Brown paces the Cardinals in passing (616 yards and six TDs) and rushing (674 yards and eight scores). Underclassmen Reggie Lee, Prince Okojie and Trevor Simmons are the top three tacklers. Mayflower, the top scoring offense in Class 3A (45.7 PPG), goes behind senior playmakers Deon and Keon Simmons have combined for more than 3,000 yards and 40 TDs this year. Mayflower led Jessieville 44-0 after the first quarter in a 44-7 victory last week. 
Atkins at LAMAR (1): Atkins hosts Greenland or travels to Harding Academy should it win. Lamar hosts a second-round game if it wins. Atkins beat Lamar the past two seasons by a combined 37 points. Lamar lost its final two regular-season games by a combined 46 points. Atkins snapped a three-game losing skid with a 42-0 win last week against Two Rivers when six Red Devils scored TDs. 
Greenland at HARDING ACADEMY (7): Greenland enters with momentum after winning its final three games by a combined 96 points. The Pirates' best win is a Week 4 25-12 conquest over Charleston. Senior QB Levi Vaughn completes 63 percent of his passes for more than 1,600 yards and 12 TDs. Junior receiver Zaylen Bryant has caught 50 passes this year for almost 800 yards and six scores. Greenland's top seven tacklers are underclassmen, led by sophomore Gabe Wilson (68 stops this year). Harding Academy struggled last week against man coverage of Class 2A Hampton in a 37-28 loss, but the Wildcats have won at least one playoff game for 14 consecutive seasons. 

BOTTOM HALF OF BRACKET
GLEN ROSE, outright champions of the 4-3A, receives a bye. The Beavers won their second straight league title this year and their sixth of the modern playoff era (since 1970). Glen Rose hosts the winner of the Barton-C. Harmony Grove contest.
Barton at C. HARMONY GROVE (17): Winner travels to Glen Rose for Round Two. Barton lost four of its last five games, coinciding with the injury of leading rusher, junior Kavein Davis (1,017 yards and 11 TDs in five games), for the season. The Bears average almost 8 yards per carry with the dangerous duo of junior Tyrese Williams and sophomore Terran Williams. Harmony Grove led No. 2 Smackover 18-14 midway through the fourth quarter last week but lost 29-18. The Hornets' three losses this year have come to 8-2A outright champion Junction City, 5-3A outright champion Smackover and 5-3A runner-up Prescott (combined record 25-4). Harmony Grove surrenders just 19.7 PPG.
Baptist Prep at BOONEVILLE (35): Should Baptist Prep win it's on the road next week regardless. Booneville hosts the winner of Lake Village-Walnut Ridge if it wins. Baptist Prep returns to the playoffs for the first time since 2015 under first-year coach Zach Welchman. The Eagles expect to return their leading rusher (junior Hunter Teaster), receiver (junior Jax Coleman) and exciting sophomores Mitchell Leavitt and Grant Jones (two interceptions apiece this year) in 2019. Booneville allows 12.2 PPG this year, and has had just one game decided by fewer than 21 points, a 28-26 Week 2 win at Class 4A Pottsville. Junior QB Evan Schlinker's 13th TD pass last week in a 47-12 win at Cedarville is a new school record. 
Lake Village at WALNUT RIDGE (13): Winner hosts Baptist Prep or travels to Booneville. Lake Village senior QB Aaron Kilgore, a three-year starter, has passed for 3,528 yards and 31 TDs in his career and rushed for 2,557 yards and 36 scores. Junior Malakai Armour has intercepted 11 passes in 2018. Walnut Ridge's eight wins are its most since 2012 and the Bobcats score 36 PPG. Senior playmaker Cade Burris, who is on the Farm Bureau Insurance Awards Watch List for Class 3A Player of the Year, rushed for 1,011 yards and 16 TDs this year and caught 20 passes for 218 and three scores. Burris also has 87 tackles.   
Charleston at CLINTON (3): See Hootens.com Game of the Week.
Mountain View at PRESCOTT (21): Winner hosts Charleston or travels to Clinton. Mountain View senior Samuel Treat zipped 58 yards for a TD in last week's 42-6 loss to Clinton. Prescott's defense allows 7.7 PPG, second in Class 3A. Senior QB Ryan Johnson and receiver Cameron Cox are on the Farm Bureau Insurance Awards Watch List for Class 3A Offensive Player of the Year. Kobe Gillard and Trey Rucker are on the watch list for Defensive Player of the Year.
Centerpoint at NEWPORT (27): Centerpoint makes its seventh straight playoff appearance. The Knights have beaten one team which qualified for the playoffs (14-8 over Fouke Week 4). Osceola snapped Newport's eight-game winning streak last week but the Greyhounds still rolled up 437 yards, including by senior QB Cash Forrester's 283 yards and four TDs. Senior receiver J.T. Haynes snagged three passes for 106 yards and a score, while junior running back Monquell Cox ran for 140 yards and a TD. 
Piggott at MCGEHEE (6): This is the first meeting of the schools. Piggott is in the postseason for the fourth straight season for the first time in the modern playoff era (since 1970). This could be the final game for Piggott seniors who have played a role in 22 wins the past three years. Piggott's leading passer (Trey Gossett), top three rushers (Gunner Shaw, Gossett and Jacob Scott) and top receiver (Isaac Langley) are seniors. McGehee has won five straight games.