Class 5A Week 1 Rankings, Notes & Picks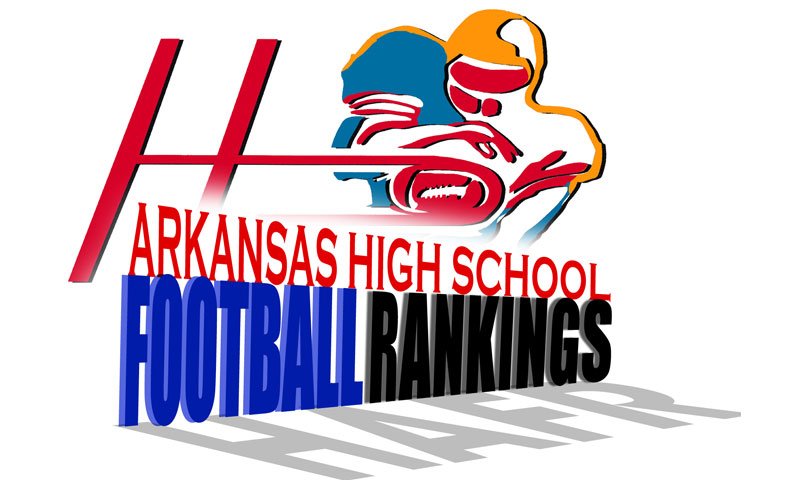 Hootens.com Rankings
Class 5A, Week 1, 2018
Copyright Hooten Publishing, Inc.

1. Pulaski Academy (1-0)
2. Texarkana (1-0)
3. LR Christian (1-0)
4. Morrilton (0-1)
5. LR McClellan (1-0)
6. Alma (0-0)
7. Batesville (0-1)
8. Nettleton (1-0)
9. Watson Chapel (0-1)
10. HS Lakeside (0-0)
11. Greenbrier (1-0)
12.Camden Fairview (0-0)
13. Harrison (1-0)
14. LR Parkview (0-0)
15. Wynne (0-0)
16. Valley View (1-0)
17. Magnolia (1-0)
18. Maumelle (0-0)
19. Forrest City (1-0)
20. White Hall (0-0)
21. Beebe (0-1)
22. De Queen (0-1)
23. Blytheville (0-0)
24. Vilonia (0-0)
25. Hot Springs (0-0)
26. Farmington (0-0)
27. Paragould (0-0)
28. Clarksville (0-1)
29. Greene Co. Tech (1-0)
30. Huntsville (0-0)
31. Hope (0-0)
32. LR Fair (0-0)

HOOTENS.COM GAME OF THE WEEK
Lake Hamilton at No. 10 Hot Springs Lakeside
This rivalry renews for the first time since 1999, when antics such as graffiti and dead animals getting thrown at buses halted the series.
Lake Hamilton won five games last year, but the Wolves return just one starter from an offense that failed to score more than two TDs in three games. Junior Malik Brewer ran for 956 yards and eight touchdowns a year ago. Lake Hamilton's D held three opponents to two TDs or less.
HS Lakeside moved the ball well last week in a scrimmage victory over Sheridan. Senior QB Taylor Gillham started every game last season, passing for 1,237 yards and 12 TDs. The Rams bank on one of the better offensive/defensive lines in Class 5A, with senior left tackle Adrian Masias (6-4, 280) and right tackle Myles Jerrels (6-0, 265).

TV SHOW
Hooten's Arkansas Football airs 10:30 a.m. Saturdays on KATV (ABC Little Rock) Channel 7, covering the Razorbacks, high school teams and players to watch. The Arkansas Air Guard Scholar Athlete of the week features Morrilton defensive end Garrett Hendrix.

LAST WEEK
Hootens.com correctly predicted 13 of 15 games (86 percent) last week.

WEEK 1 PREDICTIONS (favored team in ALL CAPS)
5A CENTRAL
LR CHRISTIAN (18) at Vilonia: Little Rock Christian impressed in its preseason scrimmage with Benton (won 14-7 in two quarters) and last week against Batesville. The Warriors gave up just 87 yards in the first half of the mercy win over Batesville. Vilonia first-year coach Todd Langrell becomes the Eagles fifth coach in as many seasons.
LR Fair at LR HALL (1): LR Hall hasn't won since last season's 28-12 triumph over LR Fair in last year's opener. LR Fair hasn't won on the field since Week 1, 2013 (received two forfeits in that span) against now-defunct North Pulaski.
SPRINGDALE (13) at LR Parkview: Little Rock Parkview battled Class 6A to a 7-7 tie in one half of a preseason scrimmage game, losing a fumble at the 5-yard line that prevented another score. Springdale trailed Class 4A Joe T. Robinson by one point at halftime last week before running away by three TDs in the second half.
Pea Ridge at MAUMELLE (4): Maumelle opens its season, while Pea Ridge was mercy-ruled at Harrison last week. Senior Tyler Maxwell takes over as Hornet QB after moving from Mayflower in the spring. The Hornet D held Jacksonville scoreless in a preseason scrimmage. Pea Ridge had three first-half turnovers at Harrison.
WATSON CHAPEL (21) at Monticello: Watson Chapel led Nashville by one point at halftime last week, but turned the ball over six times (four fumbles, two interceptions) and gave up seven QB sacks in a six-point setback. Monticello gave up 47 points in its preseason scrimmage against Camden Fairview.
WHITE HALL (7) at Dumas: White Hall dumped Dumas the past two years by a total of 55 points. Dumas sophomore running back Kylin James (1,234 yards and 14 TDs last year) could develop into a college recruit over the next three seasons.
Pulaski Academy is open.
Beebe is open.

5A EAST
Bald Knob at VALLEY VIEW (16): Bald Knob bumps to Class 4A after winning 16 games the past two seasons. The Bulldogs were in Class 4A from 1977-2009, beating Valley View twice (2008-2009). Valley View impressed with last week's easy win over Highland.
Batesville at JONESBORO (12): Jonesboro has won all six meetings by an average of 44-28 since the series resumed in 2012. Batesville must get its running game untracked to keep Jonesboro's high flying offense off the field. The Pioneers didn't score last week at LR Christian, gaining just 87 yards in the first half.
Osceola at BLYTHEVILLE (1): Blytheville has beaten its Mississippi County rival by a combined 121 points the past four seasons. But Osceola's defense improved late last season and impressed in a preseason scrimmage at Nettleton. Osceola won't get out of Mississippi County until early October.
GREENE CO. TECH (3) at Brookland: This is the first meeting between these teams. Both played in Zero week, with GCT rallying to down Jonesboro Westside. Devin Smith ran in the tying TD and Luis Delagarza kicked the winning PAT in the final seconds. Brookland's D contained Riverview last week, but lost by seven points.
NETTLETON (7) at Pocahontas: Nettleton jumpstarted its 2017 conference title and semifinal run with a 21-point win over Pocahontas. Nettleton held Gosnell to less than 200 yards in last week's 14-6 win. Pocahontas expects to compete for the 3-4A title this year with improved team speed.
RIVERCREST (11) at Paragould: These teams have split their past four meetings, with Paragould winning in 2017 and 2015. Rivercrest senior QB Demilon Brown completed five of seven passes for 80 yards and a pair of TDs in last week's 48-0 scrimmage win over EPC.
MARION (6) at Wynne: Wynne has won five of the past eight in the series, including 24-20 last season. Marion hasn't won at Yellowjacket Stadium since 2008. But the Yellowjackets struggled in a preseason scrimmage against Searcy. Wynne starters failed to score in two quarters of last week's scrimmage with Searcy.
Forrest City is open.

5A SOUTH
ASHDOWN (7) at De Queen: Ashdown has won 13 of the past 15 in this series. De Queen struggled to move the ball in a preseason scrimmage with Mansfield. Ashdown, down to its backup QB, ran the Wing T against Hamburg.
Camden Fairview at EL DORADO (8): El Dorado has won 11 times over the Cardinals since 2000. The Cardinals hung 47 points on Monticello in preseason scrimmage. El Dorado took Class 7A Conway to double overtime last week.
MAGNOLIA (1) at Crossett: These teams have split the past six meetings. Magnolia's running attack wore down Class 3A McGehee last week, with senior Kadyn Roach blasting for three TDs. 
FOUNTAIN LAKE (7) at Hot Springs (Thurs.): This rivalry renews for the first time since 2007 as Garland County's first game of the season. Cobra QB/running back Andrew Roberson ran for 863 yards and four TDs last season. Hot Springs first-year coach Darrell Burnett wants the Trojans to cut down turnovers and mental errors.
NASHVILLE (28) at Hope: Nashville has won 11 of the past 12 over Hope, including the past two by a combined 87 points. The Scrappers forced six turnovers in last week's six-point win over Watson Chapel. Senior QB Jake Moorer passed for 248 yards and four TDs.
LAKE HAMILTON (3) at HS Lakeside: This rivalry renews for the first time since 1999. HS Lakeside must improve its defense to make a conference title run (won back-to-back league titles in 2015-2016). The Rams gave up 406 yards in a preseason scrimmage victory against Sheridan.
Liberty-Eylau, Texas at TEXARKANA (7): These teams haven't been regular rivals, but split the past four meetings.
LR McClellan is open.

5A WEST
Van Buren at ALMA (6) (Tue.): Alma goes for its eighth straight win over Van Buren in the "Battle of the Bone." Alma safety Coltin Bowerman (135 tackles and intercepted three passes last season) anchors a defense that gave up two TDs or less in four games last season.
CLARKSVILLE (1) at Paris: The teams were members of the same conference from 1991-2001, with Clarksville winning eight of the past 10. Clarksville's offense struggled in last week's loss to Booneville.
Farmington at PRAIRIE GROVE (6): These teams have split the past 12 meetings, with Prairie Grove winning last season by 23 points. Prairie Grove has won 36 games the past three seasons. Farmington receiver Drew Sturgeon averaged four catches per game last season.
GENTRY (3) at Huntsville:  Huntsville has won five of the past nine in the series. But Gentry's 14-point win last season, when both were members of the 1-4A, put the Pioneers in the playoffs.
Mountain Home at HARRISON (28): Harrison has won five straight over Mountain Home and nine of the past 12. Mountain Home trailed Sheridan 14-7 last week at halftime but the Yellowjackets returned the opening kikcoff 75 yards for a momentum-shifting TD. Harrison mercy-ruled Class 4A Pea Ridge a week ago.
LR CHRISTIAN (18) at Vilonia: Little Rock Christian impressed in its preseason scrimmage with Benton (won 14-7 in two quarters) and last week against Batesville. The Warriors gave up just 87 yards in the first half of the mercy win over Batesville. Vilonia first-year coach Todd Langrell becomes the Eagles fifth coach in as many seasons.
Morrilton at RUSSELLVILLE (3): Russellville has won nine of the past 12 in the series, but the Devil Dogs won by one point last season. Class 5A Morrilton could start its third-string QB in this Battle of I-40 after junior QB Jacolby Criswell tore his ACL in the team's scrimmage and junior passer Dylan White was injured in the first half last week against Searcy. Russellville has won five of eight meetings since 2010 but Morrilton has won two of the past three. Russellville did not practice any player two ways this summer because "gives you twice the amount of time because he's not splitting his time between offense and defense," second-year coach Jeff Weaver says. "I think that has enabled us to build our units better. I think it'll help us play faster." The added depth and this being Russellville's opener (where Morrilton played last week) favors the Cyclones.
Greenbrier is open.