Class 5A Week 6 Rankings, Notes & Picks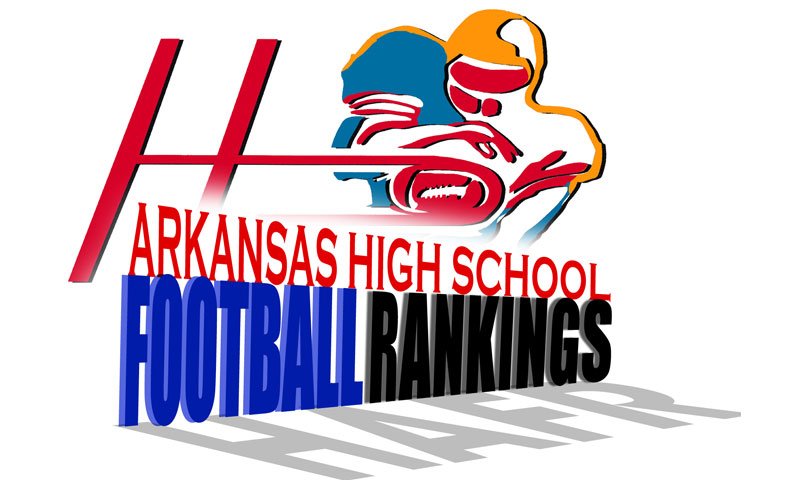 Hootens.com Rankings
Class 5A, Week 6, 2020
Copyright Hooten Publishing, Inc.

1. Pulaski Academy (5-0)
2. LR Christian (4-1)
3. Texarkana (3-0)
4. Wynne (5-0)
5. Maumelle (2-2)
6. Harrison (4-1)
7. White Hall (3-2)
8. Magnolia (3-1)
9. Morrilton (3-2)
10. Watson Chapel (3-1)
11. HS Lakeside (3-2)
12. Vilonia (4-1)
13. Camden Fairview (2-4)
14. Batesville (3-2)
15. Hot Springs (2-2)
16. Valley View (4-1)
17. Greenbrier (2-3)
18. Greene Co. Tech (3-2)
19. Farmington (2-2)
20. Nettleton (2-3)
21. Pea Ridge (1-4)
22. Jacksonville (1-4)
23. Clarksville (1-3)
24. Forrest City (1-3)
25. Alma (1-4)
26. Beebe (1-3)
27. LR Hall (1-4)
28. Hope (1-4)
29. Brookland (1-4)
30. Paragould (0-5)
31. De Queen (0-5)

HOOTENS.COM GAME OF THE WEEK
No. 3 Texarkana at No. 11 HS Lakeside
The winner takes control of the 5A South. Undefeated Texarkana led Camden Fairview 21-0 last week, but needed a 43-yard punt return by senior Torie Blair in the final seconds to secure a 28-21 triumph. Blair finished with 150 all-purpose yards. Senior linebacker Eric Flowers racked up 13 tackles, while senior strong safety Naijah Taylor registered seven tackles, two tackles for loss, broke up two passes and one sack. Watch extended highlights (all four quarters) of Texarkana's thrilling win over Camden Fairview HERE.
HS Lakeside didn't play last week (game with Magnolia canceled). Two weeks ago, the Rams slipped past Camden Fairview 13-9. The improved Ram D has given up two TDs or less the past three games. Senior middle linebacker Will Perrigo leds Class 5A in tackles, but "our whole defense is playing fast and tackling well," Coach Jared McBride says. Senior receiver Logan White has 15 catches for 201 yards and four TDs, while senior Isaac Echols averages 5 yards per carry and 23 yards per catch. Watch extended highlights of HS Lakeside's loss to rival Lake Hamilton HERE.

LAST WEEK
Hootens.com correctly predicted all 13 games last week, nailing the point spread of Pulaski Academy by 35 points over LR Hall and Texarkana by seven points over Camden Fairview. For the season, Hootens.com has predicted 92 of 108 games (85 percent).

WEEK 6 PREDICTIONS (favored team in ALL CAPS)
5A CENTRAL
White Hall at PULASKI ACADEMY (22): The undefeated Bruins put up 617 yards weekly and have applied the 35-point sportsmanship rule in their two conference games. Junior Joe Himon ran eight times for 176 yards and three TDs and caught a TD pass in the first half of last week's 35-point win over LR Hall. Senior linebacker Futa Shinkawa and senior safety Josiah Johnson spearhead an aggressive defense. White Hall trailed LR Christian 21-7 in the third quarter last week but turned the ball over twice in a 24-point setback.
LR Hall at WATSON CHAPEL (26): LR Hall has lost four straight games since beating Hope 7-0 in the opener. Watson Chapel getting big plays from sophomore QB Jabrae Shaw (14 carries, 264 yards and five TDs, completed eight of 14 passes for 75 yards and a TD last week at Jacksonville). Senior defensive end Mekhi Ferrell disrupts plays in the backfield and constantly harasses QB's.
JACKSONVILLE (1) at Hamburg (Thurs.): This non-conference game was scheduled Tuesday afternoon. Jacksonville, with a 25-man roster, hung with Watson Chapel last week before losing 42-28. Junior QB Deorious Cobbs continues playing well for the Titans. Hamburg senior RB Armodd Taylor ran for five TDs in last week's win over Monticello.
Beebe at LR Christian: Canceled
Jacksonville at Maumelle: Canceled

5A EAST
Forrest City at BATESVILLE (20): Forrest City has won two straight over the Pioneers. But the Mustangs have been outscored 81-14 in their two conference losses this fall. Batesville gave up just 127 yards in last week's 35-0 win over Paragould. Senior tailback Jarrett Vickers ran three times for 45 yards and a pair of TDs at Paragould.
Brookland at GREENE CO. TECH (13): GCT trailed Wynne 7-0 in the third quarter last week before losing 27-0. Eagle senior David Williams has rushed for 491 yards and six TDs this year. Brookland gained more than 400 yards last week in last week's 20-point loss to Nettleton. 
Paragould at NETTLETON (15): Nettleton sophomore QB Cameron Scarlett completed seven of 11 passes for 94 yards and a TD and ran for 122 yards and three TDs in last week's 41-21 triumph over Brookland. Paragould senior Nick Ashby ran 11 times for 48 yards last week against Batesville, while the D forced a pair of turnovers. 
WYNNE (10) at Valley View: Wynne is 5-1 all-time against Valley View, with the Blazer's lone win coming last season. Yellowjacket senior QB Marterious Ross threw a 30-yard TD pass and ran for another TD. Wynne held GCT to less than 200 total yards. Valley View QB Zac Stracener completed seven of nine passes for 107 yarsd and a TD in last week's 39-point win over Forrest City. Cooper Lutz paced the defense with six tackles.

5A SOUTH
TEXARKANA (4) at HS Lakeside: Hootens.com Class 5A Game of the Week.
CAMDEN FAIRVIEW (1) at Magnolia: This is a rivalry game, which Camden Fairview has won 12 of the past 20 seasons (Magnolia won 7-6 a year ago). Magnolia returns from a two-week quarantine and the Panthers weren't able to practice for 16 days (returned Sunday afternoon). At least seven Panthers, and possibly nine, will miss this week's game. Camden Fairview sophomore QB Martavious Thomas sparked the Cardinals in last week's 28-21 loss Texarkana, running for 127 yards and a pair of TDs and passing for 70 yards.
HOT SPRINGS (30) at De Queen: Hot Springs has won five of the past eight over De Queen, including 35-0 a year ago. Hot Springs rolled up 748 yards in last week's 63-42 shootout with Hope. Hot Springs' Devin Johnson ran for 323 yards and racked up 13 tackles against Hope, while junior QB Isaac Shelor passed for 294 yards and four TDs.
Hope is open.

5A WEST
ALMA (1) at Clarksville: Alma has been outscored this year by an average of 35-12, while Clarksville gets outscored 34-26 weekly. Alma committed eight penalties and turned the ball over twice in last week's 42-6 loss at Harrison. Clarksville hasn't won a conference game against a current 5A West member since 2013. The Panthers ran for 341 yards last week at Greenbrier. Sophomore Arthur Alvarez has rushed for 347 yards and five TDs this fall. 
Farmington at MORRILTON (7): Farmington's two wins this fall are against Class 7A opponents. The Cardinals lost last week at Vilonia, giving up the winning TD in the final minute. Senior QB Tate Surton, who missed the past two seasons with a shoulder injury, improves weekly, and junior two-way lineman Jackson Boudrey returned from a knee injury last week. Morrilton senior RB Jackson Moll allows the Devil Dogs to control the clock. Moll ran 16 times for 235 yards and a TD last week against Pea Ridge.
HARRISON (9) at Greenbrier: Harrison hitting its stride. The Goblins led Alma 42-0 in the second quarter last week, as senior QB Cole Keylon threw four TD passes. Improved Greenbrier getting big plays from junior QB Cooper Wilcox and senior RB Trey Havens (11 carries, 90 yards and two TDs against Clarksville). The Panthers rolled up almost 500 yards a week ago against Clarksville. 
Pea Ridge at VILONIA (7): Vilonia has won three straight games behind junior running back Seth Kirk. Kirk ran for 115 yards and scored the winning TD late in the final seconds last week against Farmington. Pea Ridge surrendered 439 yards in last week's 48-13 setback vs. Morrilton.