Class 7A Week 11 Rankings, Notes & Picks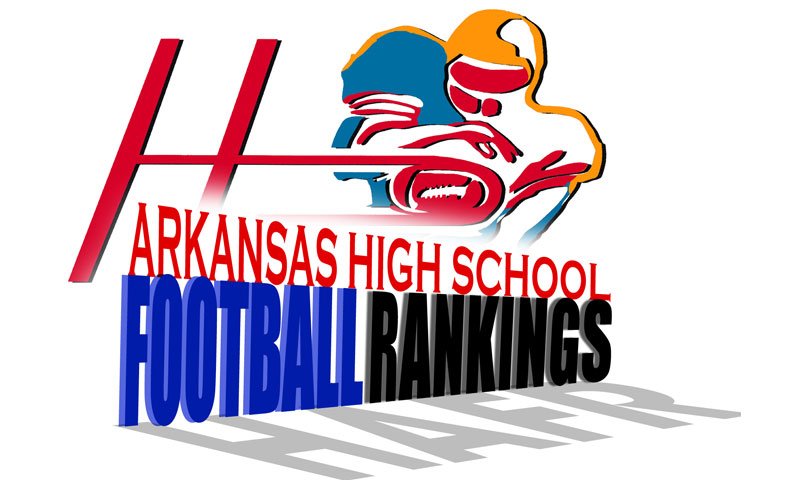 Hootens.com Rankings
Class 7A, Week 11, 2016
Copyright Hooten Publishing, Inc.
1. North LR (10-0)
2. Fayetteville (9-1)
3. Springdale Har-Ber (8-2)
4. Bentonville (8-2)
5. FS Northside (7-2)
6. Bryant (7-3)
7. Cabot (6-4)
8. Conway (3-7)
9. Bentonville West (3-7)
10. Rogers (6-4)
11. Springdale (4-6)
12. LR Catholic (3-7)
13. FS Southside (3-7)
14. LR Central (3-7)
15. Van Buren (2-8)
16. Rogers Heritage (1-9)

HOOTENS.COM GAME OF THE WEEK
No. 10 Rogers at No. 8 Conway.
Conway (3-7), one of four teams with a losing record to make the Class 7A playoffs, completed 31 percent of its passes and rushed for just 52 yards in last week's 21-7 loss at Bryant. Conway averages 178 yards rushing and 115 passing to score 23 points weekly. Conway opponents avoid kicking to electrifying Marquise Pleasant, averaging 46 yards on seven returns this season. Rugged senior running back McCall Dail (5-10, 185) leads Conway with 12 TDs (10 rushing). Pleasant and Dail are on the Farm Bureau Insurance Awards watch list for Class 7A/6A Offensive Player of the Year. 

Rogers (6-4) has won seven games in a season just once since playing for the state title in 2006. The Mounties started 3-0 this fall but were mercy-ruled by Fayetteville, Bentonville and Har-Ber in conference play. Rogers' Max Horton (6-2, 210), a starter at QB and LB, completed 18 of 28 passes for 296 yards and four TDs with three interceptions in last week's 17-point win over Springdale.
Comparing scores: Conway lost to Springdale 37-30 in the season opener and to Bentonville 16-7 Week 3. Rogers beat Springdale 38-21 last week but lost to Bentonville 49-7 Week 8.
Winner plays next Friday at Fayetteville.

LAST WEEK
Hooten's Arkansas Football correctly predicted all 8 winners in Class 7A, nailing the 35-point spread on Har-Ber's win over Rogers Heritage. For the season, hootens.com is 73-23 (76 percent) predicting winners of games involving Class 7A teams.

FIRST-ROUND PLAYOFF PREDICTIONS (favored team in CAPS followed by point spread)
TOP HALF OF BRACKET
NORTH LR has a bye.
CABOT (14) at Bentonville West (Thurs.): Winner plays next Friday at North LR. Cabot is healthier and dangerous, looking to make a deep playoff run. The Panthers led North LR 21-3 at halftime last week before being stopped short on a two-point conversion late to lose 28-27. Look for Cabot QB and Razorback commit Jarrod Barnes to have a big Thursday night at Bentonville. West allows 37.9 points and rushed for just 26 yards in last week's mercy-rule loss to cross-town rival Bentonville. Comparing scores: LR Central belted Bentonville West 37-14 Week 2. Cabot beat LR Central 20-17 Week 7.

SPRINGDALE HAR-BER has a bye.

Springdale at BRYANT (20): Winner plays next week at Har-Ber. Bryant continues to improve weekly, holding Conway to 26 yards rushing last week despite standout linebacker Marvin Moody being hobbled with injury. Despite struggling much of the past decade, Springdale makes its 32nd playoff appearance, most in Class 7A in the modern era. Springdale totaled 337 yards (217 passing) in last week's 38-21 loss to Rogers. Springdale has allowed 38 points or more five of the past six weeks.



BOTTOM HALF OF BRACKET
FAYETTEVILLE has a bye.
Rogers at CONWAY (8): Game of the Week. Winner plays next Friday at Fayetteville.

FS NORTHSIDE has a bye.
LR Catholic at BENTONVILLE (35): Bentonville braces for road trips to Fort Smith Northside and a possible semifinal rematch at Fayetteville. Catholic allows 40.2 points, the most of any playoff team (all classifications).