HOGS: O line notes; Kicker comes home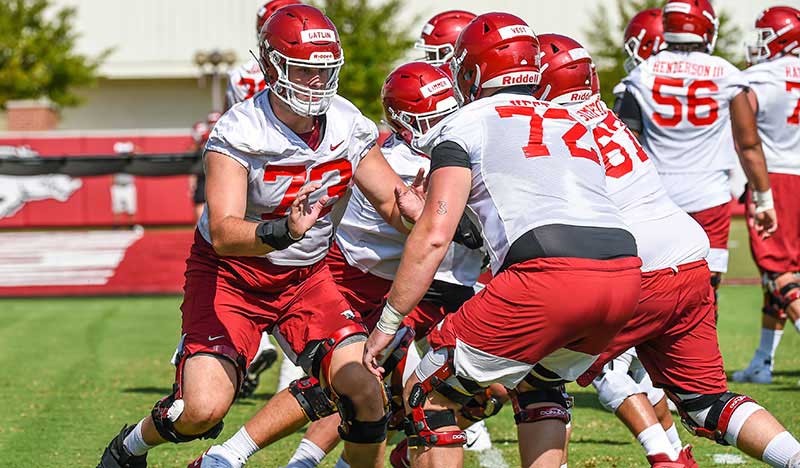 FAYETTEVILLE - He's listed from Prattville, Ala., and a graduate transfer from Duke University.
But now that's he's place-kicking at the University of Arkansas, A.J. Reed figures Fort Smith becomes his new hometown.
Reed, senior tight end Blake Kern of Lamar and redshirt freshman offensive lineman Beaux Limmer of Lamar met with media on Zoom Monday night. The Razorbacks continue their final preseason practice week and get a game-plan head start Friday against the scout teams prepping for the Sept. 26 season opener against Georgia.
Reed said that when new Arkansas coach Sam Pittman, the former Georgia offensive line coach, brought special teams coordinator Scott Fountain with him from Georgia, it helped him choose Arkansas over Nebraska, Georgia Tech and Florida International University. Roots to his new hometown didn't hurt either.
"Well, actually my family is from Fort Smith, Arkansas," Reed said. "So I grew up cheering for the Hogs. It was always a dream of mine, and that played a big part in it."
A dream afar, Fort Smith doesn't appear on Reed's dwellings resume.
"I never personally lived there," Reed said. "My mom and dad are from Fort Smith. My mom went to the University of Arkansas and my dad went to the Air Force Academy. I was a military brat growing up. I've lived like 10 different places. Most of my extended family is here, so this is where I call home."
He not only knew Arkansas before playing for Arkansas, he knew Fountain, too.
"I've known Coach Fountain since I was recruited in high school and he was at Auburn," Reed said. "I knew how good of a coach he was. Once I finally got on the phone with Coach Pittman, I found out how awesome of a guy he was and his plans for this program, I was sold and I haven't looked back."
Reed marvels that special teams coach Fountain strictly coaches special teams and works with kickers, punters, snappers and holders for the an entire practice, instead of doubling as a position coach.
"That was a big reason I came here, was to play for someone who's as great of a coach as Coach Fountain," Reed said. "He is 100 percent dedicated to special teams, which is special. That's not the norm in college football. So having him around us at all times keeps us locked in. He's such a detail-oriented guy that it rubs off on all of us. I think we've gotten a lot better just being with him every day on the field and in the meeting room."
Kicking what would be a career long 52-yard field goal in an Arkansas scrimmage, Reed booted an official career long 51-yarder last season (his most successful season at Duke)   succeeding on 15 of 18 field goals and 34 of 34 extra points.
It also marked his first healthy season in his four Duke years.
"I had a really bad, nagging groin injury for a while when I first started," Reed said. "It caused me to miss my sophomore season completely. So I've just gone through a really strenuous rehab process. After that, really hitting the weight room hard helped me to make that improvement. I feel like I've gotten better since."
LIMMER AND STROMBERG
While both deemed first-team, Limmer and sophomore Ricky Stromberg have interchanged throughout preseason at center and guard.
"I'm just gonna play anywhere they want me to," Limmer said Monday night. "I'm not sure where I'll end up, but wherever I play I'm gonna do that to the best of my ability."
Whether it's at center or guard, it will be alongside Stromberg who lettered as a true freshman starting guard in 2019 while Limmer and starting left guard Brady Latham of Jenks, Okla.,  redshirted as freshmen.
"I really like double-teaming with Ricky because he'll come off and put a shoulder on him," Limmer said. "We get some pretty good double-teams in there."
MEAN STREAKS
Pittman and offensive coordinator Kendal Briles say Limmer, Stromberg and Latham play with a "mean streak."
"Yeah, Brady Latham, he's got a mean streak for sure," Limmer said. "He likes to come off the ball and hit people really hard and also Ricky. All three of us are good friends. We all came in together so we bonded especially the first summer we were here."