HOGS: Pittman on spring surprises; Notes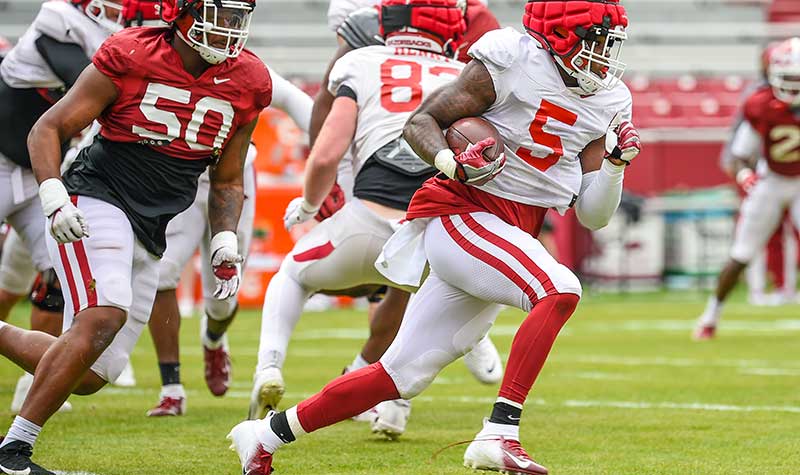 FAYETTEVILLE - Arkansas second-year head coach Sam Pittman on Wednesday named several Razorbacks who most pleasantly surprised this spring.
Pittman's Porkers conclude spring practices at 2 p.m. Saturday with their Red-White game at Reynolds Razorback Stadium. 

Pittman started the list of surprises with Raheim "Rocket" Sanders, the January enrolled true freshman who shifted from receiver to running back where the Hogs lacked depth.
"Rocket Sanders (#5 in Craven Whitlow photo above) has done a nice job," Pittman said.  "Our line is much bigger, understands our offense much better. So, we have made some physical strides on the line and in the running game. A lot of that has to do with the wide receivers blocking as well."
ABOUT THE DEFENSE
Individually, Pittman delved more into defense.
"Taurean Carter's had a really good spring," Pittman said of the third-year sophomore defensive tackle. "Along with (defensive end) Zach Williams, who is at 265 now. The D-line has surprised me. They're playing better ball than possibly what I might think. Young guy (true freshman linebacker) Pooh Paul has come in and learned the defense and done a really nice job. (True freshman) Jayden Johnson at safety has surprised me with his ability to learn the defense and get where he's supposed to be with the physicality he's playing.
"Really those are the guys who come off of my head just quickly when you ask that question. Well, (junior safety) Simeon Blair, we knew he was a player, but he's played really well."
TOUGH ON QBs
Pittman hasn't praised quarterbacks KJ Jefferson, the third-year sophomore and Malik Hornsby, the second-year freshman. They are trying to succeed departing starter Feleipe Franks.
"I've been hard on the quarterbacks," Pittman said. "I know that. The expectations are high for them, however, and they're fine with that."
Both are true running QBs, but with the caution jerseys and quick whistles preventing the spring defenses from hitting the QBs, they don't run much in the spring.
"I don't know how you rate a quarterback when you're in a run-type run-and-throw offense when the quarterback is another running back for you in the spring," Pittman said. "If you get close to him, the ball is down and things of that nature. A lot of times guys break a tackle, break an arm tackle, do some things and it does wonders for their confidence, and they become a little more accurate throwing the ball."
INJURY REPORT
Pittman was asked about Hogs being withheld Saturday because of injuries.
"I don't know if Dalton Wagner is going to be healthy enough to play," Pittman said. "He's starting at right tackle. (Transfer offensive tackle)  Ty'kieast Crawford is another one who won't be able to play. (Defensive back) Khari Johnson's got an ankle that possibly won't (allow him to play). (Receiver) Tyson Morris won't be able to play. We're going to hold (linebacker) Hayden Henry, just like we have in every scrimmage that we've had. And then probably up in the air still is (defensive end) Jashaud Stewart and (defensive tackle) Isaiah Nichols. I don't know that they'll play. If they do, it won't be any significant amount of reps."
STEWART SHINES
Gaining 15 pounds to 238, sophomore Stewart of Jonesboro has surprised at defensive end.
"He plays extremely hard," Pittman said. "Whatever he's got in there, that's what you're going to get every snap. And I don't believe you have to be a senior to lead. I think you've got to beat somebody out, then you become a leader, and that's what he's done. He's moved up the depth chart. It's unfortunate that I don't know if we'll be able to see him Saturday."
HENDERSON TO START
With tackles Wagner and Crawford out, redshirt freshman Marcus Henderson will start at right offensive tackle with the first offense Saturday.
"I like the progression that Henderson and (redshirt freshman offensive lineman Jalen) St. John have made," Pittman said.
The Razorbacks have one Thursday practice preceding Saturday's spring game.