HOGS healthier, prep for MSU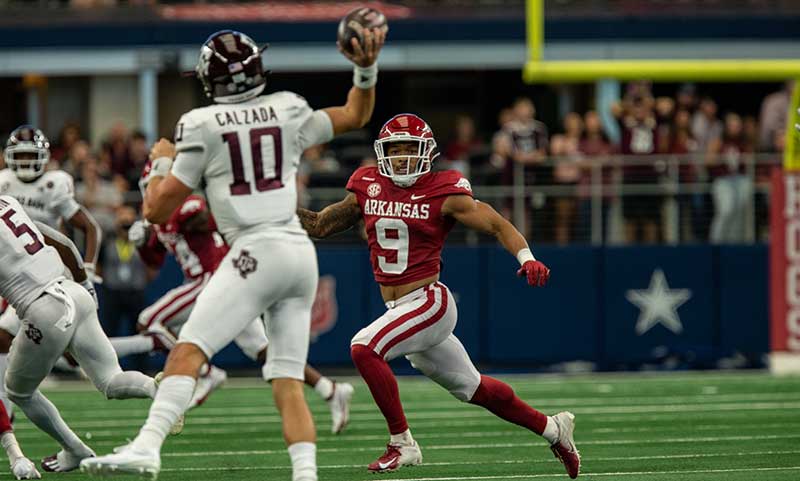 By NATE ALLEN
FAYETTEVILLE - Previously injured senior offensive tackle Dalton Wagner and defensive tackle Markell Utsey will return for Arkansas' SEC West game against Mississippi State.
The Razorbacks (5-3 overall/1-3 in the SEC West) play host to Mississippi State (5-3, 3-2 in the SEC West) at 3 p.m. Saturday at Reynolds Razorback Stadium. The SEC Network plans to televise the game.
Wagner has been idled by hand surgery, which had an extra week to heal with last week's open date. The right tackle missed the Oct. 16 SEC loss to Auburn and the Oct. 23 non-conference victory over Arkansas-Pine Bluff.
Utsey also missed the UAPB game and all contact during practices last week.
"Dalton practiced yesterday (Sunday)," Arkansas head coach Sam Pittman said Monday. "Did the walkthroughs last week. I expect him to be back."
Wagner is listed either/or to start with Ty Clary, the senior starting the past two games at right offensive tackle.
Utsey is listed either/or to start with sophomore Eric Gregory, the starter in Utsey's place against UAPB.
DOMINIQUE RUNS FIRST
Like a video stuck on repeat, Pittman weekly asserts that sophomore running back Dominique Johnson should get more carries.
And then he doesn't. Not put into the game until the second quarter of Arkansas' 45-3 romp over UAPB, Johnson logged but six carries for his 91 yards.
Judging by Johnson logging Monday's practice first carry with the first-team offense, Pittman may dictate to the offensive staff that Johnson carries from the get-go against Mississippi State.
"If that's starting him to get more carries, then that's what we're going to do," Pittman said. "He's a guy that's running over people, making people miss, and he needs to get more carries. I thought we had that figured out, but we didn't. I'm positive we've got it figured out now."
GET NICKELS' WORTH
On defense, Arkansas' lists an interesting either-or at nickel back.
Since his freshman year, junior Greg Brooks (in Tommy Land photo TOP) has logged 26 starts at nickel but came off the bench against UAPB for true freshman Jayden Johnson's starting opportunity.
Brooks and Johnson are listed either-or to start vs. Mississippi State.
"Greg has been a man about it," Pittman said of Jayden Johnson starting ahead of him. "Obviously, when you get replaced you have two options. You can go either beat the guy back out or mope and pout and guarantee you're not going to beat him out. I think with Simeon Blair (the veteran safety supplanted against UAPB by Malik Chavis) and Greg, both have great attitudes. You can't beat somebody out pouting, and neither one of them has done that. They've gone back trying to win their jobs back."
RAZORBACKS REGROUP
After open date workouts Tuesday through Thursday, the Razorbacks regrouped Sunday to start game-week practices vs. Mississippi State. On Monday, the Hogs held fully padded, hardest practice of game week, which they normally do on Tuesdays.
However, this Tuesday the NCAA is giving all college teams an off day since it's Election Day.
Pittman said he could have petitioned the SEC with a waiver request to practice Tuesday and keep Sunday an off day but declined with the Hogs already off last Friday and Saturday.
"We practiced yesterday (Sunday), and it was a very good practice. Very lively practice."
BULLDOGS BREEZE
While the Hogs had their open date weekend, Coach Mike Leach's  Bulldogs dominated then-No. 12 Kentucky 31-17 Saturday.
State's defense stifled Kentucky's respected running game to 66 yards rushing, while MSU quarterback Will Rogers set an SEC single-game record by completing 92 percent (36 of 39) of his passes.
"Mississippi State, they're playing really well right now," Pittman said. "Their quarterback, Will Rogers, was incredible on Saturday. They protect him well. Nobody really got close to him. They have a lot of wideouts who are playing well. They have two really nice 'backs. So, on offense they're starting to hit on all strides, I think."
STATE'S DEFENSE
And the MSU defense broke Kentucky's stride.
"They play so much multiple defense," Pittman said. "They show many fronts, and they move. I think the thing that's most concerning is they're big, but they have a lot of movement and a lot of blitzes. You have to stay out of third-and-long against them."
DEATH VALLEY NIGHT
Arkansas' Nov. 13 SEC West game at LSU will kick off at 6:30 p.m. on the SEC Network.