HOGS rested, ready for Mizzou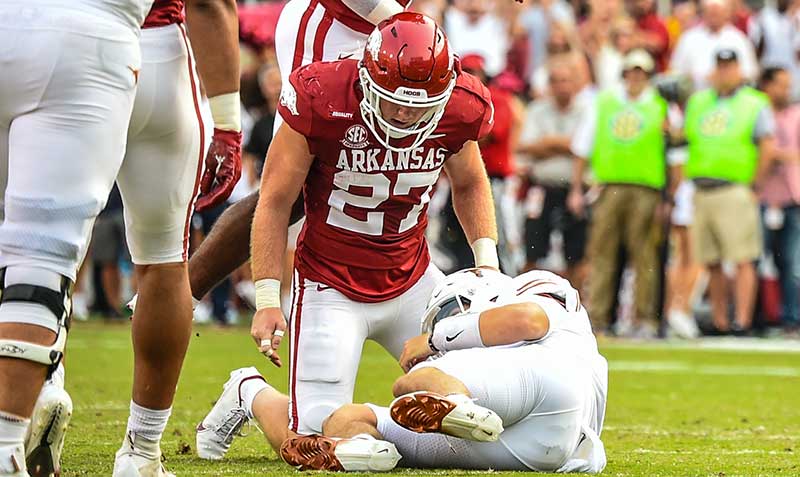 FAYETTEVILLE - Pronouncing Sunday's practice as proof his  Razorbacks had recovered from their 42-35 loss at then-No. 2 Alabama, Arkansas coach Sam Pittman had them believing after Tuesday's light practice that they'll be refreshed for Friday's regular-season finale against Missouri.
Bowl-bound Arkansas (7-4, 3-4 in SEC West) and bowl-bound Missouri (6-5, 3-4 in SEC East) collide at 2:30 p.m. Friday on CBS from  Reynolds Razorback Stadium.
"It's a shorter week for us," Arkansas senior receiver Tyson Morris said. "I think Coach Pittman is doing a great job of preparing us this week and keeping us healthy."
No full pads, just "spiders" for this week's shorter practices.
"I feel like it shows how much he cares about us," Arkansas senior left tackle Myron Cunningham said. "Knowing that we just had a very physical game, and we're getting ready to play another physical game. For Pitt to allows to go with spiders the whole week, he's taking into account the players' thoughts and our bodies and what we need to be successful."
SWAN SONGS
The four super seniors (received extra year due to covid in 2020) interviewed Tuesday, Morris, Cunningham and linebacker Hayden Henry, are playing their last Arkansas home game. Senior safety Joe Foucha can take his extra covid season in 2022 and return to Arkansas. All say they've come too far to exhaust now.
"The Alabama game was a tough loss," Cunningham said. "But I think everyone who stepped on that field left everything out there and gave it their all. But this is another week, so we just have to bounce back and get ready for our next opponent, and that's Mizzou. So we've got to take care of business."
BASEMENT TO BOWL
They endured the two 2-10 overall, 0-8 SEC seasons of the 2018 and 2019 Chad Morris regime. Last year's 3-7 entirely SEC season was major progress. Seven wins this year and ranked No. 25 in successive College Football Playoff polls seem miraculous.
Except these Hogs expected it.
"I think it's everything I thought it would be," Cunningham said.   "I came back to leave the program better than I found it, and I think we've done a great job of that as the senior class."
Foucha said last year foretold good things coming. "I knew we were going to be a better team come next year. 
"A lot of people didn't expect us to win the three games we won (in 2020). So just being able to do that last year, you see how much it has paid off for us."
TROPHY SWEEP
Among other goals, these Hogs want to win their three trophy games: vs. Texas A&M, whom the Hogs had not beaten since A&M joined the SEC in 2012, The Boot they hadn't won from LSU since 2015, and the Battle Line Trophy that Mizzou has annually claimed since 2016.
"It's a goal we set since the beginning of the season," Henry of Little Rock said. "Now we have two (beating A&M and LSU), and we have one more to get Friday."
BAD MAN BADIE
They'll have to stop the SEC's best running back to do it.
Mizzou's Tyrone Badie, 227 carries for 1,385 yards, leads the SEC in rushing and ranks fourth nationally. He also leads Mizzou in receiving with 53 catches.
"He's really explosive," Henry said. "I think the thing that's different about him is he's a big threat in their passing game, as well as their run game. They like to get him the ball any way they can. We're going to need to have eyes on him at all times. He's a very explosive player."
Foucha concurred.
"He's a twitchy 'back," Foucha said. "He runs behind his pads and he gets good yards, so the key thing is slowing him down, and I feel that will slow down the rest of their offense."