HOGS run it on 3rd down; Notes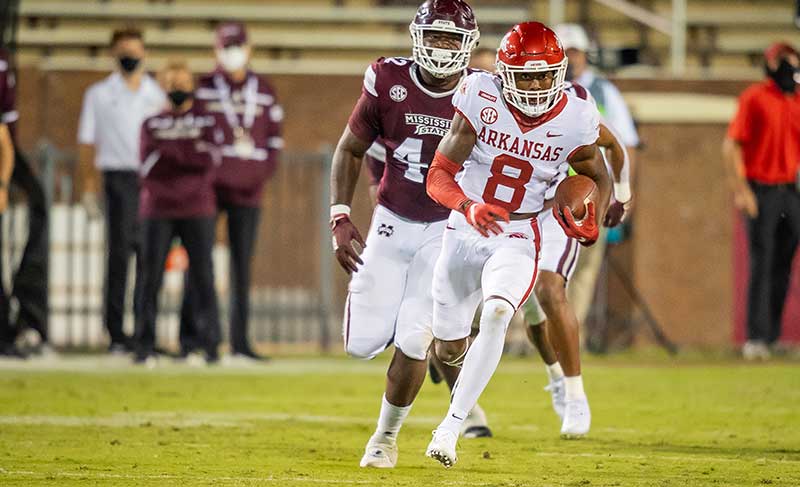 FAYETTEVILLE - Arkansas head coach Sam Pittman emphasizes running the ball on third and short this spring, but wide receivers remain critical on third down.
"Coach Pittman has always been an O-line type coach," senior receiver Mike Woods said after Tuesday's second of 15 NCAA spring practices. "So even with the receivers, he's always emphasizing blocking and stuff. So, running the ball has always been an emphasis. Blocking on the edge is a major emphasis for the wide receivers especially."
Of course, catching is paramount for receivers. Who in Tuesday's practice, the final day NCAA-mandated without pads, had good catches?
"I think as a whole the receivers all had a great day today," said Woods (in C. Whitlow photo above). "We let the freshmen and the threes go for the two-minute drill. I thought we had a strong finish as an offense. The older guys, we did a good job teaching and being alongside of them."
The Razorbacks next practice Saturday. 
ROOKIES ADAPT
Woods said December high school graduate receivers become active freshmen Ketron Jackson and Jaedon Wilson "looked good."
"They get extra film every day," Woods said. "Ketron (6-2, 190)  is a bigger dude. Obviously, he'll be tough to cover. He's more physical. Our strength staff is going to get him right for years to come. Then Jaedon (6-3 but only 172) is quicker, fast, cuts. All his cuts are very fast and explosive."
Woods was asked about Jaqualyn Crawford, the transfer receiver via the Oklahoma Sooners.
"I like Quay," Woods said. "He's a short (5-10, 172) speedy guy, I like to tell him he runs all his routes like a Big 12 guy, just real quick and fast and light on his feet."
THE QBS
Woods also gave props to third-year sophomore KJ Jefferson and second-year freshman Malik Hornsby, the quarterbacks running 1-2 vying to succeed turned pro grad transfer Feleipe Franks.
"I think it's going good," Woods said. "KJ is getting a chance to get a lot of reps with the ones, which he hasn't had over the past couple years. He's getting better every day, and our timing is getting better every day."
Woods added that Hornsby "looks great." Woods said.
"We all know he's a speedster," Woods said. "He's got a rocket for an arm. It will be a great battle this season."
Jefferson does have starts over his two seasons, including an impressive one subbing for an injured Franks and throwing three touchdown passes in the 48-45 loss at Missouri.
"One thing I've noticed that's been a big difference with him is he's being a lot more vocal," Woods said. "We have a lot more communication with him and the receivers."
SLOTTED FOR CHANGE
Catching 32 passes for 619 yards and five TDs last season as an outside receiver, Woods has practiced some in the slot this spring.
"It's going good," Woods said. "I'm just looking for different ways I can impact and provide service to the team."
GETTING HANDS DIRTY
Senior linebacker Bumper Pool talked about spring practice under new linebackers coach Michael Scherer, a young coach but old hand for defensive coordinator Barry Odom. Scherer played and coached under Odom at Missouri and served as an Arkansas quality control defensive analyst last year.
"We're working a ton with our hands," Pool said. "Trying to get off blocks, be physical at the point of attack. That's something we're going to work on every single day because those are things last year that we struggled with."
PASS RUSH
Pass rush was deemed a deficiency last season and was emphasized in the off-season. Last year's defense often dropped eight defenders in pass defense, which was effective early but caught up with the Hogs later in the season.
So, the linebackers are more pass-rush involved this spring with defensive ends split wider.
"Just things we can do to help out since we only have three down linemen," Pool said. "We've got to help out in the pass rush. Ultimately that would help our safeties and DBs with as much zone as we play."
New defensive line coach Jermial Ashley, previously coaching Tulsa's defensive ends, has been instrumental in widening the defensive ends' splits.
"We kind of dabbled with that last year," Pool said. "It worked at Tulsa, and I think if we can do it right and get our D-line lined up, it's going to open up me and Grant (Morgan, the senior All-SEC middle linebacker), and it's going to be really big for us."