HOGS spring practice, Day 4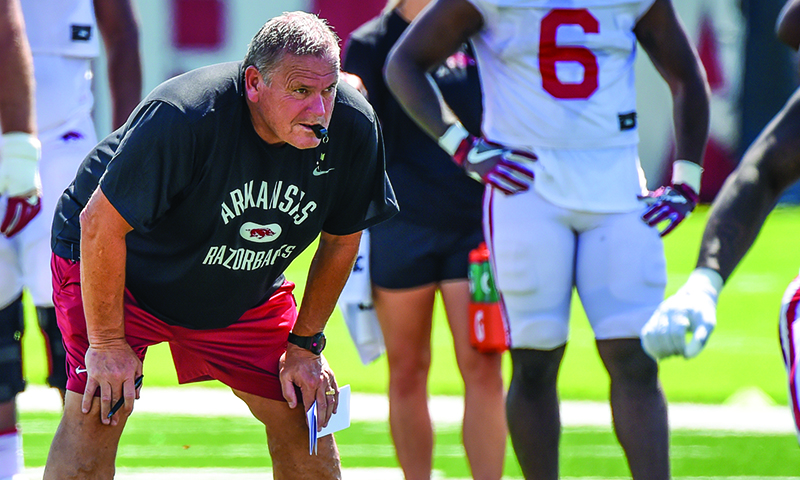 FAYETTEVILLE —The Razorbacks have donned helmets and shoulder pads for their first four spring practices, but that will change Thursday as the players will be in full pads for the first time since their Liberty Bowl victory over Kansas.
Razorbacks Coach Sam Pittman said he is looking for a boost in intensity.
"I didn't think the physicality was there like it had been the day before on Sunday," Pittman said.
Pittman said the performance was better during the installation section of practice.
Thursday's practice will consist of a segmented scrimmage.
Pittman said the No. 1s, 2s, and 3s will get 12 live reps for each of the situations.
"I think we're ready for it," Pittman said.
DL CARTER RETURNING TO THE FOLD
Transfer portal departures Jordan Domineck (34 tackles, 7.5 sacks, 2 forced fumbles) and Isiah Nichols (18 tackles) have left holes in the defensive line, but one of those spots could be filled by redshirt senior Taurean Carter.
Carter (6-3, 295, Mansfield, Texas) appeared in all 13 games for the 2021 Razorbacks, recording 24 tackles, 3 tackles for loss, and a sack.
Carter was set to play an integral role last season, but a knee injury suffered last spring sidelined him for all of 2022.
Carter has been cleared for spring practice and has been an active participant after some early trepidation.
 "He came up to me as we were getting ready to do pods and said, 'Coach I'm not going to lie to you, I'm a little nervous,' '' said Pittman, who appreciated Carter's honesty. "I love Taurean Carter."
Pittman said Carter's nervousness dissipated after he participated in the Hog drill with another defensive player.
"That guy slung him and he kind of landed on that knee," Pittman said. "I was watching it and I think he was kind of testing it. I asked him about it today and he said it was exactly what he needed."
Carter joins returning linemen Cameron Bell (39 tackles, 1 forced fumble, 1 sack) and Eric Gregory (19 tackles, 2 sacks) to form an inside core.
TIGHT ENDS GETTING LOOKS
The return of offensive coordinator Dan Enos might signal a return to more utilization of the tight ends in the passing game.
Enos coached current NFL tight ends Hunter Henry and Jeremy Sprinkle during his previous stint as Arkansas' offensive coordinator under Bret Bielema. Both Hunter and Sprinkle recorded 30-catch seasons under Enos.
Maryland tight ends Corey Dyches (39), CJ Dippre (30) combined for 69 catches in the Terrapins' offense coordinated by Enos last season. Dippre has since transferred to Alabama.
Arkansas is looking for Nathan Bax and Ty Washington to step up at the position with the departure of Trey Knox (26-296 receiving, 5 TDs) to South Carolina via the transfer portal.
Bax (6-4, 260, Jefferson City, Mo.; 3-16 receiving last season) was the primary backup behind Knox and was mainly used as a blocker. Washington (6-4, 247, Leesburg, Ga.) was redshirted last season, but saw action during the Liberty Bowl and made his only reception, which resulted in a 17-yard TD.
The Razorbacks have also gotten a look at true freshman tight end Luke Hasz, an early enrollee, during the beginning of spring ball. Hasz (6-3, 226, Bixby, Okla.) was a 4-star recruit in the 2023 class after catching 32 passes for 703 yards and 9 TDs in his senior season.
"Luke Hasz has been having a really good first four days of practice," Pittman said.
Pittman said he is excited about the way the group has improved early in spring.
 "That's a position that we don't have a lot of experience in," Pittman said. "But I think Ty has really stepped up there and I think Luke will do a good job there as well."
WR WILSON INJURED IN CAR WRECK
Redshirt sophomore Jaedon Wilson, who had 3 receptions for 49 yards last season, will miss the remainder of spring practice after suffering a fractured tibia in a car accident on Tuesday.
"He's very, very lucky that nothing was wrong with him more than him cracking his tibia," Pittman said of Wilson (6-3, 178; DeSoto, Texas). "He will be on crutches for about 10, and I think it's a 6-week deal after that."
Pittman said he is thankful that the situation turned out less severe than it could have been.
"I'll tell you, if you saw the cars that were involved, we're just thanking the Lord that nothing worse happened," Pittman said. "I don't believe anyone else was hurt in the other vehicle."