RECRUITING: Lake Hamilton big, agile, confident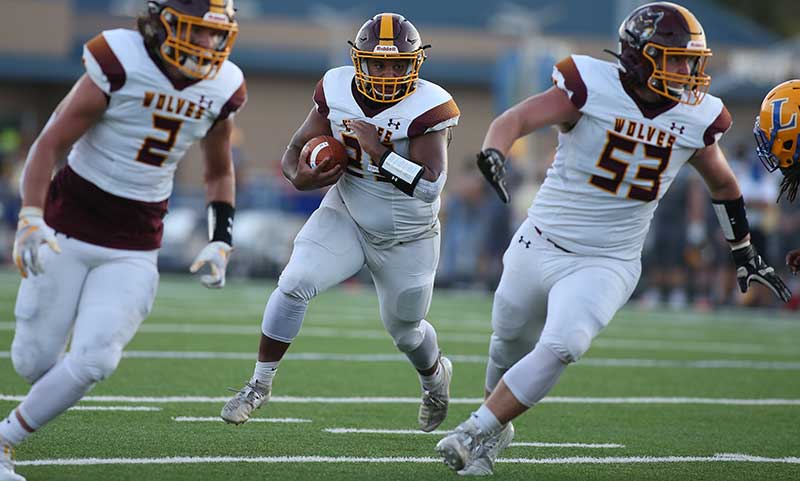 Lake Hamilton gave skeptics pause last week against traditional 6A power Greenwood.
The Wolves led No. 1 Greenwood 28-24 early in the fourth quarter. After surrendering a touchdown, they drove to the Greenwood 20-yard line before fumbling. The Wolves had one last chance in the closing seconds, but an errant snap resulted in another Greenwood TD in a 10-point setback. 
"We feel good and have confidence," Lake Hamilton coach Tommy Gilleran says.
The second-ranked Wolves play host to struggling Sheridan (2-8) this week in the first round of the playoffs. The teams were in the same conference every year from 2000-2019 before Sheridan joined the 6A East this fall.
Lake Hamilton senior quarterback Layne Warrick (6-1, 175) expects to make his first start in more than a year. Warrick, ironically, broke his foot Week 8 2019 at Sheridan and missed the rest of the year, then broke his collarbone in August. He went through pregame warmups last week and was cleared for full contact.
"He's come full circle," Gilleran says. "He hasn't taken a snap in a game since we played Sheridan last year, but he's ready."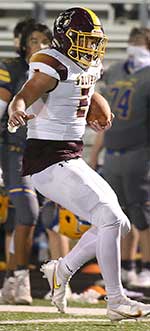 Warrick, an all-state QB in 2019, is the fastest (4.5 speed) Wolf. He passed for 539 yards and three TDs last fall, and he ran for 485 yards and eight TDs. Most in-state D2 schools have monitored Warrick's healing, the coach says.
Warrick hands the ball to one of the more dynamic duos in Class 6A. Juniors Owen Miller (6-0, 190) and Tevin Woodley (5-8, 215) pace an offense that runs for 372 yards per game.
Miller (#2 in Justin Manning photo) has topped 100 yards every week this fall, bulling through defenses 166 times for 1,277 yards (7.7 yards per carry) and 15 TDs. In a Week 9 (51-34) victory at Benton, Owens pounded the Panthers with 29 carries for 164 yards and a career-best five TDs. He ran the ball 14 times for 171 yards and three TDs in midseason against Siloam Sprigns. Last week against Greenwood, Miller ran for 108 yards and caught two passes for 61 yards and a TD. "Nobody is talking about him, but he's a definite college prospect," Gilleran says. "I think he'll be a Division I player."
Woodley (#25 in Justin Manning photo top) has carried 165 times this fall for 1,445 yards and 16 TDs and "is college material," the coach says. "I think he's a Divison II guy." Woodley propelled the Wolves to a crucial 43-42 victory over Russellville in midseason with 22 totes for 276 yards and four TDs. He ran 21 times for 195 yards and a TD against Greenwood.
Junior guard Chase Jessup (6-4, 290) spearheads Lake Hamilton's offensive line. He owns scholarship offers from Kansas, Vanderbilt and UCA, while Northwestern "calls at least once a week, and Notre Dame sends him a letter every day," Gilleran says.
The athletic Jessup starts at center for the basketball team. "He has good feet and hands," the coach says, "and his work ethic is like no one else." Jessup earned an 89 percent blocking grade a year ago and should eclipse that mark this season.
Dylan Horton (6-4, 265) lines up next to Jessup every play at tackle, and the junior "is a Division I guy because of his sheer size," Gilleran says. Horton has grown two inches and gained 40 pounds over the past six months. He's also a potential college baseball recruit.
Izaiah Clenney (5-11, 195), Lake Hamilton's top senior prospect, "wants to play in college," Gilleran says. Clenney has emerged this fall as one of the team leaders with 100 tackles. He paces the receivers with seven catches for 178 yards and a TD.
Junior Marion Conrad (6-1, 190) "is big for a cornerback and will have the opportunity to play at the next level," the coach says. Conrad has 32 tackles this season.
Sophomores Justin Crutchmer (5-10, 170) and Kendrick Martin (5-11, 185) are key contributors, and both could play in college.
Crutchmer paced the junior high in rushing last fall with more than 1,900 yards, and in February won the state wrestling title as a freshman. He starts at varsity linebacker this fall (94 tackles, three forced fumbles) but likely plays safety in college. "He's a great athlete and very physical for a sophomore," Gilleran says.
Martin "gives us another dimension and a threat at running back," Gilleran says. "He's a good blocker and a terrific runner." Martin surprised Benton two weeks ago with seven carries for 56 yards and three receptions for 65 yards. The sophomore has logged 63 carries this fall for 521 yards and five TDs. Last week against Greenwood, Martin racked up eight tackles and forced a fumble at linebacker.
"The reason we've been so successful this year is because we have a lot of kids who can play," Gilleran says. "I think we are focused on making a run in the playoffs."