Spring practice, Day 2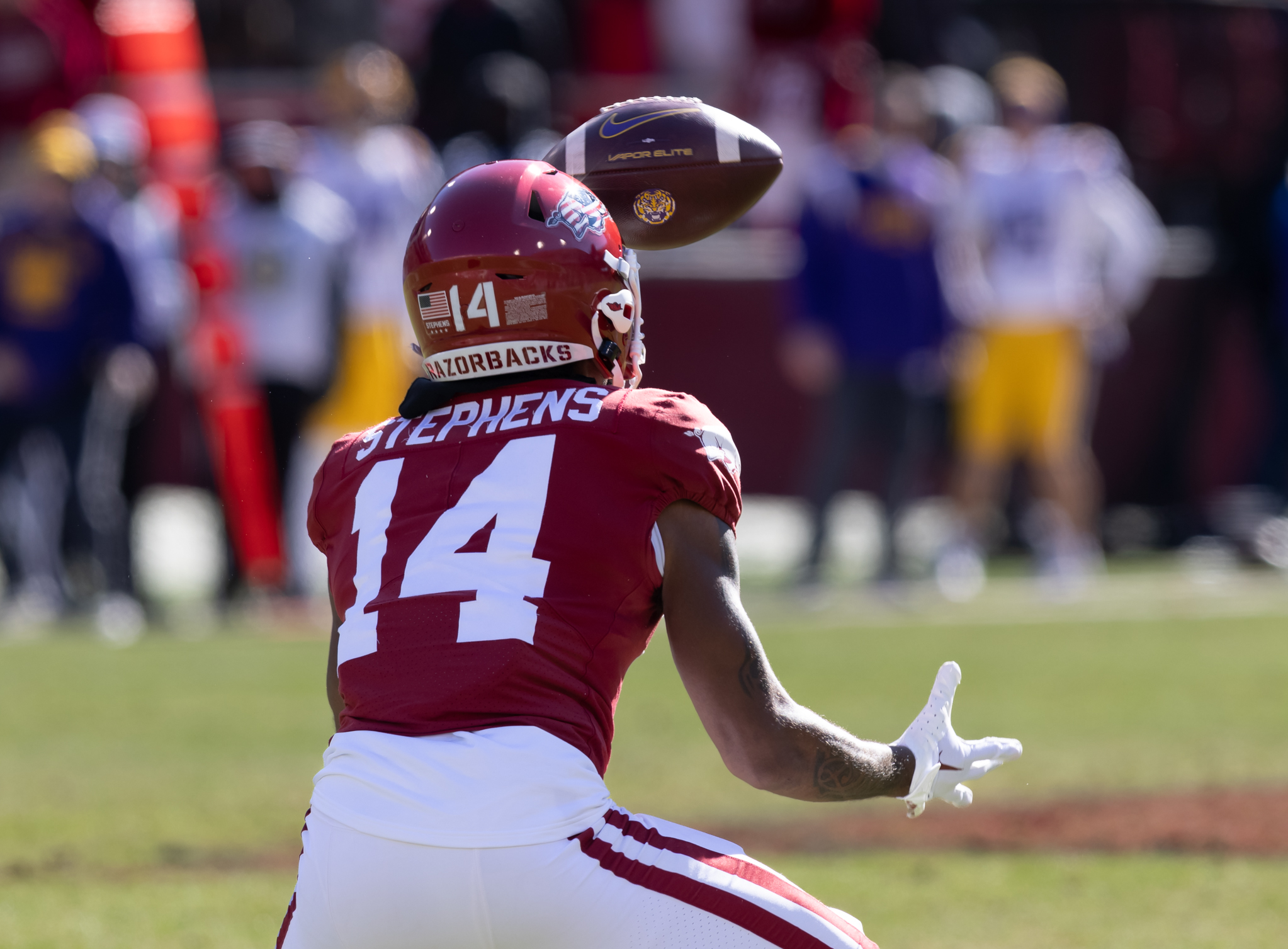 FAYETTEVILLE — Arkansas enters spring practice integrating 25 new players and six first-year assistant coaches into the Razorbacks system, but fifth-year quarterback KJ Jefferson says the transition has been seamless.
"Everyone is buying in," Jefferson said after Friday's practice, the second of 15 scheduled this spring. "We're all learning a new system, so everyone is taking time to adjust and accept change. I feel like we're in a really good spot and we're off to a great start."

Jefferson has the burden of operating a new offense with a completely revamped group of receivers.

One change already being introduced by new offensive coordinator Dan Enos involves Jefferson taking more snaps under center.

"Coach [Dan] Enos has been trying to get us to feel comfortable being under center," Jefferson said. "He's trying to get us ready for the season."

Jefferson said he believes that lining up under center can also help unlock a variety of different play calls.

"Our main thing is to look complex but remain simple," Jefferson said. "We want to do a lot of different shifts and align in many different ways but still run the same plays."

 LB PAUL READY TO LEAD
 The Razorbacks will have a new look at linebacker after the departure of starters Bumper Pool and Drew Sanders.
Pool, Arkansas' all-time leading tackler,  used his final year of eligibility during last season. Sanders declared for the NFL Draft after earning All-SEC honors after transferring in from Alabamas.

They combined for 195 total tackles last season — Pool 93, Sanders 102.
Redshirt sophomore Chris Paul Jr. gained experience in a backup role last season, earning All-Freshman honors with 62 tackles and 4 sacks.

"I feel like my leadership role is going to take a huge step up this year," Paul said. "I feel like I'm that guy being one of the older guys on the defense."

Jordan Crook (6-0, 223, Duncanville, Texas) saw limited action for most of last season but started against Kansas in the Liberty Bowl after Sanders opted out of the game to focus on the draft. 

Crook, known as a high-energy player, made 7 tackles against Kansas after picking up 12 during spot play in the regular season.

 "The thing with Crook is that he's coming with even more energy than he had last year," Paul said. "He had energy last year but it's amped up because his role is going to get bigger and he knows that."

The transfer portal has provided the Razorbacks with South Florida's Antonio Grier (6-1, 228, Atlanta, Ga). Grier spent his previous five seasons with the Bulls, making 228 career tackles for the American Athletic Conference program.

Grier brings a wealth of experience, but he too will have to learn the new schemes brought in with new defensive coordinator Travis Williams. 

"All of us linebackers came in ready to work," Paul said. "It's new for all of us, especially with a new defensive coordinator, so we've been trying to get adjusted to what calls we have to make to this formation and things like that. But I can say all the linebackers including Antonio Grier have done a great job picking up on schemes and listening to what the coaches have to say."

FINDING THE NEXT GROUP OF RECEIVERS

One objective this spring is to identify who is going to catch the ball from Jefferson in the fall.
Four of Arkansas' top five wide receivers from last season — Matt Landers (47-901 receiving, 8 TDs), Jadon Haselwood (59-702, 8 TDs),  Ketron Jackson Jr. (16-277, 3) and TE Trey Knox (26-296, 5) have moved on, with Landers and Haselwood declaring for the NFL Draft while Jackson and Knox entered the transfer portal.

The Razorbacks do return Bryce Stephens (9-109, 1 TD; pictured above) and Jaedon Wilson, who had 2 receptions for 47 yards in the Liberty Bowl game and  has continued to impress during the winter and the first two days of spring.

"He's understanding the offense and understanding college ball,"  Jefferson said of Wilson. "So just being able to watch him grow in certain areas he lacked in last year makes me really proud of him."

The Hogs have added three receivers from transfer portal — Andrew Armstrong (Texas A&M Commerce), Isaac TeSlaa (Hillsdale College, Mich.) and Tyrone Bolden (Bowling Green). They combined for a total of 162 catches, 2,851 yards, and 33 touchdowns last season. 

"Those guys are always willing to get that extra work in," Jefferson said of the transfer receivers. "They're trying to perfect their craft any way they can, whether that being in the meeting room or out on the field catching balls and running routes. Having the other guys be able to feed off that energy and worth ethic helps grow the room and the competition level. I'm happy to have those guys on my side so I can throw them the ball."