Signing Day: D2s load up on in-state talent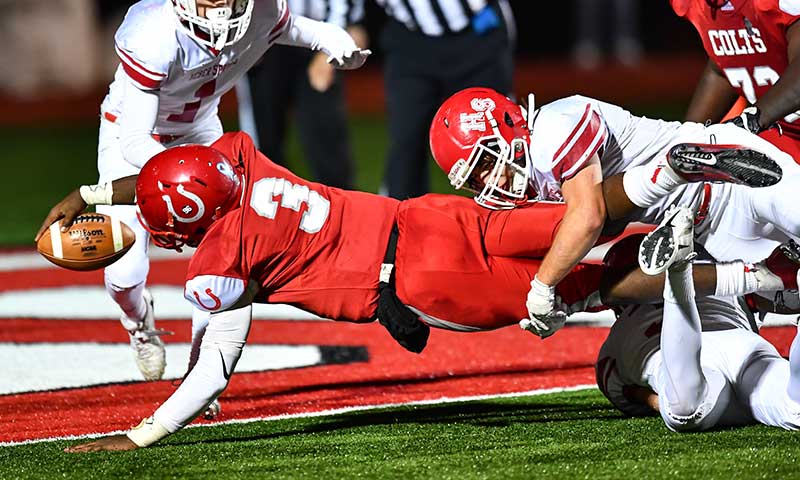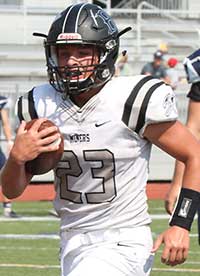 Dawson Dabbs, OBU
Sam Taylor, ATU
    Anticipation for today's traditional signing day (first Wednesday in February) has waned for Division I signees with December's early signing period.

    But it's still an exciting time for the state's Division II programs, as almost 100 in-state high school players will sign college scholarships

    Defending Great American Conference champion Ouachita Baptist has won three GAC titles since the league formed in 2011, and the 2018 Tigers won 12 games for the first time in school history. They continue putting hardware in Blackmon-Benson Field House with Arkansas high school products. OBU had more than 70 players on last year's roster from Arkansas, and once again won the recruiting battles by plucking some of the state's top prospects.

    The Tigers signed seven players from Arkansas who participated in at least one state championship game in the past three seasons, including Arkadelphia linebacker Josh Wallace (5-11, 205) and punter Gabe Goodman (6-0, 165). Wallace amassed 145 tackles and seven sacks this season, helping the Badgers turn a 0-5 start into their second straight state championship. Goodman made 125 of 128 extra points and 22 of 30 field goals the past three years. Dhante Gibson (6-0, 180) led Junction City to the 2018 Class 2A title and the Class 3A runner-up finish a year ago. Gibson ran 222 times this year for 1,742 yards and 24 TDs. He racked up 34 tackles, intercepted two passes and blocked one punt on defense.

    Warren coach Bo Hembree believes the Ouachita uncovered a hidden gem by signing Lumberjack receiver Keemontrae McKnight (5-9, 180). The 4.4 speedster started four years for teams that won 47 games and the 2016 state championship. He also helped Warren finish as runner-up in 2017. McKnight accounted for more than 3,600 yard over the past four seasons, sliding to running back in some situations.

    OBU also signed Bryant defensive back Andrew Hayes, who helped Bryant win the 2018 Class 7A state title. Hayes, a three-time All-7A Central performer, recorded 104 tackles last season while intercepting seven passes and returning three for TDs.

    Class 4A Bauxite had its best season in a decade and two Miners signed with OBU, quarterback/defensive back Seth McDowell (6-1, 180) and running back Dawson Dabbs (5-8, 165). McDowell, a three-time all conference performer, passed for 418 yards and five TDs this year and ran for 932 yards and 19 TDs. He racked up 78 tackles at safety, where he likely plays in college. Dabbs (4.41 speed) earned all-state honors, running for 1,393 yards and 13 TDs. The Tigers also signed Springdale QB Grant Allen, who passed for 2,267 yards and 21 TDs in nine games last season.

    Harding advanced to the D2 national semifinals in 2017, and the private-school Bisons signed eight in-state players, including Bryant defensive end Nate Wallace (6-2, 250). The all-state performer racked up four solo stops in the Hornets' 27-7 state title game triumph over North Little Rock, returning a fumble 78 yards for the clinching TD in the fourth quarter.

    Henderson State, another three-time league champion, signed Bryant linebacker Jakob Neel (6-0, 225). Neel missed most of last season with an injury but spearheaded the playoff run. He made 10 tackles in the state title game. Pocahontas receiver/defensive back Devon Adams (5-11, 160) owns 4.4 speed, which garnered attention from DI teams over the past two years.

    Arkansas Tech first-year coach Bo Atterberry hit the state hard since being hired seven weeks ago. The Wonder Boys signed 20 in-state players, including Booneville defensive lineman Noah Reyes, who led the Bearcats to the 2018 state title by making 71 tackles. Reyes amassed 28 tackles for loss and five sacks. Texarkana linebacker Treveon Cleveland, who piled up more than 200 tackles the past two seasons, should immediately bolster Arkansas Tech's defense.

    Southern Arkansas signed Little Rock Christian receiver M.J. Loggins, who led the Warriors to their first-ever state title. Loggins paced LR Christian with 56 catches for 852 yards and 11 TDs. The Muleriders also signed Watson Chapel defensive end Malik Neal (6-2, 230), who recorded 92 tackles last fall, including 20 tackles for loss.

    UA-Monticello, fresh off a Corsicana Bowl appearance, signed a celebrated class, including Dumas running back/cornerback Kaleb Small (5-8, 175), who led Dumas to its first semifinal appearance. Small ran for 637 yards and 10 TDs last season, and made 44 tackles and intercepted three passes. The Boll Weevils signed

Rivercrest (3) QB Demilon Brown (in Ted McClenning photo above)

, who led the Colts to the 2017 Class 3A state title. Brown ran for 1,230 yards and 22 TDs this year and threw five TD passes.

2019 SIGNEES (Lists are subject to change)

ARKANSAS TECH
Da'jun Brewer WR LR Central

Brandon Beesley OL Bentonville West

Jeremy Boone OL El Dorado

Logan Burton OL Bryant

Joyrion Chase WR Marion

Treveon Cleveland LB Texarkana

Keondre Conley DL Fayetteville 

Isaac Davis OL Van Buren

Alex Emery OL Newport

Tyrese Francis OL North Little Rock

Kobe Gillard OL Prescott

Tyler Jones DB Joe T. Robinson

Dalton Kellar DB Morrilton

Kyle Lambert OL White Hall

Alex Larsen OL Har-Ber

Devin Olloway WR West Memphis

Langston Parker TE Russellville

Noah Reyes DL Booneville

Dontae Smith OL North Little Rock

Sam Taylor DL North Little Rock

A.C. Williams LB Texarkana

Kanaan Williams LB Lake Hamilton

Kentrell Hill DB Camden Harmony Grove

Zhane Harper DB Cabot

Easton Hughes QB Bentonville

Deon & Keon Simmons RB-WR Mayflower
HARDING
Malik Benton S Conway
Nathaniel Wallace DE Bryant
Wesley Coleman OL Pulaski Academy
Jake Dugger DE Harding Academy
Brandon Okonkwo DE LR Parkview
Gage Price DL Hamburg
Tyler Rosten OL Paragould
Jared Russell OL Cabot
HENDERSON
Devon Adams DB Pocahontas
Trystan Alcorn DB Searcy
Caleb Bowman RB Clinton
Lucas Crumbly LB Cabot
Robert Dunham OL Nashville
Chel-C Hardin OL Maumelle
Jared Laughlin OL Hamburg
Jakob Neel LB Bryant
Quintlyn Rogers OL LR Central
Tanner Thomas OL Searcy
Jordan White DB Nashville
Blaise Smith OL Bryant
OUACHITA
Grant Allen QB Springdale
Jay Beasley DB Fayetteville
Ramello Cason DT Hot Springs
Dawson Dabbs RB Bauxite
Dhante Gibson DB Junction City
Gabe Goodman K/P Arkadelphia
Andrew Hayes DB Bryant
Zac Henson OL Alma
Carsten Johnson LB Fayetteville 
Kenta Jones DB Marion
Seth McDowell DB Bauxite
Keemontrae McKnight WR Warren
Calab Scott DB El Dorado
Tucker Swoboda WR Bentonville West
Josh Wallace LB Arkadelphia
Matthew Howard OL Joe T. Robinson
Matthew Bowser OL Mena
Garner Hodge OL LR Catholic
Andrew Roberson LB Fountain Lake
SAU
Julius Clark WR Newport
Jabin Gulley CB Bryant
M.J. Loggins WR LR Christian
Malik Neal DE Watson Chapel
UAM
Cole Altes TE FS Southside
Demilon Brown, Rivercrest
Johnson Bowman TE Elkins
Logan Shoffit OL Elkins
Shamar Debnam DL Helena
Matthew Goodwin OL Crossett
Curtis Jones LB Cave City
Dalton Muse QB Mayflower
Kaleb Small RB Dumas
Courtney Snelling CB Joe T. Robinson
Rico Thomas OL Texarkana
Jamarius Pigram OL Nettleton