HOGS: QBs struggle; Scrimmage notes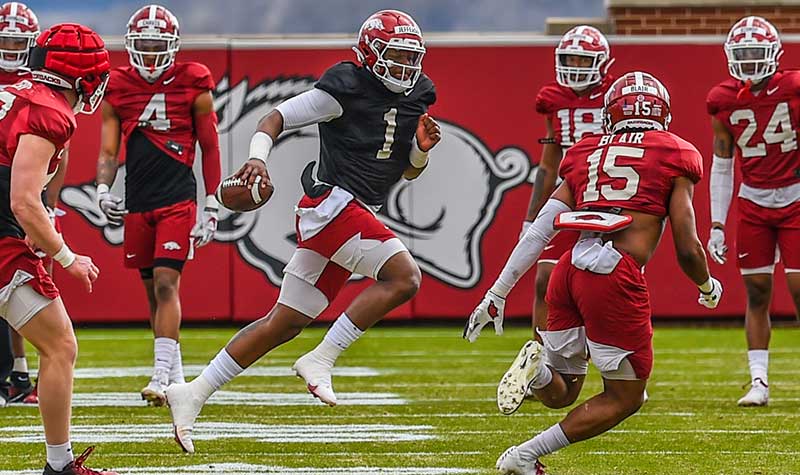 FAYETTEVILLE - Though the offense flashed some big plays Saturday, the defense, in Arkansas coach Sam Pittman's view, played better during the Razorbacks' second spring scrimmage at Reynold Razorbacks Stadium.
"The defense seemed to win most of the situations,"  Pittman said.
Arkansas' quarterbacks hung on to the ball too long in the previous scrimmage two Saturdays ago and did so again during Thursday's practice in shorts, the lone prep for Saturday's scrimmage after spring break.
"We were off from the practice field for eight days," Pittman said. "And I felt like it showed on our offense, with the accuracy of throws and hanging onto the ball, jumping offsides. We didn't play very smart football today on the offensive side of the ball. We certainly aren't happy, but there are some reasons behind some of the situations that happened today."
The Razorbacks miss the quarterbacking experience pf 2020 starter Feleipe Franks, who is turning pro. While sophomore KJ Jefferson excelled in last season's 48-45 finale loss at Missouri, he has logged just four career games with significant action.
The inexperience likely manifests in Jefferson  (in Craven Whitlow photo above) and redshirt freshman Malik Hornsby when they hold the ball longer than Pittman and offensive coordinator Kendal Briles prefer. There could be other factors exposed on the scrimmage video.
"I don't know without watching the tape," Pittman said during the immediate scrimmage aftermath. "I don't know if our defense was doing a nice job of stopping the short routes or if our quarterbacks are looking for the deep ball. Are they going through the progressions correctly? Obviously, something is wrong. Either we're not getting open or we're not reading the first progression and hitting him when he's open. Our timing's off."
Jefferson finished an unofficial 12 of 20 passing Saturday with a touchdown to receiver Treylon Burks. An ineligible receiver downfield penalty negated a 75-yard TD to receiver Mike Woods.  
SIMEON SHINES
Hornsby completed nine of 24 passes for 102 yards with an interception by safety Simeon Blair of Pine Bluff. Blair, a walk-on since rewarded with a scholarship, impressed Pittman last season and even more so this spring.
"He's got a lot of confidence," Pittman said. "He's always been a guy who will hit you. I've been really pleased with him." 
COLEY, SANDERS RISE
Lucas Coley, the true freshman, completed six of eight passes for 68 yards, including a 16-yard TD to receiver Jaquayln Crawford. Coley, who rushed once for 19 yards, is pushing Hornsby for the No. 2 QB job.
"I think he (Coley) improved from last week," Pittman said.  "I think he's getting a little more confident. Overall, the accuracy of our quarterbacks isn't very good at all right now, but I thought he got better."
Senior reserve QB John Stephen Jones complete five of six for  58 yards, while Kade Renfro, the transfer via Ole Miss, completed one of five for 13 yards.
In the running game, senior T.J. Hammonds broke a 75-yard TD.
Raheim "Rocket" Sanders, the 6-2, 210 true freshman moved from receiver to running back, impressed two weeks ago and again Saturday with a touchdown among nine carries for 28 yards.
"I think he's getting a lot better as a running back," Pittman said. "He's still learning the offense. You'll see him out there at times where he's on the wrong side or he might go the wrong way. But I love everything about the kid and his work ethic. He's going to be a really fine player for us."
Pittman said Hornsby needs a "better mesh" on hand-offs to running backs, citing too many fumbles.
"We put two, maybe three balls on the ground just in a mesh," Pittman said. "We beat ourself."
JONES AND STEWART
Luke Jones, lettering last season as a reserve transfer via Notre Dame, operated at first-team offensive guard Saturday ahead of incumbent Brady Latham.|
"I'm glad to see Luke getting an opportunity with the ones," Pittman said. "There's an ongoing battle there with Latham, and it's a good battle. I thought we protected a lot better than what we had last week."
Defensively, Pittman lauded end Jashaud Stewart of Jonesboro.
"I'm proud of Jashaud," Pittman said. "What he teaches is: If you work hard and you come to work every day with that lunch pail attitude, you can move up in your business. He plays extremely hard."
NOT SPECIAL TEAMS
Lauding Matthew Phillips for kicking a 46-yard field goal Saturday into a stiff wind, Pittman was blunt on why the Hogs have increased spring practice time for special teams.
"Well, we weren't very good on it," Pittman said. "So, that's the reason we're working on it like crazy."
The Razorbacks won't scrimmage again until the April 17 Red-White game that concludes spring practice. They will practice Tuesday, Thursday and Saturday next week.