Class 5A Week 3 Rankings, Notes & Picks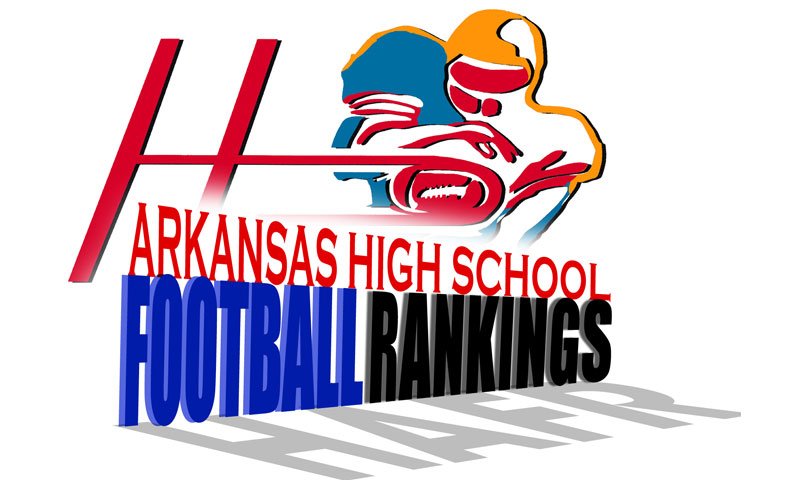 Hootens.com Rankings
Class 5A, Week 3, 2020
Copyright Hooten Publishing, Inc. 

1. Pulaski Academy (2-0)
2. LR Christian (2-1)
3. Texarkana (0-0)
4. Wynne (3-0)
5. Maumelle (3-1)
6. Harrison (2-1)
7. White Hall (2-1)
8. Magnolia (2-1)
9. Camden Fairview (2-1)
10. Morrilton (1-2)
11. Watson Chapel (1-0)
12. Batesville (1-1)
13. Hot Springs (1-1)
14. Vilonia (1-1)
15. HS Lakeside (1-2)
16. Greenbrier (1-2)
17. Valley View (1-1)
18. Forrest City (0-1)
19. Farmington (2-1)
20. Nettleton (1-2)
21. Greene Co. Tech (2-1)
22. Jacksonville (1-1)
23. Alma (0-2)
24. Brookland (1-1)
25. Pea Ridge (0-3)
26. LR Hall (1-2)
27. Clarksville (0-1)
28. Hope (0-3)
29. Paragould (0-3)
30. Beebe (0-3)
31. De Queen (0-3)

HOOTENS.COM GAME OF THE WEEK
No. 11 Watson Chapel at No. 9 Camden Fairview
Watson Chapel finally opened its season (scheduled opener canceled two weeks ago) last week and impressed with a 38-21 victory over Hot Springs Lakeside. The Wildcats ran for 341 yards, paced by junior Durran Cain (15 carries, 115 yards, two TDs and three two-point conversions) and sophomore QB Jabrae Shaw (15 carries, 175 yards and three TDs). Shaw also completed nine of 13 passes for 115 yards. Senior linebacker Eric Brown paces the swarming defense.  Camden Fairview, winners of consecutive games over El Dorado and Hamburg by a combined 87-26, has surrendered less than 150 yards rushing in three games. Senior outside linebacker Amari Pace leads the Cardinals in tackles, while senior free safety Tyree Tatum ranks second on the tackle chart. The defensive front, anchored by senior noseguard Kyron Kidd and senior end Treyvion Frazier, "are playing at a high level," Coach Jake Monden says. The Cardinals continue rotating senior Gunner Branch and junior Logan Robertson at QB.

LAST WEEK
Hootens.com correctly predicted 20 of 23 games (87 percent) last week. For the season, Hootens.com has predicted 54 of 65 games (83 percent). 

WEEK 3 PREDICTIONS (favored team in ALL CAPS)
5A CENTRAL
Watson Chapel at CAMDEN FAIRVIEW (2): Hootens.com Class 5A Game of the Week.
SHERIDAN (6) at Jacksonville: Sheridan used its bye week to become more physical and correct fundament mistakes and ball snapping issues. Jacksonville gained only 147 yards in last week's 32-point loss to Sylvan Hills. But the Titan D forced four turnovers.
Virginia Life Christian at PULASKI ACADEMY (2): PA beat Brentwood (Tenn.) Ravenwood 37-29 a week ago, rolling up 524 yards. Senior receiver Cooper White snagged three TDs, while senior Nolen Bruffett and junior Charlie Fiser split snaps at QB. Fiser accounted for four TDs, while Bruffett threw a TD pass. Virginia Life Christian started its program in 2018 and plays only five games this fall. Seventeen of Virginia Life's 22 starters own DI offers, including linebacker Aaron Willis (Tennessee commit) and strong safety Xavier Barnes (Army commit). 
Beebe is open.
LR Christian is open. Watch extended highlights of the Warriors' win at LR Central HERE.
LR Hall is open.
Maumelle is open.
White Hall is open. Watch extended highlights of the Bulldogs' loss to LR Parkview HERE and their season-opening win at Sheridan HERE.

5A EAST
Batesville at MOUNTAIN HOME (1): Improved Mountain Home broke a 23-game losing streak with last week's 41-7 victory over Nettleton, and the Bombers hung with Harrison two weeks ago but committed three turnovers in a 14-point setback. Mountain Home hasn't beaten Batesville since 2011.
Brookland at RIVERCREST (10): Improved Brookland beat Gosnell 36-32 Week 0 and lost to Jonesboro Westside 28-21 Week 1. Opposing coaches brag on Brookland's physical defensive line. Undefeated Rivercrest averages 469 yards and 49 point weekly. Senior QB Kameron Turner has passed for 435 yards and five TDs this year, while rushing for 302 yards and three TDs. 
Helena at FORREST CITY (2): These teams have split the past 12 meetings, with Helena winning last season by eight points. Each team has played only once this year, with Forrest City losing to Star City Week 0 (its Week 1 game at Hamburg was canceled). Helena trailed 22-6 in the third quarter of its opener against Earle before losing 22-20. 
TRUMANN (13) at Paragould: Trumann has won 10 of the past 19 in the series, including two straight by a combined 36 points. Trumann impressed with last week's 27-0 win over previously unbeaten Southside Batesville. Winless Paragould surrenders 45 points weekly. Ram junior Ashton Oakes and sophomore Ben Sloas split snaps at QB. Oakes has passed for 113 yards and a TD this year, while averaged almost 4 yards per carry. Trumann senior RB Milton Lewis (13 carries, 135 yards against Southside) and junior Gaven Guy (15 carries, 93 yards) pace Trumann's ground attack.
Bald Knob at VALLEY VIEW (14): This game was a late addition after Bald Knob's game last week with Riverview was canceled. The Bulldogs own wins over Class 2A members Mount Ida and Cedar Ridge by a combined 92-14. Valley View got by Class 4A No. 19 Gosnell 20-6 Week 1 before losing last Friday at Class 4A No. 17 Rivercrest 41-24. Blazer senior QB Zac Stracener has passed for 403 yards and 2 TDs this year, while senior Aiden Huntsman has 14 receptions for 219 yards. Valley View's Kannon Jones is this week's First Community Bank Scholar Athlete of the Week.
Greene County Tech is open.
Maumelle is open.
Nettleton is open.
Wynne is open.

5A SOUTHWEST
Watson Chapel at CAMDEN FAIRVIEW (2): Hootens.com Class 5A Game of the Week.
De Queen at CENTERPOINT (10): This game was added over the weekend when Fouke canceled its game with De Queen. The winless Leopards have been outscored 123-6 this year. 
Hope at PRESCOTT (21): Prescott has won four straight in the series, including the past two by a combined 97-27. The Bobcats led Ashdown 14-13 in the third quarter last week after returning a fumble for a TD, but Ashdown won 41-20. Prescott ran for 267 yards and three TDs and passed for 110 yards and three TDs in last week's 51-0 win over Parkers Chapel.
LAKE HAMILTON (16) at Hot Springs (Thurs.): Lake Hamilton has won nine of the past 11 in the series. Hot Springs put up 355 yards and forced a pair of turnovers in last week's overtime win at Mena. Senior Devin Johnson paced the Trojans in tackles and ran for a pair of TDs. Lake Hamilton trailed Class 4A Malvern 16-14 in the third quarter a week ago before rallying to a 37-16 decision. Lake Hamilton junior fullback Tevin Woodley ran 20 times for 170 yards and a pair of TDs, while junior Owen Miller ran for 139 yards.  
El Dorado at MAGNOLIA (1): Magnolia rallied from a 14-0 deficit last week to upend No. 2 ranked LR Christian 52-49. The Panthers intercepted four passes, including two by sophomore CB Jordan Davis, who returned one for a TD. Sophomore RB Garrion Curry ran for 198 yards and a pair of TDs and also snagged a 9-yard TD, while junior slotback Kendrick Carey caught a 53-yard TD pass and ran for 153 yards. Watch extended highlights and postgame reaction HERE. El Dorado Winless El Dorado "is the biggest and most athletic bunch we've played," Magnolia coach Mark King says. El Dorado trailed Class 7A Cabot 20-16 at halftime last week before losing 41-23. Senior QB Eli Shepherd passed for 277 yards and a TD and ran for another score.
HS LAKESIDE (2) at Malvern: These are former conference rivals, with the teams splitting the past four meetings. HS Lakeside senior running back Isaac Echols and senior receiver Logan White have been playmakers on offense, while White and senior linebacker Will Perrigo pace the D. Malvern led Class 6A Lake Hamilton 16-14 at halftime last week before losing 37-16. Sophomore QB Ced Simmons completed 17 of 26 passes for 149 yards and paced the Leopards with 30 yards rushing. HS Lakeside lost to Lake Hamilton 31-17.
Warren at TEXARKANA (6): Texarkana finally opens its season. The Razorbacks' opening two games against Texas teams were called off before the season and last week's game at Dollarway was canceled Friday. Warren has been outscored by White Hall and Stuttgart the past two weeks by a combined 53-6. Warren QB Riley Cornish is out with a knee injury, while RB/LB Tre'Lon Marshall was injured last week in an ATV accident. The Lumberjacks generated just 8 yards and committed four turnovers at Stuttgart.

5A WEST
ALMA (1) at Heritage: Heritage hasn't produced a winning record since 2012. The War Eagles snapped a 25-game losing streak two weeks ago with a 55-12 win over Springfield (Mo.) Central. Winless Alma has been outscored this year 82-10. Senior Logan Chronister ran for 117 yards in last week's 47-10 setback at Poteau, Okla.
CLARKSVILLE (1) at Pottsville: Clarksville didn't scrimmage or play in Week 0 or 1, but the Panthers hung with Ozark last week before losing 32-12. The Panthers put up 246 yards but turned it over four times at Ozark. Pottsville pounded ECP and Green Forest by a combined 105-32 in the opening two games, but lost to Charleston by seven points last week. The Apaches ran for 195 yards against Charleston.
RUSSELLVILLE (4) at Vilonia: Class 6A Russellville must quickly move past last week's 21-17 heart-wrenching setback to FS Southside, when the Cyclones coughed up a 10-point fourth quarter advantage. Senior QB Brayden Whitford passed for 354 yards and a TD. Vilonia trailed Maumelle 14-0 at halftime last week, but had the ball with a chance to win when Maumelle intercepted a pass and returned for a TD on the final play. Junior Seth Kirk ran 22 times for 149 yards and a TD at Maumelle.
Farmington is open.
Greenbrier is open.
Harrison is open.
Morrilton is open.
Pea Ridge is open.