Class 4A Week 4 Rankings, Notes & Picks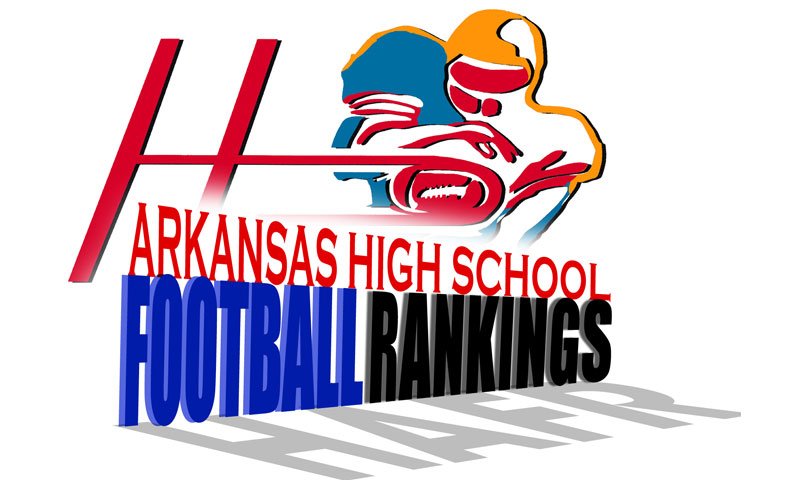 Hootens.com Rankings
Class 4A, Week 4, 2019
Copyright Hooten Publishing, Inc. 

1. Arkadelphia (3-0)
2. Nashville (3-0)
3. Shiloh Christian (3-0)
4. Joe T. Robinson (3-0)
5. Warren (3-0)
6. Mena (3-0)
7. Rivercrest (2-1)
8. Ozark (2-1)
9. Dardanelle (3-0)
10. Pocahontas (2-1)
11. Southside Batesville (2-1)
12. Helena (3-0)
13. Dumas (1-2)
14. Bauxite (2-1)
15. DeWitt (3-0)
16. Pottsville (1-2)
17. Pea Ridge (0-3)
18. CAC (2-1)
19. Jonesboro Westside (2-1)
20. Hamburg (2-1)
21. Star City (2-1)
22. Lincoln (3-0)
23. Gentry (2-1)
24. Heber Springs (0-3)
25. Ashdown (1-2)
26. Riverview (2-1)
27. Lonoke (1-2)
28. Stuttgart (0-3)
29. Trumann (1-2)
30. Prairie Grove (0-3)
31. Brookland (1-2)
32. Berryville (2-1)
33. H. Grove Haskell (2-1)
34. Crossett (0-3)
35. Malvern (1-2)
36. Elkins (2-1)
37. Mills (1-2)
38. Fountain Lake (1-2)
39. Gosnell (0-3)
40. Waldron (0-3)
41. Green Forest (2-1)
42. Gravette (1-2)
43. Highland (0-3)
44. Bald Knob (0-3)
45. Monticello (0-3)
46. Subiaco Academy (1-2)
47. Dover (0-3)
48. Cave City (0-3)

HOOTENS.COM GAME OF THE WEEK
No. 2 Nashville at No. 1 Arkadelphia
These teams have won three of the past four state championships (Nashville in 2015, Arkadelphia in 2017-2018). Nashville has won four of the past five in the series and 11 of the past 15. 
Undefeated Nashville has beaten Class 5A Watson Chapel, De Queen and Hope by an average of 48-14. The Scrappers usually snap directly to junior quarterback/running back Keyshawn Stewart, who has two TD passes and 37 carries for 370 yards and six touchdowns. Senior Carmillias Morrison has rushed for 352 yards and three TDs. Senior Ty Basilere paces the defense with a pair of interceptions, while senior linebacker Davont'e Witherspoon has 26 tackles. 
Arkadelphia has beaten Class 6A Sylvan Hills and Benton and Class 5A Wynne the past three weeks by an average of 47-24. Senior dual threat QB Cannon Turner has completed 20 of 37 passes this year for 221 yards and a pair of TDs, and he's rushed for 321 yards and two scores. Senior Kyrin Harrison, in his first year to start at running back, has 46 carries for 453 yards and a state-best 10 TDs. Harrison, who doubles as a standout linebacker, "has great instincts and is a natural playmaker," Coach J.R. Eldridge says. Seniors Lunden Cotton, Lorenzo Lawson and center Cabb Batson anchor the line, which opens holes for a unit generating 401 yards weekly. Senior ends Ricky Rogers, Jr. and Jayson Campbell each registered two sacks against Benton. Watch highlights of Arkadelphia's win over Benton HERE and win over Sylvan Hills HERE.

LAST WEEK
Hootens.com correctly predicted 23 of 26 games last week (88 percent), nailing the point spread of Joe T. Robinson by six over Camden Fairview. Hootens.com has predicted 109 of 130 games (84 percent) this season.

WEEK 4 PREDICTIONS (favored team in ALL CAPS)
1-4A
Gentry at PEA RIDGE (3): Pea Ridge trailed rival Farmington 14-7 in the fourth quarter last week but allowed 10 unanswered points. Pea Ridge averages just 252 yards per game and the Blackhawks had six turnovers against Farmington. Senior QB Tate Busey has passed for 232 yards and zero TDs this fall, while rushing for 121 yards and a TD. Gentry generates 340 yards per game. Senior QB Brandon Atwood has passed for 430 yards and five TDs this fall with four interceptions, while rushing for 377 yards and five TDs. Gentry's defense came up with two stops in the final minutes last week to secure a 35-27 win over Greenland.
PRAIRIE GROVE (17) at Green Forest: Green Forest (2-1) off to its best start since 2009 when the Tigers began 3-0. The Tigers gain 182 yards weekly, with 160 of it on the ground. Sophomores Barrett Phillips (156 yards) and Bryan Soto (169 yards and four TDs) pace the attack. Prairie Grove is 0-3 for the first time since 2009. 
SHILOH CHRISTIAN (30) at Berryville: Shiloh Christian led Oklahoma small-school power Beggs 28-0 in the second quarter last week and scorched to a 63-20 decision. Senior QB Eli Reece completed 26 of 38 passes for 400 yards and four TDs, including three strikes to senior receiver Truitt Tollett. Berryville's D shutout West Fork Week 1 and allowed one TD in last week's 43-6 victory at Yellville-Summit. The Bobcats led Y-S 21-6 at halftime then scored three TDs in the fourth quarter. Senior Tristan Updegraff ran for a TD and caught a 39-yard TD pass.
LINCOLN (7) at Gravette: Undefeated Lincoln outscores opponents 50-9. Lincoln held Subiaco Academy to 85 yards in last week's 53-7 triumph and dominated the Trojans 46-0 in the final three quarters. Gravette won its first non conference game in two years last week, beating Jay, Okla., 34-13. Junior QB Cy Hilger completed 17 of 28 passes for 270 yards and three TDs, while senior Chace Austin ran for 97 yards. 

2-4A
MILLS (2) at Bald Knob: Mills has lost consecutive games since mercy-ruling Class 6A Jacksonville in the opener. The Comets trailed Class 5A unbeaten Maumelle 27-0 at halftime last week before losing 47-8. Mills junior QB G'Kyson Wright threw a TD pass against Maumelle. Winless Bald Knob failed to score in last week's 23-point loss to Harmony Grove Haskell, and its only TD the previous week against Class 5A Valley View came late in the fourth quarter of a blowout.
Riverview at CAC (8): Upstart Riverview expects to hang with CAC (lost last season by 26 points) with first-year coach Drake Widener's Wing T, ball-control scheme. Raider senior QB Logan Miller has rushed for 412 yards and seven TDs this season, while classmate Ashton Williams has rushed for 349 yards and five TDs. Williams caught Miller's only TD pass of 2019. CAC was tied last week at Clinton 14-14 in the second quarter, before getting outscored 41-7. The Mustangs surrendered 488 yards rushing. CAC's passing game has thrived this fall with junior QB Palmer Gilbreach (982 yards and eight TDs). Watch highlights and postgame reaction of CAC's Week 2 win at Baptist Prep HERE.
Lonoke at HEBER SPRINGS (4): Heber Springs has won nine of the past 13 over Lonoke. Winless Heber Springs usually doesn't put much stock into its non conference schedule (a combined 1-11 the past four years). Heber Springs lost to Harding Academy 50-49 last week and 28-27 to Clinton in the opener. Panther senior QB Adam Martin, regarded as the league's top athlete, completes 65 percent of his passes this fall for 459 yards and three TDs, and has rushed 365 yards and three TDs. Lonoke, blown out in Week 0 by Class 2A Carlisle, took Class 5A Beebe to overtime two weeks ago and beat Newport last week 49-40. The Jackrabbits trailed Newport 34-21 in the third quarter before sophomore QB Spencer Pepper threw two TD passes, and Anthony Parks returned a fumble for another score. Pepper has put 838 yards this season. 
STUTTGART (1) at Southside Batesville: Southside Batesville goes for its second win in the series (14-point victory in 2017). The Southerners, without nine injured starters, rallied for a 13-point win two weeks ago over Trumann. The Southerners rush for 296 yards per game, paced by senior Alex Palmer, who has 326 yards and nine TDs this fall. Winless Stuttgart averages 26 yards per game. Sophomore Tymir Coppins, expected to be a top playmaker, tore his ACL returning a kickoff in the opener against DeWitt and won't return this season. Sophomore Arlie Lee paces the Ricebirds with four TDs. Watch highlights of Stuttgart's loss to DeWitt HERE.

3-4A
JONESBORO WESTSIDE (3) at Highland: Highland has beaten Jonesboro Westside eight of the past 10 seasons, with Jonesboro Westside winning two straight by a combined 11 points. The run-first Warriors rush for 255 yards weekly. Senior Logan McPherson missed the second half of the opener with Greene County Tech and Week 1 against Piggott with a concussion. He ran nine times for 70 yards and a TD against Hoxie. Winless Highland has been much more competitive this year than it was last season. The Rebels lost the opener to McCrory by six points and to Riverview by one point in Week 2. Highland sophomore QB Wyatt Goodman has passed for 393 yards and four TDs this season.
GOSNELL (15) at Cave City: A battle of winless teams. Gosnell, off to an 0-3 start for the first time since 2012, has never lost to Cave City, winning the past four years by a combined 158-21. The Pirates surrender 49 ppg this year. Cave City, down to fewer than 30 players, gets outscored 43-12 weekly.
Trumann at RIVERCREST (18): Rivercrest didn't play last week after losing Week 2 at Valley View 7-3. The Colts generate just 228 yards weekly, with junior QB Kam Turner passing for 124 yards and one TD and rushing for 229 yards and two TDs. Trumann won its first game of the season last week, doubling up Class 5A Paragould 30-15.
Brookland at POCAHONTAS (26): Pocahontas has won all seven meetings with Brookland, including last season by 29 points. The Redskins average 41 ppg this fall, getting big plays from junior QB Dawson Chester and senior running back Derrick Kimble. Brookland has scored at least five TDs in two of its three games. The Bearcats led Piggott 21-0 at halftime two weeks ago before easing to a 35-0 decision.

4-4A
Waldron at ELKINS (7): Surprising Elkins wins with defense (gave up one TD in the past two weeks). Junior Trevor Shumate offers a physical runner that compliments junior QB Kain Johnson, who carves defenses with big plays. Winless Waldron has lost three games by a combined 13 points. The Bulldogs gained just 191 yards and failed to score in last week's 7-2 setback against Danville.
DARDANELLE (8) at Pottsville: Undefeated Dardanelle gets big plays from Blake Chambers (51 carries, 510 yards and six TDs) and a D that allows seven ppg. Pottsville rallied past Prairie Grove last week for its first win of the season. Pottsville junior QB Konnor Carpenter threw the ball well at Prairie Grove.
Subiaco Academy at DOVER (1): This game went to overtime last season before Dover won 6-0. Subiaco Academy beat Class 2A Lavaca in the opener and was tied 7-7 last week at Lincoln before allowing 46 unanswered points. Senior running backs Corey Schulterman and Hayden Fredrick have multiple TD runs this season. Subiaco Academy ran for 66 yards against Lincoln and had minus-23 yards rushing two weeks ago against Lamar. Winless Dover gets outscored 48-13 weekly.
OZARK (3) at Mena: Ozark led Franklin County rival Charleston 21-0 at halftime last week, easing to a 27-7 win. The Hillbillies put up 343 yards weekly. Senior H-back/tight end Bryant Burns takes handoffs (averages 8 yards per carry) and makes tough catches (three receptions, 53 yards) on offense and has 17 tackles and a sack on defense at outside linebacker/end. "Everything they do goes through him," Mena coach Craig Bentley says. Mena junior QB Max Montgomery tore his ACL in Week 1 and will miss the rest of the season. Senior Zane Stephens starts at QB, completing 41 percent of his passes and averaging 5.8 yards per carry. Stephens also has 10 catches for 147 yards and a TD. Senior linebacker Jayden Castillo (23 tackles) and junior Cuay House (27 tackles) are the leaders on a defense that surrenders less than 14 ppg.

7-4A
Nashville at ARKADELPHIA (3): Hootens.com Class 4A Game of the Week. 
Malvern at BAUXITE (5): Bauxite beat Class 2A Des Arc (32-28) and Class 3A Glen Rose (33-20) in its past two games, while Malvern's only win this year was 20-7 over Glen Rose. Malvern freshman Cedric Simmons has passed for 78 yards this fall, and he's tied for the team's leading rusher with 41 carries for 287 yards and three TDs (junior Keith Caradine also has 287 yards and three TDs). Bauxite isn't as run-heavy as last season. Junior QB Connor Stacy has passed for 597 yards and four TDs this fall, and has 32 carries for 203 yards and a pair of TDs.
JOE T. ROBINSON (25) at Fountain Lake: Joe T. Robinson has wins this year over Class 7A Springdale and Rogers and Class 5A Camden Fairview by an average of 44-33. Junior QB Buddy Gaston has completed 39 of 72 passes this year for 771 yards and nine TDs this year, while junior Hunter Smith has rushed for 485 yards and five TDs. Fountain Lake won its first game of the season last week, downing Dover 56-0. With 26 players on its roster, Fountain Lake runs for 217 yards weekly. Junior Seth Hughes paces the Cobras with 16 carries for 149 yards and three TDs. Sophomore Connor Lacy played for the first time last week, running 10 times for 100 yards. 
ASHDOWN (2) at Harmony Grove Haskell: This is the second meeting between these teams, with Haskell winning last season. Ashdown has surrendered four TDs in the past two games against Class 5A De Queen and Hope. H.G. Haskell averages 206 yards rushing per game. Senior Ryan Riedmueller ran six times for 78 yards and a TD in last week's 23-0 win at Bald Knob.

8-4A
HELENA (1) at Dumas: Dumas senior QB Chris Harris accounted for seven TDS (four passing, two rushing and one on defense) in last week's 63-18 win over rival Lake Village. Undefeated Helena gives up 14 ppg this season. Junior Shamarcus Heard caught the clinching 27-yard TD in last week's 36-28 win over Class 5A Forrest City. Senior John Oliver paces the Cougars with 23 carries for 149 yards and four TDs this fall.
STAR CITY (18) at Monticello: Star City has won four of the past seven in the series, including last year in a mercy-rule. Star City beat Class 2A Hampton 35-0 last week and beat Stuttgart by three points Week 1. Monticello has surrendered seven TDs in every game this fall.
Crossett at WARREN (17): Warren has won all nine meetings since Crossett dropped to Class 4A in 2010, including last season by 25 points. Senior Vincent Steppes ran for two TDs and caught a TD pass in last week's 33-point win over Dollarway. Crossett gained just 50 yards in last week's loss to Class 3A McGehee. 
DeWitt at HAMBURG (2): Hamburg hasn't lost to DeWitt in more than 20 years. But the undefeated Dragons are thinking playoffs this year (haven't been since 2000) after beating Stuttgart, Riverview and Carlisle by an average of 39-27. Dragon senior QB Seth Courtney has completed 43 of 78 passes (55 percent) for 705 yards and eight TDs. Watch highlights of DeWitt's win Week 0 at Stuttgart HERE. Hamburg counters with a strong rushing attack that averages 170 yards per game. Senior D.J. Johnson paces the Lions with 38 carries for 319 yards (8.4 ypc) and four TDs.