Class 2A/8-Man Week 5 Rankings, Notes & Picks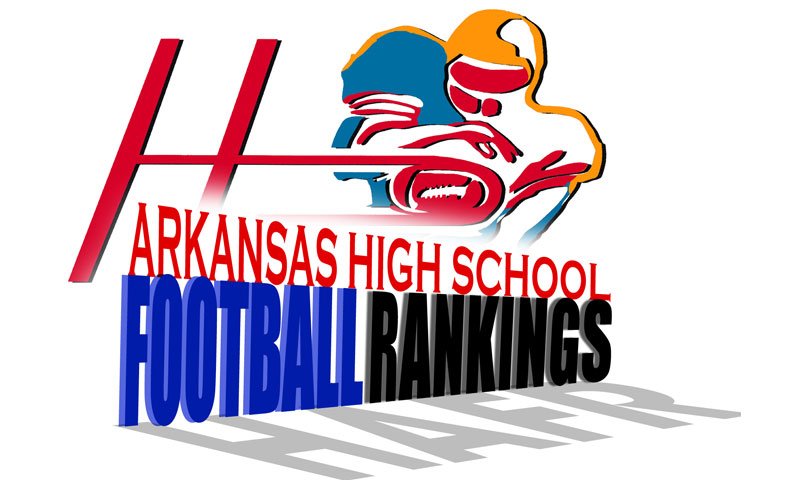 Hootens.com Class 2A Rankings
Week 5, 2022
Copyright Seventy Seven's Publishing
1. Hazen (4-0)
2. EPC (4-0)
3. Marked Tree (4-0)
4. Bigelow (4-1)
5. Mount Ida (2-1)
6. Carlisle (4-0)
7. Dierks (4-1)
8. Hector (3-1-1)
9. Mineral Springs (4-1)
10. Episcopal (3-1)
11. Clarendon (2-2)
12. Poyen (3-2)
13. England (3-1)
14. Conway Christian (2-2)
15. McCrory (1-3)
16. Earle (2-2)
17. Magazine (2-2)
18. Cross County (1-2)
19. Mountainburg (1-3)
20. Des Arc (1-2)
21. Hampton (1-3)
22. Murfreesboro (1-3)
23. Lafayette County (0-4)
24. Baptist Prep (0-5)
25. Bearden (0-4)
26. Foreman (0-5)
27. J.C. Westside (0-5)
28. Marianna (0-3)
29. Decatur (0-5)
WEEK 5 PREDICTIONS (favored team highlighted in yellow and ALL CAPS)
LAST WEEK
Hootens.com correctly predicted 12 out of 13 (92 percent) games involving Class 2A teams and is 66 of 87 (76 percent) for the season.
HOOTENS.COM GAME OF THE WEEK
Episcopal at CARLISLE: This game will show how legit both of these teams are. Carlisle crushed Bearden 42-0 last week, with senior all-state RB Jason Sullivan (146 rushing yards, 4 touchdowns) paving the way. Junior Kayleb Elliott (9-48 rushing, 1 TD) recorded a sack on defense. Senior OL/DL Ben Smith had 3 pancake blocks and led the team with 3 sacks. Peyton Huggins was 6 of 6 on PAT attempts. The transition from 8-man to 11-man ball hasn't slowed down Episcopal (3-1). The Wildcats were idle last week, giving them two weeks to prepare for the Bison. Carlisle's home-field advantage gives them the edge for Friday's contest.
1-2A
Conway Christian at HECTOR: The Wildcats of Hector defeated J.C. Westside 42-16 last week. Junior all-conference QB Jackson Taylor completed 8 of his 9 passes for 201 yards and 2 TDs. Junior P.J. Henderson accounted for 2 TDs (1 rushing, 1 receiving) and senior Drake Riley caught 3 passes for 88 yards and a TD. Senior DL Cash Harrison picked up 7 tackles, 5 TFL and 2 sacks in the win. Conway Christian has had two weeks to prepare for the Wildcats. Hector won 46-8 last season.
Decatur at MOUNTAINBURG Decatur (0-5) has scored 6 points as it transitions back into 11-man football after competing in 8-Man. The Bulldogs are coming off a 35-0 loss to No. 17 Magazine last week. Mountainburg (1-3) eyes its second win after losing 45-6 to No. 4 Bigelow. Junior QB Shay Pixley threw for 52 yards and a TD in the loss.
J.C. Westside at MAGAZINE: Magazine's sophomore QB Nate Smith threw 2 TD passes and ran for another in last week's win over Decatur. Junior Dosson Littleton accounted for 2 TDs and senior Jasper Franklin and sophomore Gunner Franklin scored their first career TDs. J.C. Westside (0-5) had a rushing TD in the third quarter before scoring on a TD pass and safety in the fourth quarter of a 42-16 loss to Hector. Magazine won this matchup 40-24 last year.
OPEN Bigelow
2-2A
CLARENDON at Cross County: Clarendon has lost two in a row, including last week's 46-44 loss against second-ranked East Pointsett County. Junior QB Jaxon Hampton threw for 72 yards and a TD in the defeat. Senior all- conference WR Terrance Hampton, Jaxon's older brother, caught 2 passes for 70 yards and 2 TDs. Senior Braylon Hampton led the team with 10 tackles. The Thunderbirds of Cross County lost 36-0 against No. 15 McCrory.

DES ARC at Marianna: First-year Coach Brandon Barbaree captured his first win at Des Arc — 28-24 over Earle last week. Junior Cache Flanagan (27-118 rushing, 2 TDs), senior all-state FB Jack Kearby (rushing TD, 13 tackles), Daviyon Bell (rushing TD) and Ben Kearby (11 tackles, 2 TFL, sack) all contributed. Marianna (0-3) lost 53-0 to No. 3 Marked Tree.
MARKED TREE at Earle: Marked Tree Coach Waylon Dunn's Indians (4-0) can match last season's win mark with a victory. Marked Tree's defense has scored 7 TDs and forced 16 turnovers this season. Earle lost 28-24 to Des Arc, giving the Eagles their first win. Marked Tree had to forfeit this game last year because of a Covid-19 oubreak, but the Indians won 44-42 two years ago.
McCrory at EAST POINTSETT COUNTY: All-conference RB Dennis Gaines (1,011 rushing yards, 13 TDs) continues putting up numbers for EPC (4-0). Gaines rushed for 200 yards and 3 TDs on 32 carries in last week's 46-44 win over Clarendon. Senior QB Carter Smith ran for 112 yards and accounted for 3 TDs (2 passing, 1 rushing). Junior DBs Cooper Argo and Kavan Jennings both intercepted passes, while Gaines led the team with 11 tackles. Coach Brandon Godfrey and the McCrory Jaguars beat Cross County 36-0 last week for their first win. Junior QB Reece Rushing (102 passing, 45 rushing, 2 TDs) and junior Landon DeWitt (18-100 rushing, 2 TDs) led the way. McCrory won this game 22-18 last fall en route to its state championship, but EPC looks dangerous.
3-2A
DIERKS at Murfreesboro: QB Rylan Hill (167 passing, 2 TDs), sophomore RB Jordan Hill (102 yards rushing, 1 TD) and senior Eli Sharp (128 total yards) were prominent in Dierks' 39-8 win over Lafayette County. Murfreesboro lost to No. 12 Poyen 36-0.

MINERAL SPRINGS at Lafayette County: Coach Jason Hathcock returns to Lafayette County for the first time since he took the head coaching job at Mineral Springs. Eight different Mineral Springs Hornets scored at least 1 TD in last week's 60-20 homecoming win against Foreman — Evan Erwin (133 passing yards, 3 TDs; 51 rushing, 1 TD), Vonderrick Stewart (64 rushing yards, 1 TD), K.J. Hayes (59 rushing yards, 2 TDs; 61 receiving yards, 1 TD), Katrevion Thomas (20 rushing yards, 1 TD), Ladarius Franklin (56 rushing yards, 1 TD), Romeo Lucero (55 receiving yards, 1 TD; 9 tackles, 1 sack), C.J. Thornton (9 receiving yards, 1 TD) and Tray Harris (30 receiving yards, 1 TD). Senior RB Michael Sykes did not score but led the team with 80 rushing yards. Mineral Springs has  matched its 4-win total of 2019. Lafayette County (0-4) comes off a 39-8 loss to Dierks.
Poyen at MOUNT IDA: This has the look of a competitive, high-scoring affair. Poyen comes off a 36-0 win over Murfreesboro. Mount Ida had last week off following a 43-13 loss against Class 3A Lavaca. Mount Ida won 20-14 last year.
OPEN Foreman
4-2A
HAZEN at Baptist Prep: Coach Joe Besancon's Hazen Hornets held Hampton to minus-19 rushing yards in the first half of a 46-0 win. Junior Kolton Tosh led the team with 11 tackles. All-state QB Luke King (12-17 passing, 271 yards, 3 TDs), junior WR Justin Schlenker (4-112 receiving, 2 TDs), and junior RB Braylan Anderson (5-108 rushing, 2 TDs) led the way. The Eagles of Baptist Prep (0-5) scored 21 points in a loss to England last week. Junior Ryan Brent (112 total yards, 1 TD; 10 tackles) and senior Dane Spoon (108 yards, 22-yard TD reception) led Baptist Prep.
Bearden at HAMPTON: Neither team scored last week: Hampton lost 46-0 to top-ranked Hazen; Bearden fell 42-0 to No. 6 Carlisle.
Class 3A QUITMAN at England: Quitman moved the ball in a 44-26 loss to Newport, passing for 191 yards and 2 TDs but struggled at times on the ground. Senior QB Nassir Donohoo has accounted for 19 TDs in the first 4 games. England's offense is averaging 46 points per game since its 35-6 loss to Bigelow in Week 2. Senior QB Chandler Cheek accounted for 435 yards and 5 TDs in last week's win over Baptist Prep. Demario Carter caught 5 passes for 106 yards and intercepted 2 balls on defense.

Hootens.com 8-Man Rankings

Week 5, 2022
Copyright Seventy Seven's Publishing
1. Mountain Pine (4-0)
2. Spring Hill (5-0)
3. Woodlawn (3-0)
4. Rector (2-1)
5. Brinkley (3-1)
6. Izard County Consolidated (2-2)
7. Strong (1-1)
8. Marvell (1-2)
9. Augusta (0-2)
10. Midland (1-2)
11. Hermitage (0-3)
12. Dermott (0-1)
13. KIPP Helena (0-1)
8-Man Club
1. Mountain View (4-0)
2. Fountain Lake (3-1)
3. Genoa Central (3-1)
4. Subiaco (2-2)
5. Cedar Ridge (2-2)
6. Marshall (1-4)
7. Cutter Morning Star (0-2)
8. Parkers Chapel (0-5)
9. Rose Bud (0-4)

WEEK 5 PREDICTIONS (favored team highlighted in yellow and ALL CAPS)
LAST WEEK
Hootens.com correctly predicted 9 of 10 games (90 percent) involving 8-Man football teams and is 27-8 (77 percent).
HOOTENS.COM GAME OF THE WEEK
No. 3 Genoa Central at No. 2 FOUNTAIN LAKE Genoa Central struggled to stop Mountain View's rushing attack in a 30-12 loss last Friday. Fountain Lake beat Marshall 51-26, with senior Juan Diggs (5-167 receiving, 2 TDs; 15 tackles, 1 interception and 2 fumble recoveries) leading the way.
BRINKLEY at Augusta The Brinkley Tigers trounced KIPP Helena 70-0, one of two teams in the state to post 70. Brinkley had 6 different players score a touchdown and rushed for 524 yards. Jeremiah Harris (7 carries for 122 and a TD) and Sylvester Williams (4 carries for 104 and a score) led the Tigers. Augusta is giving up 45 points per contest.
CUTTER MORNING STAR at Rose Bud The Arkansas Activities Association cleared Cutter Morning Star sophomore QB Peyton Mills to play, and he responded by passing for 305 yards and 4 TDs in a 34-28 loss to Subiaco Academy. Senior TE Clayton Weldon (7-204 receiving, 3 TDs) and junior Keith Collins (6-101 receiving, 1 TD) caught Mills' throws.  Rose Bud lost 22-20 to Cedar Ridge last Friday.
Rector at IZARD COUNTY CONSOLIDATED Rector hasn't played since a 34-28 home win two weeks ago over ICC that counted as a nonconference game. Rector travels to Izard County for the rematch. Izard County won the program's second football game last week, beating Midland. 
MOUNTAIN PINE at Hermitage Mountain Pine rushed for 219 yards in a 62-7 win over Marvell last week. Mercurial senior Isiah Miles (3-120 rushing, 2 TDs; 1-53 receiving, TD last week) is averaging 29.3 yards per catch and 28.2 yards per rush on the season, with a combined 412 yards of offense and 7 touchdowns on 14 touches. Hermitage (0-3) lost 33-8 to Spring Hill.
Cedar Ridge at SUBIACO ACADEMY Subiaco transitioned from its traditional ground-and-pound approach in a 34-28 win over Cutter Morning Star with senior Nick Gehrig throwing 5 touchdowns. Brody Koch collected 12 tackles, bringing his season total to 62.
Marshall at MOUNTAIN VIEW Junior dual-threat QB Drew Shelton (130 rushing, 1 TD; 41 passing yards) and Trampas Stubbs (87 rushing yards) accounted for more 217 of Mountain View's 385 rushing yards in a 30-12 win over Genoa Central. Marshall committed three turnovers in a 51-26 loss to Fountain Lake.
Dermott at SPRING HILL Dermott played its first varsity game in almost 12 years in a 42-20 loss to Strong. Spring Hill is powered by TJ Tipton (523 rushing, 9 TDs) with 125 yards coming in last week's 33-8 win over Hermitage. Spring Hill's defense has allowed 34 points in the month of September.
KIPP Helena at MIDLAND Coach Phillip Lockhart, who is also the principal, said the final result of the program's first game, a 70-0 loss to Brinkley, didn't really matter. "The kids were just so incredibly excited to play, they didn't care about the score, just loved the opportunity to finally suit up and play football," Lockhart said. Midland had offensive success this year, but is still working to develop its defense.
Strong at WOODLAWN The Woodlawn Bears are averaging 348 rushing yards per game. Caleb Martin (4-74 rushing, 3 TDs) and twin brother Jaxon (10-63 rushing, 2 TDs) led the way in a 44-8 win over Parkers Chapel. Strong welcomed Dermott to 8 Man football with a 42-20 win last Friday.