Class 4A Week 5 Rankings, Notes & Picks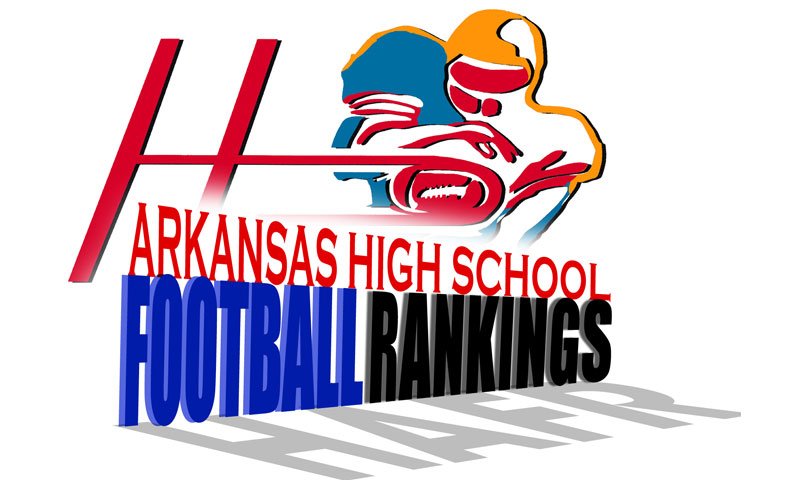 Hootens.com Rankings
Class 4A, Week 5, 2021
Copyright Hooten Publishing, Inc.
1. Shiloh Christian (3-1)
2. Warren (3-1)
3. Stuttgart (3-1)
4. Joe T. Robinson (3-1)
5. Crossett (2-2)
6. Ozark (2-2)
7. Prairie Grove (3-1)
8. Ashdown (4-0)
9. Arkadelphia (2-2)
10. Lonoke (4-0)
11. Malvern (2-2)
12. Rivercrest (2-1)
13. Star City (3-1)
14. Nashville (2-2)
15. Gosnell (1-2)
16. Mena (3-2)
17. Dumas (2-1)
18. Elkins (3-0)
19. Pocahontas (2-2)
20. Gentry (4-0)
21. Clinton (2-2)
22. Mills (4-0)
23. Bauxite (2-2)
24. Monticello (2-2)
25. Dardanelle (1-3)
26. Lamar (3-1)
27. Southside (2-2)
28. Trumann (3-1)
29. Cave City (3-1)
30. Jonesboro Westside (1-2)
31. Pottsville (2-3)
32. Fountain Lake (2-2)
33. H. Grove Haskell (1-2)
34. DeWitt (2-2)
35. Waldron (1-3)
36. Gravette (0-4)
37. Huntsville (1-3)
38. CAC (2-2)
39. Heber Springs (1-2)
40. Bald Knob (0-4)
41. Highland (2-2)
42. Berryville (1-3)
43. Green Forest (1-2)
44. Blytheville (0-4)
45. Hamburg (0-4)
46. Helena (0-4)
47. Dover (0-4)

GAME OF THE WEEK
No. 9 Arkadelphia at No. 4 Joe T. Robinson
The winner takes control of the ultra-competitive 7-4A. Joe T. Robinson has won seven of the past 12 meetings since these have been in the same conference. The fourth-ranked Senators have won three straight games this season, including 48-25 a week ago at Fountain Lake. Senior quarterback Jack Cleveland completed 14 of 21 passes for 264 yards at Fountain Lake, while senior receivers D'Kyson Wright tallied 143 yards and a pair of TDs. Junior linebacker Ashtyn Williams paces the Senators with 46 tackles, while junior LB Julian Campos paces them with nine tackles behind the line of scrimmage.  Arkadelphia led Nashville 28-0 in the third quarter a week ago before mercy-ruling the Scrappers. Senior Jaishon Davis ran 15 times for 116 yards and a pair of TDs and caught a TD pass. Junior Latonnieo Hughes caught four passes for 116 yards and two TDs, and at cornerback intercepted one pass. Junior QB Donovan Whitten completed 10 of 17 passes for 237 yards and three TDs. Senior middle linebacker Alex Turley racked up 11 tackles against Nashville, while senior LB Landon Kuhn made 10 stops. "Joe T. is probably the biggest and fastest 4A team in the state," Coach Trey Schucker says. 

LAST WEEK
Hootens.com correctly predicted all 23 games correctly. Hootens.com has predicted 134 of 151 games (89 percent) correctly this season.
WEEK 5 PREDICTIONS (favored team in ALL CAPS)
1-4A
Berryville at GENTRY (15): Gentry senior left guard/defensive lineman Lucas Guinn earned a 95 percent blocking grade, made five pancake blocks and registered three tackles in last week's 12-point win over Huntsville. Senior linebacker Will Pyburn graded out at 94 percent on defense by making 10 stops and break up two passes. Senior Zach Gunneman ran 19 times for 108 yards and a TD. Berryville trailed Shiloh Christian 42-0 in the second quarter last week. Bobcat senior Jaiden Tanksley ran the ball hard, Coach Bryan Hutson says.
Huntsville at ELKINS (10): Huntsville hung with Gentry for a half last week before giving up two second half TDs in a 12-point loss. Huntsville senior LB Tucker Bradley recorded 11 tackles, forced and recovered a fumble, while senior Kolton Reynolds returned a punt for a TD. Elkins sophomore Da'shawn Chairs sparked last week's four-point win at Gravette with 25 carries for 299 yards and five TDs. He's scored 14 TDs in four games. Junior Aden Williams caught a TD pass at receiver, and at safety recorded five tackles and two interceptions.
Gravette at PRAIRIE GROVE (18): Prairie Grove has won nine straight over Gravette, including the past four by a combined 135 points. Tiger senior Colin Faulk ran seven times for 106 yards and a pair of TDs in last week's 40-21 win over Green Forest, , while junior wingback Ethan miller averaged 8 yards per carry. Gravette led Elkins 26-21 in the second half last week before losing by four points. Two of Gravette's four losses are by four points or less. Junior QB Rhett Hilger completed 12 of 23 passes for 258 yards and three TDs against Elkins.
Green Forest at SHILOH CHRISTIAN (41): Shiloh Christian seeks its second straight sportsmanship rule win. Junior QB Eli Wisdom completed 20 of 25 passes for 306 yards and four TDs in the first half of last week's 49-0 win at Berryville. Green Forest senior Barrett Phillips ran for 71 yards in last week's 19-point loss to Prairie Grove.
2-4A
Heber Springs at STUTTGART (15) (Thurs.): Stuttgart has won 11 of the past 15 over the Panthers. Senior QB Tymir Coppins scored the winning TD with 3:09 left in last week's 21-18 come-from-behind victory at Southside. Junior Cedric Hawkins ran 31 yards for a TD in the first quarter, and started the fourth-quarter rally by taking a screen pass 31 yards for a TD. Heber Springs sophomore Parker Brown ran 22 times for 160 yards and two TDs in last week's 36-14 loss to Lonoke, while junior MLB Keenan Snead racked up 15 tackles, including four TFL's. Watch extended highlights of Stuttgart's loss two weeks ago at Warren HERE and its season-opening win over Star City HERE. 
Bald Knob at LONOKE (12): Lonoke has won eight of the past 11 over Bald Knob, but the past two games were decided by a total of eight points. Jackrabbit senior QB Spencer Pepper passed for 175 yards and a TD and ran 14 times for 107 yards and a TD in last week's 22-point win over Heber Springs. Sophomore LB Cody Amato paced Lonoke with 11 tackles, while senior end Ayden Rowton made 10 tackles and five sacks. Bald Knob gives up 39 ppg.
CAC at MILLS (21): Undefeated Mills puts up 47 points weekly. Junior RB Jabrae Shaw has more than 800 yards this fall. CAC senior QB Tyler Williams ran 16 times for 61 yards and a TD in last week's 30-point loss to Clinton. 
SOUTHSIDE (1) at Clinton: Southside must recover from last week's heartbreaking three-point loss to Stuttgart. The Southerners led 18-7 in the fourth quarter but lost 21-18. Senior tight end Alex Coper and wingback Jacob Dunne earn praise from Coach Brian Reardon for their blocking skills. Dunne ran six times for 59 yards and earned a 90 percent blocking grade vs. Stuttgart, while Alex recorded a 90 percent blocking grade and caught a 60-yard pass to set up a TD. Sophomore RB Seth Case ran 15 times for 85 yards. Clinton carried 20 players to CAC last week (10 players in quarantine). Sophomore Zane Widener ran for 190 yards and three TDs and caught a TD pass. Turnovers have decimated the Yellow Jackets in their two losses,
3-4A
Blytheville at JONESBORO WESTSIDE (16): A battle of winless teams. Jonesboro Westside must shake last week's double overtime setback at Trumann. Junior fullback Darvin Fowler and senior Spencer Long played well, Coach Bobby Engle says. Blytheville averages less than a TD per game.
RIVERCREST (12) at Cave City: Rivercrest averages 395 yards and 37 weekly. Senior Tray Jones paces the Colts with five TDs on the ground, and he recorded 11 tackles at LB in last week's 20-point win over Pocahontas. Surprising Cave City clobbered Blytheville by 27 points last week. Senior Maddox Moreland caught five passes for 81 yards and a pair of TDs, and at safety intercepted two passes.  
Gosnell at POCAHONTAS (7): Pocahontas junior Connor Baker has 101 carries this fall for 767 yards and 12 TDs. The Redskins gained almost 400 yards in last week's shootout loss at Rivercrest. Gosnell hammered Highland by 38 points a week ago. Gosnell junior QB Floyd Williams ran 15 times for 119 yards and three TDs, and completed five of six passes for 241 yards and two TDs in last week's 38-point win over Highland. Sophomore Cam Williams ran 19 times for 88 yards and a TD and intercepted two passes on defense. 
TRUMANN (14) at Highland: Trumann beat Jonesboro Westside last week by four points in double overtime. Junior QB Murphy Williams ran 15 times for 98 yards and a TD. Senior safety Garrett Wright paced the Wildcat D with 11 tackles, while senior Dawson Shuburte forced a fumble, then caught a two-point conversion to force overtime. Highland gave up more than 400 yards in last week's 46-8 setback at Gosnell.
4-4A
Lamar at DARDANELLE (1): Lamar has never beaten Dardanelle. Sand Lizard junior QB Drew Vega generated 185 yards and a TD in last week's 35-point loss to Ozark. Senior right tackle Carson Ford and senior defensive end Titus Spencer (eight tackles) played well, Coach Drew Vega says. Lamar rallied for a two-point win at Pottsville last week. Senior LB Joe Dalton returned from injury to post 13 tackles and he ran for 90 yards at fullback. Senior RB Tony Balmer scored a crucial TD on the final play of the first half to pull Lamar within 21-13, then his brother, senior Jimmy Balmer, kicked a 42-yard field goal in the final seconds for the win.
Dover at OZARK (40): Ozark goes for its second straight 4-4A mercy-rule win. Junior Eli Masingale ran nine times for 158 yards and a pair of TDs and caught a 27-yard TD pass in last week's 35-point win over Dardanelle. Winless Dover didn't play last week, and the Pirates have been outscored this fall by an average of 43-10. 
Pottsville at MENA (8): Mena's 21-point win at Pottsville last fall was its first ever over the Apaches, and helped the Bearcats win their first conference title in 24 years. Mena senior QB Austin Rose passed for 246 yards and five TDs, and ran for 54 yards in last week's 33-point win over Waldron. Senior Trey Day caught two TDs, while Caleb Peters caught two TDs, ran for one and returned a kickoff for another. Pottsville gained 359 yards in last week's two-point loss to Lamar. The Apaches missed a potential winning field goal as time expired.
WALDRON is open.
7-4A
Arkadelphia at JOE T. ROBINSON (1): Hootens.com Class 4A Game of the Week.
Bauxite at ASHDOWN (8): Ashdown has won eight of the past 11 over the Miners, but the past two meetings have been decided by a TD or less. Junior Kaiden Winfrey hauled in a pair of TD passes in last week's 20-point win at Harmony Grove Haskell, while junior LB Jonathan McElroy made 17 tackles. Ashdown RB Jayden Fricks has rushed for 350 yards and six TDs the past two games. The Panthers haven't trailed this fall. Bauxite senior receiver Braden Arnold "is the best receiver in our conference," an opposing coach says. Arnold caught four passes for 83 yards against Malvern.
Fountain Lake at NASHVILLE (7): Fountain Lake has only 23 players on the roster, and a pair of two-way starters are out this week (one with injury, one suspended). The Cobras gave up 423 yards in last week 23-point loss to Joe T. Robinson. Nashville trailed Arkadelphia 42-0 early in the second half last week. Senior QB Ethan Gunter has thrown eight TD passes this fall, while sophomore Trey Hopkins averages almost 6 yards per carry. 
H. Grove Haskell at MALVERN (14): Without standout QB Cedric Simmons (PCL injury, out at least four weeks), Malvern alternated two QBs last week, running to a 20-point win at Bauxite. Sophomore Jalen Dupree ran for 241 yards, while senior Braylon Watson ran 25 times for 175 yards. Sophomore left tackle Vinnie Winters (offers from Arkansas, Arkansas State and Memphis) "has dominated," Coach J.D. Plumlee says. Senior Jabri Artis blocks well at tight end, plays on every special team and last week recorded seven tackles and two sacks at Bauxite. Haskell's Diamond T offense frustrates opponents. The Cardinals went on a 21-play, 10-minute drive against Ashdown. Senior QB Hunter Williams ran 51 yards for a TD and threw a pair of TD passes last week.
8-4A
CROSSETT (11) at Dumas: Crossett senior QB Tyrique Jones had more than 300 yards, including 242 passing in last week's 40-34 setback at Warren, while senior Jackson Moore caught four balls for 101 yards. Junior Tayshawn Paskel generated more than 200 yards and three TDs. Dumas dominated Helena 50-14 a week ago, pilling up more than 400 yards. Sophomore QB Joseph Jones passed for 183 yards and three TDs, while senior Orlandrick Tatum (12 carries, 109 yards and two TDs) and sophomore Jaylon Jordan (eight totes, 95 yards and one TD) led the ground game. Watch extended highlights of Crossett's losses earlier this season to McGhee HERE and at Warren HERE.
Helena at DEWITT (17): DeWitt seeks its first winning streak since 2019, when the Dragons won their opening four games. They dumped Hamburg last week 37-0. Junior QB Eli Ashcraft completed 10 of 15 passes for 145 yards, while senior Owen Luebke ran four times for 59 yards and a TD, and at LB had a scoop and score. The Dragon D held Hamburg to 61 yards. Helena hasn't won a game since downing DeWitt 22-6 Week 5, 2019.
Hamburg at MONTICELLO (32): Hamburg has won nine straight over Monticello by a combined 288-82. But the Lions are winless this fall and have scored just 10 points in four games. Monticello failed to score in last week's 10-0 loss to Star City. But the Billie D played well, led by senior linebacker Cade Pigott (11 tackles) and junior Brandon Haynes (10 tackles).  Senior end Keith Wells, Jr. collected four stops, while junior K.J. Davis forced a pair of fumbles. 
WARREN (14) at Star City: Star City hasn't beaten Warren since 2010. The Bulldogs beat Monticello a week ago 10-0. Fullback Cole Branson ran 24 times for 142 yards, and junior QB Mason Taylor ran in the only TD. Junior all-state soccer player Andras Heredia kicked a fourth-quarter field goal. Warren senior Cedric Calbert ran 24 times for 164 yards and a TD in last week's 40-34 victory over Crossett, while senior QB Riley Cornish completed seven of 11 passes for 61 yards and ran 11 times for 83 yards. Junior LB Delphino Rivera led the Lumberjacks in tackles. Watch extended highlights of Warren's win over Crossett HERE, its win over Stuttgart HERE, and its loss at White Hall HERE.