Class 5A Week 5 Rankings, Notes & Picks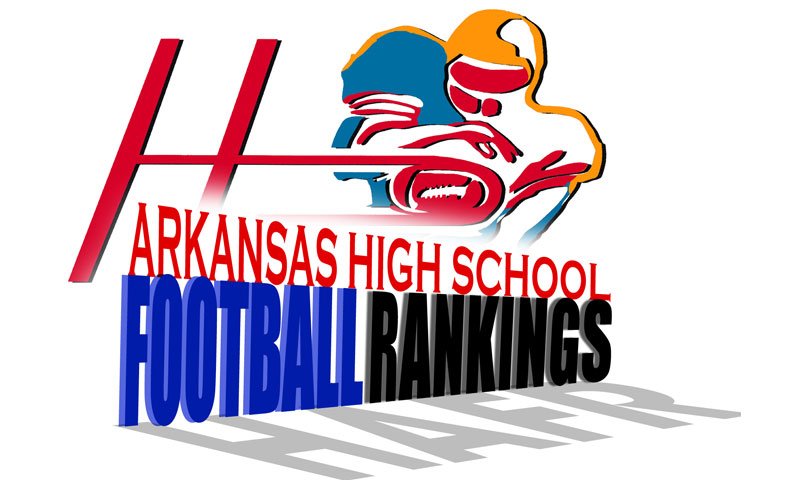 Hootens.com Rankings
Class 5A, Week 5, 2021
Copyright Hooten Publishing, Inc.
1. Pulaski Academy (3-1)
2. LR Christian (5-0)
3. Wynne (3-1)
4. White Hall (4-1)
5. Vilonia (4-0)
6. Greenbrier (4-0)
7. Camden Fairview (4-1)
8. Farmington (4-0)
9. Harrison (3-1)
10. Maumelle (1-4)
11. Nettleton (4-0)
12. Magnolia (1-4)
13. Valley View (3-1)
14. HS Lakeside (1-3)
15. Texarkana (1-2)
16. Hot Springs (2-2)
17. Greene Co. Tech (3-1)
18. Morrilton (1-3)
19. Beebe (1-3)
20. Watson Chapel (0-3)
21. Batesville (0-4)
22. Alma (2-2)
23. Clarksville (1-3)
24. Brookland (2-2)
25. Hope (1-4)
26. Pea Ridge (1-3)
27. Jacksonville (0-4)
28. Forrest City (1-3)
29. De Queen (1-4)
30. Paragould (0-3)
GAME OF THE WEEK
No. 4 White Hall at No. 2 LR Christian
LR Christian has won seven of the eight meetings between these teams, including twice in 2019. The undefeated Warriors allow just 13 points weekly, and they've forced eight fumbles. Senior end Titus Colquit has a 32 tackles, including a team-best 12.5 tackles for loss. "Their defense revolves around him," White Hall coach Bobby Bolding says. "He's hard to handle. If you can't block him, you can't win." Junior outside linebacker Holt Chappell paces LRCA with 38 tackles. Sophomore quarterback Walker White spearheads a unit that averages 467 yards weekly. White has completed 59 percent of his passes (48 of 82) for 724 yards and seven touchdowns with three interceptions, and he averages almost 7 yards per carry. Senior running backs Jayvean Dyer-Jones and Brian Gittens have rushed for 955 yards and 15 TDs this fall.  White Hall counters with a defense that has shut out four of its five opponents, and has only been scored on by Class 6A No. 2 Little Rock Parkview. Senior quarterback Matthew Martinez "is doing a great job as a leader and our receivers are blocking well on the perimeter," Bolding says. Martinez threw threw four first-half TD passes in the first half of last week's 45-0 win over Jacksonville. Senior Zaire Green ran for 86 yards and a TD, while Jordan Jackson hauled in two TD passes. Senior Kyler Barnes made all six extra points against Jacksonville and has booted in four field goals this fall.
LAST WEEK
Hootens.com correctly predicted 12 of 15 games (80 percent). For the season, Hootens.com has predicted 90 of 102 games (88 percent).
WEEK 5 PREDICTIONS (favored team in ALL CAPS)
5A CENTRAL
White Hall at LR CHRISTIAN (2): See Game of the Week.
Beebe at MAUMELLE (13): Maumelle plays its first home game of the season. The hard-luck Hornets have lost four straight games by a combined 14 points. The Hornets tallied 238 yards in last week's 16-10 setback at LR Christian, but converted only four of 13 times on third down and two of nine times on fourth down. Junior QB Weston Pierce passed for 167 yards and ran for a TD. Beebe snapped a seven-game non conference losing streak last week with a 37-point win over Class 2A Junction City.
Jacksonville at WATSON CHAPEL (1): A battle of winlesss teams. Watson Chapel has been outscored by an average 57-20 in three games this fall, while Jacksonville gets outscored 43-14. Watson chapel sophomore QB Marquez Brentley threw a 28-yard TD pass in the fourth quarter last week at Pulaski Academy.
White Hall at LR CHRISTIAN (2): Hootens.com Class 5A Game of the Week. 
PULASKI ACADEMY (10) at Liberty Christian, Texas: Liberty Christian is 1-3 this fall, getting outscored the past two games by an average of 86-38. Pulaski Academy lost to Lipscomb Academy (Tenn.) by 36 points Week 2, but bounced back a week ago with a dominating 64-8 triumph over Watson Chapel. The Bruins led 57-0 at halftime. Senior Joe Himon ran for two TDs and a conversion in the first quarter, while senior QB Charlie Fiser threw five first-half TDs.
5A EAST
Paragould at BATESVILLE (8): Batesville hasn't lost to the Rams since 1994, when the school was known as Ridgecrest. Batesville QB Jay Storlie passed for 114 yards and a TD in last week's 26-7 setback at Nettleton. But the Pioneers allowed 443 yards and turned the ball over twice. Paragould scores 12 ppg. 
NETTLETON (12) at Brookland: Nettleton senior QB Cameron Scarlett passed for 268 yards and three TDs and ran for 82 yards and another TD last week in a 19-point triumph over Batesville. Junior LB Blake Brown paced the D with nine tackles. Brookland has scored two TDs or fewer in three games this fall. 
Forrest City at VALLEY VIEW (26): Valley View has won four straight over Forrest City by a combined 108 points. The Blazers led Paragould 35-0 in the first half a week ago. Sophomore QB Carson Turley completed four of six passes for 116 yards and a TD against Paragould. He also averaged almost 7 yards per carry and ran for a pair of TDs. The Blazer D has forced 10 turnovers this fall. Forrest City hasn't won a conference game since beating Blytheville Week 10, 2019. The Mustangs have scored a TD or less in three of their four games this fall.
WYNNE (10) at Greene Co. Tech: GCT hasn't beaten Wynne since 2009. The Eagles whipped Forrest City last week by 34 points, their largest margin of victory in a decade and first sportsmanship rule triumph since 2013 (under former coach Jeff Conaway). Senior receiver Devon Henley caught a pair of TD passes and racked up seven stops against Forrest City. Wynne senior wingback Carl Washington ran for more than 100 yards and a TD a week ago against Brookland.
5A SOUTH
Texarkana at CAMDEN FAIRVIEW (7): Texarkana won this game last year on a punt return as time expired. The Razorbacks have only one victory this fall (35-0 over Class 3A Dollarway in Week 2). They gave up 525 yards in last week's 29-point loss to Magnolia. Camden Fairview rallied from a 14-7 deficit in the second quarter a week ago for a five-point win at HS Lakeside. Junior QB Martavius Thomas completed 16 of 22 passes for 229 yards and three TDS and ran for 128 yards. Senior Jacoriae Brown logged 26 carries for 131 yards and three TDs. 
Hope at HOT SPRINGS (10): These teams have split the past 12 meetings, with Hot Springs winning the past two (51-7 in 2019 and 63-42 last year). Hot Springs hasn't since losing to Class 6A Lake Hamilton 41-0 Week 3. The Trojans put up more than 400 yards weekly. Hope beat De Queen 46-14 last week, its first win in a year. Hope standout senior Amarrion Dempsey has shifted from QB to receiver (eight receptions, 175 yards and two TDs vs. De Queen).
HS Lakeside at MAGNOLIA (1): HS Lakeside has won 10 of the past 19 against in this evenly matched series. HS Lakeside led Camden Fairview late in the first half a week ago before losing 38-33. Senior QB Jordan Mills completed 17 of 28 passes for 278 yards and a TD. Magnolia notched its first win of the season last week, beating Texarkana 53-24. The Panthers haven't turned the ball over in two weeks "and we will be hard to beat if we continue to do that," Coach Mark King says. Three Panther RB's went over 100 yards, including Garrion Curry (eight carries, 147 yards), Kendrick Williams (six carries, 125 yards) and Deraylen Williams (15 carries, 128 yards).
De QUEEN is open.
5A WEST
HARRISON (16) at Alma: Alma has won 14 of the past 22 in the series, but Harrison has won the past three years by a combined 108-6. Harrison committed four turnovers (two fumbles, two interceptions) and had two punts blocked in the second half of last week's one-point loss to Farmington. "We stopped ourselves with penalties and turnovers," Coach Joel Wells says. Senior QB Logan Plumlee passed for 208 yards in the first half. Alma beat Pea Ridge last week by 17 points and have won consecutive games for the first time since Weeks 10-11, 2019. Junior QB Joe Trusty passed for 327 yards and four TDs against Pea Ridge, while senior Connor Stacy hauled in six balls for 154 yards and a TD.
GREENBRIER (24) at Clarksville: Clarksville ran for 299 yards but managed just seven points last week at Vilonia. Junior Kash Walker ran four times for 94 yards and a TD. Unbeaten Greenbrier averages 48 points weekly. Senior Cooper Wilcox (963 yards, 17 TDs) paces a unit that puts up 48 points a game. 
VILONIA (2) at Farmington: Could easily be game of the week. High-flying Vilonia puts up 45 ppg. Senior QB Austin Myers completes 69 percent of his passes for 957 yards, 13 TDs with three interceptions. Senior receivers Connor Eary, Jamison Hinsley and Kannon Bartlett have combined for 56 receptions and 795 yards this fall. Farmington has rallied from second-half doubled-digit deficits each of the past two weeks (19 down at Springdale and 25 down at Harrison). The Cardinals blocked two punts in the second half at Harrison and forced four turnovers. Sophomore QB Cameron Vanzant threw three TDs.
Pea Ridge at MORRILTON (4): Morrilton gives up 37 ppg, and the Devil Dogs surrendered 441 yards in last week's 35-point loss at Greenbrier. Pea Ridge allows 51 points per game. The Blackhawks gave up 543 yards last week to Alma.