Class 5A Week 5 Rankings, Notes & Picks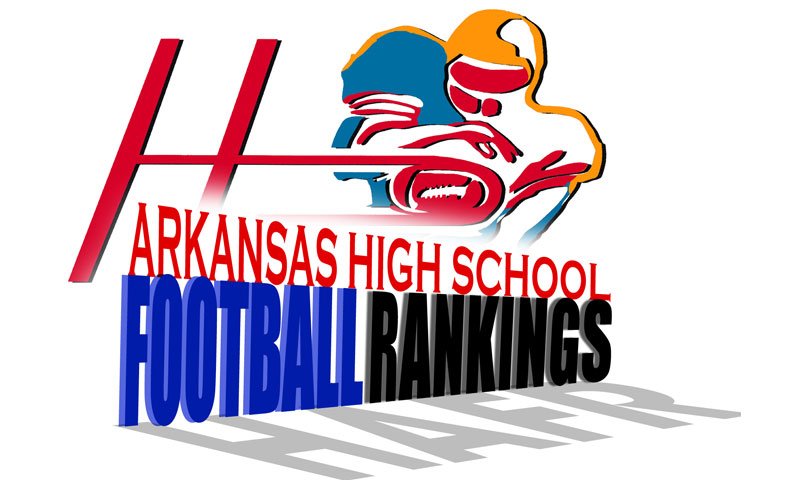 Hootens.com Rankings
Class 5A, Week 5, 2020
Copyright Hooten Publishing, Inc.

1. Pulaski Academy (4-0)
2. LR Christian (3-1)
3. Texarkana (2-0)
4. Wynne (4-0)
5. Maumelle (2-2)
6. Harrison (3-1)
7. White Hall (3-1)
8. Magnolia (3-1)
9. Morrilton (2-2)
10. Watson Chapel (2-1)
11. HS Lakeside (3-2)
12. Vilonia (3-1)
13. Camden Fairview (2-3)
14. Batesville (2-2)
15. Hot Springs (1-2)
16. Valley View (3-1)
17. Greenbrier (1-3)
18. Greene County Tech (3-1)
19. Farmington (2-1)
20. Forrest City (1-2)
21. Nettleton (1-3)
22. Pea Ridge (1-3)
23. Clarksville (1-2)
24. Alma (1-3)
25. Jacksonville (1-3)
26. Beebe (1-3)
27. LR Hall (1-3)
28. Hope (1-3)
29. Brookland (1-3)
30. Paragould (0-4)
31. De Queen (0-5)

HOOTENS.COM GAME OF THE WEEK
No. 2 LR Christian at No. 7 White Hall
Little Rock Christian has won six of the seven meetings between these teams, including twice last season (28-16 Week 8 and 42-14 in the semifinals). The Warriors slipped past Maumelle last week 27-17 when junior Jayvean Dyer-Jones ran for 95 yards and senior QB Colin Cooper ran for two touchdowns and threw a TD pass. Senior Isaiah Hankins nailed a 45-yard field goal against Maumelle and routinely kicks off into the end zone. Senior defensive end Anthony Pugh and corner Luke Lee played well against Maumelle, Coach Eric Cohu says. Watch extended highlights of LR Christian's win at Maumelle HERE, 57-35 win at LR Central HERE and 52-49 loss to Magnolia HERE.
White Hall jobbed Jacksonville 41-14 last week, and the Bulldogs' only loss came to Class 6A No. 2 LR Parkview. Junior running back Zaire Green ran for 327 yards and three TDs at Jacksonville and senior playmaker Kam Robinson caught three TDs, including two in the opening quarter. Watch extended highlights of White Hall's win at Sheridan HERE, win at Warren HERE and loss to LR Parkview HERE.

LAST WEEK
Hootens.com correctly predicted 12 of 15 games (80 percent) last week. For the season, Hootens.com has predicted 79 of 95 games (83 percent).

WEEK 5 PREDICTIONS (favored team in ALL CAPS)
5A CENTRAL
LR CHRISTIAN (1) at White Hall: Hootens.com Class 5A Game of the Week.
MAUMELLE (20) at Beebe: CANCELED  Beebe QB Gannon Roberts ran 15 yards for the winning TD with less than a minute left last week against LR Hall. Roberts also threw a 21-yard TD pass to Logan Stephens. Maumelle must regroup from its 10-point loss to LR Christian. The Hornets trailed 20-17 in the fourth quarter, but fumbled a punt return and threw an interception in the final six minutes. Senior QB Jonathan Reyes completed 12 of 17 passes for 162 yards and a TD, and junior safety Maxwell Pace returned an interception 22 yards for a TD. Watch extended highlights of Maumelle vs. LR Christian HERE.
WATSON CHAPEL (15) at Jacksonville: Jacksonville's Darien Bennett ran for 117 yards and a TD in last week's loss to White Hall. Watson Chapel led Pulaski Academy 24-14 in the second quarter, but failed to score again. Wildcat sophomore QB Jabrae Shaw threw a pair of TD passes (both to junior Jordan Jackson) and ran for another TD. Watch extended highights of Chapel's Week 3 win at Camden Fairview HERE.
PULASKI ACADEMY (35) at LR Hall: Pulaski Academy wins its 14th straight game. The Bruins rolled up 710 yards in last week's 35-point win at Watson Chapel. Junior Joe Himon ran seven times for 190 yards and two TDs and threw a TD pass, while senior receiver Cooper White caught four TD passes. LR Hall led Beebe by one point late last week but surrendered the decisive TD in the final minute after dropping a crucial interception.

5A EAST
BATESVILLE (25) at Paragould: Batesville hasn't lost to the Rams since 1994, when the school was known as Ridgecrest. Batesville rolled up 445 yards (and gave up just 178 yards) in last week's 38-6 triumph over Nettleton. Senior Taylor Daugherty ran 15 times for 111 yards and a pair of TDs, while senior QB Eli Livingston ran for two TDs. Watch scholar athlete Livingston HERE. Paragould led Valley View 7-0 early last week and trailed 21-7 at halftime. The Rams ran for 157 yards, but converted only one of 10 third downs.
Brookland at NETTLETON (3): Nettleton trailed Batesville 7-6 in the first quarter last week, but failed to score again while gaining just 178 yards. Sophomore QB Cameron Scarlett ran 25 yards for the TD and he's emerged as the Raiders' most consistent playmaker. Brookland netted only 177 yards in last week's 25-point loss to Wynne. Senior QB Cole Doke passed for 113 yards and a TD. Watch extended highlights of Brookland vs. Wynne HERE.
VALLEY VIEW (12) at Forrest City: Valley View has won three straight over Forrest City by a combined 69 points. Senior QB Zac Stracener passed for 205 yards and four TDs last week against Paragould, while Aeden Huntsman grabbed six passes for 158 yards and a pair of TDs. Watch Valley View scholar athlete Kannon Jones HERE. Forrest City QB Kendall Akins threw a TD pass and ran five times for 50 yards last week against GCT, while Donald Williams registered 14 tackles.
Greene Co. Tech at WYNNE (8): GCT hasn't beaten Wynne since 2009. The Eagles' only loss this year was by two points at Vilonia (extended highlights HERE). They put up 355 yards weekly, paced by seniors David Williams (77 carries, 438 yards and six TDs) and Shad Vaughan (12 catches, 219 yards, three TDs). Wynne ran for six TDs in last week's 42-17 decision over Brookland. Senior QB Marterious Ross sprinted 44 yards for a TD in the first half, while Kamryn Speed had a pair of first-half TD sprints. Watch extended highlights of Wynne's victory at Brookland HERE.

5A SOUTH
Camden Fairview at TEXARKANA (7): Camden Fairview's three losses this year are by a combined 11 points. The Cardinals run for 270 yards weekly. Watch extended highlights of Fairview's 22-17 loss to Watson Chapel HERE. Texarkana beat Class 7A FS Southside 21-6 last week after its conference opener with Magnolia was canceled. Senior receivers Jamarious Johnson and Tavree Green each snagged TDs. Cornerback Tylee Green, Tavree's twin, filled the defensive stat sheet with four tackles, two pass break-ups, an interception and two fumble recoveries. Darius Hill paced the Razorbacks with seven tackles and a sack.
HOT SPRINGS (13) at Hope: Hope has won six of the past 11 in the series (won 26-20 in 2018 and Hot Springs won last year 51-7). Hope's 42-13 win last week over De Queen was its first since beating the Leopards a year ago. Hope senior Ammorrion Dempsey intercepted three De Queen passes, returning two for TDs, and ran for a pair of TDs at QB. Junior DL Gregory Burton paced the Bobcats with eight tackles, including five for loss. He also returned a fumble 20 yards for a TD. Hot Springs didn't play last week and lost to Class 6A Lake Hamilton by 10 points two weeks ago. Junior QB Isaac Shelor threw three TDs and the Trojans piled up 439 yards.
Magnolia at HS Lakeside: canceled. Watch extended highlights of Magnolia's 52-49 win at LR Christian HERE. Watch extended highlights of HS Lakeside's loss to Class 6A Lake Hamilton HERE.
De Queen is open.

5A WEST
Alma at HARRISON (17): Alma has won 14 of the past 21 in the series, but Harrison has two consecutive wins by a combined 66-0. The Airedales struggled early this year, but improved the past two weeks (beat Heritage 17-14 in overtime Week 3) and last week lost to Pea Ridge 35-28 despite out gaining the Blackhawks by 68 yards. Senior Logan Chronister ran for a school-record 281 yards and four TDs against Pea Ridge. Harrison senior QB Cole Keylon passed for 201 yards and a pair of TDs in last week's 33-6 win against Ozark, while the D gave up only 152 yards. The Goblins also blocked two punts.
Clarksville at GREENBRIER (2): Clarksville beat Greenbrier in 2013 but has just three conference wins since, all against Huntsville. Clarksville continues improving this season after losing to Vilonia in overtime a week ago. It led 28-20 at halftime and senior Jaylin Wright sent the game into OT with a short fourth-quarter TD plow. Clarksville converted eight of 10 third downs and its only fourth down try against Vilonia. Greenbrier has lost three straight games since beating Beebe in the opener. Senior QB Cooper Wilcox, playing in just his second game of the season, accounted for more than 200 yards, including a 51-yard TD sprint.
Farmington at VILONIA (4): Farmington returns after cancelling last week's game vs. Harrison due to Covid-19. Farmington junior Caden Elsik has 63 carries this year for 265 yards, while junior Devonte Donovan has 16 receptions for 139 yards and a pair of TDs. Vilonia slipped past Clarksville last week in overtime 35-28. Junior Seth Kirk ran 30 times for 160 yards and five TDs, while junior QB Austin Myers completed 21 of 25 passes for 228 yards and a TD. Watch extended highlight's of Vilonia's 29-27 win over Greene County Tech HERE and Eagle scholar athlete Noah Newman HERE.
MORRILTON (13) at Pea Ridge: Morrilton forced three turnovers in last week's 19-point win at Greenbrier. Senior QB Tucker Granberry threw two TD passes and ran for another. Watch extended highlights of Morrilton's 20-19 loss at Wynne HERE. Pea Ridge forced three turnovers and scored the final 14 points last week to upend Alma 35-28.