Class 4A Week 7 Rankings, Notes & Picks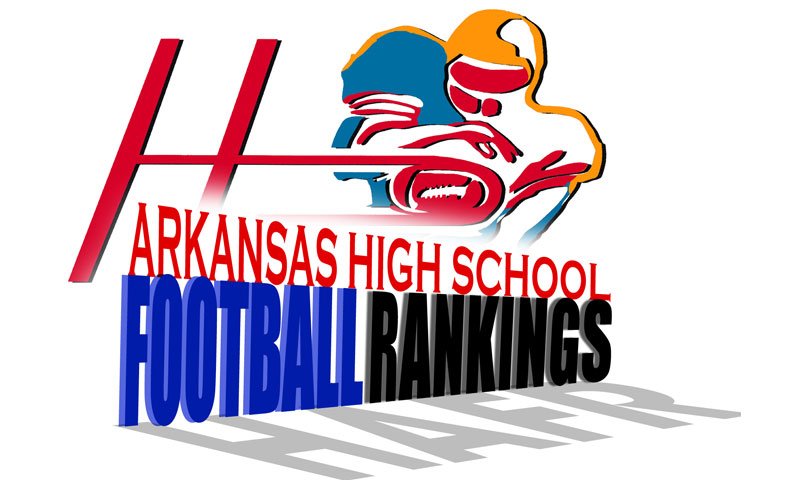 Hootens.com Rankings
Class 4A, Week 7, 2019
Copyright Hooten Publishing, Inc. 

1. Arkadelphia (5-1)
2. Shiloh Christian (6-0)
3. Joe T. Robinson (5-1)
4. Nashville (5-1)
5. Ozark (5-1)
6. Warren (5-1)
7. Crossett (3-3)
8. Dardanelle (5-1)
9. Pea Ridge (3-3)
10. Bauxite (5-1)
11. Riverview (5-1)
12. Helena (5-1)
13. DeWitt (4-2)
14. Southside Batesville (4-2)
15. Mena (4-2)
16. Elkins (5-1)
17. Hamburg (4-2)
18. Lonoke (3-3)
19. Pocahontas (4-2)
20. Jonesboro Westside (4-2)
21. Star City (3-3)
22. Gosnell (3-3)
23. Rivercrest (4-2)
24. Prairie Grove (2-4)
25. Pottsville (4-2)
26. Gentry (4-2)
27. Mills (2-4)
28. Malvern (3-3)
29. CAC (3-3)
30. H. Grove Haskell (3-3)
31. Trumann (2-4)
32. Brookland (2-4)
33. Gravette (2-4)
34. Heber Springs (1-5)
35. Lincoln (4-2)
36. Bald Knob (2-4)
37. Ashdown (2-4)
38. Monticello (1-5)
39. Stuttgart (0-6)
40. Dumas (1-5)
41. Berryville (2-4)
42. Highland (1-5)
43. Fountain Lake (1-5)
44. Subiaco Academy (2-4)
45. Green Forest (2-4)
46. Waldron (0-6)
47. Dover (0-6)
48. Cave City (0-6)

HOOTENS.COM GAME OF THE WEEK
No. 15 Mena at No. 16 Elkins
Elkins has won five straight games since losing the opener to Class 3A Greenland, but those five teams are a combined 3-27. The Elks put up 347 yards weekly. Junior QB Kain Johnson has passed for 1,240 yards and 17 touchdowns this season, while rushing for 341 yards and 10 TDs. "He's the best player we've seen this year," Mena coach Craig Bentley says. Junior receiver Cody Drummond (24 catches, 494 yards and five TDs) and Josh Allan (18 catches, 299 yards and five TDs) form one of the top receiver tandems in the league. Junior Kale Drummond anchors the defense with 34 tackles. The Elks have forced eight turnovers this year, with Cody Drummond getting an interception and junior Ben Evans intercepting a pass and recovering a fumble. 
Mena's 30-point win over Dover last week was its first conference victory. The Bearcats didn't arrive in Dover (see highlights here) until one hour before kickoff after the bus broke down in Danville, then got stuck in Russellville traffic. But the starters were out of the game by halftime. Senior QB Zane Stephens has thrown seven TDs this year (four passing, three rushing). Senior safety Marc Wilson has a team-high 57 tackles and three interceptions. Junior linebacker Cuay House (50 tackles) and senior Jayden Castillo (46 tackles) are anchors for a first-team defense that has allowed a TD or less three times this year.

LAST WEEK
Hootens.com correctly predicted 16 of 24 games last week (67 percent). Hootens.com has picked 160 of 202 games (79 percent) this season.

WEEK 7 PREDICTIONS (favored team in ALL CAPS)
1-4A
Berryville at GRAVETTE (2): Gravette has dropped consecutive conference games by a combined 90-7. Junior QB Cy Hilger completes 57 percent of his passes for 944 yards and nine TDs this fall. Berryville has lost its three conference games by an average of 45-9. Berryville fullback Brett Parsons ran 16 times for 134 yards and a pair of TDs last week against Lincoln.
SHILOH CHRISTIAN (45) at Gentry: The undefeated Saints won their three conference games by a combined 284-7. The Saints led Prairie Grove 28-0 in the first quarter last week, and the D allowed just 132 yards. Senior Truitt Tollett 11 passes for 184 yards and two TDs and returned a punt 45 yard for another score. Gentry gouged Green Forest 34-0 last week when the Pioneers forced five turnovers. Senior QB Brandon Atwood has passed for 1,014 yards and 11 TDs this fall, while running for 553 yards and eight TDs. 
Green Forest at LINCOLN (17): Green Forest has won nine of the past 11 over Lincoln, but the Wolves won 50-0 a year ago. Lincoln surrendered 344 yards rushing last week's five-point win over Berryville. Christian Sellers ran 44 yards for the winning TD with less than four minutes left. Green Forest runs for 133 yards weekly. The Tigers had five turnovers last week against Gentry.
Prairie Grove at PEA RIDGE (6): Prairie Grove gained just 132 yards and had two turnovers in last week's 56-7 setback against Shiloh Christian. After an 0-3 start, Pea Ridge has won three straight league games by a combined 140-28. The Blackhawks led Gravette 42-0 in the second quarter last week. Pea Ridge senior Samuel Beard rushes for 103 yards weekly, and has 10 TDs.

2-4A
RIVERVIEW (1) at Stuttgart: Stuttgart has never lost to Riverview. But the Ricebirds are winless this season, losing three one-point games (consecutive 28-27 losses to Heber Springs and Bald Knob). The Ricebirds failed on a potential winning two-point conversion in the final minutes at Bald Knob. Riverview senior QB Logan Miller has rushed for 1,025 yards and 15 TDs this season, while Ashton Williams has 628 yards and nine TDs. See highlights of Riverview's win over Mills here.
LONOKE (3) at Mills: Favored Lonoke trailed at Southside Batesville 28-0 a week ago before losing 48-21. Sophomore QB Spencer Pepper has passed for 903 yards and 12 TDs this season. Opposing coaches say Mills plays harder than they have in the past. Its two conference losses are by a combined 17 points.
Heber Springs at BALD KNOB (1): Heber Springs led CAC 6-0 in the second quarter a week ago, but failed to score again in an 18-point setback. Senior Julio Rubio ran 13 times for 82 yards and the score. Bald Knob has won two conference games by a total of eight points (beat Mills by seven and Stuttgart by one) and lost at Lonoke by two points. They stuffed Stuttgart's late two-point attempt last week. QB Johnson Capps threw a TD pass, ran for a TD and a two-point conversion at Stuttgart.
SOUTHSIDE BATESVILLE (4) at CAC: Southside jumped on Lonoke 28-0 in the first half last week and led 42-14 in the third quarter before an eventual 27-point triumph. The Southerners held Lonoke to 179 yards. Senior Braden Jones had three carries for 58 yards and a TD. Jones has 463 yards this year, while senior Alex Palmer has rushed for 469 yards. CAC lost its opening two league games (to Riverview and Mills) and trailed Heber Springs 6-0 in the second quarter last week before rallying for a 24-6 victory. The Mustangs put up 399 yards weekly (276 passing, 123 rushing).

3-4A
RIVERCREST (2) at Pocahontas: Rivercrest still playing for a home playoff game. The Colts clobbered Highland 35-7 last week, applying the 35-point sportsmanship rule in the third quarter. Junior QB Kam Turner has passed for 381 yards and two TDs and rushed for 307 yards and four TDs this season. Pocahontas QB Dawson Chester has 20 TDs this year (14 passing, six rushing).
Cave City at JONESBORO WESTSIDE (21): Jonesboro Westside scored a season-high 28 points in last week's two-point win at Brookland. Senior Logan McPherson enjoyed his best game of the year, dashing 21 times for 294 yards and three TDs as Jonesboro Westside ran for 383 yards. Winless Cave City gets outscored 48-15 weekly.
Highland at TRUMANN (15): Trumann has won seven of the past 13 in the series. The Wildcats led Gosnell 16-6 at halftime last week before giving up five straight TDs and losing 46-22. Highland sophomore QB Wyatt Goodman has thrown eight TDs this year. 
Brookland at GOSNELL (7): Gosnell has never lost to Brookland, escaping last year 13-7 in overtime. The Pirates have won three straight conference games this year after starting 0-3. Junior QB Cooper Pieri passed for 102 yards and two TDs in last week's 24-point win at Trumann, while senior Jydarian Young ran 11 times for 260 yards. Brookland has dropped consecutive games to Trumann and Jonesboro Westside after upsetting Pocahontas in Week 4. Senior Kaden Strode ran 13 times for 90 yards and a TD against Jonesboro Westside. 

4-4A
MENA (7) at Elkins: Hootens.com Class 4A Game of the Week.
Pottsville at OZARK (14): Ozark has won four of the past seven meetings with Pottsville. Junior QB Harper Faulkenberry ran for three TDs in last week's 41-13 victory at Dardanelle. Senior Ty Williams ran 52 yards for another TD and blocked a field goal, which senior Bryant Burns returned 85 yards for a score. Pottsville's physical style matches up well with Ozark. The Apaches whipped Waldron 49-14 last week on homecoming. Pottsville QB Konnor Carpenter completed 11 of 15 passes for 224 yards and a pair of TDs, while Elijah Bradley caught three passes for 99 yards and TD, and ran for another TD. Pottsville senior fullback Drew Rust missed last week's game with an ankle injury.
See highlights of Ozark's victory over Dardanelle here.
Dover at DARDANELLE (42): Dardanelle could finish second in the conference and host the fourth-place team from the 7-4A (likely Bauxite) in the first round of the playoffs. Senior Blake Chambers ran 22 times for 118 yards and a TD in last week's 41-13 loss to Ozark. Dover has surrendered at least 38 points in every game. See highlights of Dardanelle's loss at Ozark here.
WALDRON (7) at Subiaco Academy: Winless Waldron has lost its three conference games by an average of 45-15. Subiaco Academy beat Dover by 24 points Week 4, but has lost its past two conference games by a combined 97-13. Nine Bulldogs have ran the ball this year for Waldron, but they average a paltry 1.6 ypc.

7-4A
ARKADELPHIA (17) at Harmony Grove Haskell: Arkadelphia moves back into the top spot in this week's rankings. The Badgers led Fountain Lake 40-0 at halftime last week, when junior QB Braeden Thomas completed three of four passes for 117 yards, while senior Kyren Harrison ran four times for 100 yards and three TDs. Expect H.G. Haskell to play hard. The Cardinals were tied with Bauxite 7-7 in the third quarter last week (lost 28-7) and trailed Malvern 14-8 in the fourth quarter Week 5 before losing by five points.
BAUXITE (19) at Fountain Lake: Bauxite plays its toughest opponents in the final three games. The Miners have five straight wins this fall. Junior QB Connor Stacy ran for 115 yards and two TDs in last week's two-point win over H.G. Haskell. Stacy has rushed 67 times for 428 yards and nine TDs this fall, while sophomore Fabian Torres has three TD runs. Fountain Lake has lost its three league games (to top-4 Joe T. Robinson, Nashville and Arkadelphia) by a combined 142-34.
Ashdown at NASHVILLE (9): Nashville leads the all-time series 53-17, but Ashdown usually plays tough against its rival (winning by four points in 2013 and losing by seven points each of the past two seasons). Nashville must quickly regroup after last week's 27-point loss at Joe T Robinson. The Scrappers led 7-0 early, but lost 34-7. It was the fewest points Nashville had scored since losing to Ashdown 10-6 in 2013. Junior QB/running back Keyshawn Stewart completed four of five passes for 48 yards and threw the only TD to senior Ty Basiliere, who has TD grabs in four straight games. Ashdown has lost three straight games. The Panthers trailed Malvern 24-14 at halftime last week but failed to score in the second half of a 29-point loss.
JOE T. ROBINSON (21) at Malvern: Balanced Joe T. Robinson had 174 yards passing and 152 rushing in last week's dominating win over Nashville. Junior QB Buddy Gaston passed for 177 yards and three TDs, with senior P.J. Hall grabbing six passes for 59 yards and a TD. Malvern's three wins this year are as many as the previous two seasons combined. Freshman QB Cedric Simmons completed seven of 13 passes for 147 yards and a TD, and ran for 130 yards and three TDs in last week's 31-point win at Ashdown. 

8-4A
Monticello at CROSSETT (9): Crossett has won three straight games since losing Week 3 to Class 3A McGehee, including wins over Dumas (46-16) and at DeWitt (39-14) the past two weeks. Senior QB Justin Stokes has passed for 1,1196 yards and 14 TDs this fall, with sophomore speedster Dewayne Ashford routinely burning defenses. Ashford has 17 catches for 417 yards and six TDs. Improved Monticello snapped a 16-game losing streak with last week's 28-22 win at previously unbeaten Helena. The Billies led 7-6 at halftime last week after being tied at halftime in its previous two games. 
Helena at HAMBURG (1): Hamburg helped its playoff resume with last week's 20-17 overtime win over Star City. Senior Gavin Harrod bolted 6 yards for the winning score after Star City kicked a field goal on its overtime possession. Helena must regroup after last week's loss to previously winless Monticello. The Cougars gave up two late TDs in the five-point loss.
DeWitt at WARREN (6): It's homecoming in Warren, and the Lumberjacks are 22-3 in homecoming games the past 25 years. Warren has never lost a conference game to DeWitt. Warren rallied past Dumas 31-14 last week after switching back to a 4-3 defense. The Lumberjacks ran just 13 plays in the first half, but dominated in the second half with senior Vincent Steppes running for 266 yards and three TDs. DeWitt senior Johnta Wright hauled in five passes for 84 yards and a TD in last week's 25-point loss to Crossett, while junior LB Logan Moss tallied 14 tackles.
Dumas at STAR CITY (7): Star City trailed Hamburg 14-0 in the fourth quarter last week, but forced overtime after a pair of late TD runs. The Bulldogs have lost consecutive conference games and need a win to make a playoff push. Dumas led Warren 14-7 in the fourth quarter a week ago but lost by 17 points. Dumas senior Walker Brown and junior Kennon Jones are splitting snaps at QB now after some players left the program two weeks ago. Brown ran five times for 46 yards and a TD last week at Warren, while sophomore Orlandrick Tatum shined with 39 carries for 201 yards and a TD.