HOGS: endless QB battle; more notes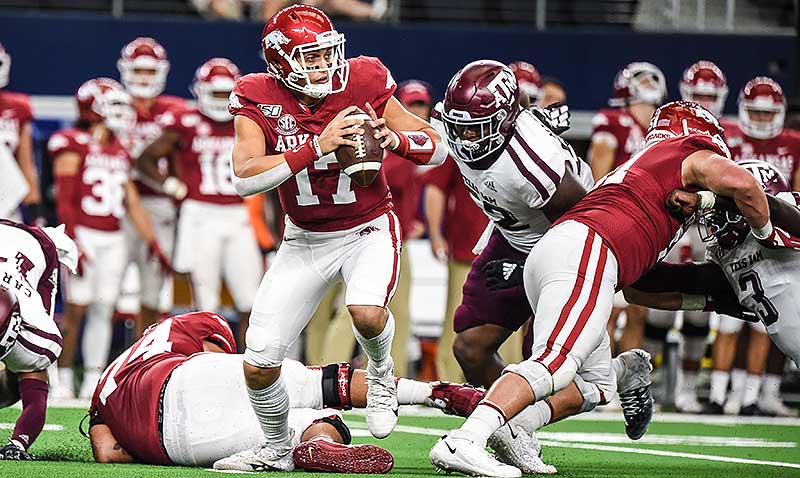 FAYETTEVILLE - Arkansas players wisely took no public sides in the preseason as graduate transfer quarterbacks Ben Hicks and Nick Starkel battled for the starting job.
They supported Hicks as the early-season starter and then supported  Starkel as the Game 3 through 6 starter.
Players surely aren't taking public sides this week with it so wide open again that UA coach Chad Morris has Hicks and Starkel alternating first-team in practice to determine the starter for Saturday's SEC West game vs. Auburn.
Arkansas (2-4, 0-3 in the SEC) and visiting No. 11 Auburn (5-1, 2-1) meet at 11 a.m. at Reynolds Razorback Stadium on the SEC Network.
"They are battling it out," Arkansas senior tight end Cheyenne O'Grady said. "I'm not sure who is going to be the starter. We're just going to go with the guy who puts us in the best position to win. We're going to go with who we trust the most and who can make plays for us."
Arkansas freshman wide receiver Treylon Burks, also media available Tuesday evening after practice, eluded a specific endorsement like he's eluded secondaries so far by catching 15 passes for 255 yards from Starkel and Hicks.
"It really doesn't matter who's the quarterback," Burks said. "We're still going to go out there and catch the ball whenever it's thrown. So we just cheer those guys up every day just to get better and to make us better."
O'Grady said through their ups and downs that Starkel and Hicks have stayed positive with the team and each other. Starkel struggled early and was supplanted by Hicks in the second half the last two SEC losses to Texas A&M and Kentucky. Starkel supplanted Hicks in the second half of the SEC loss to Ole Miss.
"He (Starkel) supported Ben just like Ben did for Nick," O'Grady said.  "It's just going to be a continuous battle, and we're going to put the best guy out there."
JACKSON RETURNS
O'Grady thoroughly endorsed Tuesday's full pads return to practice by senior starting  left offensive tackle Colton Jackson of Conway. Jackson missed Saturday's game against Kentucky because of concussion protocol off the previous game against Texas A&M.
"He looked fine," O'Grady said. "He was moving around very well. I expect to see him play this Saturday."
BOYD RESTS
Arkansas running back Rakeem Boyd, 15 carries for 134 yards against Kentucky including a 74-yard touchdown, wore a green no-contact jersey Tuesday to protect the sprained shoulder he played with Saturday in Lexington.
BRAG ON BURKS
O'Grady thoroughly endorsed Burks when asked about the 6-3, freshman from Warren.
"Treylon Burks is going to be … he already is a phenomenal player!" O'Grady said. "I get excited every time we call his name or every time he catches the ball. He's just a huge playmaker and really helping. He's going to continue to help the team in the upcoming years."
O'Grady cited Burks' size and speed, but said it's Burks' "humongous" hands that set him apart.
"He's the first person to have the same size hands as me," O'Grady said. "They might be bigger than mine. I think he wears like a 5X (glove) or something, and he's a receiver."
Actually, O'Grady was told 4X are the biggest gloves available.
"Yep, I just squeeze them into 4X the best I can," Burks said.
Burks said by the end of end of the week his hands "are poking out the ends of the gloves."
After being run ragged by Lynn Bowden, the Kentucky wide receiver turned QB rushing 196 yards vs. Arkansas, the Razorbacks face another running QB Saturday.
HOGS RESPECT NIX
Auburn precocious true freshman QB Bo Nix, even with minus-71 yards due to sacks, has netted 191 yards on 45 carries for two TDs with a long run of 30 yards. Nix has completed 83 of 152 passes for 1,125 yards and eight TDs vs. five interceptions.
"I know he's a good threat," Arkansas sophomore safety Joe Foucha said. "I know he can run and pass. We're just going to keep him in the pocket, send pressure so he can either make a quick throw so he can't scramble out the pocket."
Third-year sophomore cornerback Jarques McClellion opined of Nix: "It's rare you see a true freshman quarterback in the SEC West who's balling like him. So I respect his game."