Class 6A Week 9 Rankings, Notes, Picks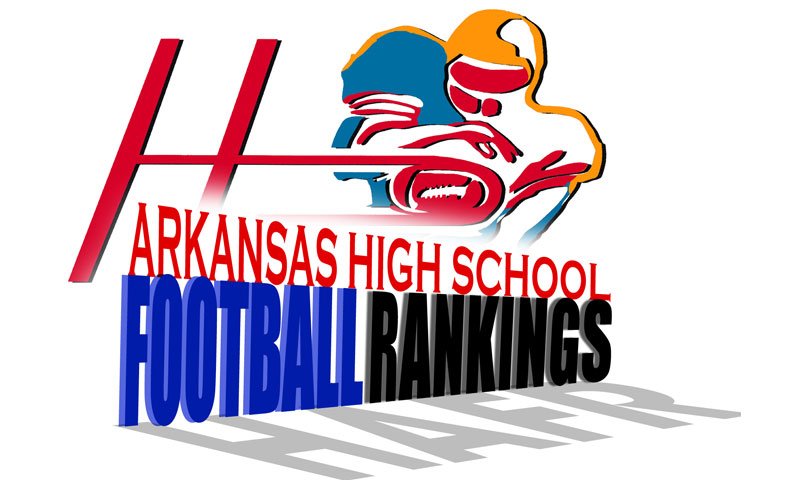 hootens.com Rankings
Class 6A, Week 9, 2020
Copyright Hooten Publishing, Inc.

1. Greenwood (8-0)
2. Benton (5-3)
3. LR Parkview (5-1)
4. Jonesboro (5-2)
5. Lake Hamilton (7-0)
6. Sylvan Hills (5-3)
7. Mountain Home (4-4)
8. Searcy (4-4)
9. Siloam Springs (3-5)
10. Van Buren (3-5)
11. Pine Bluff (2-3)
12. El Dorado (2-4)
13. West Memphis (2-6)
14. Marion (1-6)
15. Sheridan (2-6)
16. Russellville (1-7)

HOOTENS.COM GAME OF THE WEEK
No. 4 Jonesboro at No. 6 Sylvan Hills
This game likely decides the conference championship and top playoff seed.
Sylvan Hills outgained El Dorado 443-111 in last week's decisive 33-7 road victory. The Bears led 26-0 at halftime. Sylvan Hills allowed just six first downs at El Dorado. Sylvan Hills junior quarterback Corey Washington completed all six pass attempts for 94 yards and two touchdowns and the Bears rushed for 349 yards. Seniors Taevion Cunningham and Shajuan Esteen spearhead the running game. The Sylvan Hills defense allows just eight points per game in league play.
Jonesboro fashioned a 31-14 halftime lead in last week's 41-14 victory over Searcy. The Golden Hurricane outgained the Lions 476-237 and held Searcy to seven first downs and forced three turnovers. Jonesboro junior QB Ryker Acebo (6-4, 180) entered 2020 as the backup QB but has started the last four games (all wins), completing 66 percent of his passes for 1,279 yards and 14 TDs with four interceptions. Acebo completed 26 of 40 passes against Searcy for 275 yards and three scores while senior and team captain Charlie Long ran for 76 yards and two TDs. Seven Jonesboro receivers caught passes against Searcy, with Connor Clark pacing the corps with seven receptions for 59 yards and two TDs. Junior Jamariyon Thomas topped the tackle chart with seven stops and two sacks.

LAST WEEK
hootens.com correctly predicted five of seven winners (71 percent) in games involving Class 6A teams. Hootens.com correctly predicted 66 of 82 winners (81 percent) in games involving 6A teams this season.

WEEK 9 PREDICTIONS (favored teams in CAPS followed by point spread)
6A EAST
JONESBORO (1) at Sylvan Hills: See Hootens.com Game of the Week.
PINE BLUFF (8) at West Memphis: Crucial game for playoff positioning with each school having won one league game. West Memphis drags a four-game losing streak into this contest following a 27-21 overtime loss last week at Sheridan in the first meeting of those schools. West Memphis trailed 15-0 in the third quarter, but switched to the Wing T in the second half and ripped off a pair of TD drives. West Memphis defensive ace Jaylan Carter returned an errant snap 82 yards for a TD and intercepted a pass in the end zone at Sheridan. Pine Bluff played its best game this season two weeks ago in a 32-14 victory at Searcy. Pine Bluff's game last week against Marion was canceled due to covid-19 protocols. 
El Dorado at SEARCY (6): El Dorado managed just 111 yards in last week's 33-7 loss to Sylvan Hills despite sophomore lineman Nic Wilson racking up 21 tackles (11 solos). The University of Arkansas offered El Dorado sophomore receiver Deandra Burns a scholarship last week. Searcy managed just seven first downs and committed three turnovers in last week's 48-14 loss to Jonesboro. Junior Daniel Perry totaled 131 yards and a TD while classmate Braden Oliver topped the tackle chart with 15 stops (12 solos).
Sheridan at MARION (1): Crucial game for playoff positioning with each school having won one league game apiece. This is the first meeting of the schools. Marion's 1-6 start is its worst since 2014 (finished 1-10). Marion's game last week against Pine Bluff was canceled, but two weeks ago the Patriots rolled up 460 yards in a 45-34 loss to El Dorado. El Dorado led by 21 points in the fourth quarter. Senior QB Daedrick Cail completed 27 of 43 passes for 286 yards and three scores against El Dorado and junior tailback Cam Anderson ran for 128 yards. Senior receiver Tajiri Ellis has emerged as a reliable deep threat for Marion. Sheridan led West Memphis 8-0 last week at halftime and 15-0 in the third quarter before senior Peyton Edwards scored the game-winning 10-yard TD in overtime. Edwards ran for 338 yards and four TDs against West Memphis. Sheridan's defense stiffened on West Memphis' overtime possession, allowing minus-16 yards on four snaps.

6A WEST 
Lake Hamilton at BENTON (2): Lake Hamilton has won 10 of the last 14 meetings, but Benton has won the last two, including 31-20 last season. Lake Hamilton has not won a league title since 2011. Lake Hamilton played its two best games the past two weeks, vanquishing Siloam Springs and Van Buren by a combined 86-26. Hamilton led Van Buren 31-7 a week ago at halftime en route to a 44-7 victory. The Wolves rushed 42 times for 382 yards (9.1 yards per carry) and six TDs while junior QB Grant Bearden completed one of four passes for 31 yards. Four Wolves rushed for 72 yards or more, paced by junior Owen Miller's 107 yards and two TDs. Sophomore Justin Crutchmer stacked 17 tackles against Van Buren. Benton lost 42-28 last Friday at Greenwood despite senior QB Garrett Brown completing 25 of 47 passes for 293 yards. Andre Lane snagged nine passes for 103 yards and Cameron Harris snagged seven passes for 114 yards. Tailback Casey Johnson ran for 122 yards and a TD.
GREENWOOD (27) at Van Buren: Van Buren drags a three-game losing streak into this contest. Van Buren managed 250 yards in last week's 44-7 loss at Lake Hamilton, but the Pointers committed three costly turnovers. Sophomore Chi Henry (four receptions for 83 yards and a TD at Lake Hamilton) has emerged in October as a reliable target for senior QB Gary Phillips. Greenwood is 8-0 for the first time since 2017, when the school won the first of back-to-back state titles. The Bulldogs unleashed QB L.D. Richmond's legs in last week's 14-point victory over Benton as the senior carried 15 times for 116 yards and he completed 23 of 35 passes for 203 yards and two scores. Greenwood ripped off six scoring drives of 67 yards or more.
Siloam Springs at LR PARKVIEW (21): Siloam Springs has lost four straight games where opponents outscore it by a combined 161-48. Missing several starters on offense, Siloam Springs managed 369 yards in last week's 28-19 loss to Mountain Home. Junior QB Hunter Talley completed 16 of 34 passes for 223 yards. Parkview fashioned a 26-0 third-quarter advantage in last week's 33-3 win at Russellville. The Patriots outgained the Cyclones 503-152, including 360 rushing yards. Parkview senior QB Landon Rogers ran for two TDs and fired a 79-yard TD pass to junior James Jointer. Sophomore Willie Eackels ran 48 yards for a TD at Russellville.
Russellville at MOUNTAIN HOME (14): Russellville could avoid the play-in round of the state tournament should it win out. The Cyclones have not gone winless in conference play since 2014. Russellville managed just 152 yards in last week's 30-point loss to Parkview, but the Cyclones did run for 115 yards on 21 carries (5.5 YPC). Senior slot receiver Brady Burnett caught eight passes for 67 yards, including a 33-yard reception. Senior Tre Potter and junior Ty Hipps logged 12 tackles apiece against Parkview. Mountain Home's four wins are its most since 2016 and a fifth victory would be the Bombers' most since 2011. Mountain Home earned its first road victory last week with a 28-19 decision at Siloam Springs. The Bombers amassed 419 total yards and led 21-0 at halftime. Senior QB Bryce McKay completed 13 of 17 passes for 245 yards and three TDs and he ran for 77 yards and a score. Tailback Gage Hershberger totaled 178 yards and Logen Walker snagged four passes for 97 yards.