Class 7A Week 9 Rankings, Notes & Picks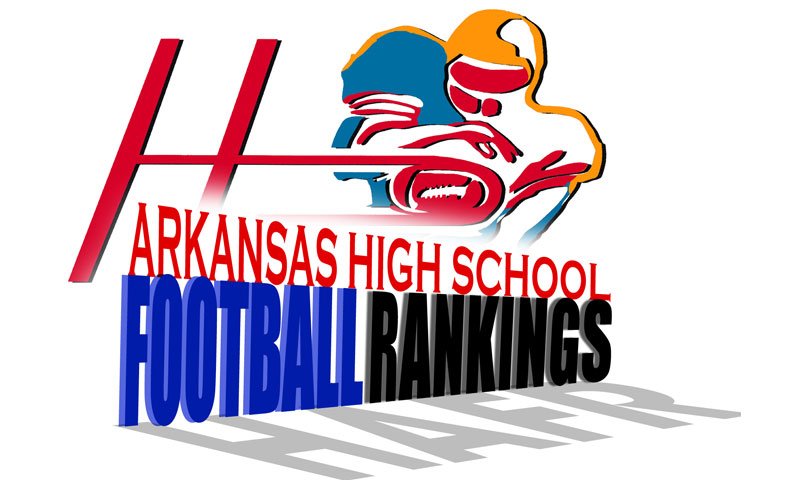 Hooten's Arkansas Football Rankings
Class 7A, Week 9, 2020
Copyright Hooten Publishing, Inc.

1. Bryant (7-0)
2. Bentonville (8-0)
3. North Little Rock (7-0)
4. Conway (5-2)
5. Cabot (5-2)
6. Har-Ber (4-4)
7. Bentonville West (5-3)
8. FS Northside (4-3)
9. LR Catholic (3-5)
10. Rogers (4-2)
11. Fayetteville (2-5)
12. LR Central (1-3)
13. FS Southside (2-6)
14. Springdale (2-6)
15. LR Southwest (0-5)
16. Heritage (1-7)

HOOTENS.COM 7A GAME OF THE WEEK
No. 1 Bryant at No. 3 North LR.
Two-time defending state champ Bryant has won 24 in a row since losing Oct. 26, 2018 at North LR 34-28. Bryant, 0-3 at North LR under Coach Buck James, outscores opponents this fall by an average of 49-13. The Hornets clobbered Cabot 42-14 last Friday without standout RB Tanner Anderson, who returns this week, James says. Watch extended highlights of Bryant's wins over FS Northside HERE and over Benton HERE.
Senior QB Kareame Cotton, a three-year starter, directs North LR's new spread attack to 41 PPG. North LR forced six turnovers and turned them into 35 points in last week's 42-7 win at FS Northside. FS Northside managed just 35 yards offense in the second half vs. North LR, which allows just 15 PPG. Senior kicker Liam Selhorst nailed 33-, 38- and 39-yard field goals last Friday. Watch extended highlights of North LR's win earlier this season over Fayetteville HERE.
"I'm impressed with (North LR's) linemen on both sides of the ball and I don't think they've missed a beat switching from a run-oriented team to the Spread," Bryant coach Buck James says. "Normally when coaches leave a school there is some letdown the next year, but I don't see that with (new North LR coach JR Eldridge). He is an intense guy and very good with the weight room. His kids are playing hard. They have speed and are tough." 

LAST WEEK
hootens.com correctly predicted all eight winners in games involving Class 7A teams. For the season, hootens.com is 64-11 (85 percent) in Class 7A.

WEEK 9 PREDICTIONS (favored team in CAPS)
7A CENTRAL
BRYANT (14) at North LR: Game of the Week.
FS Northside at CABOT (8): Winner likely finishes No. 4 in the conference. Short-handed Cabot hopes key players (receiver and two safeties) return this week after losing last Friday at Bryant 42-14. FS Northside had won two in a row before losing the past two Fridays to Conway and North LR by a combined score of 90-19.
LR Catholic at CONWAY (18): Explosive Conway, averaging 48 PPG in October, in position to earn a share of the conference title with wins over LR Catholic and next week at Bryant. LR Catholic ended a 4-game losing skid last week with a homecoming victory over LR Southwest 20-6.
LR CENTRAL (7) at LR Southwest: LR Central, last seen Sept. 25 losing at North LR 48-7, plays for the first time in 35 days. First-year program LR Southwest has totaled 28 points in five games this season.

7A WEST
BENTONVILLE (35) at Springdale: Bentonville celebrated homecoming by scoring a school-record 74 points last week vs. rival Rogers. Bentonville's special teams and defense accounted for 14 points in the game's first 21 seconds. Springdale has lost four straight.
Heritage at FAYETTEVILLE (35): After an 0-4 start, Fayetteville gets its third win in four weeks. Junior Isaiah Sategna leads Fayetteville with 700 yards receiving while senior RB Kameron Ingram gains 5.2 yards per rush. Fayetteville's offense, defense and special teams scored last week to build a 41-6 halftime lead over Springdale. Junior Braelon Plummer returned a fumble and an interception for Fayetteville TDs. Heritage last beat a team from Arkansas in 2017.
FS Southside at BENTONVILLE WEST (10): Southside showing some grit in close games the past three weeks. The Mavericks lost to No. 6 Har-Ber 28-19 last Friday. Bentonville West bounced back from a 16-point loss to Har-Ber with a 42-0 victory last Friday over Heritage. The Wolverines can earn at least a share of the conference title with a win this week and next Friday at crosstown rival Bentonville.
HAR-BER (4) at Rogers: Rogers trailed just 28-21 in the first quarter last Friday at Bentonville but didn't score again in a 74-21 loss. Har-Ber held off FS Southside 28-19 and finishes No. 2 in the conference with wins at Rogers and next week over improving Fayetteville.