Class 6A Week 10 Rankings, Notes, Picks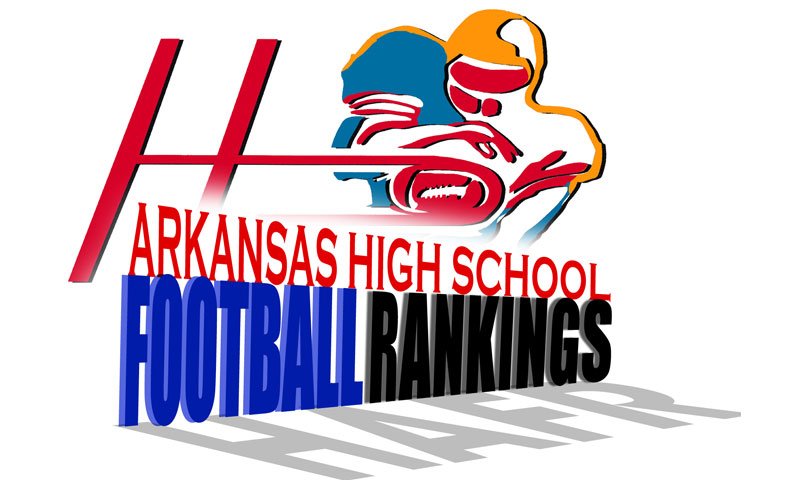 hootens.com Rankings
Class 6A, Week 10, 2020
Copyright Hooten Publishing, Inc.
1. Greenwood (9-0)
2. Lake Hamilton (8-0)
3. Benton (5-4)
4. LR Parkview (6-1)
5. Sylvan Hills (6-3)
6. Jonesboro (5-3)
7. Mountain Home (5-4)
8. El Dorado (3-4)
9. Pine Bluff (3-3)
10. Searcy (4-5)
11. Marion (2-6)
12. Siloam Springs (3-6)
13. West Memphis (2-7)
14. Van Buren (3-6)
15. Sheridan (2-7)
16. Russellville (1-8)

HOOTENS.COM GAME OF THE WEEK
No. 1 Greenwood at No. 2 Lake Hamilton
Winner earns the conference title and No. 1 playoff seed. Greenwood has won the four previous meetings with Lake Hamilton, including 42-14 a season ago.
Lake Hamilton has not won a league title since 2011, but this season's Wolves mash defenses with a massive offensive line and junior running backs Owen Miller (1,169 rushing yards this season with 15 touchdowns) and Tevin Woodley (1,250 yards rushing with 15 scores). The Lake Hamilton defense has improved after allowing more than 23 points per game through the first five games. Since a thrilling 43-42 overtime win at Russellville, the Hamilton defense yields less than 20 PPG. Senior Iziah Clenney paces the Hamilton defense with 86 tackles (12 for loss with four sacks). Sophomore Justin Crutchmer has wrapped up 83 stops (seven TFL) and senior Trent Singleton recorded 68 tackles.
Greenwood has won 10 conference titles over the past 12 seasons. The Bulldogs average a Class 6A-best 40 PPG this season and they allow 14 PPG, which ranks second in Class 6A. Senior QB L.D. Richmond completes more than 64 percent of his throws this season, his first as a starter. Richmond completed 12 of 15 passes last week for 227 yards and three TDs in a 50-29 win at Van Buren. Senior tailback Hunter Wilkinson ran for 177 yards and three scores at Van Buren, while Caden Brown caught six passes for 131 yards and two scores. Greenwood has played this entire season without all-conference end Tayshaun Leader, but the Bulldogs have limited six opponents to 12 points or fewer. Senior linebacker Jordan Hanna and senior cornerback Jayden Jasna deliver big plays for the stingy Greenwood defense.

LAST WEEK
hootens.com correctly predicted five of eight winners (63 percent) in games involving Class 6A teams. Hootens.com correctly predicted 71 of 90 winners (80 percent) in games involving 6A teams this season.

WEEK 10 PREDICTIONS (favored teams in CAPS followed by point spread)
6A EAST
West Memphis at EL DORADO (6) (THURSDAY): West Memphis needs a win to avoid finishing as the No. 8 playoff seed. A West Memphis loss clinches the school's worst mark since finishing 2-8 in 1997. The Blue Devils' only conference win is over Marion and owns a loss to Sheridan. West Memphis lost 34-33 last week when Pine Bluff thwarted the Blue Devils' potential game-winning two-point conversion with five seconds remaining in regulation. West Memphis juggled junior QBs Bryson Jenkins and Brandon Peters against Pine Bluff. El Dorado has won three of four conference games following an 0-3 start to 2020. The Wildcats earned a wild 54-50 victory last week at Searcy behind senior QB Eli Shepherd's 209 passing yards and four TDs. Sharmon Rester scored three TDs and sophomore Deandra Burns snagged two TD passes. 
Marion at JONESBORO (8) (THURSDAY): Marion has won three straight in this series, including 34-25 a season ago. The Patriots could climb as high as the No. 5 playoff seed with a victory and a Pine Bluff loss. Marion put together its best effort of the season in last week's 37-7 win over Sheridan. The Patriots scored 37 unanswered points and outgained the Yellowjackets 352-102. Junior receiver Zion Burnside caught 11 passes against Sheridan for 112 yards and a TD. Jonesboro lost a heartbreaking 17-16 decision last week at Sylvan Hills. Jonesboro took its first lead at 16-14 with 4:30 remaining in the fourth quarter. Jonesboro ran for just 35 yards at Sylvan Hills and failed on two trips inside the Sylvan Hills 15-yard line.
Searcy at SYLVAN HILLS (13) (THURSDAY): Reeling Searcy needs a victory to clinch the No. 4 playoff seed, and the Lions could get the No. 3 playoff seed with a victory and an El Dorado loss. Searcy rolled up 592 yards in last week's 54-50 loss to El Dorado. Junior Daniel Perry ran 29 times for 168 yards and two TDs while sophomore Dede Johnson added 153 yards and two scores. Junior QB Ckyler Tengler topped 250 total yards with three TDs. Sylvan Hills is the No. 1 playoff seed regardless of this outcome. Sylvan Hills rallied in the fourth quarter last week to beat Jonesboro 17-16 when junior Levi Persson kicked the game-winning 19-yard field goal with 24 seconds left in regulation. Sylvan Hills rushed for 395 yards and two TDs against Jonesboro. Senior RB Taevion Cunningham gains a mind-boggling 13.8 yards per carry with 1,124 yards this season.
Sheridan at PINE BLUFF (17): Sheridan led 7-0 last week at Marion following an interception return, but the Yellowjackets did not score again in a 37-7 loss. Sheridan committed three turnovers at Marion. Pine Bluff totaled 261 yards (151 rushing) in last week's 27-26 victory at West Memphis. Pine Bluff led 20-13 at halftime behind a pair of rushing TDs from QB Landon Holcomb. Pine Bluff surrendered minus-5 yards rushing in the first half. 

6A WEST
GREENWOOD (10) at Lake Hamilton: See Hootens.com Game of the Week.
BENTON (12) at Van Buren: Van Buren could climb as high as the No. 6 playoff seed with a win and a Siloam Springs loss. Van Buren QB Gary Phillips completed 20 of 47 passes for 311 yards and he ran for 68 yards in last week's 50-29 loss to Greenwood. Van Buren trailed just 29-22 at halftime. Benton clinches the No. 3 playoff seed with a win or a loss and a Mountain Home victory. Greenwood and Lake Hamilton outscored Benton by a combined 93-62 the last two weeks. Lake Hamilton's 51-34 win last week at Benton was the Panthers' first home conference loss since Greenwood beat Benton in 2017.
Mountain Home at LR PARKVIEW (11): Mountain Home's five wins are its most since 2011. The Bombers can finish as high as the No. 4 playoff seed with a win. Mountain Home rushed for 271 yards in last week's 24-7 victory over Russellville. The Bombers limited the Cyclones to minus-16 yards rushing, highlighted by five sacks and two interceptions. LR Parkview earns the No. 4 playoff seed with a victory. The Patriots jumped Siloam Springs a week ago, scoring four first-quarter TDs en route to a 37-0 win. Parkview led 31-0 at halftime. It was Parkview's second shutout this season and the Patriot defense allows just 10.2 PPG this season.
SILOAM SPRINGS (6) at Russellville: Russellville looks to avoid a winless conference season for the first time since 2014. Russellville managed just 178 yards in last week's 24-7 loss at Mountain Home. Siloam Springs earns the No. 6 playoff seed with a win or a Van Buren loss. Siloam managed just 101 yards in last week's 37-0 loss at LR Parkview.