RECRUITING: Van Buren Pointers off the leash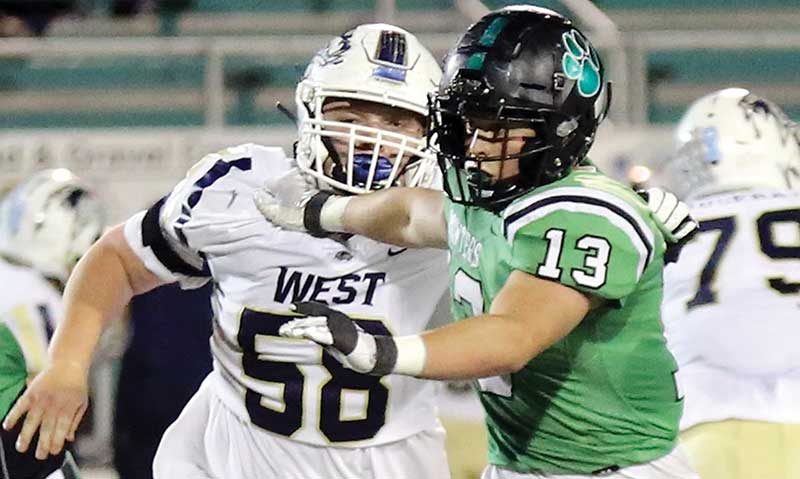 By BARRY GROOMES
Van Buren's Pointers, with more bite than bark this fall, have slipped the leash in their last trot through the 7A West.
Van Buren, which drops to Class 6A in 2020, can win at least six regular-season games for just the second time in 20 years with a victory Friday at Springdale High. The game marks a homecoming for first-year Van Buren coach Crosby Tuck, who won a state title as a receiver at Springdale-based Shiloh Christian in 2006 and grew up playing American Legion baseball and other sports in Springdale.
"This game means something extra for me," Tuck says, "but it's huge for our program. We need a win to ensure we have a winning season, and we want to go into the playoffs with momentum."
Tuck served as Van Buren's offensive coordinator last season when the Pointers went 4-7 and qualified for the playoffs for the first time since 2011. He took over as head coach in the spring determined to harden his players mentally and physically.
"The key has been figuring out what it's like to play hard for four quarters," the coach says. "In their minds, they thought they knew what it was like to work hard, but we had to teach them."
The highlight of 2019, to date, was last week's 35-30 win over Bentonville West, which will play for the league title this week. But Tuck saw the program take strides over the past month, including a close Week 8 loss to Har-Ber, 34-31.
"We feel we've turned the corner," Tuck says. "We put in a new defense (under first-year coordinator Mo Henry), and it took us a few games to learn it."
Senior noseguard and team captain Cha'Raun Page (5-11, 250) "is our leader and anchor," Tuck says. Page, who often plugs gaps and occupies blockers, has 33 tackles this year, including four sacks. He's recovered three fumbles.
"People view him as too short to play noseguard in college," the coach says, "but he'll be a steal for someone at the Division II level."
Junior linebacker T.J. Dyer (6-1 215) (in Vonda Norwood photo above) played on the line last year before switching positions in the spring. Like others on this defense, it took Dyer almost half the season to get familiar with the new scheme. "His past four games have been his best," Tuck says. "He's been excellent." Dyer has recorded 60 tackles and three sacks in 2019. Tuck believes he could develop into a Division I linebacker in 2020.
Junior cornerback Jaiden Henry (5-10, 160), the defensive coordinator's son, should be a big-time college recruit next year. Jaiden Henry has logged eight pass break-ups and four interceptions this year, returning two for touchdowns. "Some of his biggest plays don't show up on the stat sheet," Tuck says. "We put him in single coverage against everyone's top receiver, and he holds his own."
Henry, an elusive receiver and kick returner, plays some at QB. Henry has 550 yards receiving and four TDs this year. In the season-opening 35-21 win over Siloam Springs, Henry caught four passes for 100 yards and a TD and returned a kickoff 99 yards for another score. He caught a season-high nine passes in a midseason loss to undefeated Bentonville. 
Henry popped on recruiting radars last season as a sophomore playing for Shiloh Christian, when he passed for 1,007 yards and 12 TDs. The versatile athlete also ran for 466 yards and 12 TDs, caught 27 passes for 387 yards and five TDs.
Henry isn't the only Pointer receiver producing big plays. Senior Jude Bartholomew (6-1, 200) is a team captain "and our playmaker," Tuck says. Bartholomew has posted than 400 yards and four TDs this fall. He owns a scholarship offer from Arkansas Tech. 
Senior outside receiver Damarius Newton (6-1, 185) played football for the first time in 2018 and owns "a slew" of NAIA and D3 offers, Tuck says. Newton, a skilled basketball player with a 4.6 speed, has caught passes for 350 yards and five TDs.
The plethora of receivers makes it easier for left-handed junior QB Gary Phillips (6-0, 180). Phillips has passed for 1,794 yards this year, while rushing for 702 yards. He's tallied 24 TDs. Southwest Baptist, a D2 school in Missouri, offered Phillips a scholarship in October. "He's a true team leader," Tuck says. "He's the kind of guy you want at the quarterback position. He makes quick decisions correctly and understands why he's making them."
Junior offensive linemen Doug Giorn (6-2, 235) and Easton Mongold (6-3, 280) will develop into college prospects in 2020, Tuck predicts. Giorn mans the right tackle slot, protecting Philips' blindside and "is our anchor," the coach says.
Mongold, a transfer from Class 3A Cedarville, plays right guard in 2019. Next season, Mongold will have to play both ways and take over for Page at noseguard. Mongold (450-pound squat) "has the size and all the tools to be a solid college prospect," Tuck says.
But before Van Buren's top players focus on college or the off-season, they understand 2019 isn't over.
"We have a lot of football left," Tuck says. "It would be great to win a couple of playoff games, and the past few weeks have proven to our guys what we are capable of doing."