Class 4A Week 13 Rankings, Notes & Picks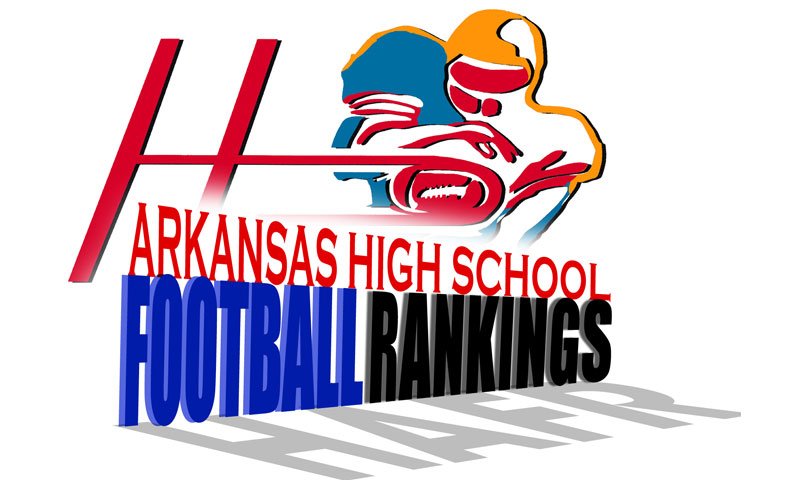 Hootens.com Rankings
Class 4A, Week 13, 2019
Copyright Hooten Publishing, Inc. 

1. Arkadelphia (11-1)
2. Shiloh Christian (12-0)
3. Joe T. Robinson (11-1)
4. Nashville (11-1)
5. Ozark (11-1)
6. Crossett (8-3)
7. Pea Ridge (8-4)
8. Jonesboro Westside (9-2)
9. Warren (10-2)
10. Dardanelle (10-2)
11. Hamburg (7-5)
12. Star City (7-5)
13. Pocahontas (8-4)
14. DeWitt (7-5)
15. Gosnell (6-6)
16. CAC (8-4)
17. Mena (7-4)
18. Bauxite (6-5)
19. Rivercrest (7-4)
20. Pottsville (7-4)
21. Riverview (7-4)
22. Southside Batesville (7-4)
23. Lonoke (6-5)
24. Gentry (7-4)
25. Prairie Grove (4-7)
26. Malvern (4-7)
27. Heber Springs (4-7)
28. Trumann (4-7)
29. Elkins (5-6)
30. Gravette (4-7)
31. H. Grove Haskell (4-6)
32. Brookland (4-6)
33. Lincoln (5-5)
34. Helena (5-5)
35. Bald Knob (3-7)
36. Monticello (2-8)
37. Berryville (3-7)
38. Mills (0-10)
39. Waldron (2-8)
40. Fountain Lake (2-8)
41. Ashdown (2-8)
42. Stuttgart (1-9)
43. Highland (1-9)
44. Dumas (1-9)
45. Subiaco Academy (2-8)
46. Green Forest (2-8)
47. Cave City (0-10)
48. Dover (0-10)

HOOTENS.COM GAME OF THE WEEK
No. 4 Nashville at No. 2 Shiloh Christian
Shiloh Christian has beaten Nashville three times in the playoffs over the past decade, including 40-21 in last year's quarterfinals. The other two times (51-49 in 2009 quarterfinals and 48-10 in 2010 quarters), the Saints won the state title, while Nashville used a 48-23 second round triumph in 2015 to spur its state title run. 
The unbeaten Saints (12-0) average 433 yards weekly and outscore their opponents 53-13 this year, notching impressive wins over Florida Class 2A quarterfinalist Moore Haven and Beggs, Okla., which plays in the quarterfinals this week. They've scored more than 60 points in three of the past four games, including last week's 63-14 triumph over Pocahontas. Senior quarterback Eli Reece split snaps last season but has shined this year as the primary signal caller. Reece completes 74.4 percent of his passes this year (221 of 297) for 3,245 yards and 36 touchdowns with only two interceptions. Senior Truitt Tollett has a state-best 100 catches this fall for 1,635 yards and 26 TDs (a school record and one away from tying Nashville's Greg Washington for most in a season). Junior Cam Wiedemann and senior Logan Raben comprise most of Shiloh's running attack, combining for almost 1,000 yards this fall. Wiedemann ran 19 times for 144 yards and four TDs against Pocahontas, while Raben ran nine times for 114 yards and a TD. "They are very multiple and good with gadget plays," Nashville coach Mike Volarvich says. "They run double reverses, then fake a reverse and throw a screen, those kind of things."
Nashville has won six straight games since losing at Joe T. Robinson 34-7 in Week 6. But the Scrappers struggled last week with power running Dardanelle, winning 35-34 when Dardanelle failed on a late two-point try. Junior QB Ty Gordon threw a 22-yard TD pass to senior Ty Basiliere, and he ran 18 times for 197 yards and a pair of TDs. Junior Keyshawn Stewart paces Nashville this fall with 127 carries for 933 yards and 18 TDs, while Gordon has 129 carries for 920 yards and 11 TDs. Basiliere averages 23 yards per catch and has 10 TDs. Junior Dontrelle Robinson has sparked the Scrappers in the playoffs. Robinson averages 7.8 yards per carry this year and 16.8 yards per catch. At cornerback, he's made 14 tackles in two playoff games. Senior linebackers Devant'e Witherspoon and Lance Easter feasted last week when Dardanelle went with a double tight end, two sniffer (H-back) look. Witherspoon collected 21 tackles, while Easter had 18. Witherspoon has a team-best 121 tackles this fall, while Easter has 107 stops.

LAST WEEK
Hootens.com correctly predicted seven of eight games last week (88 percent). Hootens.com has picked 266 of 320 games (83 percent) this season.

WEEK 13 PREDICTIONS (favored team in ALL CAPS)
TOP OF THE BRACKET
ARKADELPHIA (17) at Crossett: These teams haven't played since Arkadelphia beat Crossett 6-0 in the first round of the 1990 playoffs. Arkadelphia advances to the quarterfinals (third round of the playoffs) for the sixth time in seven years, while Crossett hasn't been since 2003. Arkadelphia has won eight straight games since losing to Nashville by one point in Week 4, outscoring opponents 42-17. Versatile junior playmaker Braeden "Buster" Thomas has 74 carries for 657 yards and eight TDs this year, has 18 catches for 343 yards and three TDs and passed for 413 yards and three TDs. Senior QB/safety Cannon Turner missed three games in midseason with a shoulder injury, but hasn't been slowed since returning Week 9. He completes 58 percent of his passes this year for 876 yards and eight TDs and has rushed for 785 yards and 10 TDs. Senior Kyren Harrison has rushed for 1,463 yards and a state-best 32 TDs, and has 46 tackles at linebacker. Crossett captured the 8-4A this fall, its first league championship since 2003, and has eight straight wins. The Eagle D has held six of the past seven opponents to two TDs or less. They led Gosnell 18-0 at halftime last week before winning 31-6. Sophomore receiver Dewayne Ashford hauled in three passes for 70 yards and a TD against Gosnell, and has 27 catches for 739 and 10 TDs this fall. Senior QB Justin Stokes has passed for 1,833 yards and 21 TDs with only five interceptions.
Nashville at SHILOH CHRISTIAN (8): Hootens.com Class 5A Game of the Week.

BOTTOM OF THE BRACKET
JOE T. ROBINSON (23) at Jonesboro Westside: Jonesboro Westside makes its first quarterfinal appearance after winning its first playoff game last week, 35-20 over Hamburg. The Warriors won the 3-4A this fall after three conference victories by a TD or less. Senior Logan McPherson was injured early in the year (missed 2.5 games with a concussion) but has rushed for a school-record 2,110 yards this fall, and has 23 TDs. McPherson has at least 30 carries and more than 200 yards in each of the past four games, including 31 totes for 268 yards and three TDs against Hamburg. Junior QB River Engle has been protected by coaches most of the year while dealing with a shoulder problem. But he threw a TD pass and ran for another score last week. Joe T. Robinson has seven straight wins since losing to Arkadelphia by one-point Week 5. The skilled Senators have outscored CAC and Trumann in the playoffs by a combined 85-16. Junior QB Buddy Gaston has passed for 2,299 yards and 33 TDs this year. Junior running back Hunter Smith returned from a shoulder injury last week (missed two games), rushing 14 times for  267 yards and three TDs. He has 1,400 yards and 14 TDs in 10 games this fall. Senior receiver P.J. Hall has a team-high 42 catches for 895 yards and 15 TDs, and at safety he's racked up 54 stops, intercepted two passes and recovered a pair of fumbles. Senior receiver/cornerback Martel Nunally has 41 catches for 726 yards and six TDs, averages 13 yards per carry and has 26 tackles and a pair of interceptions. Comparing scores: Joe T. Robinson thumped Trumann 49-16 in the first round, while Jonesboro Westside beat the Wildcats 21-0 two weeks earlier.
Pea Ridge at OZARK (2): Ozark has won three of the four meetings between these former conference foes. The Hillbillies trailed Warren 17-14 at halftime a week ago, but scored 27 unanswered points in the third quarter of the 41-17 triumph. Sophomore QB Ryker Martin, making his first start in place of injured junior QB Harper Faulkenberry (broken leg), ran 25 times for a game-high 183 yards and three TDs. He also completed three of six passes for 80 yards, including a first quarter 62-yard TD strike. Senior Eli Munnerlyn ran for 149 yards and three TDs. Senior Bryant Burns caught the TD pass and at outside linebacker recorded eight tackles. Junior linebacker Keystan Durning had 11 stops against Warren, and has 122 this fall. Ozark's Lawsyn Jackson (6-2, 225) has turned into one of Class 4A's top defensive linemen with 71 tackles this fall, including four against Warren. Eight Ozark players who started the opener are out with season-ending injuries. Pea Ridge has beaten Lonoke and Star City in the playoffs by a combined 70-27. Senior QB Tate Busey passed for 134 yards and a pair of TDs and ran for Pea Ridge's other TD in last week's 21-14 win over Star City. Busey has passed for 1,431 yards and 21 TDs this fall, while rushing for 631 yards and 12 TDs. Pea Ridge's linemen match up well with Ozark's linemen. Juniors Michael Ericson (6-3, 235) and Cooper Tillman (6-0, 205) man the tackle spots, while senior Hagen Schader (6-3, 235) plays center. Junior Thad Timmons (6-2, 290) and senior Phillip Brown (6-1, 265) offer size and power at the guard slots.