Class 2A Week 2 Rankings, Notes & Picks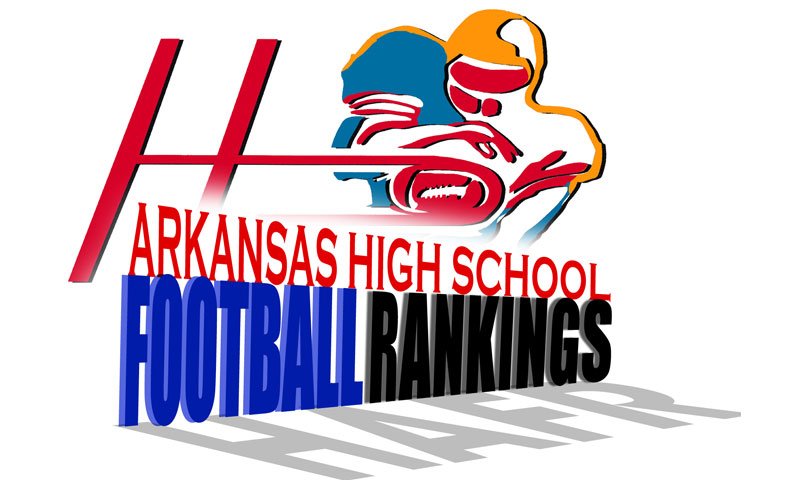 Hootens.com Class 2A Rankings
Week 2, 2022
Copyright Seventy Seven's Football Publishing, LLC
1. Hazen (2-0)
2. Mount Ida (1-0)
3. Bigelow (2-0)
4. Marked Tree (1-0)
5. Clarendon (2-0)
6. Carlisle (2-0)
7. EPC (1-0)
8. Poyen (1-1)
9. Dierks (2-0)
10. Mountainburg (1-0)
11. Des Arc (0-1)
12. Episcopal (1-1)
13. Hector (0-1-1)
14. Earle (1-1)
15. Murfreesboro (1-0)
16. Conway Christian (1-1)
17. McCrory (0-1)
18. Cross County (1-1)
19. Mineral Springs (1-1)
20. Hampton (0-1)
21. Lafayette County (0-2)
22. England (1-1)
23. Baptist Prep (0-2)
24. Magazine (0-2)
25. Bearden (0-2)
26. Foreman (0-2)
27. J.C. Westside (0-2)
28. Marianna (0-1)
29. Decatur (0-2)
WEEK 2 PREDICTIONS (favored team in ALL CAPS)
HOOTENS.COM GAME OF THE WEEK
No. 5 Clarendon at No. 1 HAZEN (3): Hazen's defense held Des Arc to less than 100 total yards and a single first down in last week's shutout 52-0 victory. Junior all-conference LB Kolton Tosh recorded 10 tackles for the Hornets. On offense, it was All-State QB Luke King (11-17 passing, 212 yards, 3 TDs), junior RB Braylon Anderson (10-100 rushing, 2 TDs) and Justin Schlenker (2 receiving TDs, 2 rushing TDs) leading the way. Clarendon beat Class 3A Barton 24-14. Senior Tranell Black (28-184 rushing, 1 TD), senior Antonio Fletcher (12-118 rushing, 2 TDs) had the stats. Senior linemen Seneca Snow and Jalen Cohen graded high on both sides of the ball, coach Mark Courtney said. Hazen won this matchup 22-20 last year.
LAST WEEK

Hootens.com correctly predicted 14 out of 19 games (74 percent) games involving Class 2A teams.
1-2A

Class 3A PERRYVILLE (2) at Bigelow: Junior Carter Alexander and senior Bennett Johnson combined for 250 yards and 3 TDs for Bigelow in last week's 35-6 victory over England. Martell Macon and Caleb Turner had 10 tackles each, and the Panthers racked up 5 sacks. Perryville won 35-31 over Class 4A CAC last week.
Class 3A Atkins at CONWAY CHRISTIAN (3): Senior tailback Cooper Johnson scored 3 TDs last week (1 receiving, 2 rushing) in Conway Christian's 47-0 win over Baptist Prep. Sophomore QB Jeryn Thomas completed about 75 percent of his passes and rushed for 50 yards. Sophomore Brady Domokos had 2 rushing TDs. Sophomore Brady Johnson intercepted 2 passes, returning 1 for a TD, while sophomore Bryce Keathley snagged another. Atkins lost to Class 4A Dover last week, 20-16.
Class 3A YELLVILLE-SUMMIT (24) at Decatur: Coach Jake Denzer's Bulldogs (0-2) have yet to score. Yellville-Summit scored a 51-14 win over J.C. Westside last week.

Hector at MCCRORY (7): Hector went toe to toe with Class 3A Quitman last week, but the game ended 28-28 when game officials refused to let the teams play overtime. McCrory lost its season-opener 20-14 to No. 2 Mount Ida.

J.C. Westside at Class 3A TWO RIVERS (1): J.C Westside lost 51-14 to Class 3A Yellville-Summit last week. Two Rivers won its first game since 2019, beating Palestine-Wheatley 20-6.

Magazine at Class 3A DANVILLE (7): Magazine was stunned by Class 3A Lavaca last week, 40-7. Danville dropped its season-opener to Mountainburg.

Class 3A CEDARVILLE (7) at Mountainburg: Mountainburg turned heads last week with an 18-12 victory over Class 3A Danville. Junior QB Shay Pixley passed for 58 yards and a TD, senior Trey Shaffer hauled in a 21-yard TD pass early in the first quarter and Lane Biery threw a 27-yard TD pass to Kenyon Johnson right before halftime. Cedarville (0-1) was idle last week.

2-2A

Clarendon at HAZEN (3): See Hootens.com Game of the Week above.
Cross County at CARLISLE (14): All-State RB Jason Sullivan (4-205 rushing, 4 TDs) led the way in Carlisle's 68-0 rout of Decatur, but he received help from junior QB Holden Jones (3-3 passing, 86 yards, 2 TDs; 3-61 rushing, 1 TD) and sophomore Gabe Boyle (2-57 receiving, 2 TDs). Boyle also recorded 2 TFLs. Senior T.J. Barnett logged 3 unassisted tackles, 2 TFL and 1 sack. Cross County lost 24-6  to Class 3A Corning.

Class 4A BALD KNOB (1) at Des Arc: Both teams were held scoreless last week. Bald Knob leads this

series 3-1.
Earle at Class 3A CORNING (6): Landon Lucas ran 32 times for 167 yards and a TD in Corning's victory over Cross County. Earle (1-1) beat Class 4A Helena, a team that hasn't won since 2019.

Class 3A WALNUT RIDGE (6) at EPC: Walnut Ridge rushed for 380 yards last week against Cave City. Senior QB Kai Watson was named offensive player of the game. EPC QB Carter Smith went 8 of 13 for 115 yards and a TD in last week's win over Manila. Junior all-conference TB Dennis Gaines (23-229 rushing, 4 TDs) and Cooper Argo (5-50 rushing; 4-69 receiving, 1 TD) also contributed. Omar McCustion and Gaines each had 10 tackles, while Jamarkius Garrett and Ethan Tucker both had 7 stops.

Class 3A BARTON (14) at Marianna: Both teams looking for their first win of the season.

Jackson Central, Tenn. at MARKED TREE (3): Marked Tree (1-0) opened with a 54-19 win over Hector. Jackson Central (1-1) won 34-0 in a nonconference matchup with King Prep (Tenn.) last week.

 Hector at MCCRORY (7): See game preview in 1-2A.
3-2A

Class 3A GURDON (11) at Dierks: Class 2A No. 9 Dierks (2-0) scored 22 points in the second quarter of its 48-12 win over Class 3A Horatio. Senior playmaker Eli Sharp picked up 170 receiving yards and 3 TDs.
Gurdon beat Foreman 42-6, with the Go-Devils' first unit on defense holding Foreman to 40 total yards on 17 plays. Junior RB Sheldon Smith rushed for 165 yards, while Senior TE Bryce Bratton ran for a touchdown and caught 2 TD passes. Senior LB Josh Taylor led the defense with 7 tackles. 
Foreman at HAMPTON (10): First-year Coach Chris Morphis eyes his first win with Hampton after dropping a 20-14 decision to Poyen in the season-opener. Foreman suffered a 36-point loss to Class 3A Gurdon.

Class 3A Smackover at MINERAL SPRINGS (1): Smackover beat Episcopal  8-6. Mineral Springs lost 33-27 at Fouke.

Class 3A Jessieville at MOUNT IDA (1): Jessieville (0-1) has had two weeks to prepare after a 45-30 loss to Mineral Springs in Week 0.  Mount Ida's Drayton Standridge rushed for 126 yards and Jacob Woodfield rushed for 100 in last week's win over McCrory. The Lions' defense forced 5 turnovers, with senior Lane Nolen recovering 2 fumbles.
EPISCOPAL (7) at Murfreesboro: Murfreesboro defeated Bearden 7-0 last week. Episcopal lost 8-6 to Class 3A Smackover.

Poyen at Class 3A BISMARCK (7): Poyen has won 6 of its 8 meetings with Bismarck, which pushed Class 3A Rison last week in 34-31 loss. Poyen senior Austin Webb ran for 136 yards and racked up 14 tackles in last week's 20-14 win at Hampton, while senior Jaedon Zurliene ran for 100 yards and 2 TDs.

OPEN Lafayette County.
4-2A

Class 3A MAGNET COVE (18) at Baptist Prep: Magnet Cove lost 42-24 to Fordyce last Friday; Baptist Prep lost 47-0 to Conway Christian.
Cross County at CARLISLE (14): See game preview in 2-2A.
EPISCOPAL (7) at Murfreesboro: See game preview in 3-2A.
Foreman at HAMPTON (10): See game preview in 3-2A.
Clarendon at HAZEN (3): See Hootens.com Game of the Week above.
OPEN England and Bearden
Hooten's Arkansas Football Rankings
8-Man Big School, Week 2, 2022
Copyright Seventy Seven's Publishing
1. Mountain View 
2. Genoa Central 
3. Fountain Lake
4. Subiaco
5. Marshall
6. Parkers Chape
7. Cutter Morning Star
8. Cedar Ridge
9. Rose Bud
8-Man Small School
1. Mountain Pine
2. Brinkley
3. Rector
4. Spring Hill
5. Woodlawn
6. Strong
7. Izard County Consolidated
8. Dermott
9. Marvell
10. Augusta
WEEK 2 PREDICTIONS (favored team in ALL CAPS)
HOOTENS.COM GAME OF THE WEEK
Rector at MOUNTAIN PINE (7) Rector (1-0) comes to Garland County after a 50-18 win over Marshall in Week 0. Mountain Pine (1-0) beat former 7-4A school Fountain Lake 22-14 last Friday. A key to the game: Can Sam Shipley and the Rector defense slow down Isiah Miles and the Mountain Pine offense?
BRINKLEY (14) at Woodlawn Brinkley (2-0) is averaging 341 rushing yards a game, primarily powered by Jermiah Harris (304 yards, 6 TDs, 13.2 YPC), Mitchell Hicks and Jalin Duram (11.0 YPC). The Tigers have outscored their opponents 84-8. Woodlawn (1-0) beat Parkers Chapel 42-28 last week. Expect Woodlawn to be ready. 
CUTTER MORNING STAR (7) at Marshall Cutter Morning Star Coach Nick Finley had to wait an extra week for his varsity debut with the Eagles. Marshall (0-2) comes off a 24-14 loss to Izard County Consolidated in Week 1. Cutter turns to Payton Mills at QB after a heralded career at Lakeside Junior High.
AUGUSTA (7) at Marvell Coach Greg Bigham's Augusta Red Devils play their opener against 0-1 Marvell, which lost its opener 44-8 to Brinkley.
Rose Bud at FOUNTAIN LAKE (21) Fountain Lake (0-1) played Mountain Pine to the wire last week before losing 22-14. Rose Bud (0-1) will try to improve after a 40-0 loss to Brinkley when the Tigers rushed for 270 yards in the first half. Fountain Lake QB Abe Rose might be difficult to stop.
Cedar Ridge vs GENOA CENTRAL (14) Genoa Central shut out defending 8-Man champion Strong 14-0, holding the Bulldogs to 104 yards. Genoa returns home to take on the Timberwolves of Cedar Ridge for the first time. Cedar Ridge opened with a 36-14 win over Midland.
SPRING HILL (7) at Parkers Chapel Spring Hill (2-0) and Parkers Chapel (0-2) meet for a second time in three weeks. Parkers Chapel (0-2), which was scheduled to compete in 5-3A, is adjusting to the pace and scoring of the 8-Man game. Spring Hill is averaging 80 snaps the first two weeks. Spring Hill limited the Subiaco offense to 240 yards last week, holding off an attempted Trojans comeback. 
Subiaco Academy at MOUNTAIN VIEW (7) Subiaco comes off an 18-14 loss at Spring Hill last week. Junior Brody Koch led Subiaco's defense with 22 tackles and a forced fumble while Anthony Gherig intercepted a pass. Mountain View (1-0) used a potent ground attack to roll up 46 points in its Week 0 win over Izard County. Mountain View is a threat to throw deep to Kenner Gray (4.5 speed) if Subiaco focuses too much on the run.