Class 2A/8-Man Week 4 Rankings, Notes & Picks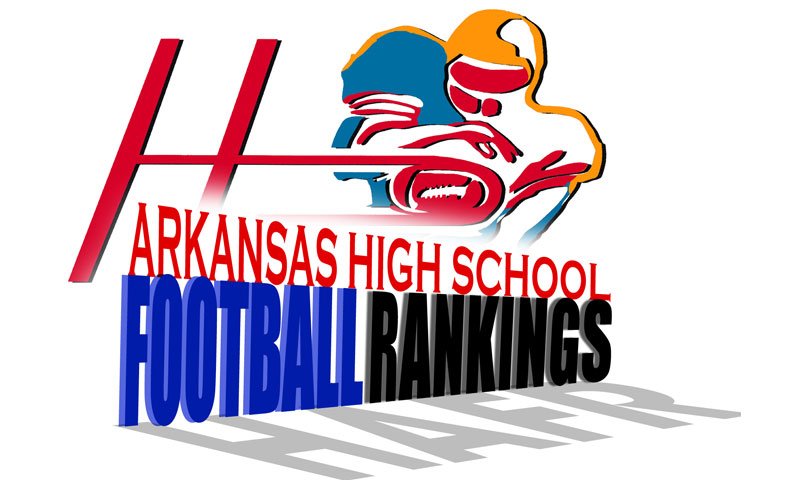 Class 2A Rankings
Week 4, 2022
Seventy Seven's Football Publishing Staff
1. Hazen (3-0)
2. EPC (3-0)
3. Marked Tree (3-0)
4. Bigelow (3-1)
5. Mount Ida (2-1)
6. Carlisle (3-0)
7. Dierks (3-1)
8. Clarendon (2-1)
9. Episcopal (3-1)
10. Hector (2-1-1)
11. Mineral Springs (3-1)
12. Poyen (2-2)
13. Earle (2-1)
14. Conway Christian (2-2)
15. England (2-1)
16. Cross County (1-1)
17. Mountainburg (1-2)
18. Hampton (1-2)
19. McCrory (0-3)
20. Magazine (1-2)
21. Murfreesboro (1-2)
22. Des Arc (0-2)
23. Lafayette County (0-3)
24. Bearden (0-3)
25. Baptist Prep (0-4)
26. Foreman (0-4)
27. J.C. Westside (0-4)
28. Marianna (0-2)
29. Decatur (0-4)
WEEK 4 PREDICTIONS (favored team highlighted in yellow, ALL CAPS)
LAST WEEK
Hootens.com correctly predicted 14 out of 18 (78 percent) games involving Class 2A teams and 54 of 74 (73 percent) for the season.
HOOTENS.COM GAME OF THE WEEK
2-2A E. POINSETT COUNTY at Clarendon Coach Brandon Powell's EPC Warriors have nothing but momentum going into conference play after three consecutive wins over Class 3A teams. Junior all-conference RB Dennis Gaines (811 rushing, 10 TDs) rushed for 326 yards and 3 touchdowns in last week's victory over Corning. The game was called in the third quarter after a Corning player suffered an injury that required an ambulance to come onto the field. Junior WR Cooper Argo caught 2 passes for 40 yards and a TD and had 5 tackles and an interception on the defensive side. Sophomore Tyrus Reel returned a kickoff 73 yards for a TD. Clarendon drops to No. 8 after losing a nail-biter to No. 10 Hector, 31-30. Junior QB Jaxon Hampton (69 passing yards, 97 rushing yards) and senior Fletcher Antonio ran for TDs, while Senior RB Tranell Black rushed for 2. Hunter London led the team with 7.5 tackles. The winner of this game likely takes the 2-2A conference.
1-2A
Mountainburg at BIGELOW: Both teams look to bounce back after losing to Class 3A teams last week. Bigelow's defense held Centerpoint (3-0) to 12 points with senior DE Chance Page (7 tackles, 2 TFL, 3 sacks, 1 forced fumble) leading the way. Junior LB Carter Alexander led the team with 11 stops, while sophomore DB Beau Billeck picked up 6 tackles and an interception. Bigelow won this matchup 49-22 last year. Mountainburg fell 35-6 to Yellville-Summit (4-0).
MAGAZINE at Decatur: Decatur (0-4) struggles on both sides of the ball, most recently in a 62-0 loss to Class 4A Berryville (1-2) last week. Magazine (1-2) has had two weeks to prepare for the Bulldogs.
HECTOR at J.C. Westside: Hector won this matchup 44-6 last year, and Coach Trevor Cooper's Wildcats proved they were still contenders in the 2A with a win over Clarendon last week. All-conference QB Jackson Taylor completed 21 of his 35 passes for 233 yards and rushed for 2 TDs. Taylor also kicked the game-winning field goal as time expired to give the Wildcats a 31-30 victory. Junior RB Brent Casto rushed for 2 TDs. Senior all-state playmaker Drake Riley caught 8 passes for 91 yards and racked up 15 tackles and forced a fumble on defense. Peter Waite led the team with 20 tackles. J.C. Westside fell to England  48-12.
OPEN Conway Christian
2-2A
Cross County at MCCRORY: First-year Coach Brandon Godfrey aims for his first win at McCrory after losing 36-12 to top-ranked Hazen last week. Cross County (1-1) has not played since Week 1. Its game with Carlisle was canceled in Week 2 and it was open last week. McCrory won this matchup 46-13 last year, but that was with a state championship team.

Des Arc at EARLE: Des Arc (0-2) lost 43-0 to Carlisle last week, a team it beat 38-16 a year ago. Earle has had two weeks to prepare for the Eagles. Des Arc won 12-6 last year.
Marianna at MARKED TREE: Coach Waylon Dunn's Marked Tree Indians are emerging as contenders in the 2-2A this season. Sophomore QB Kenyon Carter completed 5 of 8 passes for 132 yards and a TD in last week's win over Class 3A Piggott (0-4). Senior RB LaRay Brown ran for 79 yards and a score on 4 carries, while senior Jaylen Bradley picked up 66 yards and a TD on 4 carries. The Indians scored 3 defensive TDs; Junior Cameron Marshall returned an interception 61 yards, senior Willie Marshall returned a fumble 73 yards and senior Braylon Kennedy recovered a fumble in the end zone. Marianna (0-2) was open last week.
3-2A
Lafayette County at DIERKS: Dierks' QB Rylan Hill (10 of 18 for 134 yards and 2 TDs; 11 rushes for 102 yards and a TD) led the Outlaws to a 46-29 victory over Conway Christian (2-2) last week. Senior Eli Sharp accounted for 85 yards and a TD. Junior DE Kason Jewel logged 3 sacks, while junior LB Ruston Simmons picked up 8 stops. Lafayette County (0-3) lost to Class 3A Drew Central (3-1) last week, 48-18. Last year, Dierks shut out Lafayette County, 35-0.
Foreman at MINERAL SPRINGS: Coach Jason Hathcock and the Hornets of Mineral Springs (3-1) have tripled their win total from a season ago. All-state RB K.J. Hayes rushed for  312 yards and 4 TDs in last week's win over Bearden. The Hornets forced 7 total turnovers and sacked the QB 5 times. Foreman (0-4) lost 57-22 to Class 3A Fouke (2-2) last week. Foreman won this matchup last year, 21-14.
Murfreesboro at POYEN: Poyen beat Baptist Prep 52-13 last week for its second win. Senior RB Austin Webb ran for 3 TDs. Murfreesboro kept it close with Class 3A Gurdon (4-0), 18-13. Murfreesboro forfeited this game last fall.
OPEN Mount Ida
4-2A
Baptist Prep at ENGLAND: England (2-1) has already doubled its win total from a year ago. Senior all-conference QB Chandler Cheek (135 passing yards, 2 TDs; 132 rushing yards, 3 TDs) did it all on offense against J.C. Westside last week. Cheek also blocked a punt and returned it for a score and made 7 stops, a sack and intercepted a pass. Demario Carter (71 receiving yards, 1 TD), junior FB Ty'un Miller (40 rushing yards, 1 TD; 6 tackles, 1 TFL) and sophomore Nick Brown (5 tackles, 1 interception, 1 forced fumble) played well in the win. Baptist Prep (0-4) continues to struggle in its new classification, losing to Poyen 52-13 last Friday.
CARLISLE at Bearden: Coach Caleb Shock's Carlisle Bison lead the state in fewest points allowed with 6. Carlisle dominated Des Arc last week 43-0. Bearden lost 48-6 to No. 11 Mineral Springs.
Hampton at HAZEN: All-state QB Luke King (246 passing yards, 1 TD; 91 rushing yards, 1 TD) continues to impress for Hazen, leading his team to a 36-12 victory over McCrory last week. King also recorded 10 tackles on defense. Josh Dawson caught 6 passes for 125 yards and Braylan Anderson rushed for 125 yards and 3 TDs. Junior all-conference LB Kolton Tosh led the team with 17 tackles. Hampton (1-2) lost 40-14 to Class 3A Smackover. Hazen handed Hampton a 50-6 first-round exit in the playoffs last season.
OPEN Episcopal
8-Man Rankings
Week 4, 2022
Seventy Seven's Football Publishing Staff
2A (AAA sanctioned)
1. Mountain Pine (4-0)
2. Spring Hill (4-0)
3. Woodlawn (2-0)
4. Rector (2-1)
5. Brinkley (2-1)
6. Strong (0-1)
7. Izard County Consolidated (1-2)
8. Marvell (1-2)
9. Augusta (0-2)
10. Midland (1-1)
11. Hermitage (0-2)
12. Dermott
13. KIPP Helena
BIG SCHOOLS 
1. Mountain View (3-0)
2. Genoa Central (3-0)
3. Fountain Lake (2-1)
4. Subiaco (1-2)
5. Marshall (1-3)
6. Cedar Ridge (1-3)
7. Cutter Morning Star (0-2)
8. Parkers Chapel (0-4)
9. Rose Bud (0-3)
WEEK 4 PREDICTIONS (favored team in yellow, ALL CAPS)
HOOTENS.COM GAME OF THE WEEK
Mountain View at GENOA CENTRAL The Genoa Central Dragons are 3-0 for the first time, coming off a 48-16 win over Cutter Morning Star. Harrison Wilson rushed 27 times for 209 yards. Mountain View trampled Rose Bud last Friday to the tune of 378 yards, 170 of which came from dual-threat QB Drew Shelton, who has completed 18 of 24 passes on the season for 200 yards.
KIPP Helena at BRINKLEY KIPP Helena plays its first ever football game against a Brinkley team fresh off a game that was called at half due to weather. Coach Richard Havener says his Brinkley Tigers (2-1) have focused the past week on preparing for the second half of the season by taking care of the little things.
Rose Bud at CEDAR RIDGE Rose Bud showed life on offense early with two first-quarter TDs in losses to No. 1 Mountain View (64-14) and No. 3 Fountain Lake (49-18). Cedar Ridge followed decisive Week 0 win over Midland with consecutive losses to No. 2 Genoa Central (36-0)  and No. 3 Fountain Lake (41-6).
Midland at IZARD COUNTY CONSOLIDATED Midland has not had a game since Week 0, but owns a forfeit victory over Hermitage. ICC (1-2) has been competitive in its first season of football competition, including g a 34-28 loss to No. 4 Rector last week.
Marvell at MOUNTAIN PINE Top-ranked Mountain Pine is fresh off a 68-30 win over Parkers Chapel last week. The Red Devils are led by Isiah Miles, who averages 22.3 yards per touch. Marvell picked up its first win in Week 2 vs Augusta, 50-28.
SUBIACO ACADEMY at Cutter Morning Star The Subiaco Trojans clipped Marshall 56-28, leading 24-0 at half. The Trojans turned to defensive star Brody Koch (11 tackles) on offense, and he produced 129 rushing yards and 2 TDs. Cutter Morning Star is winless but competitive, losing to Marshall 34-16 and Genoa Central 48-16.
FOUNTAIN LAKE at Marshall Fountain Lake (2-1) heads to Marshall (1-3) hoping to win its third in a row. Abe Rose accounted for 4 TDs against Cedar Ridge in Week 3. Marshall is coming off a 56-28 loss to Subiaco Academy.
Hermitage at SPRING HILL TJ Tipton has rushed for 398 yards and 8 TDs as Spring Hill has taken to the ground the past two games. Junior QB Leven McGuire has accounted for 560 all-purpose yards. Hermitage will be playing its first game of the season.
Dermott at STRONG The Dermott Rams are scheduled to play their first varsity game in 12 seasons. Freshman Derrick Clark will trigger the Rams attack against Strong, which last played in Week 1, a 14-0 loss to Genoa Central.
Parkers Chapel at WOODLAWN The Bears of Woodlawn, coming off a bye week, rushed for 422 yards in a 42-28 win over Parkers Chapel in Week 1. The Bears shocked Brinkley 20-12 in a game shortened by lightning. All four of Parkers Chapel's games have been against the top three in 2A 8-Man football.