Class 3A Week 5 Rankings, Notes & Picks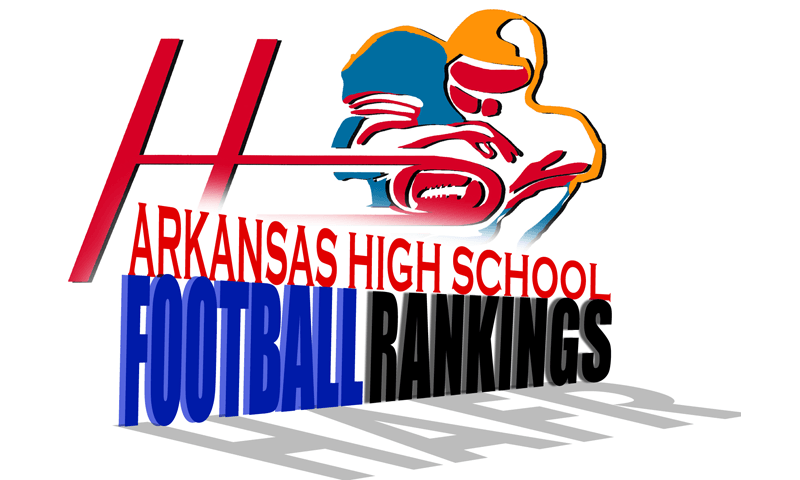 Hootens.com Rankings
Class 3A, Week 5, 2016
Copyright Hooten Publishing, Inc.
1. Charleston (4-0)
2. Prescott (4-0)
3. Glen Rose (4-0)
4. Junction City (2-2)
5. Smackover (3-1)
6. Clinton (3-1)
7. H. Grove Haskell (3-1)
8. Fordyce (3-1)
9. Centerpoint (2-2)
10. Bald Knob (4-0)
11. Paris (2-2)
12. Rivercrest (2-2)
13. McGehee (2-2)
14. Newport (3-1)
15. Elkins (3-1)
16. Atkins (2-1)
17. Harding Academy (1-3)
18. Fouke (2-1)
19. Greenland (2-2)
20. Cedar Ridge (2-2)
21. Walnut Ridge (4-0)
22. Lamar (1-3)
23. Manila (2-2)
24. Mayflower (3-1)
25. Piggott (4-0)
26. Mountain View (3-1)
27. Barton (2-2)
28. Melbourne (1-3)
29. Jessieville (3-1)
30. Horatio (2-2)
31. Gurdon (2-2)
32. Osceola (0-4)
33. Genoa Central (3-1)
34. Mansfield (0-4)
35. Perryville (2-2)
36. Green Forest (1-3)
37. Hoxie (0-4)
38. Yellville-Summit (0-3)
39. Marshall (1-3)
40. Cedarville (1-3)
41. Lake Village (2-2)
42. Marianna (1-2)
43. Episcopal Collegiate (0-4)
44. Corning (0-4)
45. Bismarck (0-4)
46. Two Rivers (0-4)
47. Drew Central (0-4)
48. Rose Bud (0-4)

HOOTENS.COM GAME OF THE WEEK
No. 14 Newport at No. 21 Walnut Ridge
Newport, which dropped from Class 4A, chasing its second league title in three years. The hungry Greyhounds made quick work of Hoxie last week in a 43-0 blowout. Senior running back Jordan Neal ran eight times for 146 yards and a touchdown. Junior RB Jerry Ellis (4.5 speed) rushed for 160 yards and three TDs on seven carries. Senior receiver and team leader Jay Crite (4.7 speed) caught a 29-yard TD pass. Junior linebacker Oshae Pruitt racked up a team-high eight tackles. Senior Deshaun Anderson (5-11, 235) anchors both lines. Two years ago, Neal, Crite and Anderson helped Newport claim the 2-4A title.
Walnut Ridge is 4-0 for the first time since 1993 when the Bobcats won their first eight games. A week ago, Walnut Ridge ran past Manila 38-15. Senior FB/LB Luke Harper (6-2, 215) ran 21 times for 220 yards and four TDs, and he collected six tackles, a sack and two interceptions. Walnut Ridge is playing its best defense in four years. Harper paces the Bobcats with 28 tackles. Sophomore safety Cade Burris (25 tackles) and sophomore LB Drew Brewer (15 tackles) are second and fourth, respectively, on the tackle chart. Senior tackle Matthew Shaw (23 stops) spearheads the front four.

LAST WEEK
Hootens.com correctly picked 22 of 24 games (92 percent) involving 3A teams, nailing the spread of Green Forest by six points over Marshall. For the season, hootens.com has correctly predicted 113 of 154 winners (73 percent).

WEEK 5 PREDICTIONS (favored team in CAPS followed by point spread)
1-3A
Green Forest at CLINTON (42): League favorite Clinton clobbered Greenland 45-0 last week. Senior QB Kort Weaver passed for 180 yards and two TDs in the first half.
GREENLAND (20) at Yellville-Summit: Greenland has defeated Y-S by an average of 26 points the past three seasons. Yellville-Summit gave up 467 total yards in last week's 52-0 loss to Elkins.
ELKINS (19) at Mountain View: Elkins has averaged 426 yards and 54 ppg the past three weeks since a close loss to Shiloh Christian in the opener. Mountain View's defense has been playing well but the Yellowjackets are still struggling on offense. Mountain View totaled 176 yards in last week's 14-0 win at Melbourne.
MELBOURNE (8) at Marshall: Both teams struggling to find ways to win. Melbourne out-gained Mountain View 195-176 last week but lost 14-0. Marshall led Green Forest 8-7 after three quarters but lost 14-8. Melbourne won the last meeting with Marshall 41-14 in 2013.

2-3A
BALD KNOB (16) at Mayflower: Bald Knob on top of the league after a 46-34 win over Harding Academy. Senior slot receiver DeShawn Gulledge ran 15 times for 95 yards and three TDs and caught four passes for 61 yards and a score. Senior RB Dominic Harp rushed for 174 yards and three TDs on 24 carries. Mayflower coming off a 46-42 win over Barton. Sophomore RB Deon Simmons ran 27 times for 256 yards and four TDs.
Barton at HARDING ACADEMY (12): Barton surrendered 499 total yards in last week's 46-42 loss to Mayflower. Harding Academy totaled 475 yards in a 46-34 loss at Bald Knob. Senior QB Peydon Harlow completed 18 of 24 passes for 316 yards and four TDs.
Marianna at CEDAR RIDGE (16): Confidence surging at Cedar Ridge after last week's 54-28 win at Episcopal Collegiate. Junior RB Daylon Gant ran seven times for 186 yards and four TDs. Senior WB Jordan Bumpous rushed for 106 yards and a score and returned a kickoff for a TD.
Rose Bud at EPISCOPAL COLLEGIATE (6): Rose Bud has not scored since a 40-6 loss at Marshall three weeks ago. Episcopal junior standout R.J. Rice propels the Wildcats to their first victory of the year.

3-3A
NEWPORT (12) at Walnut Ridge: See Hootens.com Game of the Week.
OSCEOLA (4) at Corning: Both teams searching for their first win. Osceola surrendered 332 rushing yards in last week's 43-7 homecoming loss to Piggott. Corning (16-game losing streak) gave up 312 rushing yards in a 41-6 loss at Rivercrest.
Hoxie at MANILA (18): Three of Hoxie's four losses this year have been shutouts. Three weeks ago, Jonesboro Westside beat Hoxie 40-0. Manila defeated Westside 26-7 in this year's opener.
Piggott at RIVERCREST (12): Piggott rushed for 332 yards in last week's 43-7 win at Osceola. The Mohawks are 4-0 for the second straight season. Rivercrest hitting its stride after an 0-2 start. Sophomore RB Kentavious Robinson rushed for 106 yards and three TDs in last week's 41-6 win over Corning.

4-3A
ATKINS (27) at Two Rivers: Atkins coach Tommy Cody says his Red Devils are improving weekly. Senior QB Seth Haney passed for 306 yards and two TDs in last week's 29-14 win over Lamar. A year ago, the Red Devils defeated Two Rivers 33-14.
Cedarville at PERRYVILLE (6): Cedarville's speed could cause problems for Perryville. Perryville must control the game with its Triple Option attack. The Mustangs have rushed for 283 yards per game the past two weeks in wins over Poyen and Two Rivers.
Paris at CHARLESTON (28): Paris rushed for 515 yards in last week's 59-38 win over Mansfield behind juniors Dakovan Wise (176 yards, two TDs), Justus Lee (167 yards, four TDs) and Kris Graham (167 yards, two TDs). Charleston senior Colton McDonald has emerged at receiver, giving the top-ranked Tigers another threat to go along with talented junior Sean Michael Flanagan and fearless junior Mason Wisdom. McDonald caught three passes for 40 yards and a TD in a 44-14 win at Cedarville. Flanagan (16 receptions, 269 yards, four TDs in 2016) has scored eight TDs this season, including two punt returns. Charleston has defeated Paris the past three years by an average of 32 points under Coach Greg Kendrick.
Mansfield at LAMAR (15): Mansfield searching for its first win under first-year coach Craig Bentley. The Tigers can run the ball well, but they're giving up 49 ppg. Nine starters on defense are newcomers. Senior FB Joseff Buccella ran 14 times for 212 yards and two TDs in last week's 59-38 loss at Paris. Lamar led Atkins 7-6 after three quarters but lost 29-14. Senior QB Hunter Davenport accounted for 161 total yards and both TDs.

5-3A
H.G. HASKELL (35) at Bismarck: Harmony Grove gets a breather after last week's 34-31 loss to Glen Rose. Winless Bismarck averages 247 yards and 20 ppg.
CENTERPOINT (19) at Horatio: Centerpoint has won three in a row over Horatio by an average of 27 points. The Knights allowed 413 total yards but held up in the red zone in last week's 20-9 loss to Prescott. Horatio ran 53 times for 266 yards in a 13-7 win at Gurdon. Senior Alex Martin rushed for 125 yards and two TDs on 20 carries. The Lions lost three fumbles but intercepted two Gurdon passes.
Jessieville at GLEN ROSE (30): Glen Rose beats Jessieville for the ninth straight season. Glen Rose senior QB Aaron Weatherford has passed for 568 yards and nine TDs the past two weeks.
Gurdon at PRESCOTT (34): Gurdon managed 158 total yards in last week's 13-7 loss to Horatio. Prescott senior QB Derrick Flynn generated 302 total yards and a TD in a 20-9 win at Centerpoint.

6-3A
MCGEHEE (36) at Drew Central: McGehee hands Drew Central its 11th straight loss. The Owls fell to Junction City 29-19 last week. McGehee trailed 21-19 in the fourth quarter.
Fouke at FORDYCE (19): Fouke gave up 485 total yards in last week's 46-0 loss to Smackover. Fordyce averages 359 yards and 30 ppg. Senior FB/LB T'Juan Thomas paces the Redbugs this year with 429 yards and 39 tackles. 
Genoa Central at JUNCTION CITY (27): Genoa Central surrendered 359 rushing yards in last week's 42-13 loss to Fordyce. Junction City senior RB Demontauz Gray ran 17 times for 194 yards and three TDs in a 29-19 win at McGehee.
Lake Village at SMACKOVER (48): Lake Village sophomore QB Aarion Kilgore accounted for 334 total yards and three TDs in last week's 38-18 win over Drew Central. Four of Lake Village's six wins over the past five years have been over Drew Central. Smackover flogged Fouke 46-0 last week. A year ago, the Buckaroos beat Lake Village 56-0.