Class 3A Week 8 Rankings, Notes & Picks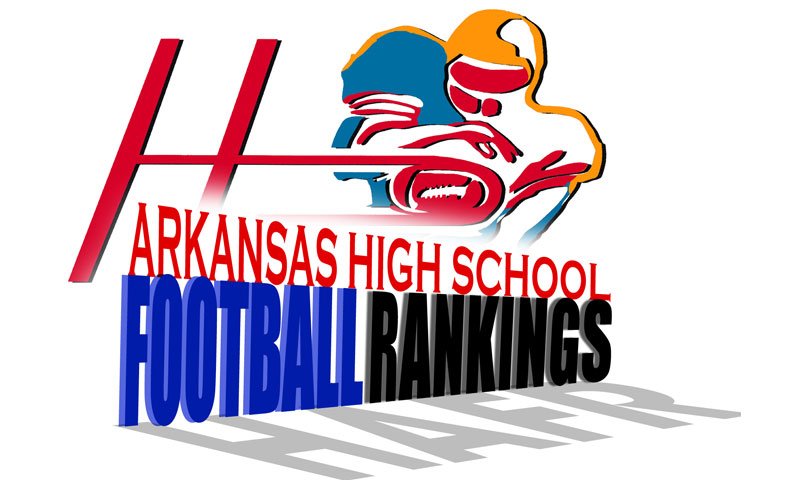 Hootens.com Rankings
Class 3A, Week 8, 2020
Copyright Hooten Publishing, Inc.
1. Harding Academy (4-1)
2. Prescott (5-0)
3. Rison (4-1)
4. Hoxie (7-0)
5. McGehee (5-0)
6. Booneville (5-2)
7. Newport (8-0)
8. Glen Rose (6-1)
9. C. Harmony Grove (3-3)
10. Charleston (5-2)
11. Melbourne (5-1)
12. Osceola (2-3)
13. Paris (7-0)
14. Centerpoint (5-2)
15. Cedarville (6-1)
16. Atkins (5-2)
17. Perryville (5-2)
18. Harrisburg (3-2)
19. Greenland (5-2)
20. Piggott (4-3)
21. Dollarway (2-4)
22. Salem (4-3)
23. Jessieville (4-3)
24. Hackett (3-2)
25. Lincoln (4-3)
26. Mountain View (4-3)
27. West Fork (4-3)
28. Corning (4-2)
29. Genoa Central (3-4)
30. Palestine-Wheatley (3-3)
31. Walnut Ridge (1-5)
32. Mayflower (1-6)
33. Drew Central (1-4)
34. Bismarck (2-5)
35. Lake Village (1-4)
36. Danville (1-4)
37. Fouke (1-3)
38. Smackover (1-4)
39. Baptist Prep (2-5) 
40. Riverview (0-6)
41. Mansfield (1-6)
42. Barton (0-7)
43. Lavaca (0-5)
44. Manila (1-5)
45. Two Rivers (0-6)
46. Horatio (0-6)

HOOTENS.COM GAME OF THE WEEK
No. 14 Centerpoint at No. 8 Glen Rose
This is a key game for playoff positioning. Glen Rose has won five straight in this series, since Centerpoint downed Glen Rose 30-12 in 2014.
Centerpoint pulled away from Jessieville last week for a 32-13 victory. The Knights led 16-13 in the fourth quarter. Juniors Garrett Alexander and Dathan Vaughn anchor a Centerpoint defense that surrenders just 16 points per week. Junior quarterback Josh Lawson triggers an offense that scores 33 points per week since an opening loss at Class 2A Hampton. 
Glen Rose fashioned a 45-0 halftime lead last week at Fouke (won 57-0). The Beavers rolled up 373 yards and 15 first downs at Fouke. Seven Beavers earned carries, led by senior tailback Ethan Taylor (10 carries for 79 yards and two TDs). The Glen Rose defense allowed just three first downs. Senior Noah Wright (two receptions for 112 yards and two TDs at Fouke) and junior Taggart Haynes (two catches for 86 yards and two scores at Fouke) emerged as the go-to receivers and play in the secondary. All-state performer Andrew Weatherford anchors the lines. Glen Rose allows just 12 points per week.

LAST WEEK
Hootens.com correctly predicted 19 of 20 games (95 percent) of games involving Class 3A schools. For the season, hootens.com correctly predicted 166 of 201 games (83 percent) of games involving Class 3A schools.

WEEK 8 PREDICTIONS (favored team in CAPS followed by point spread)
1-3A
CEDARVILLE (2) at Greenland: This game features the top two rushers in Class 3A football. Greenland senior all-conference tailback Jett Dennis has rushed 169 times this fall for 1,322 yards and 13 TDs (all team-highs). Cedarville junior all-state running back Darryl Kattich has rushed for 1,414 yards and 20 scores this season. Cedarville slipped West Fork 48-41 a week ago behind Kattich's 158 rushing yards and four TDs. Cody Dickens connected with Bruce Turney for an 80-yard TD pass and Hayden Partain ran for a score.
CHARLESTON (24) at Lincoln: Lincoln forced four turnovers in last week's 52-6 victory at Mansfield. Tyler Brewer fired four TD passes, three to Daytin Davis. Noah Moore racked up 10.5 tackles on defense while Dakoda Christanson logged three tackles for loss. Matthew Sheridan ran for 189 yards and made five stops. Charleston rolled Hackett 48-8 a week ago. Charleston sophomore QB Brandon Scott completes 67 percent of his passes for more than 500 yards and 10 TDs. He's run for more than 400 yards and six scores.
Hackett at WEST FORK (2): Hackett playmaker Peyton Hester racked up 12 tackles and Fischer Shipman caught six passes for 96 yards in last week's 48-8 loss to Charleston. West Fork battled Cedarville last week in a 48-41 defeat. Cedarville scored on five of six possessions in the first half. West Fork senior Wyatt Kutz ran for almost 500 yards and six TDs over the last four weeks.
Lavaca at MANSFIELD (1): Lavaca surrendered 485 yards (373 rushing) in last week's 35-7 loss to Greenland. Mansfield managed just 151 yards in last week's 52-6 loss at Lincoln. Senior Randall Claude paces Mansfield in rushing (256 yards) and tackles (78 stops).

2-3A
HARDING ACADEMY (24) at Melbourne: Harding has beaten Melbourne the past two seasons by a combined 87-14, including 45-0 in 2019. Melbourne led at Riverview 26-0 last week at halftime of a 42-12 victory. The Melbourne defense forced four turnovers at Riverview and Ryan Worsham ran for 128 yards and two TDs. Harding has not played in two weeks, including a scheduled bye week a week ago. The Wildcats mauled Mountain View 49-22 on October 2.
SALEM (6) at Mountain View: Salem has won three straight in this series by a combined 122-38, including 52-14 a season ago. Newport rolled Mountain View 42-0 two weeks ago, Mountain View's first scoreless game this season. Senior J'Air Jackson threatens defenses on pass routes and on jet sweeps. Newport routed Salem 51-14 last week, Salem's first regular-season home loss since 2018. Salem surrendered 356 yards to Newport.
Riverview at LAMAR (28): Melbourne outgained Riverview 329-196 in last week's 42-12 victory and Riverview committed four turnovers. Riverview sophomore Harley Sawtille impresses at QB.
NEWPORT is open.

3-3A
Palestine-Wheatley at CORNING (8): Palestine-Wheatley routed Manila 35-0 a week ago by rolling up 257 balanced (132 passing and 125 rushing) yards. The Patriots forced five turnovers. It was PW's second shutout in three games. Corning led Walnut Ridge by as many as 32 points in the fourth quarter of last week's 38-14 victory in a battle of the Bobcats. Corning outgained Walnut Ridge 426-242, including 276 yards rushing and a season-high 150 yards passing. Corning senior QB Nikota Amiker completed four of seven passed for 150 yards and three TDs and Corning rushed for 276 yards. All-league linebacker Gary Comstock paced Corning's defense with nine tackles.
PIGGOTT (6) at Harrisburg: Piggott rolled up 342 yards in last week's 54-28 loss to Hoxie. The Mohawks trailed 22-8 at halftime and got within 42-22 in the third quarter. Piggott forced a pair of Hoxie turnovers and ran 22 more plays. Harrisburg's game last week with Osceola was canceled due to covid-19 protocols. Harrisburg hopes either senior Drew Wright or junior Samuel Moore can return this week at QB after each missed a 17-2 victory two weeks ago at Manila.
Manila at HOXIE (35): Manila managed just 170 yards in last week's 35-0 loss to Palestine-Wheatley. It was Manila's first scoreless game since last season. Unbeaten Hoxie scores 51 points per week behind senior QB Daylon Powell and tailback ShunDerrick Powell. The Mustangs rolled up 603 yards in last week's 54-28 victory at Piggott. Daylon Powell totaled 371 yards and four TDs while ShunDerrick Powell ran for 204 yards and four scores. Senior linebacker Sam Turner paced the defense with 14.
Walnut Ridge at OSCEOLA (28): Walnut Ridge committed four turnovers and trailed Corning 30-6 in last week's 38-14 loss. The Bobcats rushed for 242 yards. Osceola trailed Class 4A Rivercrest 42-14 last week at halftime of a 55-27 loss. Semaj Brown ran 20 yards for a TD and junior QB Don Littleton accounted for three scores.

4-3A
Atkins at BOONEVILLE (14): Atkins trailed Paris 42-0 at halftime of last week's 42-6 defeat. Atkins leans on veteran offensive linemen Tyler Leggitt, Payten Sutterfield, Josh Carpenter and Brayden May. Booneville trailed at Stigler, Oklahoma 56-7 at halftime last week in a 56-14 defeat. Booneville senior Jacob Herrera ran 31 yards for a TD.
DANVILLE (7) at Baptist Prep: Baptist Prep drags a four-game losing streak into this game where opponents outscore it 37-21 weekly. Baptist Prep's game last week against Booneville was canceled due to covid-19 protocols. Baptist Prep managed 230 yards two weeks ago in a 30-22 loss at Mayflower. Danville earned its first win under Coach Drew Smyly in a 42-6 rout last week against Two Rivers. The Little Johns scored four TDs in the fourth quarter to pull away from the Gators.
MAYFLOWER (30) at Two Rivers: Two Rivers scored first in last week's 42-6 loss. Two Rivers junior QB Riley Dunman fired a 16-yard TD pass to Talen Ziesemer. Mayflower managed just 91 yards in last week's 21-0 loss at Perryville, but the Eagles forced three turnovers. Mayflower and Perryville were scoreless at halftime.
PARIS (8) at Perryville: Perryville racked up 275 yards in last week's 21-0 victory over Mayflower. Tyler Givens delivered TD passes to Matt Roberts and Tyler Erwin in the third quarter and Crete Tippen capped the scoring with a 5-yard TD run in the fourth quarter. Sophomore Daryn Hubbard paced the defense with 12 tackles while junior Brandon Hoyt and sophomore Tyler Hubbard racked up eight apiece. Paris led Atkins 42-0 last week at halftime of a 42-6 victory. Paris QB Chase Watts fired TD passes to Blake Martinez and Cooper Haley while running back Duke Walker ran 83 yards for a TD. Watts accounted for four scores.

5-3A
PRESCOTT (40) at Bismarck: Bismarck rolled Horatio 42-13 last Friday night, outgaining Horatio 410-192. Bismarck sophomore QB Ian Smith completed 10 of 23 passes for 235 yards and four TDs against Horatio. Smith added 73 rushing yards and a score. Xander Talbert racked up 10 tackles against Horatio. Prescott scores 50 points per week behind senior QB Jacobi Nolen, who completes 68 percent of his passes for more than 900 yards and 11 TDs with just one interception. Junior tailback Jaylen Hopson has run for more than 500 yards and seven scores in 2020. Junior Jason Patrick tops the tackle chart with more than 50 tackles.
Centerpoint at GLEN ROSE (13): See Hootens.com Game of the Week.
Fouke at JESSIEVILLE (14): Fouke managed just 31 yards and rushed for 1 yard in a 57-0 loss last week to Glen Rose. Jessieville's skill players (junior QB Carson Hair, junior Matthew Huff and senior Charlie Davis) are among the best in the conference.
C. HARMONY GROVE (30) at Horatio: Horatio's Carson McKiever accounted for two TDs, including a 72-yard scoring strike to Luke Bright, in last week's 42-13 loss to Bismarck. Harmony Grove's game last week with Lake Village was canceled due to covid-19 protocols. Harmony Grove senior playmaker Mecca Arnold paces the team in rushing (363 yards), rushing TDs (seven) and he ranks second in tackles (58).
Horatio at Genoa Central: CANCELED.

6-3A
Barton at MCGEHEE (35): Barton is likely to record its first winless season since 1967. The junior Bears are 7-1 and will play McGehee this week for the east division championship. Barton has 15 players on its varsity roster following an ankle injury to all-league playmaker Hykeem Hancock. Ethan Ward led two TD drives in last week's 14-12 loss at Smackover. Ward ran 41 times for 187 yards and impressed on defense. McGehee's game last week at Rison was canceled. Two weeks ago the Owls pounded Camden Harmony Grove 28-6, surrendering 12 yards of offense. Senior Marcus Rose and junior Jody Easter spark the Owls at running back and in the secondary.
DOLLARWAY (20) at Smackover: Smackover plays this week under acting coach Josh Wesson with Coach David Osborn quarantined. Smackover earned its first win a week ago in a 14-12 decision at Barton. Smackover led 14-0 at halftime but had to stop Barton's potential game-tying two-point conversion in the fourth quarter. Senior QB Austin Goodwin connected with explosive sophomore receiver D'Kylin Hildreth for a TD and T'Jay Modica also scored. Landon Wallingsworth broke up a fourth-down pass for Smackover. Dollarway rushed for 410 yards in last week's 30-14 victory over Drew Central, sparked by senior Cameron Henderson's 263 yards and two TDs. Juniors Eddie Collins, Jr. and Kenyon Carr topped the tackle chart against Drew Central.
C. HARMONY GROVE (30) at Horatio: Horatio's Carson McKiever accounted for two TDs, including a 72-yard scoring strike to Luke Bright, in last week's 42-13 loss to Bismarck. Harmony Grove's game last week with Lake Village was canceled due to covid-19 protocols. Harmony Grove senior playmaker Mecca Arnold paces the team in rushing (363 yards), rushing TDs (seven) and he ranks second in tackles (58).
C. Harmony Grove at Drew Central: CANCELED.
Rison at Lake Village: CANCELED.