Class 5A Week 12 Rankings, Notes & Picks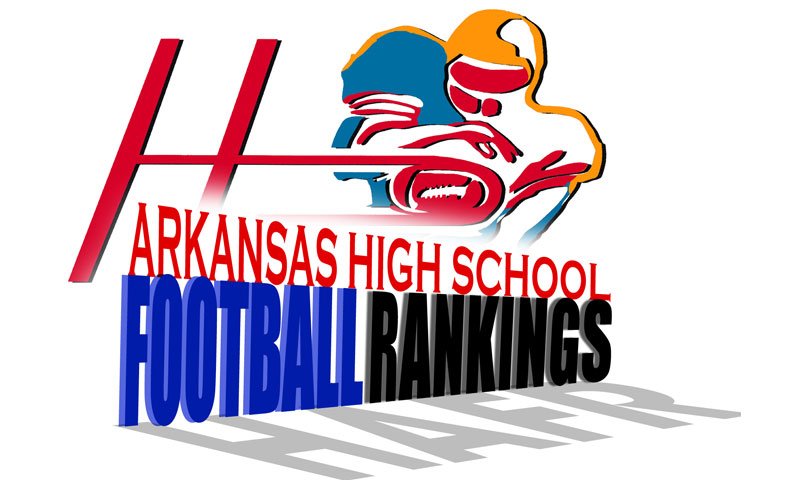 Hootens.com Rankings
Class 5A, Week 12, 2016
Copyright Hooten Publishing, Inc.
1. Pulaski Academy (10-1)
2. Wynne (11-0)
Wynne 63, F. City 28 highlights
3. Alma (8-3)
Morrilton 28, Alma 26 highlights
4. Batesville (8-3)
5. LR McClellan (8-3)
McClellan 42, LR Christian 14 highlights
6. Forrest City (8-3)
7. Watson Chapel (7-4)
8. LR Christian (5-6)
9. Morrilton (5-6)
10. Sylvan Hills (9-2)
11. White Hall (9-2)
12. Greenbrier (8-3)
13. HS Lakeside (6-5)
14. Harrison (8-3)
15. Blytheville (6-5)
16. Magnolia (5-6)
17. Valley View (5-5)
18. Hot Springs (4-6)
19. Vilonia (5-5)
20. Nettleton (5-5)
21. Beebe (4-6)
22. Farmington (3-7)
23. Camden Fairview (3-7)
24. Paragould (4-6)
25. De Queen (3-7)
26. Maumelle (2-8)
27. Mills (3-7)
28. LR Parkview (1-8)
29. Hope (0-10)
30. Clarksville (1-9)
31. Greene Co. Tech (0-10)
32. LR Fair (1-9)

GAME OF THE WEEK
No. 5 LR McClellan at No. 2 Wynne
This is the first playoff meeting between these teams. Little Rock McClellan has won four playoff games the past two years (had just five the previous 46 years). The Lions humbled 5A South co-champ Hot Springs Lakeside 32-16 a week ago. McClellan led 26-0 at halftime and out gained HS Lakeside by 145 yards. Senior running back Pierre Strong (6-2, 190) has rushed for more than 1,400 yards in nine games this year, but he's missed the past two games with a fractured collarbone. Strong could return this week, Coach Maurice Moody says. Senior quarterback Dalvion Childs (6-2, 170) threw a pair of TD passes at HS Lakeside, and he's produced almost 1,000 yards this season. Senior linemen Raoshaun Young (5-11, 285) and Jaylen Houston-Hay (6-2, 240), senior linebacker Ma'laizh Surrell (5-11, 210) and junior inside linebacker Joseph Lewis (5-9, 170) "are the focal point of our defense," Moody says. "We hang our hat on them controlling the middle."

Wynne has won consecutive conference titles since shifting to the Flexbone two years ago. The Yellowjackets were tied with Morrilton 14-14 at halftime last week before running away 50-21. Junior QB Luke Chapman ran for 136 yards and three TDs last week, while junior fullback Ta'Von Hicks had 151 yards and one TD. The Yellowjackets scored on their first play when senior Devontai Pounds (6-2, 170) ran 47 yards for a TD. Senior slotback/linebacker Jaylon McDaniel (6-1, 185) "is playing his best now," Coach Chris Hill says. Hicks has almost 1,400 yards this year. Senior left tackle Corban Arnold (6-2, 245) anchors the line, with senior Matt Vines (6-1, 210) and guard Brandon Keeling (6-2, 285). Juniors Hunter Hylle (5-10, 230), a 23-game starter at center, and Erik South (5-11, 285) also start, while junior Daquan Marrs (6-1, 275) rotates in and plays as much as the starters. "I've seen two teams this year I thought were dominating on the line of scrimmage," Moody says. "One was (Salt Lake City East) the team from Utah that beat Pulaski Academy and the other is Wynne. They are unreal and come off the ball with such tenacity and force."

LAST WEEK
Hootens.com correctly predicted five of eight games (63 percent). For the season, Hootens.com has correctly predicted 180 of 209 games (86 percent).

WEEK 12 PREDICTIONS (favored team in CAPS followed by point spread)
TOP OF THE BRACKET
Forrest City at PULASKI ACADEMY (18): Forrest City won its first playoff game since 1975 last week, gouging Greenbrier by 33 points. Mustang senior Kendriel Johnson put the Mustangs ahead by 28 points at halftime with a 95-yard TD sprint. Johnson has 139 carries for 1,272 yards and 16 TDs this fall, while sophomore QB Randal Moore has passed for 1,786 yards and 26 TDs. Conversely, Pulaski Academy has won 40 playoff games since 1989 after mauling Magnolia 49-21 last week. The Bruins led 49-0 at halftime, and held Magnolia to 24 yards on 25 plays. The Bruins have won at least one playoff game each of the past 18 seasons. Junior QB Layne Hatcher has 105 career TD passes.
LR Christian at BATESVILLE (13): This is the first meeting between these teams. Fourth-seeded LR Christian advances to the quarterfinals for the second straight season after whipping 5A South co-champion White Hall 31-20 last week. Junior QB Jackson Bowersock ran for two TDs and threw a pair of TD passes at White Hall. Batesville advances to the quarterfinals for the eighth straight season after blasting Harrison 35-14. The Pioneers led Harrison 21-0 at halftime. The Pioneers averaged 387 yards weekly. Senior QB Zach Griffin completes 86 of 174 passes for 1,241 yards and 11 TDs, with 12 interceptions. Senior Kylan Robinson has 72 carries for 603 yards and five TDs, and caught 33 passes for 635 yards and three TDs.

BOTTOM OF THE BRACKET
LR McClellan at WYNNE (10): Hootens.com Class 5A Game of the Week.
Watson Chapel at ALMA (7): Watson Chapel slipped past Sylvan Hills 36-35 last week for its first playoff victory since 2010. The Wildcats trailed Sylvan Hills 21-0 at halftime, led 28-21 with three minutes left, but trailed 35-28 in the final seconds when senior JaQuan Dorsey threw a 49-yard pass on third down pass with four seconds left. Dorsey ran for a TD on the next play, then completed the winning two-point conversion pass. Dorsey has passed for more than 600 yards since taking over as the starting QB in Week 8. Alma led Blytheville 21-13 in the third quarter last week, forced a fumble at the 1-yard line and returned it to midfield, spurring a 25-point victory. Alma senior QB Noah Dotson has completed 140 of 235 passes (60 percent) for 2,236 yards and 20 TDs this year, and he's ran 154 times for 1,030 yards and eight TDs.