Class 6A Week 8 Rankings, Notes & Picks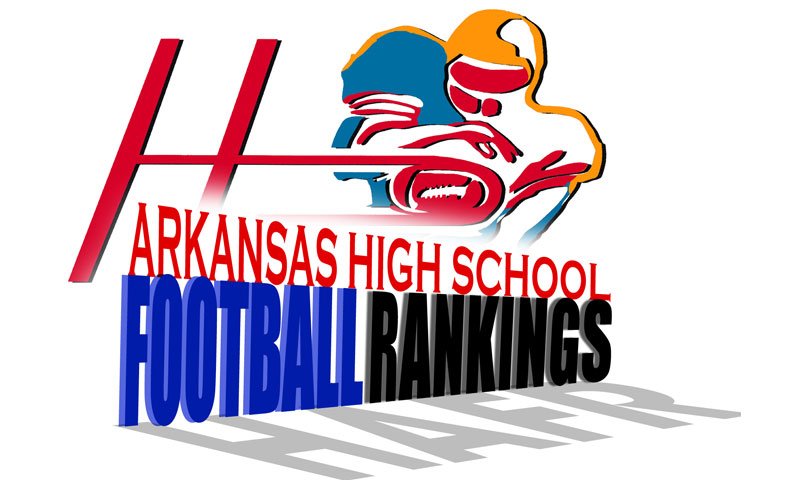 Hootens.com Class 6A Rankings
Week 8, 2022
Copyright Seventy Seven's Publishing 
1. Pulaski Academy (7-0)
2. Greenwood (6-1)
3. LR Catholic (7-0)
4. Lake Hamilton (7-1)
5. Benton (5-2)
6. LR Christian (5-2)
7. Marion (5-2)
8. West Memphis (5-2)
9. El Dorado (3-4)
10. Russellville (4-3)
11. Van Buren (1-6)
12. Greenbrier (2-5)
13. Sylvan Hills (2-5)
14. Sheridan (2-5)
15. Searcy (2-5)
16. Greene Co. Tech (2-5)
17. Siloam Springs (0-8)
18. Mountain Home (0-7)
19. Jacksonville (0-7)
LAST WEEK 
Hootens.com correctly predicted 8 of 9 games (88.9 percent) involving Class 6A teams and is 59-13 (82 percent) for the season.
WEEK 8 PREDICTIONS (favored team highlighted in yellow and ALL CAPS)
HOOTENS.COM GAME OF THE WEEK
NO. 9 EL DORADO (3-4, 3-3) at No. 13 Sylvan Hills (2-5, 2-4)
El Dorado, the defending 6A state champion, is in fifth place in the 6A-East standings at 3-3. Sylvan Hills is tied for sixth with Sheridan and Searcy. The top six teams qualify for the state playoffs.
El Dorado QBs Kolin Parker and Jon Elia have combined to pass for more than 1,400 yards and 13 TDs this season.  "We're playing a lot better defensively," El Dorado Coach Steven Jones said. "We've got to play mistake-free football against Sylvan Hills. We've got to do a good job and not have any turnovers. Defensively, we can't let them put those long drives together."
Sylvan Hills started the season 0-4, but the Bears won 2 in a row before falling to undefeated LR Catholic last week.  "They are a very talented football team," Sylvan Hills Coach Chris Hill said of El Dorado. "They are big up front on both sides. They've got enough skill guys to supply two teams. They certainly pose a challenge. We certainly have our work cut out for us."  Sylvan Hills running back Dylan Harris rushed for 115 yards on 21 carries against LR Catholic last week. 
6A EAST
BENTON (5-2, 5-1) at Searcy (2-5, 2-4): Benton beat Jacksonville 63-18 for its fourth consecutive victory. RB Braylen Russell scored 3 TDs in the victory. Searcy is coming off its second win, beating Greene County Tech 57-19. Dede Johnson rushed for 240 yards and 3 TDs.
MARION (5-2, 5-1) at Sheridan (2-5, 2-4): QB Ashton Gray threw for 2 TDs as Marion handed West Memphis its second consecutive loss last week. Sheridan is coming off a 38-7 loss to El Dorado. 
WEST MEMPHIS (5-2, 4-2) at Greene County Tech (2-5, 1-5): The Blue Devils have dropped two in a row after a 5-0 start, including a 16-12 loss to Marion last Friday. Keyland Mills scored a TD and passed for another. Greene County Tech fell to Searcy last week. The Eagles are giving up 35 points per game. 
LR CATHOLIC (7-0, 6-0) at Jacksonville (0-7, 0-6): LR Catholic beat Sylvan Hills 24-14 to continue its undefeated season. QB Sam Sanders accounted for 228 yards in total offense against the Bears. Jacksonville has lost 11 consecutive games dating back to last season. 
6A WEST
Greenbrier (2-5, 1-4) at PULASKI ACADEMY (7-0, 5-0): Greenbrier's offense found a rhythm in the second half of a 41-28 loss to Russellville. Backup QB Kane Richardson passed for 148 yards and ran for 107 — all in the second half. The Bruins continued being the Bruins in a 69-26 win over Van Buren. Kel Busby passed for 361 yards and 5 TDs.
Russellville (4-3, 3-2) at GREENWOOD (6-1, 5-0): Russellville is close to clinching a playoff berth after beating Greenbrier last week. Tracy Daniels rushed for 157 yards and 3 scores. Greenwood dismantled previously unbeaten Lake Hamilton 24-0. Jake Glover rushed for 108 yards on 27 carries. 
Van Buren (1-6, 1-4) at LR CHRISTIAN (5-2, 5-3): Malachi Henry, son of Van Buren coach Mo Henry, had 2 interceptions and caught 3 TD passes in the loss to Pulaski Academy. LR Christian led Siloam Springs 55-0 at halftime en route to a 62-7 win. QB Walker White completed 11 of 14 passes for 245 yards. 
Siloam Springs (0-8, 0-6) at MOUNTAIN HOME (0-7, 0-5): One of these teams will get its first win. Siloam Springs averages 11.4 points per game while giving up 48. Mountain Home averages 15.3 points per game while surrendering 40. 
OPEN: Lake Hamilton