Four downs: Kent State at Arkansas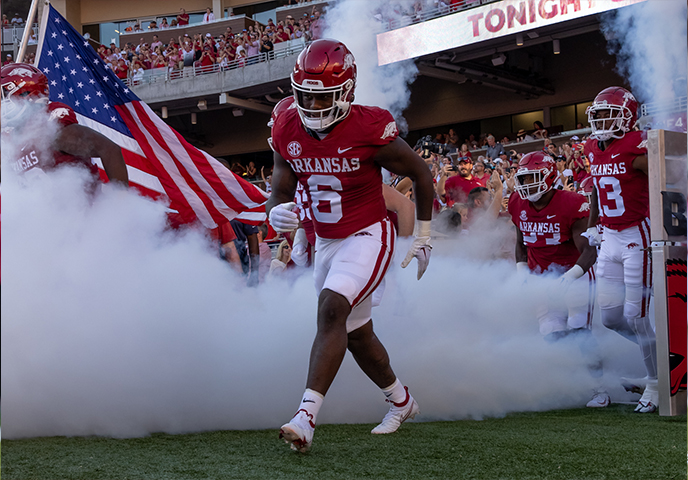 By DON KAUSLER JR.

As one would expect, a capacity crowd of approximately 76,000 is expected to call the Hogs at 3 p.m. CDT Saturday (SEC Network) when Arkansas (1-0) plays host to Kent State (0-1) at Donald W. Reynolds Razorback Stadium in Fayetteville.
The Razorbacks are coming off a 56-13 victory over Western Carolina on Saturday at War Memorial Stadium in Little Rock.
The Hogs called the fans, and many did not respond. Surprisingly, the announced crowd of 44,397 was nearly 20 percent short of capacity.
It was hot (but not broiling). The noon kickoff time turned off some tailgaters. The opponent was weak.
Is it time to stop playing games in Little Rock? We won't go there.
Instead, let's look ahead. …
FIRST DOWN
Rocket grounded? Yawn: Star Raheim "Rocket" Sanders probably will sit this game out. Coach Sam Pittman revealed Wednesday that the junior running back came out of the opening game with a knee injury. Wait. … WHAT?
Sanders also might miss the next game at home against Brigham Young. WHAT?!
Ho-hum.
"I love our depth," Pittman said Wednesday on his weekly radio show. "Rocket has an injury that is going to take a couple of weeks for him to heal. We're not positive about it, but it's not going to linger any further than maybe a couple games."
The Razorbacks, who visit LSU on Sept. 23, indeed have depth at running back. It starts with junior AJ Green and sophomore Rashod Dubinion. When Sanders was injured early in the Razorbacks' 55-53 triple-OT victory over Kansas last season in the Liberty Bowl, Dubinion ran 20 times for 112 yards and 2 touchdowns. Green ran 13 times for 99 yards and 1 TD.
Don't forget Dominique Johnson. As a sophomore in 2021, he ran for 575 yards – 3 less than Sanders. Knee injuries have hindered Johnson since then, but he's back.
Last but not least, there's 4-star freshman Isaiah Augustave.
Oh, and star quarterback KJ Jefferson can run, too.
Western Carolina stacked its defense against the run and held Arkansas to 105 yards on 36 carries. Sanders ran 15 times for 42 yards and 2 touchdowns. Green ran 4 times for 22 yards. Augustave ran 4 times for 20 yards. Dubinion ran 3 times for 15 yards. Johnson ran 3 times for 14 yards. Jefferson ran 5 times for 11 yards, including a team-high 17-yard run for a touchdown.
Rocket or no Rocket, Pittman said he wants to see some explosive running plays against Kent State.
SECOND DOWN
Looking back: Never mind that Western Carolina slowed Arkansas on the ground. The Razorbacks succeeded in the air in Dan Enos' first game in his second coming as the Razorbacks' offensive coordinator. Jefferson completed 18 of 23 passes for 246 yards and 3 touchdowns. He completed his first 12 passes. On the second play from scrimmage, redshirt sophomore Jaedon Wilson (3-49 receiving last season) caught a screen pass and ran 65 yards for a touchdown.
Nine players caught at least 1 pass for Arkansas. Six caught at least 2.
The Razorbacks did not turn the ball over. They gave up 1 sack. Though they were 6-13 on third-down conversions, they were 2-2 on fourth-down conversions.
The Razorbacks forced 5 turnovers, including 4 interceptions, in Travis Williams' debut as defensive coordinator. The Razorbacks held the Catamounts to 64 yards rushing on 30 attempts (2.1 avg.).
Max Fletcher punted five times for a 49-yard average. Isaiah Sategna returned 2 punts for 51 yards, including 1 for 39 yards, and 2 kickoffs for 46 yards.
"Our special teams performed as good as we have in our first game," said Pittman, now in his fourth season as Arkansas' head coach. "I was really pleased with Max and pleased with how high he kicked the ball. He kicked the ball fairly consistent."
THIRD DOWN
Looking ahead: This is another mismatch. Kent State is coming off a 56-6 loss at unranked Central Florida. The Golden Flashes gave up 723 yards and gained 239, including 94 yards rushing on 35 attempts. UCF averaged 8.9 yards per play and kept Kent State out of the red zone for the entire game.
Kent State has no returning offensive starters from a 5-7 season in 2022. When Coach Sean Lewis left to become Colorado's offensive coordinator, Kent State hired first-time head coach Kenni Burns, and transfers ransacked the roster.
"I knew it would be some ups and downs, and they just have to keep playing together," Burns said after the opener. "One thing I will say about the offense is they continued to fight until the end. They'll get better. We'll be OK."
Burns wants to run a fast-paced offense but says a lack of depth limits his team. He estimated the team only has 14 players ready to play at the FBS level. The Flashes are starting a freshman at center.
"Coach Burns has done a nice job at Kent State," Pittman said. "They play extremely hard. I like their quarterback and running back. I think they've got a really good kickoff returner. On defense, they're aggressive. They move more than what we saw last week. I like No. 5, a D-tackle. I like the 2 linebackers. Very physical guys. They've got a corner named Miller who's a good player."
FOURTH DOWN
Fourth down: In 2022, Arkansas was 9-20 in fourth-down conversions (45 percent). The Razorbacks were 2-2 in the opener. Both conversions were on fourth-and-1 plays, including the last play of the first half when Sanders ran for a touchdown.
This might have been the highlight of the game for Pittman.
"We're not going to make them all, I get it, but we did on Saturday, and that felt good," Pittman said. "I think it builds confidence in the team, and it builds confidence in the team in us."
Arkansas' offensive line has room to improve, as the rushing statistics indicate.
Injuries limited the group Saturday. Fifth-year senior and team captain Brady Latham was sidelined with an apparent concussion. That ended his string of 36 consecutive starts. Joshua Braun moved from right to left guard and Ty'Kieast Crawford started at right guard. Redshirt freshman Andrew Chamblee started at left tackle, where Devon Manuel was projected to start. An injury limited Manuel during fall camp. He split time with Chamblee against Western Carolina. Latham is expected to return against Kent State.
"I thought the line did as good a job as we could of protecting it," Pittman said. "We just have to strain a little bit more in the run game and open up holes a little bit better and I think we will."
Pittman went into a technical explanation after saying that he wished "we would've knocked them off the ball more."
"We had some opportunities with some double-teams, and I felt like our shoulder angle was off," he said. "To be specific with you, the linebacker and combinations behind you, you've got to stay as vertical as you can. You've got to work that more. That's one of the things we've got to clean up.
"I think we were quick at times coming off with the guard, and I think we were quick at times coming off with the center. I think we have to play better in there."
Evidently shoulder angles weren't a problem on fourth-down plays.