RECRUITING: Star City at Monticello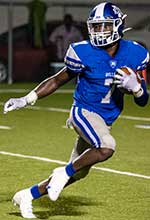 Monticello ATH D. Allen
By BARRY GROOMES
While most observers in the 8-4A this week will follow No. 5 Crossett at No. 2 Warren, another matchup 15 miles down the road has important playoff implications with No. 21 Monticello playing host to No. 14 Star City.
Star City (2-1) has beaten Monticello five of the past nine seasons, and the Bulldogs only loss this fall came Week 1 at No. 3 Stuttgart. They were tied 14-14 late in the second quarter but failed to score after intermission.
Star City junior running back C.J. Turner (6-2, 200) paces the Bulldogs with 25 carries for 244 yards and nine touchdowns. Turner (4.48 speed) played only in the first half of last week's 55-7 win over Class 2A Hampton, but he gained 132 yards on four carries. At linebacker, he racked up six stops.
Turner (in Darla Young file photo TOP) likely plays defense in college. "He's so physical and fast," Star City head coach Chris Vereen says. "He's hard to block."
Turner owns offers from Arkansas State, Colorado, Kansas, Memphis and Tulane. He attended Arkansas' blowout victory over Texas two weeks.
Junior quarterback Mason Taylor (6-1, 190) likely gains multiple D2 offers over the next year, Vereen says. Taylor (4.8 speed) has completed 11 of 16 passes this fall for 199 yards. He has run 18 times for 186 yards and three TDs. On defense, he's collected 20 tackles. Taylor started at tight end last year as a sophomore and two years ago quarterbacked Star City's junior high to an undefeated campaign.
Senior tight end/defensive end Trey Proctor (6-4, 260) could follow in the footsteps of his uncle, Cedric Thornton, who parlayed success at Star City into a walk-on opportunity at Southern Arkansas University. Thornton blew up in Magnolia, emerging in 2011 as a D2 Little All-American. He then played six seasons in the NFL for the Philadelphia Eagles, Dallas Cowboys, Buffalo Bills and San Fransico 49'ers.
Proctor (470-pound squat, 275-pound bench press) has evolved into a playmaker this fall at defensive end.
Monticello football bottomed out three years ago with its first winless season since 1959. The Billies tabbed assistant Randy Harvey as their third coach in as many seasons following the debacle, and Harvey has resurrected a once-proud program (state titles in 1994 and 2009).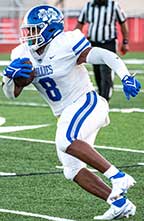 Monticello DE K.J. Wells
Last fall, the Billies beat Star City 30-13 and Warren 18-12 in overtime, springing them to their first winning season since 2011.
They opened 2021 with a 34-20 win at Lake Village but lost Week 1 at Bauxite 15-13 after failing on a two-point conversion in the final minutes. The Billies were without three starting linemen (two in quarantine, one injured). Those guys returned last week when Monticello dominated two-time defending state champion Fordyce 26-7. "It was a great win, something we can build from," Harvey says.
Senior playmaker Doerian Allen (5-7, 145) caught 12 passes for 129 yards and two TDs against Fordyce. He lined up in the backfield in some packages, sprinting 12 yards for another TD. "We are going to get him the ball any way we can," Harvey says.
Allen (photo by Jeff Young / monticelloarsports.com) may play D2 football due to his lack of size. He's returning punts this fall, adding another element to his well-rounded game. "He's not far from breaking one," the coach says, "but teams are starting to kick away from him."
Allen has caught 15 passes this fall for 293 yards (19.5 yards per catch) and four TDs. He has rushed 10 times for 32 yards and two TDs.
Senior defensive lineman Keith Wells, Jr., nicknamed K.J., "is our bellcow," Harvey says. "He changes games."
Wells played inside against Bauxite and "that was my mistake," the coach says. Shifting back to his more natural spot at defensive end last week against Fordyce, Wells responded with four tackles, one sack and one forced fumble.
Wells  (photo by Jeff Young / monticelloarsports.com) owns an offer from UA-Monticello, and the coach believes more offers will flow after the season. "He's a tremendous leader," Harvey says.
Senior linebacker Jordan Light (6-0, 220) could land D2 offers with a strong senior season. He made five stops against Fordyce and should thrive against Star City's Flexbone. Light tore his ACL as a sophomore but recorded 57 stops in 2020. "He's a hard hitter, and quick enough to play in pass coverage," Harvey says.