Class 3A Week 0 Rankings, Notes & Picks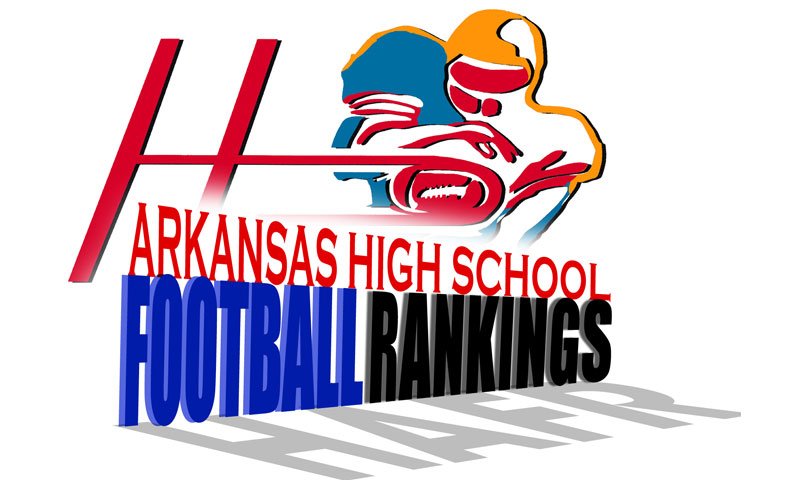 Hootens.com Rankings
Class 3A, Week 0, 2021
Copyright Hooten Publishing, Inc.
1. Prescott
2. McGehee
3. Harding Academy
4. Booneville
5. Osceola
6. Newport
7. Centerpoint
8. Paris
9. Charleston
10. Hoxie
11. Jessieville
12. Melbourne
13. C. Harmony Grove
14. Glen Rose
15. Harrisburg
16. Rison
17. Cedarville
18. Salem
19. Perryville
20. Lincoln
21. Dollarway
22. Hackett
23. Walnut Ridge
24. Greenland
25. Atkins
26. Piggott
27. Bismarck
28. West Fork
29. Smackover
30. Mayflower
31. Genoa Central
32. Palestine-Wheatley
33. Drew Central
34. Mountain View
35. Baptist Prep
36. Fouke
37. Lake Village
38. Lavaca
39. Manila
40. Corning
41. Barton
42. Mansfield
43. Riverview
44. Dansville
45. Two Rivers
46. Horatio

GAME OF THE WEEK
No. 1 Prescott vs. No. 6 Newport
Battle of Top 10 teams Friday night at War Memorial Stadium. Newport senior Eli Alcorn, a former receiver, and sophomore Dylan Braxton battled through last week for the starting quarterback job. Sophomore newcomer Jalen Pollard emerged this summer at running back and linebacker. Newport expects to dress 35-40 Greyhounds for the opener. Prescott counters with 50 Curley Wolves, including junior QB Carson Poole and a collection of skill players who went 10-1 this summer in 7 on 7 competitions. Both lines have emerged. The Curley Wolves own tremendous team speed and strength but lack size.



LAST YEAR


Hooten.com correctly picked 249 of 298 (84 percent) games involving Class 3A teams.

WEEK 0 PREDICTIONS (favored teams in CAPS followed by point spreads)
1-3A


Berryville at CEDARVILLE (12):

First-year head coach Bryan Hutson inherits a Berryville squad that played seven games (0-7) in 2020. The Bobcats should be better on defense but lack speed on offense. This looks like a mismatch with Cedarville returning seven starters on both sides of the ball. The Pirates beat Berryville 44-6 last year on the road.


PARIS (8) at Lavaca:

New Paris HC Jeff Weaver expects the Eagles to contend for the 4-3A title with starters back at 13 spots off an 11-2 team, their first winning season since 2016. Lavaca has not posted a winning record since 2016 after going 1-6 in 2020. The Golden Arrows are unproven up front on offense.


Elkins at LINCOLN (1):

The Elks have won 38 games over the past five seasons, going 8-3 last fall. Quarterback is an unknown for Elkins, which lost 28-0 last week in a scrimmage with Pea Ridge. Lincoln has surprised in its first two years in 3A, including going two rounds into the 2020 postseason. Only six total starters return from a 7-5 squad. Four players competed in August for the starting QB job.


Magazine at MANSFIELD (5):

Mansfield's only win in 2020 was 41-0 over Magazine, and the Tigers return more experience this season. Class 2A No. 18 Magazine will dress 22 Rattlers with senior slotback Ashton Droemer (1,100 yards in 2020) running behind a line anchored by all-league OT and never-more-fit Terrance Thurman (6-0, 290). Sophomore ATH Ethan Vasquez made plays in fall camp.


GREEN FOREST (2) at West Fork:

This game has been moved to Sept. 18 due to covid quarantine. It has been decided by a total of eight points over the past three years. It took Green Forest most of last season to grasp the Spread offense, entering the regular-season finale 0-9 before beating Berryville 18-12. West Fork also reached the postseason in 3A before falling in the first round at Glen Rose.


CHARLESTON, GREENLAND

and

HACKETT

are open.

2-3A
Newport vs. PRESCOTT (14): See Game of the Week.


HARDING ACADEMY (21) at Bald Knob:

Third-ranked Harding Academy eyes its 28th consecutive win against in-state opponents. The defending 3A champ was a powder keg in 2020, blowing out McGehee 71-44 in the title game. Look for Harding to lean on on its defense, with eight starters, early this fall. BK is loaded with experience but in transition under former DC and new HC, Lonnie Roberson.


CLINTON (6) at Melbourne:

Clinton posted two wins in 2020 and lost to 3A Melbourne 50-21. It welcomes back starters at 14 positions, including junior QB Harley Tobin and senior RB/S Nick Epley (team-high 68 tackles). Both excelled this summer and in preseason camp. The Clinton defense stood out last week in a scrimmage with Pottsville. Melbourne, which reached the second round of the 2020 playoffs, lacks speed for new HC Casey Moreland.


MOUNTAIN VIEW (6) at Fouke:

A tossup last season turned into a 36-7 win for Mountain View. With practically the entire (20 starters) team back, Mountain View expects to improve on its 4-6 campaign of 2020. Fouke's defense should be solid, but the Panthers are inexperienced at skill positions and the roster fluctuated over the summer.


BAUXITE (25) at Riverview:

The host Raiders hope a coaching change turns things around after going 0-9 in 2020, including a 42-0 loss to Bauxite. New HC Chris Keylon inherits a small squad with little team speed. Class 4A Bauxite went two rounds into the 2020 playoffs in HC Caleb Perry's first season.


SALEM

is open.

3-3A
HOXIE (3) at Cave City: Hoxie has won nine of 11 in the series. The Mustangs needed double overtime last season to survive Class 4A Cave City. Hoxie was one of the more explosive teams in 3A, winning its first 12 games before falling in the state semifinals to McGehee. Cave City returns 19 starters for third-year coach Danny Brustrom. Senior wingback Maddox Moreland emerged this summer, and both lines are much improved over 2020. The Cavemen tied Class 2A No. 1 Des Arc 8-8 last week in a scrimmage.


Cross County at HARRISBURG (13):

Class 2A Cross County has won five of the past seven meetings, but Class 3A Harrisburg rolled 44-6 in 2019. The rivals did not play last year due to covid quarantines. Home field and 17 returning starters for Harrisburg, which boasts many weapons in its Spread. The defense should be better with improvement up front. For Cross County, former Hoxie Mustang and senior Davie Powell will impact on both sides of the ball. All-league RB A.J. Beale (4.6 speed; 7 ypc in 2020) and LB Brayden McCammon (58 tackles) welcome four more seniors who did not play last fall.


WALNUT RIDGE (2) at Highland:

One league win last fall was enough to land Walnut Ridge in the postseason. Covid issues may factor again this fall in Lawrence County. WR is unproven at the skill spots and must develop depth on both lines to improve on last year's 2-8 record, which included a 28-22 win over Highland. Highland hasn't enjoyed a winning season since 2016, and its last playoff appearance was 2017. Coach Clay Wiggins, who spent more than 30 years at Highland before coaching Salem from 2016-2019, is back.


EARLE (2) at Manila:

Manila new HC Cain White opens with a 35-man roster, including starters at nine positions off last year's 1-8 team. Senior FB/MLB Peyton McQueen, OG/DT Brandon Parrish and RB/FS Dustin Clark stood out this summer and in preseason camp. Class 2A Earle tries to re-boot after its worst on-the-field record (2-6) since 1997. Earle expects to dress 28 Friday night, including all-state LB Jaylen Matthews and a pair of 6-4, 250-something matching ends, Jayden Smith and Deuante Davis.


Osceola at CROSSETT (1):

No. 5 Osceola dipped to 5-5 last year after three straight seasons with double-digit wins and league titles. League coaches expect the Seminoles to surge again in 2021, picking them to capture the 3-3A title. Class 4A Crossett missed half of the 2020 season due to covid virus but won four games in a row late, including two in the playoffs.


Palestine-Wheatley at DES ARC (24):

Class 2A No. 1 Des Arc should dress 23 for the opener, including starters at 15 positions off its 2020 state runner-up team. All-state QB Luke Morton now plays for Southern Arkansas, but senior successor Jake Reidhar executed well last week in a scrimmage (8-8 tie) vs. Class 4A Cave City. All-6-2A FB Jack Kearby ran for 114 yards and a TD in that scrimmage, while sophomore Jabari Rockins took off for 75 yards on just four carries. Class 3A P-W (last playoff berth in 2017) unveils an all-new backfield in 2021.


CORNING

and

PIGGOTT

are open.

4-3A
BAPTIST PREP (6) at Yellville-Summit: This is the first meeting between the two schools. Both own 17 wins over the past seven years. Class 2A Y-S expects to dress 33, including 12 senior leaders. Junior lineman Daniel Maxwell will start on both sides after an industrious off-season and summer. Classmate Kamden Norberg shifts from end to inside LB. BP's strength is its defensive front, but the offense failed to score last week on Class 2A Bigelow's starting defense in a scrimmage.


BOONEVILLE (14) at Dardanelle:

Booneville leads the overall series 11-5. Booneville's defense should carry the Bearcats early with eight starters back. That defense held Charleston last week to 34 yards in a (18-0 win) scrimmage. Booneville's Flexbone, with all-state QB Randon Ray (1,733 rushing yards, 25 TDs in 2020), scored three TDs with two more negated by penalties in that scrimmage. Class 4A Dardanelle, which jumps to Class 5A next year, expected to dress fewer than 30 Friday night.


Danville at MOUNT IDA (20):

Class 2A No. 9 Mount Ida leads this series 7-2. MI expects to dress 23 (18 returning starters) for the opener, including a much-improved O line. Junior DE Ashton Humphries and senior MLB Gavin Summitt emerged in preseason camp, but all-league RB and projected 1,000-yard rusher and linebacker Jack Hoeksema (10 INTs in 2020) moved back to Texas. Numbers are down at Danville where the Little Johns transition to the Spread.


PARIS (8) at Lavaca:

Paris senior QB Chase Watts passed for more than 2,000 yards and accounted for 40 TDs last season. Watts led the Eagles to an 11-2 record and quarterfinal run. Former Greenwood assistant, Mena HC, LR Christian HC and Russellville HC Jeff Weaver takes over at Paris. Veteran Lavaca HC Mark Headley expects his Golden Arrows to be much improved. Paris leads the series 6-3.


QUITMAN (42) at Two Rivers:

Class 2A No. 16 Quitman seeks more after notching the school's first postseason victory last winter. A 32-man roster features all-league QB/LB Will Litton (2,400 passing yards, 27 TFL in 2020), go-to receiver Trevor Locke (64 receptions, 829 yards) and emerging tight end Logan Love (6-3, 220). Class 3A Two Rivers has lost 17 straight games, dating to Week 1 2019.


Mayflower at CAC (PPD):

Postponed until Week 3.  Mayflower has 11 players in quarantine.


ATKINS

and

PERRYVILLE

are open.

5-3A
PRESCOTT (14) vs. Newport: See Game of the Week.


DIERKS (15) at Bismarck:

This could be a shootout. Bismarck opens with 24 players on the roster, including eight seniors. Class 2A No. 7 Dierks returns a talented backfield from its 7-2A title team but will dress only 18. All-league senior QB Braxton Claborn improved his passing in the off-season and summer. He works behind a line spearheaded by center and three-year starter Jacob Moore.


Hampton at CENTERPOINT (13):

Seventh-ranked Centerpoint looks to avenge last year's surprising loss at Hampton. The Knights return 15 starters who journeyed three rounds into the postseason. Senior QB Josh Lawson is a dual threat, with several outstanding targets. Centerpoint dominated 2A Foreman last week in a preseason scrimmage. Class 2A No. 14 Hampton expects to dress 16 for this opener, which it won 12-10 a year ago in a mild upset. Senior Jake Strickland, a former receiver, has won the QB job and will work behind a line led by sophomore Connor Rowland. Look for all-league junior Zy Johnson to excel at RB and LB.


MOUNTAIN VIEW (6) at Fouke:

A tossup last season turned into a 36-7 win for Mountain View. With practically the entire (20 starters) team back, Mountain View expects to improve on a 4-6 campaign in 2020. Fouke's defense should be solid, but the Panthers are inexperienced at skill positions and the roster fluctuated up and down over the summer.


Genoa Central at POYEN (19):

Class 2A No. 12 Poyen should dress 32 Friday night, including 15 driven seniors. Senior Blake Rhodes (1,194 yards in 2020) runs behind a line anchored by senior LT Carter Webb. All-5-2A LB Colton Lowe and Landers Auto Group Class 2A Super Team LB Anthony Nanneman (160 tackles) return. GC first-year head coach David Barker inherits a program that went 3-4 last fall before missing the last three weeks of the regular season. GC moves up to Class 4A in 2022.


GLEN ROSE, JESSIEVILLE

and

HORATIO

are open.

6-3A
Junction City at C. HARMONY GROVE (6): Class 2A No. 3 Junction City leads the series 6-4. After this test, Harmony Grove faces Class 2A No. 2 Fordyce and 3A Harding Academy. Harmony Grove owns playmakers on defense, but the secondary lacks experience. JC, the coaches' pick to win the 8-2A, will dress 27 for the opener but lacks experience up front. Senior A.J. Ivory topped 1,000 rushing yards last season. He and junior CB Corey Dubose and senior OG/DE Slade Wilson stood out this summer and in fall camp.


Helena at DOLLARWAY (7):

Dollarway rebounded from an 0-4 start in 2020 to finish 4-6 and reach the playoffs. Their last two setbacks were to 6-3A champion McGehee, and to Osceola in the playoffs. The Cardinals boast outstanding team speed but lack depth. Helena, with low numbers a year ago, failed to win game for the first time since 1991. Helena senior Daejohn Harrell caught an 80-yard TD pass last week in a scrimmage vs. Newport.


MONTICELLO (11) at Lake Village:

The Class 4A Billies routed Lake Village the past two years by a a combined 94 points. Monticello gave up six TDs last week in a scrimmage with Class 5A Camden Fairview. Lake Village adds a few newcomers to 16 returning starters.


Rison at FORDYCE (8):

Two-time defending Class 2A state champion Fordyce has won three of the past five meetings in this rivalry. Kickoff is set for 7 p.m. Friday at Paul "Bear" Bryant Stadium in Fordyce. Second-ranked Fordyce has won 20 straight games. Athletic senior Trey Merritt succeeds four-year starting QB Jaheim Brown. Merritt averaged 27 yards per carry in 2020. Sophomore LB Carmello Allen, junior OT Tyler Davis, senior CB Dominic Hammond and senior NG Dakota Wimberly improved markedly this summer. Rison and Class 4A Monticello were the only teams to play Fordyce close in the 2020 regular season, both losing by a single point. Rison has six returning starters, but they include Landers Auto Group 3A Super Team linebacker Dalton Riggins and fellow senior LB Jacob Bolland. Rison expects to dress 30 for the opener.


Parkers Chapel at SMACKOVER (2):

PC expects to dress 23 upperclassmen for the opener with 14 freshmen ready to help. Junior RB/LB Payton Willeford has emerged as a playmaker on both sides of the ball. Senior all-league ATH Lancer Clark adjusts to the QB role, while senior center Joe Bradley anchors the line as a four-year starter. Class 3A Smackover's numbers yo-yoed this summer, but the Buckaroos expect to dress 27 for the opener.


BARTON

and

MCGEHEE

are open.