Class 3A Week 11 Rankings, Notes & Picks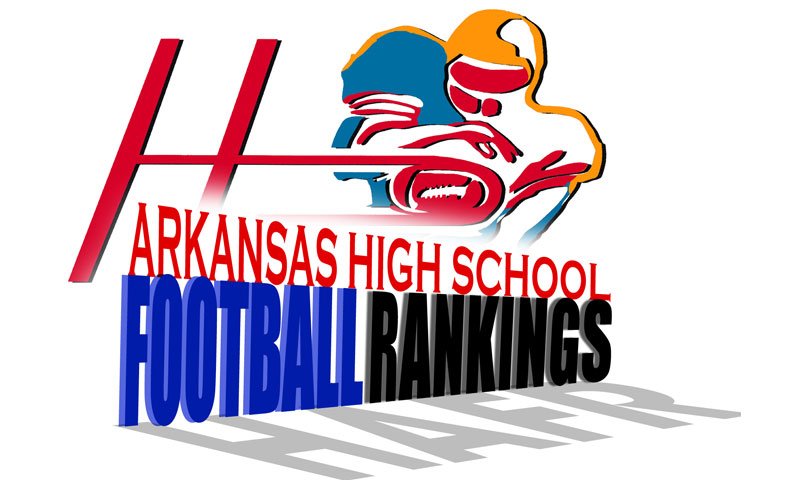 Class 3A Rankings
Week 11, 2022
Copyright Seventy Seven's Publishing
1. Prescott (9-0)
2. Charleston (9-1)
3. Rison (9-0)
4. Melbourne (10-0)
5. Booneville (8-2)
6. Glen Rose (8-2)
7. Osceola (6-3)
8. Newport (7-3)
9. Hoxie (7-3)
10. Centerpoint (9-1)
11. Camden Harmony Grove (6-4)
12. Greenland (7-3)
13. Fordyce (6-4)
14. Walnut Ridge (7-3)
15. Bismarck (5-4)
16. Salem (7-3)
17. Quitman (5-4-1) 
18. Mansfield (7-3)
19. Gurdon (6-3) 
20. Barton (5-5)
21. Smackover (6-4)
22. Magnet Cove (5-5)
23. Fouke (5-4)
24. West Fork (5-5) 
25. Lavaca (6-4) 
26. Perryville (4-6)
27. Junction City (4-5)
28. Manila (3-7)
29. Yellville Summit (5-5)
30. Lake Village (3-6)
31. Drew Central (4-6)
32. Jessieville (3-6)
33. Cedarville (2-8)
34. Hackett (1-9)
35. Two Rivers (2-7)
36. Paris (1-8)
37. Corning (3-7)
38. Horatio (1-8)
39. Palestine-Wheatley (1-8)
40.  Atkins (0-10)
41. Dollarway (0-9) 
42. Piggott (0-9)
WEEK 11 PREDICTIONS (favored team highlighted in yellow and ALL CAPS)

Conference affiliations and seeding are denoted for each matchup.
HOOTENS.COM GAME OF THE WEEK

6-3A (5) Gurdon (6-3, 2-3) at 1-3A (1)  CHARLESTON (9-1, 7-0)

Charleston completed an undefeated conference slate with a 48-0 win over Lavaca. The Tigers rushed for 264 yards and 6 TDs in pouring rain Friday night. Gurdon's resume includes a 27-8 win over No. 2 seed Smackover, followed by a 31-0 loss to Junction City. Charleston Coach Ricky May said Gurdon will try to slow the game down with its playing style. "Gurdon will be different from everybody else we played," May said.

FIRST-ROUND BYES

4-3A champion Glen Rose (7-2, 6-0)
6-3A champion Rison (9-0, 6-0)
4-3A (5) Jessieville (3-6, 2-4) at 2-3A (1) MELBOURNE (10-0, 6-0)

Melbourne, the only 10-0 team in 3A, averages 43 points and 317 yards per game. Melbourne Coach Stu Smith has not deviated from a one-game-at-a-time outlook, emphasizing Jessieville's football history. "You have to respect the playoff potential of a tradition-rich school like them," Smith said. Jessieville and Melbourne share Atkins as a common opponent, with Jessieville winning 48-8 in Week 4 and Melbourne winning 49-7 in Week 11.
2-3A (5) Perryville (4-6, 2-4) at 3-3A (1) OSCEOLA (6-3, 6-0)

Osceola rode a stout defense as it won 6 in a row after an 0-3 start in nonconference games. The Seminoles yielded an average of 14 points per game over 9 games, but they allowed 7 points in conference play. Perryville has lost 4 in a row, allowing 45 points during that stretch. 
6-3A (5) Drew Central (5-5, 2-4) at 5-3A (1) PRESCOTT (9-0, 5-0)

The Prescott Curley Wolves enter the playoffs undefeated and averaging 42 points, and that's including a 9-0 win over Louisiana football power Homer. The Curley Wolves defense is anchored by seniors Tidorian Thompson (93 tackles, 2 FF) and Ra'Shawn Bell (46 tackles, 6 picks). Drew Central enters the playoffs with its best record since 2019.
6-3A (4) Junction City (4-5, 2-3) at 1-3A (2) BOONEVILLE (8-2, 6-1)

Booneville didn't play last Friday when its scheduled opponent Cedarville forfeited. Booneville has rushed for 3,307 yards and 43 touchdowns, led by Dax Goff (1,564 yards, 21 TDs, 17.6 ypc). The Bearcats, yielding 21 points per game, face a Junction City team that has won 3 in a row while averaging 45 points per game during that span.
4-3A (4) Magnet Cove (5-5, 3-3) at 2-3A (2) NEWPORT (7-3, 5-1)

Newport rebounded from its only conference loss to Melbourne to defeat Yellville-Summit and Perryville by an average score of 48-13. The Greyhounds have struggled at times on defense as injuries and dismissals have mounted up during the season. RB CJ Young has been a force down the stretch, rushing for 170 yards and 2 TDs against Perryville in the regular-season finale. Magnet Cove relies on a rushing attack that's led by Juilius McClellan.

2-3A (4) Quitman (5-4-1, 4-3) at 3-3A (2) HOXIE (7-3, 5-1)

Quitman finished its first 3A season with a 36-33 loss to Salem.  The Bulldogs offense is powered by Nassir Donnohoo (41 TDs) and Trevor Locke (111 yards per game, 10 TDs). Quitman Coach DJ Marrs said he has upmost respect for the Hoxie program. "Hoxie is one of the most solid fronts we've seen," Marrs said. Hoxie finished the regular season with a 7-6 win over rival Walnut Ridge. Hoxie's defense has allowed 89 points in 10 games, and 26 in 6 conference games. 

1-3A (5) Lavaca (6-4, 3-4) at 4-3A (2) CENTERPOINT (8-1, 5-1)

Centerpoint earned a No. 2 seed with a 22-19 win over Bismarck in Week 10. Senior RB Jace Clark averages 184 yards per game in total offense. Fellow senior Jaxon Harmon has 74 tackles. Lavaca has struggled offensively without QB Maddox Noel down the stretch. 

6-3A (4) BARTON (5-5, 3-3) at 5-3A (2) Smackover (6-4, 3-2)

The Barton Bears have the offensive firepower to hang with anyone. Smackover downed Fouke 46-20 a week after falling to Gurdon 27-8. This game may have 100 total points scored. 

3-3A (5) Corning (3-7, 2-4) at 6-3A (2) CAMDEN HARMONY GROVE (6-4, 4-2)

Corning earned a No. 5 seed with a 30-2 win over Piggott after surrendering an early safety. Harmony Grove fell to Barton 42-40. The Hornets lead the 6-3A in scoring average at 40 points. QB Caleb Johnson has accounted for 28 TDs while the defense has 20 takeaways.

1-3A (3) GREENLAND (7-3, 5-2) at 5-3A (3) Fouke (5-4, 3-2)

Lee Larkan's Greenland Pirates rushed for more than 300 yards to eliminate West Fork from a playoff spot with a 26-13 victory. Sr QB Max Meredith leads an offense that averages 350 yards and 32 points per game. Fouke yielded 525 yards to Smackover in the regular-season finale. 

3-3A (3) Walnut Ridge (7-3, 4-2) at 2-3A (3) SALEM (7-3, 4-2)

Salem looks to avenge a 38-36 Week 3 loss to Walnut Ridge. Two dynamic rushing offenses will face each other in what could be the shortest game of the playoffs, as far as elapsed playing time. Salem averages 270 yards rushing, led by Jr RB Elijah Romine (1,457 yds, 17 TDs). Walnut Ridge averages 340 on the ground, with QB Walker Ward (1,412 yards, 18 TDs) leading the Bobcats.

3A-2 (4) Manila (3-7, 3-3) at 4-3A (3) BISMARCK (5-4, 4-2) at Hot Springs Lakeside

Manila clinched its second consecutive playoff bid by beating Piggot, Corning, and Palestine Wheatley in consecutive weeks. Battle-tested Bismarck lost the No. 2 seed with a 4-point loss to Centerpoint. Bismarck outgained Centerpoint by 210 total yards but 3 turnovers in the red zone proved to be the difference.
1-3A (4) Mansfield (7-3, 4-3) at 6-3A (3) FORDYCE (6-4, 4-2)

Mansfield slipped past Hackett 16-6 in a torrential downpour Friday night. Fordyce RB Kriston Belin ran for 161 yards, 2 TD, and two 2-point conversions as the Redbugs put away Lake Village, securing their home playoff spot. Mansfield's defense has allowed 16 points per game and 989 rushing yards over 10 games.