Class 3A Week 13 Rankings, Notes & Picks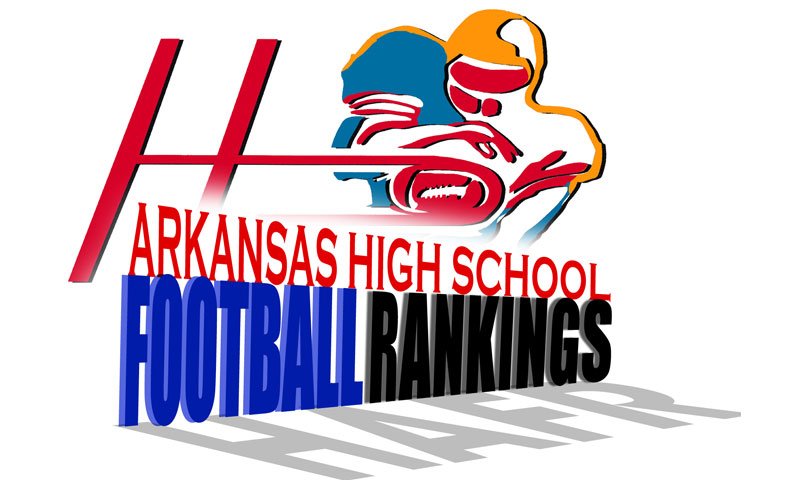 Hootens.com Rankings
Class 3A, Week 13, 2020
Copyright Hooten Publishing, Inc.

1. Harding Academy (8-1)
2. Prescott (9-0)
3. Hoxie (10-0)
4. McGehee (9-0)
5. Booneville (9-2)
6. Newport (9-1)
7. Charleston (9-2)
8. Glen Rose (9-2)
9. Paris (10-1)
10. Melbourne (8-2)
11. Centerpoint (7-3)
12. Greenland (9-2)
13. Osceola (5-4)
14. Rison (5-2)
15. Lincoln (7-4)
16. C. Harmony Grove (6-4)
17. Jessieville (7-4)
18. Piggott (7-4)
19. Cedarville (7-4) 
20. Harrisburg (5-4)
21. Salem (5-5)
22. Dollarway (4-6)
23. Atkins (7-4)
24. Perryville (6-5)
25. Corning (6-5)
26. West Fork (5-6)
27. Hackett (5-5)
28. Mountain View (5-6)
29. Genoa Central (3-4)
30. Lake Village (3-6)
31. Mayflower (2-8)
32. Palestine-Wheatley (2-6)
33. Bismarck (3-8)
34. Walnut Ridge (2-8)
35. Drew Central (1-6)
36. Baptist Prep (4-6)
37. Danville (1-7)
38. Fouke (1-5)
39. Smackover (1-8)
40. Lavaca (1-7)
41. Riverview (0-9)
42. Barton (0-10)
43. Mansfield (1-9)
44. Manila (1-8)
45. Two Rivers (0-8)
46. Horatio (0-9)

HOOTENS.COM GAME OF THE WEEK
No. 6 Newport at No. 3 Hoxie
These teams were 3-3A rivals from 2016-2019, when Newport won three of the four meetings. Newport fashioned its third shutout of the season a week ago, when it bashed Corning 47-0. The Greyhounds led 28-0 at halftime and 41-0 after three quarters against Corning. Sophomore quarterback Dejai Marshall completed 14 of 18 passes for 236 yards and five touchdowns against Corning. Sophomore receiver Isiah Kendall snagged five passes for 113 yards and two scores. Junior playmaker Eli Alcorn returned to Newport at midseason and delivers plays at receiver and defensive back. Senior tailback Tharon Davis, a Memphis commit, flips and plays defensive back.
Hoxie, the highest-scoring team in Class 3A (50.4 PPG), lambasted Lake Village 55-29 last Friday night behind senior QB Daylon Powell's 333 total yards and six TDs. Hoxie outgained Lake Village 455-301 and it held the Beavers to 19 yards passing and forced four turnovers. Senior linebacker Jace Benesch topped the tackle chart with 10 stops while Peyton Jamison finished with eight tackles. Seth Brooks intercepted two passes against Lake Village. Senior tailback ShunDerrick Powell approaches 1,200 yards rushing this fall with 21 TDs. Daylon Powell, brother to ShunDerrick, has totaled 2,921 yards with 46 scores this fall. Seniors Jalen Chappel, Zayne Alls and Keaton Stroud anchor the Hoxie offensive line.

LAST WEEK
Hootens.com correctly predicted 13 of 16 (81 percent) games involving Class 3A schools. For the season, hootens.com correctly predicted 236 of 283 (84 percent) games involving Class 3A schools.

WEEK 13 PREDICTIONS (favored team in CAPS followed by point spread)
TOP HALF OF THE BRACKET
Jessieville at HARDING ACADEMY (28): Jessieville earned its first playoff win since 2011 with last week's 60-53 victory over Harrisburg, after trailing by nine points in the third quarter. Senior tailback Matthew Huff ran for 225 yards and two TDs against Harrisburg and receiver Charlie Davis eclipsed 1,000 yards receiving this season against Harrisburg by catching seven passes for 185 yards and three scores. Jessieville needs to patch a defense that surrenders more than 33 PPG against explosive Harding Academy, which scores 42 points per week behind senior QB Caden Sipe (completes 73 percent of his passes this season for 1,968 yards and 19 TDs) and senior receiver Ty Dugger (57 receptions for 821 yards and 10 scores). Four other Harding receivers have caught 20 passes or more this season. Junior tailback Andrew Miller spearheads the running game with 864 rushing yards and 17 TDs. Junior Eli Wallis and senior Jeffrey Mercer top the Harding tackle chart with 59 and 57 stops, respectively.
Osceola at BOONEVILLE (27): This is a rematch of the 2018 Class 3A title game, which Booneville won 35-0. Osceola pitched its first shutout of 2020 last week in a 17-point victory at Dollarway. Junior QB Dontavion Littleton, who leads the team in passing (1,467 yards with 15 TDs) and rushing (576 yards with 13 scores), accounted for a pair of TDs at Dollarway. Booneville led Hackett 41-0 last week en route to a 41-12 victory behind junior QB Randon Ray's 141 yards rushing and three TDs. On defense, Bret Welling racked up 13 tackles for Booneville while Jacob Herrera intercepted his fifth pass of the season.
Glen Rose at CHARLESTON (13): Glen Rose beat Charleston 41-13 in the 2007 Class 3A semifinals and Charleston won the 2013 state title with a 42-19 victory. Charleston ripped Glen Rose 45-13 in the 2016 semifinals, the last meeting of these schools. Glen Rose outgained West Fork 532-203 in last week's 47-14 victory. GR freshman tailback Heath Ballance ran 15 times for 156 yards and two TDs while senior Noah Wright caught five passes for 95 yards and two scores. Junior Taggart Haynes intercepted two passes against West Fork. Charleston rides an eight-game winning streak into this contest after sweeping the 1-3A and mauling Mayflower 38-8 a week ago. The Tigers scored on all five of their first-half possessions against Mayflower to lead 35-0 at halftime. Charleston sophomore QB Brandon Scott completed eight of nine passes for 85 yards and a TD against Mayflower, while senior Breckon Ketter ran 10 times for 64 yards and two scores. Ketter and classmate Nathan Zimmer paced Charleston with six tackles apiece.
C. Harmony Grove at CENTERPOINT (6): Harmony Grove erased two 18-point deficits last week to earn a 28-24 victory at Piggott. Freshman QB Caleb Johnson fired two TD passes at Piggott (one to Andrew Taylor and one to Jeremie Edwards) and senior Mecca Arnold ran 7 yards for the eventual game-winning score. Senior lineman Brandon Harris wrapped up 10 tackles, recovered a fumble and forced another fumble for Harmony Grove. Centerpoint rolled up 379 yards (238 passing) in last week's 38-22 victory at Rison. Centerpoint junior QB Josh Lawson completed 13 of 23 passes for 238 yards and four TDs with no interceptions. The Knights scored the final 17 points at Rison.

BOTTOM HALF OF BRACKET
Melbourne at PRESCOTT (35): This is the first meeting of these schools. Melbourne built a 38-0 lead in last week's 38-8 victory over Cedarville. Senior receiver Riley Gray and sophomore QB Trey Wren each scored two TDs for Melbourne, while Ryan Worsham added a score. Prescott did not play last week after Drew Central forfeited due to covid-19 protocols. Prescott scores more than 52 PPG this season behind all-state QB Jacob Nolen, tailbacks Alex George and Jaylon Hopson and receivers Caleb Harris and Jeff Williams. The Prescott defense surrenders less than 12 PPG behind stalwarts Jason Patrick, Jr., Travion Dickens, Jack Arnette and Justin Wilson.
Lincoln at MCGEHEE (24): Lincoln ran for 919 yards on 122 rushes (7.5 yards per carry) the past three games. Lincoln routed Atkins 37-14 last week, when Levi Wright completed 11 of 19 passes for 144 yards and he ran for 71 yards and three scores. Matthew Sheridan ran 19 times for 133 yards and a TD and Daytin Davis caught three passes for 27 yards. McGehee surrendered a season-high 20 points in last week's 42-20 victory over Bismarck. The Owls surrender 6.3 PPG.
Newport at HOXIE (10): See Hootens.com Game of the Week.
Greenland at PARIS (13): Paris beat Perryville 56-7 Week 8 while Greenland beat Perryville 49-7 last Friday night. Greenland outgained Perryville 461-242 last week behind senior tailback Jett Dennis's 194 yards rushing and three TDs. Dennis also caught a 21-yard TD pass. Sophomores Tucker Meadors, Seth Center and senior Josiah Elam paced Greenland with eight tackles apiece. Paris outlasted Salem 40-32 last week after erasing an early 14-point deficit to lead 26-20 at halftime. The 32 points were the most allowed by Paris this season. Paris QB Chase Watts totaled three TDs against Salem while Duke Walker, Blake Martines and Ely Fore also scored. Walker intercepted a pass to end Salem's final drive.