Class 3A Week 6 Rankings, Notes & Picks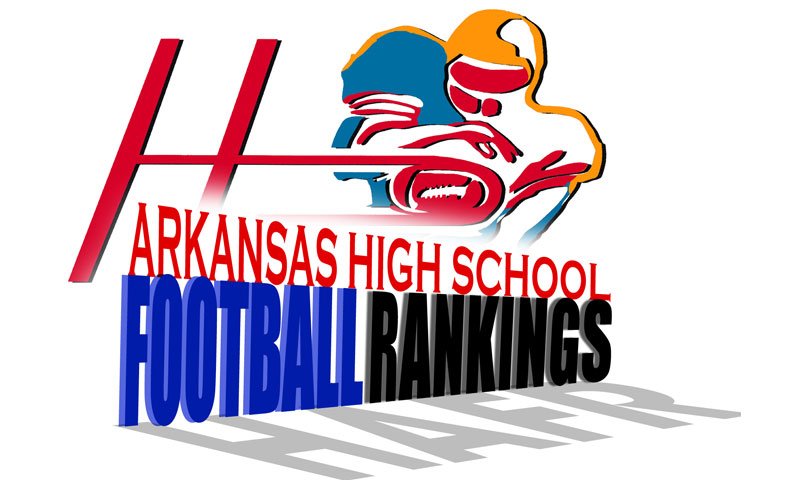 Class 3A Rankings
Week 6, 2022
Seventy Seven's Publishing
1. Prescott (5-0)
2. Booneville (4-1)
3. Rison (4-0)
4. Charleston (4-1)
5. Melbourne (5-0)
6. C. Harmony Grove (4-2)
7. Lavaca (5-0)
9. Newport (3-2)
8. Hoxie (3-2)
10. Fordyce (4-2)
12. Centerpoint (4-0)
13. Glen Rose (3-2)
14. Mansfield (4-1)
15. Walnut Ridge (4-1)
16. Perryville (4-2)
16. Gurdon (4-1)
17. Bismarck(3-2)
18. Quitman (2-2-1)
19. Greenland (3-2)
20. Salem (4-2)
21. West Fork (3-2)
22. Fouke (4-2)
23. Magnet Cove (3-2)
24. Osceola (2-3)
25. Barton (2-4)
26. Smackover (3-2)
27. Junction City (1-4)
28. Hackett (1-4)
29. Yellville Summit (4-2)
30. Lake Village (1-2)
31. Drew Central (3-3)
32. Jessieville (1-4)
33. Cedarville (1-4)
34. Manila (2-4)
35. Two Rivers (2-3)
36. Atkins (0-6)
37. Dollarway (0-5)
38. Horatio (1-3)
39. Paris (0-5)
40. Corning (1-5)
41. Piggott (0-6)
42. Palestine-Wheatley (0-5)
LAST WEEK

Hootens.com correctly predicted 17 of 19 (89 percent) of games involving 3A teams and is 121 of 167 (72 percent) for the season.
WEEK 6 PREDICTIONS (Favored team highlighted in yellow and ALL CAPS)

HOOTENS.COM GAME OF THE WEEK
CAMDEN HARMONY GROVE at Rison This is a pivotal matchup in determining the top seed out of the 6-3A. "This game has the potential to be an "all-time knock-down, drag-out slobber-knocker," one conference coach said. Camden Harmony Grove (335 yards per game, 219 rushing) is powered by dual-threat QB Caleb Johnson (1,158 total yards, 15 TDs). Johnson is supported by an offensive line that averages 247 pounds per man, led by junior Brock Simon (5-11, 195; 250-pound power clean). Harmony Grove's objective on defense is to slow down Rison's Bradyn DuPuy, who is averaging 170 rushing yards per game 9 TDs. Rison's defense is led by Roger Boswell, who is one of the Wildcats' highest-graded linemen of the past decade.
1-3A
CHARLESTON at Mansfield Charleston's Brandon Scott threw 3 TD passes last Friday against Cedarville, with 2 going to Reese Merechka and 1 to Brevyn Ketter, in a 48-6 victory. Merechka added a 45-yard interception return for a TD. Mansfield, burdened by 4 turnovers, lost 19-13 to Greenland.
BOONEVILLE at Greenland Booneville's Dax Goff (307 rushing yards) became the first Bearcat to exceed the 300-yard mark — in a 48-21 win last Friday over West Fork. Boonevile Coach Doc Crowley lavished praise on Goff: "He's an unbelievable kid, great teammate, and so unselfish, a true Bearcat," Crowley said. Greenland (3-2) forced 4 turnovers in its 19-13 win over Manfield.
LAVACA at West Fork QB Maddox Noel (135 passing, 3 TDs; 18-188 rushing, 1 TD) led the way in a 35-6 win over Hackett. Coach Mark Headley praised the Golden Arrows' defense as one that prepares well and takes its assignments seriously. West Fork Tigers lost 48-21 to Booneville.
Cedarville at HACKETT Hackett managed 1 TD against Lavaca after scoring 46 points against Booneville the previous week. Cedarville has had the misfortune of playing the top two statistical defenses in the conference in consecutive weeks.
2-3A
NEWPORT at Atkins Newport converted a blocked punt for a touchdown in the second half of its 44-28 win over Trumann. CJ Young (16-201 rushing, 3 TDs) and D-1 prospect Kylan Crite (4-128 receiving, 1 TD) led the Greyhounds. Atkins (0-6) has improved defensively every week.
Salem at MELBOURNE Melbourne beat Yellville-Summitt 44-0 last week, and Coach Stu Smith called the performance a complete team effort. Salem clawed back on the road last Friday vs. Newport, but the comeback fizzled after a punt was blocked and returned for a TD.
QUITMAN at Yellville-Summitt Quitman threw 7 passes against England in its 43-23 nonconference win. Nassir Donohoo and Trevor Hensley combined to rush for 343 yards and 5 TDs. Yellville Summit's defense showed up in flashes, but Melbourne's balanced attack proved to be too much.
OPEN Perryville
3-3A
OSCEOLA at Palestine-Wheatley Osceola has outscored its opponents 108-6 in two conference games.  Palestine-Wheatley (0-5) lost 55-6 to Hoxie last week.
WALNUT RIDGE at Piggott Walnut Ridge's Bobcats have rushed for 1,728 yards and 27 TDs through 5 games, led by senior QB Walker Ward (588 yards, 8 TDs) and junior RB Kai Watson (586 yards, 11 TDs). Piggott (0-6) is led by QB Ben Latimer (213 passing, 1 TD).
HOXIE at Corning Every Hoxie player who made the trip to Palestine-Wheatley got in the game during a 55-6 win. Hoxie is 1-0 in the conference.  Corning fell to Manila 15-12.
OPEN Manila
4-3A
Magnet Cove at CENTERPOINT Magnet Cove rebounded from an 8-3 loss to Class 4A Bald Knob in Week 4 with a 49-14 win over Two Rivers. Julius McClellan rushed for 2 TDs an Luke Harper added 2 receiving TDs. The Centerpoint Knights (4-0) are coming off a bye week after Danville, its scheduled opponent, discontinued its season three weeks ago.
JESSIEVILLE at Paris Both teams are coming off losses to Glen Rose and Bismarck in back-to-back weeks. Jessieville QB Hunter Thomas has accounted for 6 TDs. Paris has scored 14 points this season.
BISMARCK at Glen Rose Glen Rose junior QB Rein Bland threw for 299 yards and 4 TDs in a 37-0 win over Jessieville last Friday. Glen Rose RB Heath Balance averages 115 yards per game. Bismarck beat Paris 55-0 last week.
OPEN Two Rivers
5-3A
Fouke at PRESCOTT The Curley Wolves of Prescott jumped on Junction City with a 35-point first quarter. Traveon Dickens (3-61 rushing, 3 TDs) and QB Carston Poole (11-12 passing, 219 yards, 3 TDs) led the Prescott offense. Fouke (4-2) beat Horatio 49-22.
SMACKOVER at Junction City Smackover used its bye week to regroup after a 42-8 loss to Bowie (Texas); Junction City scored three TDs in a 55-20 loss to top-ranked Prescott.
HORATIO at Class 2A Murfreesboro Horatio (1-3) is trying to break a 3-game losing streak. Senior Kevin Quiroz leads the Lions with 359 rushing yards and 3 TDs. Murfreesboro's losses have come to teams ranked in the top 15 of 2A or 3A.
OPEN Gurdon
6-3A
FORDYCE at Dollarway Fordyce's Kriston Belin ran for 252 yards and 4 TDs last Friday night in a 50-24 win at  Drew Central. Sophomore Brenton Sledge (61 rushing, 2 TDs) came on in relief of Belin. Conversely, Dollarway lost 53-6 to Camden Harmony Grove, but scored its first TD of the season.
LAKE VILLAGE at Drew Central Lake Village upset Barton 27-14 last week. Drew Central led Fordyce 24-21 at half but surrendered 29 unanswered points in the second half.
OPEN Barton