Class 4A Week 13 Rankings, Notes & Picks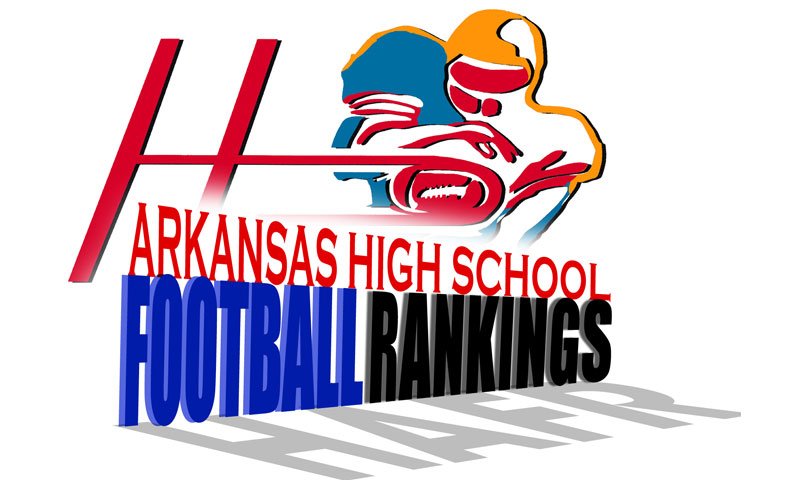 Hootens.com Rankings
Class 4A, Week 13, 2018
Copyright Hooten Publishing, Inc. 
1. Shiloh Christian (11-1)
2. Joe T. Robinson (10-2)
3. Rivercrest (11-1)
4. Ozark (9-2)
5. Dumas (11-1)
6. Nashville (10-2)
7. Arkadelphia (7-5)
8. Stuttgart (10-1)
9. Warren (9-2)
10. Bauxite (9-3)
11. Helena (9-3)
12. Mena (8-4)
13. Dardanelle (9-3)
14. Heber Springs (7-5)
15. Hamburg (8-4)
16. Lonoke (6-6)
17. Trumann (7-4)
18. Elkins (7-4)
19. Pea Ridge (7-4)
20. Lincoln (8-3)
21. Prairie Grove (5-6)
22. Gosnell (5-6)
23. Pottsville (5-6)
24. Jonesboro Westside (7-4)
25. CAC (5-6)
26. Southside Batesville (6-5)
27. Fountain Lake (6-5)
28. Star City (4-7)
29. Pocahontas (4-7)
30. Gentry (3-8)
31. Harmony Grove Haskell (5-5)
32. Bald Knob (4-6)
33. Crossett (2-8)
34. DeWitt (4-6)
35. Ashdown (3-7)
36. Berryville (4-6)
37. Riverview (2-8)
38. Brookland (2-8)
39. Dover (2-8)
40. Gravette (1-9)
41. Waldron (2-8)
42. Cave City (1-9)
43. Highland (1-9)
44. Subiaco Academy (1-9)
45. Monticello (0-10)
46. Malvern (0-10)
47. Mills (0-10)
48. Green Forest (1-9)

HOOTENS.COM GAME OF THE WEEK
No. 6 Nashville at No. 1 Shiloh Christian
Shiloh is in the quarterfinals for the second time in three years, while Nashville returns to the quarterfinals for the first time since 2015.
Nashville limited Bauxite to 81 yards in the second half of last week's 41-18 come-from-behind victory. The Scrappers rely on a relentless ground attack running behind senior tackles Robert Dunham and Bubba Reeder, senior guard Miguel Hernandez and juniors Kendrix Holcomb (tackle) and Ryan Brown (center). Junior Carmillias Morrison (149 carries, 1,064 yards and nine TDs) and sophomore Keyshawn Stewart (167 carries, 1,143 yards and 13 TDs) pressure defenses with different running styles. Senior Levester Gillard, Nashville's only two-way starter, caught a TD pass against Bauxite, has 25 catches this season for 327 yards, and has 32 tackles and four interceptions in the secondary. Junior inside linebacker Devonte Witherspoon and sophomore Ty Gordon combined on 47 tackles against Bauxite. Witherspoon has 146 tackles, four sacks and four interceptions this year, while Gordon has 89 stops.
Shiloh Christian has won 11 straight games since losing the opener to eventual 5A South champion and quarterfinalist Texarkana. Senior safety Micah Button (64 tackles, four interceptions) and middle linebacker Nathan Chojnowski (56 tackles) are leaders of a defense that held seven opponents to a TD or less this year, including both playoff opponents. Versatile sophomore Jaiden Henry works at QB and receiver. He completed four of five passes for 79 yards and a pair of TDs in last week's 52-point win over Mena, caught a 15-yard TD pass, ran 45 yards for a TD and returned a punt 41 yards for another score. Henry has 11 TD passes, five TD runs and three TD receptions this fall. Senior Jaret Russ paces the Saints with 76 carries for 424 yards and 11 TDs, and he's added 31 receptions for 466 yards and six TDs. Senior Truitt Tollett paces Shiloh receivers with 923 yards and 11 TDs. Nashville has never won at The Field of Champions, losing 51-49 in the 2009 quarterfinals and 48-10 in the 2010 quarterfinals (Shiloh Christian won state titles both years). But the Scrappers beat Shiloh Christian by 25 points in the second round in 2015 (Nashville won state title).

LAST WEEK
Hootens.com correctly predicted seven of eight games last week (88 percent). Hootens.com has predicted 235 of  272 games this year (86 percent).

WEEK 13 PREDICTIONS (favored team in ALL CAPS)
TOP OF THE BRACKET
JOE T. ROBINSON (20) at Ozark: Ozark is in the quarterfinals for the first time since 2012. The Hillbillies forced five turnovers last week, shutting out Lonoke 34-0, their first postseason shutout since 2002. The swarming Hillbilly D limited Lonoke to 92 yards. Senior running back Eddie Graham has scored two TDs in every game since returning from an injury four weeks ago, highlighted by a 12-carry, 131-yard effort Week 10 at Elkins. Sophomore Tyler Sanders paces Ozark with 129 carries for 1,160 yards and 13 TDs. Senior dual-threat QB Dawson Dietz completes 63 percent of his passes for 1,892 yards and 19 TDs, and he has 76 carries for 534 yards (7.0 yards per carry) and six TDs. Explosive Joe T. Robinson puts up 40 points and 373 yards weekly. The Senators jumped on Hamburg 42-0 at halftime a week ago. Senior Mekel Kentle has rushed for 899 yards this year, but has only three carries for 21 yards in the playoffs. Senior Tyler Jones has 101 carries for 668 yards and 12 TDs this year, including 128 yards and three TDs in two playoff games. Senior QB Greyson Tackett has passed for 1,445 yards and 18 TDs with just three interceptions this fall. Senior free safety Isaac Dubose paces Joe T. Robinson with 95 tackles and six forced fumbles, while senior ends Zach Williams and Davis Wofford have combined for 160 tackles, including 36 behind the line of scrimmage.
Dumas at RIVERCREST (6): Dumas returns to the quarterfinals for the first time since 2007 (42-20 loss to CAC) after escaping Helena at the 3-yard line as time expired a week ago. Senior Kaleb Small has scored five TDs the past two weeks. Small has 76 carries this season for 576 yards (7.6 yards per carry) and 10 TDs, and 37 catches for 491 yards and eight TDs. Junior QB Chris Harris fuels the Bobcats, completing 115 of 173 passes (67 percent) for 1,464 yards and 16 TDs with seven interceptions, and he has 156 carries for 1,393 yards and 20 TDs. Rivercrest returns to the quarterfinals for the fifth straight year. The Colts haven't lost at home this year since opening their new stadium, The TEZ. They rallied from a four-point halftime deficit last week for a 14-point victory by forcing four second-half turnovers. Rivercrest senior Kentavious Robinson has 191 carries this year for 1,828 yards (9.6 yards per carry) and 21 TDs, while senior QB Demilon Brown has 152 carries for 1,170 yards and 22 TDs.

BOTTOM OF THE BRACKET
ARKADELPHIA (14) at Stuttgart: Arkadelphia has won seven straight games after starting 0-5, but all five losses were to teams who advanced at least to the quarterfinals. Arkadelphia must get ready after playing its best game of the year, a 41-14 mercy-rule thumping at Warren. The Badger D held Warren to 77 yards in the first half while building a 41-0 lead. Senior Zion Hatley ran 20 times for 170 yards last week and has rushed for more than 800 yards this season. Arkadelphia's first-team D has allowed 12 points the past seven games. Junior end Rickey Rogers, Jr. (42 tackles), junior linebacker Kyren Harrison (74 tackles) and senior cornerback Victor Tademy (26 tackles, three interceptions) pace the Badger D. Arkadelphia, winners of seven straight games, plays solid defense and allows special teams to make big plays. Senior kicker Gabe Goodman, "is the best in the state," Coach J.R. Eldridge says. Goodman placed all seven kickoffs in the end zone for touchbacks at Warren, averaged 52 yards per punt, made five extra points and a pair of field goals. Stuttgart is back in the quarterfinals for the first time since 2012. Ricebird junior halfback Derrick Amos ran for 109 yards and a TD in last week's 21-13 triumph over Dardanelle, while senior linebacker Arion White racked up nine tackles. Arkadelphia beat Stuttgart the past four years in Week 1 (29-0 in 2017, 41-30 in 2016, 23-12 in 2015, 42-23 in 2014). Undefeated Arkadelphia lost at Stuttgart 7-0 in the 1982 semifinals, and Stuttgart won the state title a week later. Eldridge has coached Arkadelphia to eight road playoff wins in the past six seasons.
Nashville at SHILOH CHRISTIAN (3): Hootens.com Class 4A Game of the Week.