Class 4A Week 9 Rankings, Notes & Picks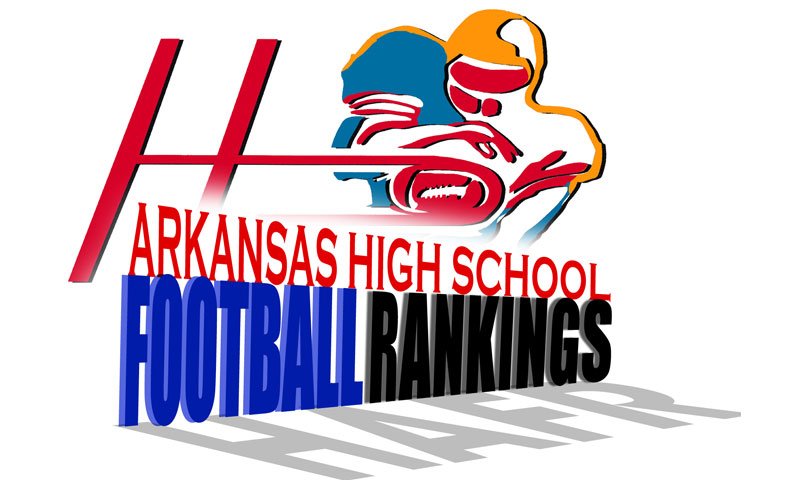 Hootens.com Class 4A Rankings
Week 9, 2022
Copyright Seventy Seven's Publishing
1. Arkadelphia (7-0)
2. Harding Academy (7-0)
3. Warren (7-1)
4. Star City (7-1)
5. Malvern (6-1)
6. Stuttgart (6-2)
7. Pocahontas (7-1)
8. H.G. Haskell (8-0)
9. McGehee (4-2)
10. Nashville (6-2)
11. Elkins (7-1)
12. Rivercrest (5-3)
13. Ashdown (5-3)
14. Lonoke (6-2)
15. Ozark (5-3)
16. Pottsville (5-4)
17. Gosnell (6-2)
18. Gentry (7-1)
19. Clinton (6-2)
20. Lamar (6-2)
21. DeWitt (5-3)
22. Bauxite (5-3)
23. Trumann (4-4)
24. Mena (4-4)
25. Blytheville (5-3)
26. Monticello (4-4)
27. Gravette (5-3)
28. Mayflower (3-5)
29. Crossett (2-6)
30. Hamburg (3-6)
31. Lincoln (4-4)
32. Jonesboro Westside (2-6)
33. Heber Springs (2-5)
34. Riverview (2-7)
35. Bald Knob (2-6)
36. CAC (2-6)
37. LR Hall (1-6)
38. Highland (2-6)
39. Waldron (2-6)
40. Dumas (1-7)
41. Cave City (1-7)
42. Helena (1-7)
43. Huntsville (1-7)
44. Dover (2-6)
45. Berryville (1-7)
46. Harrisburg (2-6)
47. Green Forest (1-7)
LAST WEEK
Hootens.com correctly predicted 18 of 22 games (82 percent) involving Class 4A teams and has correctly predicted 197 of 227 games (87 percent) this season.
WEEK 9 PREDICTIONS (favored team highlighted in yellow and in ALL CAPS)
HOOTENS.COM GAME OF THE WEEK
NO. 5 MALVERN (6-1, 3-0) at No. 10 Nashville (6-2, 3-1)
Malvern faces Nashville and Arkadelphia (combined 13-2 record) the next two weeks with the possibility of capturing its first conference title since 1997. The Leopards didn't play last week (2nd bye in a month), and two weeks ago dismantled Mena 47-14. Senior QB Cedric Simmons completed 10 of 15 passes for 130 yards and ran 5 times for 39 yards and a TD at Mena, while junior Jalen Dupree ran 22 times for 217 yards and 6 TDs. Simmons is completing 69 percent of his passes this fall for 1,331 yards, 8 TDs and 3 interceptions. He's rushed for 537 yards and 14 TDs. Dupree has 138 carries for 1,395 yards (10.1 yards per carry) and 23 TDs. Junior LB Romere Bennett leads with 52 tackles, while junior Dyelon Caradine has 16 tackles and 5 interceptions.
Nashville's only conference loss was Week 4 to Arkadelphia. The Scrappers have 3 consecutive victories by a combined 109-33 since then. Senior QB Sloan Perrin completed 10 of 13 passes for 209 yards and 3 TDs, and he ran for a TD in last week's 41-6 win at Waldron. Junior Tre Hopkins ran 16 times for 144 yards and 2 TDs. Perrin has passed for 1,154 yards and 11 TDs with 5 interceptions, and he has rushed for 850 yards and 11 TDs. Hopkins has 104 carries for 604 yards and 11 TDs.
1-4A
ELKINS (7-1, 5-0) at Gentry (7-1, 4-1): Elkins has won all 4 meetings against the Pioneers, and a victory Friday gives the Elks their first conference title since 2016. Opposing coaches rave about Elkin's high-powered offense, triggered by QB Dizzy Dean and RB Da'Shawn Chairs, but they say the real difference-maker is senior DE Zanuel Martin. Gentry hasn't won a conference title since sharing the 1AA in 1995 (also the last time the Pioneers hosted and won a playoff game). They can share the league title this fall with 2 more wins. Senior QB Chris Bell was injured in the first quarter of last week's 56-21 win over Lincoln and didn't return. Junior Addison Taylor filled in at QB, completing 6 of 8 passes for 93 yards and 1 TD. He also ran 8 times for 60 yards and 1 TD and caught a TD. Senior Ty Hays ran for more than 100 yards and has eclipsed the 1,000-yard mark for the season.
HUNTSVILLE (1-7, 1-4) at Green Forest (1-7, 0-5): Huntsville has won its past 7 meetings over Green Forest. The Eagles picked up their first victory by knocking off Berryville last week 49-28. Senior QB Amos Mayes (300 passing yards, 4 TDs; 1 rushing TD) intercepted 2 passes and recovered a fumble at safety. Senior RB Dugger Tipton ran for 112 yards and 2 TDs, while sophomore Kolby Phillips caught 3 TDs. Junior DL Alex Kilpatrick registered 9 tackles and intercepted a screen pass. Green Forest senior Ryan Bruegel has 23 tackles over the past 2 games.
Berryville (1-7, 0-5) at LINCOLN (4-4, 2-3): Lincoln needs one victory to secure a playoff spot. The Wolves surrendered almost 500 yards in last week's 56-21 setback to Gentry. Berryville's Tun Oo ran for 230 yards and 2 TDs in last week's 49-28 loss to Huntsville. The Bobcats committed 4 turnovers and had a TD negated by penalty.
Gravette (5-3, 4-1) at OZARK (5-3, 4-1): Gravette has beaten Ozark in 4 of the past 6 meetings. Gravette can still finish 1st or 2nd in the conference with some help. The Lions have 4 straight victories by an average of 38-15. Senior QB Rhett Hilger completed 14 of 21 passes for 241 yards and 2 TDs, and he ran 7 times for 46 yards and 1 TD in last week's 40-point win over Green Forest. Senior Mason Meeker caught 6 passes for 91 yards and 1 TD, while senior Jaxon Galyean had 15 tackles and 1 interception for the defense.
2-4A
Cave City (1-7, 1-3) at BALD KNOB (2-6, 1-3): These teams have never played, and the winner on Friday likely qualifies for the playoffs. Bald Knob hasn't scored in its past two games, losing to Riverview and Lonoke by a combined 47-0. The defense has played well (gave up 303 yards vs. Lonoke). Cave City didn't play last week. Sophomore Shawn Walling ran for 125 yards and scored Cave City's only TD two weeks ago at Stuttgart. Senior LB Hunter Greathouse leads Cave City in tackles.
HARDING ACADEMY (7-0, 4-0) at Heber Springs (2-5, 1-3): These teams have played nonconference games for more than two decades, with Harding Academy winning 8 of the past 13 meetings, including the past 2 by a total of 74 points. Heber Springs yielded more than 350 yards rushing in last week's 38-6 loss to Stuttgart. Undefeated Harding Academy hammered Riverview 44-6, with sophomore QB Owen Miller throwing 4 TD passes. Senior DL Levi Mercer had 5 tackles and recorded a safety in the first half.
STUTTGART (6-2, 3-1) at Lonoke (6-2, 4-1): These rivals have split the past 16 meetings, and the winner Friday gets the No. 2 playoff seed. Stuttgart senior Cedric Hawkins ran 10 times for 202 yards and 3 TDs in last week's 32-point win over Heber Springs, while sophomore QB Deontae Clark passed totaled 177 yards (117 rushing, 60 passing). Lonoke forced 2 first-half turnovers in last week's 29-0 win over Bald Knob, with Denham Gooden returning 1 for a TD. Junior QB Bradon Allen completed 16 of 26 passes for 133 yards and ran for a TD, while senior Latrell Burnett had 16 carries for 140 yards and 1 TD.
OPEN Riverview
3-4A
GOSNELL (6-2, 3-2) at Harrisburg (2-6, 0-5): Gosnell has won 7 of the past 9 over Harrisburg. Gosnell junior WR Cam Williams caught 4 passes for 84 yards in last week's 48-20 loss to Rivercrest, while LB Mason Moore racked up 12 tackles. Harrisburg has lost its 5 conference games by an average of 45-13. The Hornets trailed Highland 26-20 in the second quarter last week before turning the ball over twice and losing 58-26.
HIGHLAND (2-6, 1-4) at Jonesboro Westside (2-6, 1-4): Highland, which has won 12 of the past 19 vs. Jonesboro Westside, racked up 508 yards in last week's 58-26 win over Harrisburg. Sophomore QB Zach Huckabee completed 16 of 21 passes for 255 yards and 7 TDs, with sophomore Ronnie Brewer hauling in 3 passes for 97 yards and 3 TDs. Jonesboro Westside ran for 123 yards (passed for 0) in last week's 41-7 loss to Pocahontas.
Blytheville (5-3, 3-2) at POCAHONTAS (7-1, 5-0): Blytheville has dropped its past two games by a combined 22 points. The Chickasaws generated 353 yards in last week's 31-15 loss to Trumann. Junior Timothy Brown ran for 129 yards and 1 TD. Pocahontas needs 1 more win to lock up at least a share of the league title. Redskins senior QB Connor Baker ran for 2 TDs and threw a TD pass to senior RB Reed Bigger in last week's 41-7 victory over Jonesboro Westside.
RIVERCREST (5-3, 4-1) at Trumann (4-4, 3-2): Rivercrest has won 10 of the past 15 meetings with the Wildcats. Rivercrest senior fullback Koby Turner ran for 3 TDs and senior Michael Rainer caught 3 TD passes in last week's 48-20 win at Gosnell. Trumann took a major step toward the playoffs with last week's 16-point win over Blytheville. Senior QB Murphy Williams completed all 4 of his passes for 66 yards, and he ran 10 times for 89 yards and 2 TDs vs. Blytheville, while Cade Hatton ran 12 times for 127 yards and 1 TD.
4-4A
LR Hall (1-6, 1-5) at BAUXITE (5-3, 4-2): Bauxite sophomore Marcus Wimberly ran for 3 TDs, including a 75-yard score, in last week's 22-3 victory at Mayflower. LR Hall has improved over the past month (lost to CAC by 2 points in Week 5 and scored 32 points last week at Lamar).
Lamar (6-2, 4-2) at CLINTON (6-2, 4-2): Expect a shootout between these former 5AAA members (from 2002-2005). Lamar had 3 players rush for at least 100 yards in last week's 64-32 win over LR Hall: junior Jarrett Dalton (12-201 rushing, 2 TDs), senior FB Damien Hendrix (14-114 rushing, 2 TDs) and senior WB Lee Harkreader (13-112 rushing). Clinton must regroup after last week's 56-39 loss to Pottsville, when the Yellow Jackets failed to score in the fourth quarter. Senior QB Jobe Chalk completed 18 of 30 passes for 278 yards and 5 TDs.
H.G. HASKELL (8-0, 6-0) at Mayflower (3-5, 2-4): H.G. Haskell needs one victory to secure its first conference title. Coach Mike Guthrie says the offensive line and defensive front 7 are the keys to the success. Mayflower's Alex Stafford made a 27-yard field goal in last week's 22-3 setback to Bauxite.
Dover (2-6, 0-6) at POTTSVILLE (5-4, 5-2): Pottsville has won 11 of its 15 meetings with Dover since starting the program in 2004. The Apaches will finish second in the conference with a win this week (have Week 10 bye). They outscored Clinton 14-0 in the fourth quarter last week to ease to a 56-39 victory. Pottsville ran for 383 yards and 8 TDs, with senior Bricen Villareal taking 29 carries for 205 yards and 6 TDs. Dover threw 2 interceptions in last week's 41-14 loss at CAC.
OPEN CAC
7-4A
ASHDOWN (5-3, 1-3) at Mena (4-4, 0-3): Ashdown has won 12 of the past 13 meetings over Mena. The Panthers are working on their attitude and team cohesiveness after 3 consecutive losses. LB Tatum Johnson recorded 11 tackles and broke up 1 pass in last week's 41-12 loss to Arkadelphia. Ashdown trailed Arkadelphia 7-6 in the third quarter. Mena plays Waldron next week with a playoff spot at stake. The Bearcats beat Class 2A Lafayette County 48-12 last week. Senior Jayden Felix ran for 80 yards in the first half, while Michael Sullivan ran for a TD and returned an interception for a TD.
OPEN Arkadelphia, Waldron
8-4A
Dumas (1-7, 0-6) at CROSSETT (2-5, 2-3): Crossett has beaten Dumas 7 of the past 10 meetings. Crossett QB Max Brooks threw 2 TD passes in last week's 21-6 victory at Helena. Dumas has lost 12 consecutive conference games. Sophomore QB Darnail Walker completed 14 of 23 passes for 151 yards and 1 TD in last week's 41-6 loss at McGehee. Senior WR Guillermo Petty caught 7 passes for 98 yards and 1 TD, while senior LB Ethan Cruce piled up 22 tackles.
DeWitt (5-3, 4-2) at MCGEHEE (4-2, 4-2): The winner gets the No. 3 playoff seed. DeWitt didn't play last week, and the Dragons lost to Warren 47-20 two weeks ago. The Dragons are guaranteed a .500 or better record in consecutive seasons for the first time in more than 2 decades. Senior QB Eli Ashcraft and offensive linemen Will Moss and Keegan Menard are cogs on the Dragons offense, Coach Tommy Cody says. LB Trent Place and DBs Gabbi Vega, Jeremiah Brown lead the Dewitt defense. McGehee's OL controlled the line of scrimmage in last week's 41-6 victory at Dumas. Junior QB Ky Bell ran for 103 yards, and on defense he returned an interception for a TD. Senior Tyrique Newman ran for 79 yards and 1 TD and caught a 20-yard pass.
Monticello (4-4, 3-3) at STAR CITY (8-1, 6-1): Star City finishes its regular season (bye in Week 10) and secures the No. 2 seed with a victory. Bulldogs senior QB Mason Taylor completed 9 of 12 passes for 151 yards in last week's 36-0 win over Hamburg. Senior Austin Wilkerson caught a TD pass and returned a kickoff for another TD, while Kevin Johnson made 11 tackles. Monticello needs one more victory to qualify for the playoffs. Sophomore LB Jagger Hines recorded 12 tackles and classmate LB Blaine Hayden tallied 9 stops in last week's 34-0 loss to Warren.
Helena (1-7, 1-5) at WARREN (7-1, 6-0): Warren has won 3 of its 4 meetings with Helena since the Cougars joined the league in 2018. The Lumberjacks need 1 more victory to secure their second consecutive conference title. Warren senior power back Landon Wolfe ran for 2 TDs, while sophomore Antonio Jordan caught 2 TD passes in last week's 34-0 win over rival Monticello.
OPEN Hamburg