Class 5A Week 11 Rankings, Notes & Picks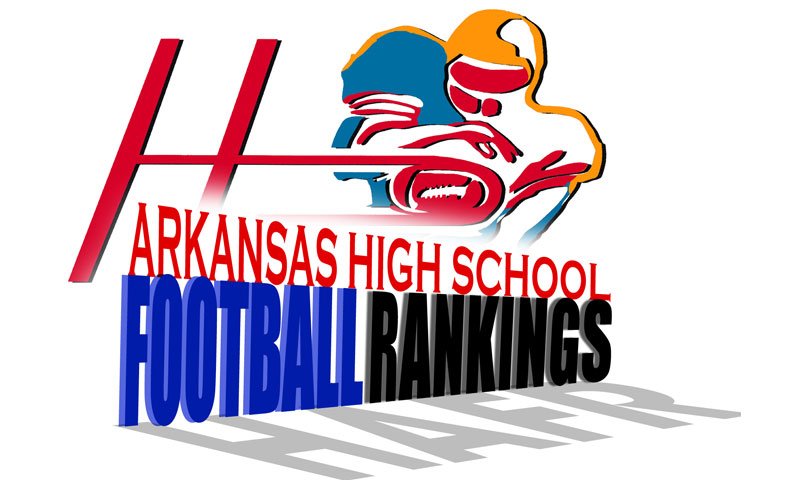 Hootens.com Class 5A Rankings
Week 11, 2022
Copyright Seventy Seven's Publishing
1. LR Parkview (8-2)

2. Joe T. Robinson (9-1)
3. Shiloh Christian (9-1)
4. Mills (9-1)
5. Camden Fairview (8-2)
6. Farmington (7-3)
7. Prairie Grove (7-3)
8. Valley View (8-2)
9. Hot Springs (7-3)
10. Wynne (8-2)
11. Harrison (7-3)
12. Magnolia (7-3)
13. Nettleton (7-3)
14. Southside (6-4)
15. Batesville (7-3)
16. Morrilton (6-4)
17. Vilonia (5-5)
18. Pine Bluff (5-4)
19. Alma (6-4)
20. White Hall (4-6)
21. Beebe (6-4)
22. Dardanelle (4-6)
23. Texarkana (4-6)
24. Maumelle (3-7)
25. Pea Ridge (3-7)
26. Brookland (3-7)
27. HS Lakeside (2-8)
28. Watson Chapel (1-9)
29. Forrest City (1-9)
30. Hope (1-8)
31. Paragould (1-9)
32. Clarksville (0-10)
33. De Queen (0-10)
LAST WEEK 
Hootens.com correctly predicted 15 of 16 games (94 percent) and has correctly predicted 168 of 198 games (85 percent) this season.
WEEK 11 PREDICTIONS (favored team in highlighted in yellow and CAPS)

Conference affiliations and seeding are denoted for each matchup.

HOOTENS.COM GAME OF THE WEEK

5A-South (3) Hot Springs (7-3) at 5A-CENTRAL (2) MILLS (9-1)
These teams haven't played since Mills won a nonconference game 30-25 in 2001. 
Mills junior QB Achilles Ringo (20-30 passing, 319 yards, 2 TDs; 10-72 rushing, 1 TD) led the way in last week's 48-35 win at Vilonia. Senior Jabrae Shaw, who had played sparingly on offense this fall while intercepting 9 passes at safety, rushed for 176 yards and 4 TDs and caught 5 passes for 71 yards and 1 TD. Senior Q.J. King had 5 catches for 166 yards and 1 TD.
Hot Springs junior QB Matthew Contreras (19-28 passing, 352 yards, 3 TDs) came up big in last week's 28-7 win over Hot Springs Lakeside. Junior Octavion Rhodes (8-190 receiving, 1 TD) and senior Derrick Hicks  (5-130 receiving, 2 TDs) accounted for 13 receptions and 320 yards. Kendall Williams had 14 tackles and 1.5 sacks, while Jayvion Walker had 8 tackles and 3 tackles for loss.

TOP OF THE BRACKET

5A-South (4) Magnolia (7-3) at 5A-CENTRAL (1) JOE T. ROBINSON (9-1): Magnolia finished fourth in the 5A South after losing to No. 1 LR Parkview, No. 5 Camden Fairview and No. 9 Hot Springs. The Panthers ran 34 times for 521 yards in last week's 70-21 victory over Hope. Senior RB Garrion "B.J." Curry (11-307 rushing, 5 TDs vs. Hope) has rushed for more than 2,000 yards and 26 TDs this fall. "Our defense has to play well for us to win," Magnolia Coach Mark King says. Joe T. Robinson rallied past Pine Bluff last week 24-19. Sophomore QB Quinton Murphy (1,039 yards passing and 13 TDs, 386 yards rushing and 5 TDs) didn't play. Senior Conner Grisham filled in at QB, passing for 201 yards and 3 TDs. Senior Ashtyn Williams caught a 37-yard TD pass and made 10 tackles.
5A-East (3) Batesville (7-3) at 5A-WEST (2) PRAIRIE GROVE (7-3): Batesville qualified for the playoffs by beating Valley View 16-7. Junior Andrew Sharp caught the go-ahead TD in the third quarter, and senior Holden Hutchins ran 17 times for 72 yards and a TD. Junior linebackers Beau Baxter (15 tackles) and Mike Townsley (13 tackles) have emerged as defensive forces. Prairie Grove trailed Farmington by 4 TDs last week, before losing in the final seconds 41-40. Senior Ethan Miller, Prairie Grove's leading rusher, broke his leg on the first play. Junior Conner Hubbs filled in as the Tigers ran for 489 yards. Hubbs and sophomore Jace Edwards will fill in for Miller, Coach Danny Abshier says.

5A-Central (4) Morrilton (6-4) at 5A-SOUTH (1) LR PARKVIEW (8-2): LR Parkview ran for 238 yards and sophomore Tayvion Haney returned 2 interceptions for TDs in last week's 35-7 win at Camden Fairview, which gave the Patriots their first conference title in almost 40 years. Sophomore Cameron Settles (97 rushing, 1 TD) led the Patriots running attack. Morrilton didn't play last week, but earned the No. 4 playoff seed with a Week 8 win over Pine Bluff. Coaches from the 5A Central rave about Morrilton OL Noah Tindall.

5A-West (3) Harrison (7-3) at 5A-EAST (2) WYNNE (8-2): Harrison beat Wynne 49-14 in the 2018 quarterfinals, and Wynne took out Harrison 28-7 in the first round in 1998. Harrison earned the No. 3 seed from the West this fall by winning its final 4 games, including 41-7 over Pea Ridge on Saturday. Junior workhorse Braden Long (14-134 rushing, 2 TDs) and senior Lucas Dean (4-70 rushing, 1 TD) led the run game. Junior Tag Glidewell made 8 tackles and 1 interception. Wynne captured the 5A East's No. 2 seed by winning its final 5 games, including 28-7 over Nettleton a week ago. Wynne's defense held Nettleton to 177 yards.

BOTTOM OF THE BRACKET

5A-WEST (4) FARMINGTON (7-3) at 5A-East (1) Valley View (8-2): This is a rematch from the first round in 2020, which Farmington won 28-7. Farmington tied for second in the 5A West, but settled for the No. 4 seed despite upending Prairie Grove 41-40 last week by stuffing a 2-point conversion in the final seconds. Valley View lost its the opener to Harding Academy 51-35 and last week to Batesville 16-7, but the Blazers were 8-0 in between. Junior QB Carson Turley threw a 12-yard TD pass to Slade Caldwell for Valley View's only points.
5A-Central (3) Vilonia (5-5) at 5A-SOUTH (2) CAMDEN FAIRVIEW (8-2): Both teams are coming off of losses. Vilonia's 4-game win streak was snapped with last week's 48-35 setback to Mills. Senior QB Wesley McKissack passed for 303 yards and 1 TD, while senior Jack Vines caught 7 passes for 100 yards and 1 TD and ran 4 times for 36 yards and 1 TD. Camden Fairview lost to LR Parkview 35-7 in last week's 5A-South title game. Jabauree Lockhart scored  on a 2-yard run.

5A-East (4) Nettleton (7-3) at 5A-WEST (1) SHILOH CHRISTIAN (9-1): Nettleton fell to No. 4 out of the 5A East after losing to Valley View and Wynne by a combined 55-14. Nettleton senior Key'Andre Pope ran 18 times for 75 yards and 1 TD, while Blake Brown contributed 11 tackles and 1 forced fumble. Shiloh Christian beat every conference opponent by at least 21 points. Senior QB Eli Wisdom (132 passing, 2 TDs; 8-155 rushing, 1 TD; 2-55 receiving) did it all in last week's 56-14 win over Alma in a driving rainstorm. Junior Bo Williams (11-129 rushing, 2 TDs) and senior Brodie Neal (3-46 receiving, 1 TD) contributed.