Class 5A Week 4 Rankings, Notes & Picks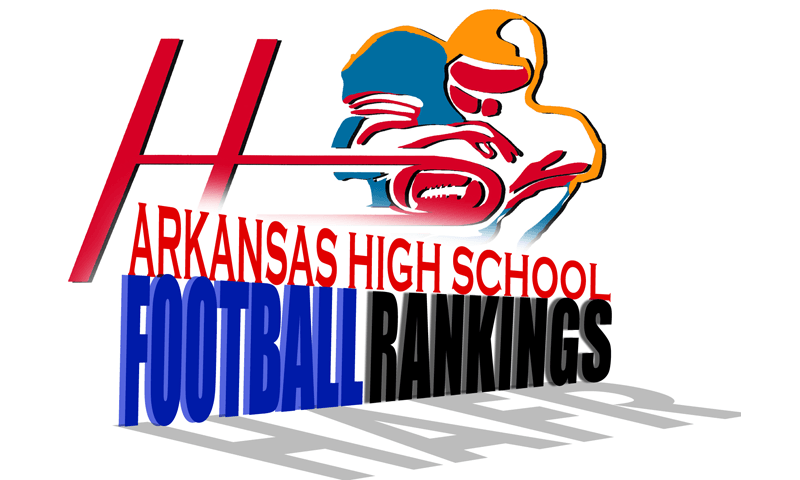 Hootens.com Rankings
Class 5A, Week 4, 2016
Copyright Hooten Publishing, Inc.
1. Pulaski Academy (2-1)
2. Batesville (1-2)
3. LR McClellan (2-1)
4. Wynne (3-0)
5. Alma (1-2)
6. Morrilton (2-1)
7. Sylvan Hills (3-0)
8. Greenbrier (2-1)
9. Blytheville (2-1)
10. Watson Chapel (1-2)
11. Vilonia (3-0)
12. Nettleton (3-0)
13. Forrest City (2-1)
14. White Hall (3-0)
15. Harrison (3-0)
16. HS Lakeside (0-3)
17. Valley View (2-1)
18. LR Christian (0-3)
19. Camden Fairview (1-2)
20. Beebe (1-2)
21. Hot Springs (0-3)
22. Maumelle (0-3)
23. Paragould (2-1)
24. Farmington (1-2)
25. Hope (0-3)
26. De Queen (1-2)
27. Magnolia (1-2)
28. Mills (1-2)
29. LR Parkview (0-2)
30. Clarksville (1-2)
31. Greene Co. Tech (0-3)
32. LR Fair (0-3)

GAME OF THE WEEK
No. 3 LR McClellan at No. 7 Sylvan Hills
The winner remains in contention to play Pulaski Academy for the league title. Little Rock McClellan's 44-32 win last season snapped a five-game losing streak in the series. The Crimson Lions sandwiched wins over Dallas (Tex.) Parish Episcopal 76-50 and LR Hall (52-0) this fall around a 52-20 loss to Class 7A North Little Rock. McClellan senior Pierre Strong has rushed for 535 yards and 11 touchdowns this season, despite defenses keying to stop him. "We've got to get more guys involved in the offense," Coach Maurice Moody says. Senior Dalvion Childs has rushed for more than 100 yards this year, and junior Jaylin Cunningham has produced in limited opportunities at receiver. Junior outside linebacker Joseph Lewis didn't play in the opener, was limited in Week 2 "but filled it up against Hall," Moody says. Lewis led the Lions with 14 tackles last week, and he racked up 143.5 stops in 2015. Senior lineman Jaylen Houston-Hay, inside linebacker Ma'laizh Surrell and cornerback Andre Campbell continue to play well, Moody says.

Undefeated Sylvan Hills have beaten Class 7A LR Catholic, Class 6A Jacksonville and Class 5A Hot Springs Lakeside by an average of 39-23. Senior QB Jordan Washington has passed for 778 yards and rushed for more than 300 yards on limited opportunities in 2016. Junior slotback Deon Youngblood caught a pair of TD passes and ran for two TDs in last week's 35-point win at Jacksonville. Senior tackle Garon Martin (6-4, 270) and junior guard Garrett Gilbert (5-11, 260) impress up front. Senior Eric Givens paces the Bears in tackles, and senior linebacker Andre Collins set a school record last week with five sacks.

TV SHOW
Hooten's Arkansas Football TV show airs on KATV (Channel 7) at 10:30 a.m. Saturday's this fall.

LAST WEEK
Hootens.com correctly predicted 26 of 30 games (87 percent). For the season, Hootens.com has correctly predicted 74 of 89 games (83 percent).

WEEK 4 PREDICTIONS (favored team in CAPS followed by point spread)
5A CENTRAL
LR MCCLELLAN (2) at Sylvan Hills: Hootens.com Class 5A Game of the Week.
LR CHRISTIAN (6) at Beebe: This is the first meeting between these teams. Winless LR Christian has three losses (against opponents with a combined 9-0 record) by a TD or less this fall. Beebe has attempted just five passes this season. Junior Khalil Anthony has 42 carries for 233 yards and four TDs.
PULASKI ACADEMY (42) at LR Fair: The Bruins face their first in-state team. Pulaski Academy junior Layne Hatcher passed for 420 yards and six TDs in last week's 56-14 victory at McCracken County (Kent.) Winless LR Fair trailed Cabot 41-0 at halftime last week.
LR Parkview at MILLS (7): LR Parkview has won eight of the past 14 meetings over Mills. But the Patriots are struggling after former coach William Hardiman was suspended in mid August. Mills senior Rajhon Ware ran 51 yards for a TD in last week's 17-point loss to Maumelle.

5A EAST
Nettleton at BATESVILLE (3): Nettleton hasn't beaten Batesville since 2000. Batesville blew open a close contest last season by limiting Nettleton to 42 yards rushing in the second half. Raider junior Jaron Northern caught seven passes for 167 yards and two TDs in the first half of last week's 35-13 win over Star City. Batesville averages 430 yards per game, but the Pioneers turned the ball over 13 times in the three games, including four red zone turnovers in last week's 8-6 win over Mountain Home. Nettleton beat Mountain Home 28-24 Week 2.
WYNNE (7) at Blytheville: Blytheville hasn't beaten Wynne since 2009. The Chickasaws forced five turnovers in last week's three-point win over Marion. Work horse Demekko Clark had 29 carries for 167 yards and two TDs. Wynne juniors Luke Chapman, Ta'Von Hicks and Chris Miller each ran for two TDs in last week's 43-point win over Beebe.
FORREST CITY (21) at Greene Co. Tech: Forrest City has four straight wins over Greene County Tech, running away with the past two by a combined 99-41. Mustang sophomore QB Randal Moore threw seven TD passes in last week's 54-42 win over West Helena. Winless Greene County Tech was tied with Kennett, Mo., 14-14 last week before losing 33-21.
Paragould at VALLEY VIEW (2): Valley View has won all four of its meetings over Paragould by a combined 105-49. But Valley View won just 17-14 victory last season, and area coaches say Paragould plays more aggressively than in the past. Valley View junior QB Joseph Waleszonia has passed for 287 yards and two TDs this fall and rushed for 339 yards and six scores. Paragould has forced eight turnovers this season.

5A SOUTH
HS Lakeside at CAMDEN FAIRVIEW (2): HS Lakeside's mercy-rule win over Camden Fairview last year snapped a five-game losing streak to the Cardinals. But HS Lakeside is winless in 2016 after falling to Malvern 48-32 last week. Camden Fairview's two losses are against Class 6A El Dorado and Texarkana.
Hope at DE QUEEN (1): Hope led Prescott 14-0 in the first quarter last week before losing 48-28. Prescott gained 428 yards. Bobcat QB Austin Stubber completed 23 of 26 passes for more than 300 yards against Prescott.
WHITE HALL (10) at Magnolia: White Hall has won three of four over Magnolia since joining the 5A South in 2012, but Magnolia won by 32 points a year ago. Magnolia was tied with Class 6A El Dorado 3-3 a week ago. before the Wildcats returned a fumble for a TD with 23.6 seconds left in the first half. White Hall forced four turnovers in last week's 34-7 win at Sheridan. White Hall senior Lance Smith has more than 300 yards rushing this fall.
WATSON CHAPEL (14) at Hot Springs: These teams split the past two meetings (Hot Springs winning by 17 points in 2014 and Watson Chapel by 14-7 last year). Watson Chapel trailed Warren by a TD in the fourth quarter last week, but lost by 20 points. Watson Chapel junior Jacobi Jackson has passed for 439 yards and five TDs this season. Hot Springs senior Erick Guadron has two field goals this season.

5A WEST
Vilonia at ALMA (14): Vilonia's Bryce Garrison booted the clinching 42-yard field goal in last week's four-point come-from-behind win at Booneville. Alma has lost two straight games (Springdale and Greenwood). The Airedales trailed Greenwood 21-0 at halftime of last week's 35-12 setback.
FARMINGTON (17) at Clarksville: Farmington has won five of the past seven over Clarksville, including the past two seasons by a combined 68-14. Farmington failed to score on two red zone trips in last week's 13-7 loss to Pea Ridge. Clarksville senior Diamante Polidore has 29 carries for 151 yards this fall.
GREENBRIER (10) at Maumelle: Maumelle continues getting better each week. Hornet senior Cory Jones ran for three TDs in last wek's 35-18 win at Mills. Greenbrier struggled to an 11-point win Week 2 over Heber Springs and lost to Benton 37 points a week ago. Greenbrier juniors Spencer Sutterfield (30 tackles) and Grant Brown (28 stops) are the leading tacklers.
Harrison at MORRILTON (14): Harrison is the surprise team in Class 5A. The Goblins intercepted LR Christian twice in the final 3:15 last week for a 28-21 triumph. Goblin QB Noah Ditmanson ran for a pair of TDs. Morrilton has won two straight since losing to unbeaten Class 6A Russellville Week 1. Morrilton senior Grahm Heidenreich has 11 catches for 175 yards and two TDs this year, and he averages 28 yards per kickoff return.