Class 5A Week 5 Rankings, Notes & Picks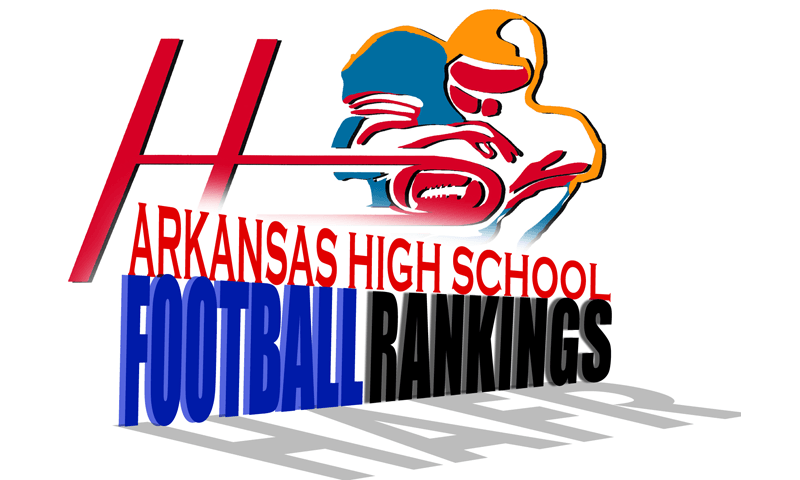 Hootens.com Rankings
Class 5A, Week 5, 2016
Copyright Hooten Publishing, Inc.
1. Pulaski Academy (3-1)
2. Batesville (2-2)
3. Wynne (4-0)
4. Alma (2-2)
5. Morrilton (3-1)
6. Sylvan Hills (4-0)
7. Greenbrier (3-1)
8. LR McClellan (2-2)
9. Watson Chapel (2-2)
10. White Hall (4-0)
11. Blytheville (2-2)
12. Nettleton (3-1)
13. Forrest City (3-1)
14. Valley View (3-1)
15. HS Lakeside (1-3)
16. Vilonia (3-1)
17. Harrison (3-1)
18. LR Christian (1-3)
19. Camden Fairview (1-3)
20. Beebe (1-3)
21. De Queen (2-2)
22. Maumelle (0-4)
23. Farmington (2-2)
24. Hot Springs (0-4)
25. Paragould (2-2)
26. Mills (2-2)
27. Hope (0-4)
28. Magnolia (1-3)
29. Clarksville (1-3)
30. LR Parkview (0-3)
31. Greene Co. Tech (0-4)
32. LR Fair (0-4)

GAME OF THE WEEK
No. 5 Morrilton at No. 7 Greenbrier
Both are 3-1 with losses to Class 6A opponents (Russellville beat Morrilton 14-11 Week 1, Benton blasted Greenbrier 58-21 Week 3). Morrilton has won three straight games, including 48-7 last week over previously unbeaten Harrison. The Devil Dogs employ a balanced offense (rush for 175 yards per game, pass for 160 yards per game). Senior quarterback Caleb Canady has completed 47 of 68 passes (69 percent) for 638 yards and eight TDs with just two interceptions. Seniors Grahm Heidenreich (14 catches, 202 yards and four TDs) and Deiontae Duncan (18 catches, 302 yards and three TDs) make plays at receiver, freeing up junior running back Danny Smith (60 carries, 390 yards and five TDs). Senior inside linebacker Lane Grandberry (21 tackles) "is our defensive leader," Coach Cody McNabb says. Senior safeties Alex Chambers (20 tackles, one forced fumble and one blocked field goal) and Sam York (13 tackles) make plays in the secondary.

Greenbrier balanced offense produces almost 400 yards per game (200 yards passing, 196 rushing). Senior QB Carter Burcham has completed 51 of 83 passes for 796 yards and 11 TDs this fall, with just one interception. He also averages almost 3 yards per carry "and is a different, but dynamic quarterback," McNabb says. "He's elusive and when it breaks down, he goes and gets the play." Senior Cody Hooper (54 carries, 338 yards and two TDs) and junior Sam Sutterfield (49 carries, 306 yards and five TDs) split time in the backfield. Grant Brown (38 tackles) and Sutterfield (37 tackles) are the top playmakers on defense.

TV SHOW
Hooten's Arkansas Football TV show airs on KATV (Channel 7) at 10:30 a.m. Saturday's this fall.

LAST WEEK
Hootens.com correctly predicted 14 of 16 games (88 percent). For the season, Hootens.com has correctly predicted 89 of 105 games (85 percent).

WEEK 5 PREDICTIONS (favored team in CAPS followed by point spread)
5A CENTRAL
SYLVAN HILLS (14) at LR Christian: Sylvan Hills has won three of the five meetings between these teams, but LR Christian blasted the Bears 42-15 in the first round of the playoffs a year ago. Sylvan Hills converted 15 third downs in last week's 21-point win over LR McClellan. Senior QB Jordan Washington passed for 220 yards and rushed for 156 yards and four TDs. He also intercepted a pass near the goal line to end the first half. Sylvan Hills' improved defense relies on speed, Coach Jim Withrow says. LR Christian beat Beebe by 11 points last week, its first victory since last year's quarterfinals. Junior QB Jackson Bowersock completed 24 of 30 passes for 309 yards and a TD at Beebe.
Mills at LR MCCLELLAN (21): Mills won twice last week (picked up a forfeit win from Maumelle on Wednesday and plastered LR Parkview by 30 points on Friday). Senior Brandon Bunting ran for 150 yards and two TDs against LR Parkview. LR McClellan was held to 195 yards in last week's 41-20 setback at Sylvan Hills. Senior Andre Campbell returned the opening kickoff 69 yards for a TD and ran 46 yards for another score.
LR Fair at LR PARKVIEW (7): A battle of winless, struggling programs. LR Fair has scored just one TD this year and averages 77 yards per game. LR Parkview has scored 19 points this season, including 13 in last week's 30-point loss to Mills when the Patriots committed three turnovers.
Beebe at PULASKI ACADEMY (33): Beebe's Dead T tries to win the time of possession and limit Pulaski Academy's potent offense (547 yards and 46 ppg). The Badgers trailed LR Christian 20-12 at halftime a week ago. Beebe's Nathan Burnett ran 13 times for 113 yards and on TD against LR Christian, while Taylor Boyce ran 10 times for 106 yards and two TDs. Pulaski Academy senior Jaren Watkins has 57 carries for 615 yards and three TDs in 2016, and four Bruin receivers have at least 10 receptions.

5A EAST
BATESVILLE (21) at Paragould: Batesville hasn't lost to Paragould since 1994, but the Rams usually play Batesville tough (lost 21-14 in 2014). The Pioneers have won two straight games after starting the season with losses to Class 6A Jonesboro and Searcy. Senior QB Zach Griffin completed nine of 26 passes for 259 yards and two TDs, and ran for another TD, in last week's 56-42 win over Nettleton. Senior Kylan Robinson caught five passes for 183 yards and one TD and ran eight times for 88 yards and a TD.
Blytheville at NETTLETON (2): Blytheville has won seven of the past nine over the Raiders (won six straight between 2008-2013). Blytheville senior Demekko Clark ran for three TDs in last week's 57-32 loss to Wynne, while Corey Weatherspoon threw a TD pass and returned a kickoff 77 yards for a score. Nettleton hung with Batesville last week before losing by two TDs. QB Deondre Henry passed for 264 yards and three TDs.
Greene Co. Tech at WYNNE (35): Wynne has won four straight over Greene County Tech by a combined 188-47 (an average of 47-12). Yellowjacket senior Devontai Pounds caught a 22-yard TD pass in last week's 25-point win at Blytheville, while junior Ta'von Hicks ran for 199 yards and three TDs. Greene County Tech led Forrest City 7-0 last week before surrendering 46 straight points.
Valley View at FORREST CITY (1): Forrest City has won both varsity meetings over Valley View by a combined 54-7. Mustang senior Dontaye Summers returned a kickoff 78 yards for a TD last week against Greene County Tech. Valley View has won three straight games since losing to Class 6A Searcy. Blazer junior QB Joseph Waleszonia accounted for six TDs in last week's 30-point win over Paragould. Waleszonia has passed for 523 yards and five TDs this year, while rushing for 409 yards and nine TDs.

5A SOUTH
Camden Fairview at WHITE HALL (7): White Hall hasn't beaten Camden Fairview since the 1991 quarterfinals. White Hall didn't win a game last season, but the undefeated Bulldogs blasted Magnolia 38-0 a week ago. Senior Lance Smith has rushed for more than 400 yards this year. Camden Fairview led HS Lakeside in the fourth quarter a week ago before losing by four points.
De Queen at WATSON CHAPEL (18): Just the fifth meeting between these programs, with Watson Chapel winning the past four by a total of 164-37 (an average of 41-9). Watson Chapel led winless Hot Springs 35-0 at halftime last week, with junior Jakobi Jackson passing for 136 yards and four scores. De Queen's Hunter Ernie ran for 182 yards and three TDs in last week's 28-point win over Hope, while Drew Dykes ran for 106 yards and two TDs.
Hot Springs at HOPE (2): A battle of winless teams. Hope has won five of the past seven over Hot Springs. Hope senior QB Austin Stubber passed for 255 yards and one TD in last week's 28-point loss at De Queen. Hot Springs trailed Watson Chapel 42-0 in the third quarter last week.
Magnolia at HS LAKESIDE (14): Magnolia has beaten the Rams seven of the past 12 seasons, but HS Lakeside won by 27 points a year ago. HS Lakeside rallied past Camden Fairview last week, when senior Caleb Dean had 200 yards receiving and a pair of TDs. Magnolia has scored six TDs this season, with sophomore Kadyn Roach running in four of them.

5A WEST
MORRILTON (7) at Greenbrier: Hootens.com Class 5A Game of the Week.
ALMA (21) at Farmington: Alma's D limited Vilonia to 172 yards last week. Senior Noah Dotson didn't start at QB in the 25-point win over Vilonia, but completed nine of 14 passes for 111 yards and a TD and ran nine times for 82 yards. Junior Brayden Johnson has 32 catches for 504 yards and two TDs this season.
Clarksville at HARRISON (8): Clarksville has lost 25 of its past 27 games, including last week's two-point setback to Farmington. Harrison gained just 166 yards last week when losing its first game of the season to Morrilton by 41 points.
Maumelle at VILONIA (4): Maumelle is winless this season after forfeiting a 35-18 Week 3 win at Mills. The Hornets scored a pair of late TDs last week but lost to Greenbrier 41-34. The Hornets have used three QBs this season. Sophomore Xavion Morgan led last week's late scoring brigade. Vilonia gained 129 yards in the first half of last week's 28-3 loss at Alma, but managed just 42 second-half yards. Maumelle has won three of the past four over the Eagles.