Class 5A Week 6 Rankings, Notes & Picks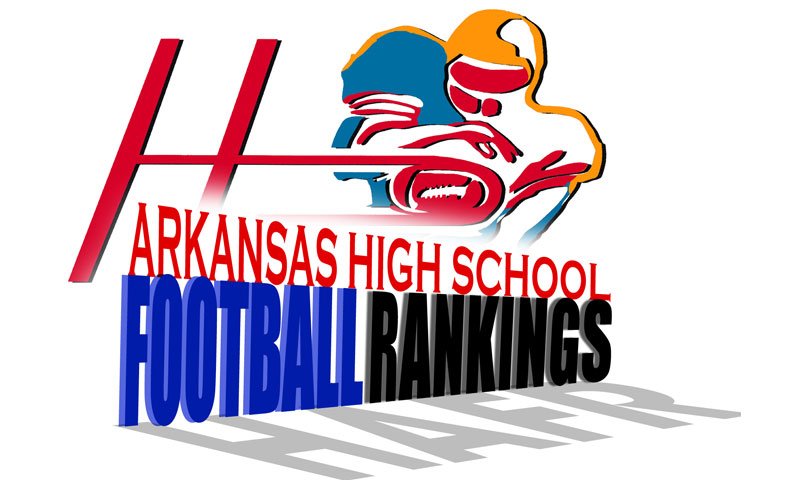 Hootens.com Rankings
Class 5A, Wk 6, 2021
Copyright Hooten Publishing, Inc.
1. Pulaski Academy (4-1)
2. Wynne (4-1)
3. White Hall (5-1)
4. LR Christian (5-1)
5. Vilonia (5-0)
6. Greenbrier (5-0)
7. Camden Fairview (5-1)
8. Farmington (4-1)
9. Harrison (4-1)
10. Maumelle (2-4)
11. Nettleton (5-0)
12. Magnolia (2-4)
13. Valley View (4-1)
14. HS Lakeside (1-4)
15. Texarkana (1-3)
16. Hot Springs (3-2)
17. Greene Co. Tech (3-2)
18. Morrilton (2-3)
19. Beebe (1-3)
20. Batesville (1-4)
21. Alma (2-3)
22. Brookland (2-3)
23. Clarksville (1-4)
24. Jacksonville (1-4)
25. Hope (1-5)
26. Pea Ridge (1-4)
27. Watson Chapel (0-4)
28. Forrest City (1-4)
29. De Queen (1-4)
30. Paragould (0-4)
HOOTENS.COM GAME OF THE WEEK
No. 1 Pulaski Academy at No. 3 White Hall
A contrast of styles decides the 5A Central title. White Hall wins with defense, while Pulaski Academy continues putting up mind-numbing offensive numbers. The Bruins blasted Liberty Christian, Texas a week ago 63-14. The Bruins jumped to a 49-14 halftime advantage. The Bruins scored on their third play at Liberty Christian (3-yard pass from quarterback Charlie Fisher to senior receiver Charlie Barker) and had two TDs in the opening 154 seconds. Senior running back Joe Himon ran 12 times for 221 yards and three TDs in the first half. The Bruins put up 701 yards, while hold Liberty Christian (coached by former NFL all-pro Jason Whitten) to 95 yards.  White Hall wins with defense. The Bulldogs held Little Rock Christian to 237 yards in last week's 14-10 victory. The Bulldogs have surrendered just 23 points this fall while shutting out four opponents. Coach Bobby Bolding says: "We've built our defense for Spread teams. We are fast and not very big. Our whole defense has played well all year." Senior safety Braylon Johnson recorded five tackles at LR Christian, recovered a fumble and intercepted a pass at the 14-yard line with 56 seconds remaining to secure the win. Senior QB Matthew Martinez completed 11 of 18 passes for 139 yards and ran 13 times for 41 yards at LR Christian, while senior Jordan Jackson caught four balls for 100 yards. Watch extended highlights of White Hall's 14-10 win vs LR Christian earlier this year. Watch extended highlights of White Hall's 35-0 win over Warren earlier this year. Watch extended highlights of Pulaski Academy's 63-14 win over Liberty Christian (Texas) earlier this year. Watch extended highlights of Pulaski Academy vs Bryant (scrimmage).
LAST WEEK
Hootens.com correctly predicted 13 of 15 games (87 percent). For the season, Hootens.com has predicted  103 of 117 games (88 percent).
WEEK 6 PREDICTIONS (favored team in CAPS followed by point spread)
5A CENTRAL
PULASKI ACADEMY (18) at White Hall: See Hootens.com Game of the Week.
LR CHRISTIAN (21) at Beebe: LR Christian led White Hall 10-0 in the third quarter last week before giving up two TDs and losing by four points. The Warriors limited White Hall to 201 yards (3.9 yards per play). Sophomore Walker White completed only seven of 22 passes for 84 yards, and ran 13 times for 62 yards. Beebe led Maumelle 3-0 in the first half last week before losing 35-17. Badger senior Adrain Carranco caught a 68-yard TD pass and threw a 39-yard TD. Watch extended highlights of LR Christian's 14-10 loss to White Hall earlier this year. Watch extended highlights of LR Christian's 38-20 win over Searcy earlier this year. Watch extended highlights of Beebe's 49-12 win over Junction City earlier this year. MAUMELLE (16) at Jacksonville: Maumelle snapped a four-game losing skid with last week's 18-point win at Beebe. Senior Jessie Knight, in his first role on offense of the season, ran for 141 yards and two TDs. He also had an 82-yard punt return negated by a penalty. Jacksonville's 22-point win last week at Watson Chapel snapped a seven-game losing skid. Titan junior outside linebacker Jeremy Kelley returned a fumble 80 yards for a crucial TD, while sophomores Kentrell Thompson (12 carries, 168 yards and three TDs) and Martavius Casey (nine totes, 130 yards and a TD) paced the ground attack. Watch extended highlights of Maumelle's 31-21 win over Sylvan Hills earlier this year.
WATSON CHAPEL is open.
5A EAST
BATESVILLE (12) at Forrest City: Batesville snapped a two-game losing skid to Forrest City last fall with a 30-point victory. Batesville won its first game of 2021 last week, downing Paragould 37-0. The Pioneer D recorded seven sacks, while senior Dayshawn Brown returned a punt 73 yards for a TD and ran 18 yards for another score. Forrest City allowed 37 points in the first half last week at Valley View, and the Mustangs get outscored by 24 points weekly.
GREENE CO. TECH (7) at Brookland: GCT hung with Wynne last week (trailed 13-3 in second half) before losing by 22 points. The Eagles pass for almost 160 yards weekly. Brookland managed just 181 yards in last week's 40-point loss to Nettleton.
NETTLETON (35) at Paragould: Nettleton dominated Brookland 47-7 a week ago, rolling up 516 yards. Senior QB Cameron Scarlett completed eight of 10 passes for 114 yards and two TDs and ran 12 times for 107 yards and a TD. Paragould failed to score and gave up six sacks (five in the first half) at Batesville.
Valley View at WYNNE (6): Wynne is 6-1 all-time against Valley View. The swarming Yellowjacket defense allows 13 points weekly. Senior LB Timmy Watson makes 10 tackles per game, while end Tyrell Johnson "is the best player in the league, if not the state," Coach Van Paschal says. "He's dominating." Leading rusher Carl Washington usually runs behind Johnson on offense. Valley View starters haven't played in the second half of blowout wins the past two weeks. Blazer senior Reid Tyler hauled in two passes for 70 yards and a TD in the first half of last week's 37-0 win over Forrest City (led 37-0 at halftime). Senior LB Jaden Wells (nine tackles) and safety/OLB Carson Winters made three tackles and returned an interception for a TD. Watch extended highlights of Wynne's 35-13 win over West Memphis earlier this year.
5A SOUTH
Magnolia at CAMDEN FAIRVIEW (4): Camden Fairview has won 13 of the past 21 in this rivalry. The Cardinals blanked Texarkana 33-0 a week ago, when junior QB Martavius Thomas completed 14 of 18 passes for 337 yards and four TDs. Senior Jacorae Brown logged 20 carries for 144 yards and a TD. Fairview's defensive line registered 10 tackles for loss. Magnolia has won consecutive conference games after starting the season 0-4. The Panthers hung 61 points on HS Lakeside a week ago and "it was a group effort," Coach Mark King say. "Our offensive line has gotten better the past few weeks." The Panthers ran for 685 yards. Senior Derayln Williams sprinted for 278 yards and two TDs, while Kendrick Carey ran seven times for 183 yards and five TDs. They've turned the ball over only twice in the past three games. Watch extended highlights of Camden Fairview's 40-36 loss to El Dorado earlier this year.
De Queen at HOT SPRINGS (24): Hot Springs has won six of the past nine over De Queen, with the past two by a lopsided 77-point margin. Trojan senior Pierce Smalley ran 11 times for 59 yards in last week's 17-point win over Hope. The Trojans held Hope to 220 yards. De Queen didn't play last week and lost to Hope two weeks ago by 32 points after giving up 381 yards rushing.
HS Lakeside at TEXARKANA (1): Texarkana hopes to gain advantage at the line of scrimmage, as both teams seek their first conference win. Razorback senior LB Darius Hill had 14 tackles in last week's 33-0 setback vs. Camden Fairview, while junior safety Shitez Wilkerson made 12 stops. Lakeside has surrendered 99 points in its two conference losses. Senior QB Jordan Mills completed 21 of 37 passes for 378 yards and four TDs in last week's 61-35 setback at Magnolia. Senior receivers Chase Cross and Brock Garner combined for nine catches, 214 yards and three TDs.
HOPE is open.
5A WEST
Clarksville at ALMA (3): Alma moves the ball in the air with senior Conner Stacy (40 catches this fall for 790 yards). He's topped the 100-yard mark in every game this year and set a school record Week 3 against Heritage with 15 receptions for 217 yards. Airedale senior Brilee White caught a pair of TDs in last week's 25-point win over Pea Ridge. Clarksville runs the ball 90 percent of the time. The Panthers ground out 234 yards and 14 first downs a week ago against Greenbrier. Junior Arthur Alvarez ran for more than 100 yards against Greenbrier, while Shade Edgmon raced 80 yards for a TD.
Morrilton at FARMINGTON (10): Farmington must rebound from last week's 29-point loss to Vilonia, its first of the season. Morrilton senior receiver Julian Brockman hauled in four balls for 120 yards and three TDs in last week's 28-point win over Pear Ridge, while Maddox hogan ran six times for 76 yards. 
Greenbrier at HARRISON (1): A top-10 matchup. Harrison senior QB Logan Plumlee completed 13 of 24 passes for 237 yards and three TDs in last week's 21-point win over Alma, while senior Brody Gilliam ran 20 times for 130 yards and a TD. Greenbrier senior QB Cooper Wilcox ran for two TDs and threw a TD pass in last week's 34-13 win over Clarksville. Watch extended highlights of Greenbrier vs. Arkadelphia. Watch extended highlights of Greenbrier's 55-47 win over Arkadelphia earlier this year.
VILONIA (24) at Pea Ridge: Vilonia derailed previously unbeaten Farmington last week and faces Harrison next week. Eagle senior QB Austin Myers completed 34 of 45 passes for 505 yards and seven TDs at Farmington. Senior receiver Jamison Hinsley hauled in 14 balls for 203 yards and a TD, while classmate Kannon Bartlett had 10 catches for 188 yards and three TDs. Pea Ridge surrendered 530 yards last week vs. Alma. Watch extended highlights of Vilonia's 34-32 win over Maumelle earlier this year.