Class 5A Week 8 Rankings, Notes & Picks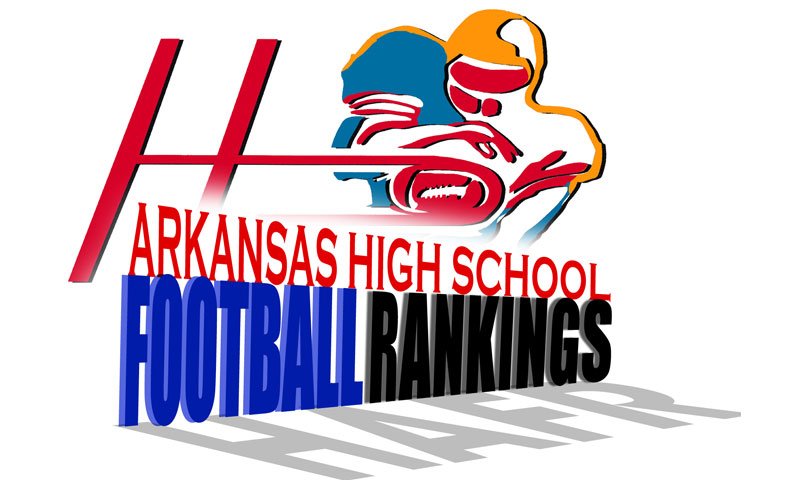 Hootens.com Rankings
Class 5A, Week 8, 2018
Copyright Hooten Publishing, Inc. 
1. Pulaski Academy (6-1)
2. LR Christian (6-1)
3. Texarkana (6-1)
4. Harrison (7-0)
5. LR McClellan (6-1)
6. Blytheville (5-2)
7. Nettleton (6-1)
8. Alma (4-3)
9. Morrilton (3-4)
10. White Hall (5-1)
11. Greenbrier (4-3)
12. Camden Fairview (4-3)
13. LR Parkview (3-4)
14. Forrest City (4-3)
15. HS Lakeside (3-4)
16. Batesville (2-5)
17. Wynne (3-4)
18. Valley View (4-3)
19. Maumelle (4-3)
20. Vilonia (2-4)
21. Magnolia (4-3)
22. Farmington (3-4)
23. Beebe (2-5)
24. Watson Chapel (1-4-1)
25. Greene County Tech (2-5)
26. Clarksville (2-5)
27. Huntsville (2-5)
28. Hot Springs (1-6)
29. De Queen (1-6)
30. Hope (1-6)
31. Paragould (0-7)
32. LR Fair (1-6)

HOOTENS.COM GAME OF THE WEEK
No. 4 Harrison at No. 8 Alma
It's senior night at Alma, and the winner gets the 5A West title and a nice playoff draw, on the opposite side of the bracket from Pulaski Academy. 
Alma has won 14 of the past 19 in the series. The Airedales captured/shared back-to-back 5A West titles, but the started 2018 with losses in their three non conference games, falling to Class 7A Van Buren and Springdale and Class 6A Russellville. "Harrison is the best 5A team we've seen," Alma coach Doug Loughridge says.
Alma senior safety Coltin Bowerman paces the defense with 90 tackles and a pair of fumble recoveries, while sophomore middle linebacker Logan Chronister has 57 stops and one sack. Senior tackle Zac Henson (10 tackles) and junior end Carston Beneux (43 tackles, 14 tackles for loss and 7.5 sacks) get tested by Harrison's big offensive line. Alma senior running back Keegan Rosebeary has rushed for at least 100 yards in three of the past four games. Rosebeary has 85 carries this fall for 508 yards and six TDs.
Goblin senior Hayden Vanderpool (6-3, 290) and junior Trey Stith (5-10, 225) form a tough guard tandem. Junior Gabe Huskey paces Class 5A with 134 carries for 1,061 yards and 17 touchdowns this fall, despite not playing in the fourth quarter of most blowout victories. Huskey has at least 121 yards in six games this season, highlighted by 30 carries for 230 yards and a pair of TDs in a downpour Week 4 at Morrilton. He also has 19 catches for 483 yards and five TDs. Junior QB Ben Johnson compliments Huskey, completing 65 percent of his passes for 1,003 yards and 13 TDs, with only one interception. Vanderpool paces the defensive line with 21 stops, while junior linebacker Brooks Both has 64 tackles and a pair of sacks.

TV SHOW
Hooten's Arkansas Football airs 10:30 a.m. Saturdays on KATV (ABC Little Rock) Channel 7, covering the Razorbacks, high school teams and players to watch.

LAST WEEK
Hootens.com correctly predicted 14 of 16 games (88 percent) last week. For the season, Hootens.com has correctly predicted 120 of 148 games (81 percent).

WEEK 8 PREDICTIONS (favored team in CAPS followed by point spread)
5A CENTRAL
LR Parkview at PULASKI ACADEMY (27): PA has won both of its previous meetings with LR Parkview, including last year's 43-40 thriller when the Bruins kicked the winning field goal on the final play. PA junior Jayden Kelley ran six times for 92 yards and two TDs in last week's 35-point win at Beebe, while senior Hudson Henry caught a pair of a TDs and a two-point conversion. Kelley has rushed for 668 yards and eight TDs this fall, while Henry has 45 catches for 581 yards and seven TDs. LR Parkview senior Geary Allmon has rushed for 918 yards and eight TDs this season.
Beebe at MAUMELLE (10): Beebe relies on senior two-time all-state 'back Taylor Boyce, who has 1,019 yards this fall. Maumelle likely needs to win its final three games to qualify for the playoffs. Hornet junior Zyon Slade has more than 700 yards this season. 
LR Fair at WATSON CHAPEL (23): Watson Chapel has dropped four straight league games since tying Class 6A Pine Bluff 14-14 Week 3 in a weather shortened game. The Wildcats have been outscored 157-64 (average of 39-16) by 5A Central teams. Junior QB Devin Curry continues as one of the state's top playmakers, passing for 835 yards and 13 TDs this fall, and rushing for 634 yards and two scores.
LR CHRISTIAN (14) at White Hall: LR Christian played its best half of the season last week, jumping on LR Parkview 40-0 at halftime. Senior QB Justice Hill returned from a hamstring injury last week, stayed in the pocket more and was sharp passing, completing 13 of 19 passes for 274 yards and three TD. Senior receiver Alex Clark has 19 passes for 319 yards and two TDs this year, while junior Chris Hightower has more than 600 yards. White Hall led Jefferson County rival Watson Chapel 20-6 at halftime last week, before winning by 23 points. Senior Baylor Owen has caught a TD pass in three straight games.

5A EAST
BLYTHEVILLE (4) at Batesville: Batesville has won two of the past three over Blytheville. The Pioneers trailed Wynne at halftime last week, but scored 21 unanswered points in a 45-31 triumph. The Pioneers forced three turnovers and senior Kadar Floyd returned a kickoff 83 yards for a TD. Floyd also ran for two scores at tailback. Blytheville has won its four conference games this year by an average of 37-17. Junior LB Amani McChristian sparked last week's 23-point win over Valley View with a fourth quarter scoop and score, while junior Jeremel Woods ran for 209 yards and two TDs, including 143 yards in the second half.
Forrest City at NETTLETON (10): The Raiders yield just 7.6 ppg this season after last week's 41-0 win at Greene County Tech. They scored three TDs in the final five minutes of the first half against GCT. Forrest City has won three league games this fall and likely qualifies for the playoffs with one more. Senior QB Randal Moore has passed for more than 900 yards this season.
Greene County Tech at VALLEY VIEW (14): Expect plenty of points. Valley View has won all four of its previous games against GCT by an average of 47-28. The Blazers trailed Blytheville 12-7 in the fourth quarter last week, before a costly fumble. They managed just 149 yards. GCT was tied with Nettleton 0-0 late in the first half last week before allowing three quick TD strikes in a 47-0 setback.
WYNNE (18) at Paragould: Paragould usually gets hyped to play the Yellowjackets, winning twice in the past 11 years. The winless Rams led Forrest City 21-6 in the first half last week, but failed to score in the second half of an 11-point loss. Senior Tyler Rosten ran for 137 yards in the setback. The Rams didn't complete a pass against Forrest City, while Wynne threw three interceptions in last week's loss to Batesville. The Yellowjackets have completed just seven passes this season (one per game), but they average 6.1 yards per carry.

5A SOUTH
De Queen at HS LAKESIDE (24): HS Lakeside has won six straight over the Leopards, including a one-point triumph in 2015 when the game was played on Monday after the Rams' bus wrecked on the way to Sevier County three days earlier. The balanced Rams rush for 186 ypg this fall and pass for 215. Senior Dorecus Ferguson and sophomores Issac Echols and Will Perrigo have combined for 20 rushing TDs. De Queen has tallied just 12 TDs this fall. Junior Isaiah Williamson has passed for 749 yards and three TDs this fall.
Hope at CAMDEN FAIRVIEW (17): Camden Fairview will also be favored next week, then host LR McClellan for the No. 2 playoff seed. Senior Keith Johnson ran 12 times for 110 yards and a TD in last week's 21-point win over De Queen. Hope has scored 116 points in seven games this fall after scoring just 111 points in 10 games a year ago. Senior QB Hunter Heliums has passed for 1,006 yards and seven TDs this fall. The Bobcats have turned the ball over 16 times this year.
Hot Springs at TEXARKANA (21): Hot Springs has found life the past three weeks, scoring 49 points (compared to 14 points in the opening four games. The Trojans trailed Magnolia by 33 points at halftime last week. Texarkana needs two more wins to capture its first league title since 2006. Senior Cameron Collier ran for 145 yards and two TDs in last week's six-point win over LR McClellan.
LR MCCLELLAN (11) at Magnolia: Magnolia senior Kadyn Roach ran for almost 200 yards and three TDs in last week's 27-point win at Hot Springs. LR McClellan must recover from last week's emotional 21-15 setback at Texarkana, when the Lions committed two second half turnovers and were unable to convert a fourth-and-four at the 24-yard line in the final minute. Senior Jaylon Williams paced LR McCellan a week ago with 19 carries for 76 yards and a TD.

5A WEST
HARRISON (3) at Alma: Hootens.com Class 5A Game of the Week.
FARMINGTON (14) at Huntsville: Farmington likely out of the playoff chase after last week's three-point loss at Vilonia. The Cardinals drove to the 41-yard line in the final minutes before turning the ball over on downs. Senior QB Eric Hill threw a pair of TD passes, a two-point conversion and ran for a TD. Huntsville has lost five straight games.
GREENBRIER (12) at Clarksville: Clarksville beat Greenbrier in 2013 (won just one league game since). The Panthers put up 24 points and 376 yards per game. Junior linebacker Eduardo Almaraz has 55 tackles, 2.5 sacks, one interception and one fumble recovery this fall. Greenbrier jumped on Harrison 7-0 last week, when senior QB Andrew Johnson threw a 10-yard TD strike to Ryan Barnard on the first possession, but the Panthers failed to score again. They've have dropped two of their past three conference games.
Vilonia at MORRILTON (17): Vilonia stayed in playoff contention with last week's three-point win over Farmington. Junior Draven Smith ran for a pair of TDs. Morrilton has won two of three games since senior QB Dylan White returned from injury. Smith passed for 264 yards and four TDs in first half last week week against Huntsville.