Class 6A Week 12 Rankings, Notes & Picks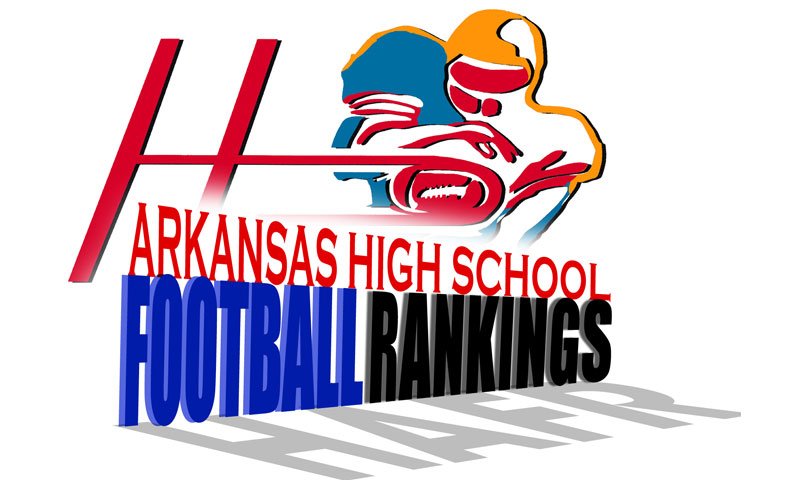 Hootens.com Rankings
Class 6A, Week 12, 2016
Copyright Hooten Publishing, Inc.
1. Greenwood (10-0)
2. Russellville (9-1)
3. Jonesboro (9-1)
4. Pine Bluff (7-2)
5. West Memphis (7-4)
6. Benton (7-4)
7. El Dorado (6-5)
8. Searcy (6-5)
9. Lake Hamilton (6-5)
10. Marion (5-6)
11. Mountain Home (4-7)
12. Texarkana (3-8)
13. Siloam Springs (1-9)
14. Sheridan (1-9)
15. Jacksonville (2-8)
16. LR Hall (2-8)

HOOTENS.COM GAME OF THE WEEK
No. 6 Benton at No. 3 Jonesboro
Benton dropped Mountain Home 42-21 last week, while Jonesboro enjoyed a bye after winning the 6A East with a 6-1 league finish. Benton's running game key last week as running back Brandon Hunter ran for 169 yards and 1 touchdown, and added 4 receptions. "He's (Hunter) up there with any of the good backs we've seen," said Jonesboro coach Randy Coleman. Teammate Brayden Harris scored 4 times on just 6 carries, in addition to his regular duties as a linebacker. Sophomore running back Zach Wallace has over 400 yards rushing this season for Benton.
The Panthers returned just one offensive line starter this fall, but improvement has been key to Benton's success. "That's never how you want to start a year," said Benton coach Brad Harris. "But as they've progressed, so have we as a team."  Benton's diverse offense features accurate quarterback Nate Beck, but it will offer different looks, including some "power-heavy" sets featuring Harris, the coach's son. Jonesboro boasts Arkansas State University commit Jonathan Adams (66 catches for 1,236 yards and 23 touchdowns), but Coleman says his team is deep. "We believe in all of our kids," says Coleman, at Jonesboro since 2008. The Golden Hurricane offense lost quarterback A.J. Aycock against Conway, but Tyson Williams stepped in and guided Jonesboro to a 7-1 record completing (128 of 177 passes, 72 percent) for 2,427 yards with 33 TDs and 7 interceptions. "They're a talented," says Harris. "The more you watch them, the better they look." The key matchup will probably be Benton's defensive backfield against Joneboro's wideouts. The Golden Hurricane boast four pass-catchers with 418 yards receiving or more this season. The winner will advance to the semifinals against the winner of West Memphis at Russellville.

LAST WEEK
Hootens.com correctly picked three of four winners in 6A. For the season, Hootens.com has correctly predicted 85 of 107 winners (79 percent) in games involving Class 6A teams.

FIRST-ROUND PLAYOFF PREDICTIONS (favored team in CAPS followed by point spread)
TOP HALF OF BRACKET
El Dorado at GREENWOOD (17): El Dorado just won consecutive games for the first time all season, tripping Texarkana 23-13 Week 10 and Marion 38-3 last Friday when the Wildcats scored the final 35 points. El Dorado running back Richard Kesee scored 3 rushing TDs at Marion. Greenwood earned a bye last week after winning the 6A West. Greenwood nabbed a 49-21 win Week 5 at El Dorado. The Bulldogs boast a balanced offense of 261.5 yards passing and 225.9 yards rushing. This is also a rematch of the 2014 quarterfinals when El Dorado beat Greenwood 24-14 after the Bulldogs had a bye. The winner advances to the state semifinals to face the winner of the Searcy at Pine Bluff.
Searcy at PINE BLUFF (24): Second meeting of these teams this season. Pine Bluff won at Searcy 68-28 Week 7. The two-time defending Class 6A state champion Zebras were off last week after winning a share of the 6A East with Jonesboro. The Zebras ride a six-game playoff winning streak, which dates back to its 2013 Class 6A state final to El Dorado. Searcy won at Lake Hamilton 25-16 last Friday when the Lions led 18-16 at halftime, before tossing a shutout after the break. The streaky Lions have won their past two games after getting outscored 190-101 in a winless October. Coach Mark Kelley's Lions started 4-1 on the field, and 5-0 after gaining a forfeit win over Morrillton. The winner will advance to the state semifinals against the winner of El Dorado at Greenwood.

BOTTOM HALF OF BRACKET
Benton at JONESBORO (4): Hootens.com Game of the Week
West Memphis at RUSSELLVILLE (17): West Memphis snapped a two-game losing skid and won its first playoff game since 2012 last week, topping Texarkana 29-15. Russellville earned a first-round bye as the number two seed from the 6A West. The Blue Devils started junior Michael Troxler (9 of 21 for 151 yards) at quarterback last week with Amarius Stinnett out with injury. Russellville's only loss came Week 7 at Greenwood, 27-24. A stout defensive front helps the Cyclones allow just 15.6 points. In the 2000 playoffs, running back De'Arrius Howard and West Memphis shattered the national single-game rushing record with 878 yards in a 74-37 win in Russellville. Two years later in the quarterfinals at West Memphis, Russellville beat the Blue Devils 42-35. The winner advances to the state semifinals against the winner of the Benton at Jonesboro.