Class 6A Week 2 Rankings, Notes & Picks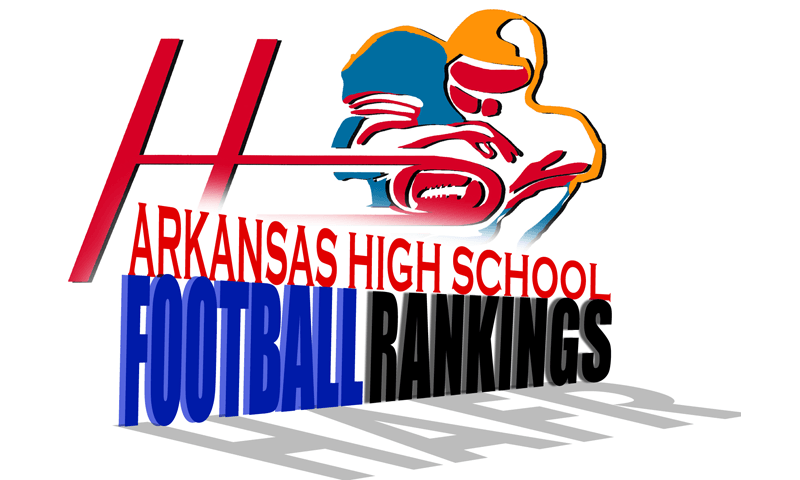 Hootens.com Rankings
Class 6A, Week 2, 2016
Copyright Wooten Publishing, Inc.
1. Greenwood (1-0)
2. Pine Bluff (0-1)
3. Jonesboro (1-0)
4. El Dorado (1-0)
5. Benton (0-1)
6. Russellville (1-0)
7. Searcy (1-0)
8. West Memphis (1-0)
9. Texarkana (0-1)
10. Lake Hamilton (1-0)
11. Marion (0-1)
12. Siloam Springs (0-1)
13. Sheridan (1-0)
14. Jacksonville (1-0)
15. Mountain Home (0-1)
16. LR Hall (1-0)

HOOTENS.COM GAME OF THE WEEK
No. 8 West Memphis at Class 5A No. 10 Blytheville
Blytheville beat West Memphis last year for the first time since 1999. All-state senior running back Demekko Clark (5-9, 205; 4.4 speed) ran 21 times for 116 yards in the 23-14 victory. His 65-yard touchdown run in the fourth quarter sealed the win. Clark, who finished 2015 with 1,918 yards and 23 TDs, picked up where he left off last week with 220 yards and two TDs on 17 carries in a 40-6 win over Osceola. Sophomore receiver Corey Witherspoon (5-7, 155; 4.5 speed) surprised with a 68-yard punt return for a TD. Junior tackle Larry Clark (6-4, 280) anchors a stout offensive line.
West Memphis mercy-ruled Forrest City 42-20 last week. Senior linebacker Jerry Edwards returned a fumble 21 yards for a TD on the opening snap. The Blue Devils rotated three running backs, including senior Martavis Thomas, who ran for two TDs. Junior quarterback Amarius Stinnett played well in his varsity debut. He ran 5 yards for a TD and threw a 28-yard TD pass to junior Steven Stone. Sophomore Desmond Howard returned a kickoff 87 yards for a score. Senior guard Jason Robinson (6-2, 340) leads West Memphis up front.

LAST WEEK
Hootens.com correctly picked 13 of 16 games (81 percent) involving 6A teams, nailing the spread of Greenwood by eight points over Fort Smith Northside.

WEEK 2 PREDICTIONS (favored team in CAPS followed by point spread)
6A EAST
Conway at JONESBORO (8): Conway lost to Springdale 37-30 last week. Springdale outgained Conway 415-263, holding the Wampus Cats to 27 yards rushing on 15 attempts and intercepting three passes. Jonesboro junior QB A.J. Aycock completed 18 of 27 passes for 407 yards and six TDs in a 65-41 win over Batesville. All-state senior receiver Jonathan Adams caught five passes for 139 yards and two TDs. Adams has committed to Arkansas State. Conway has won the past three meetings with Jonesboro by an average of 18 points.
Jacksonville at LR CATHOLIC (3): Jacksonville edged Mills 27-26 last week. Senior QB Rowdy Weathers passed for 203 yards, while junior RB Har-darrius Martin rushed for 190 yards and three TDs. Catholic surrendered 602 total yards in a 48-34 loss at Sylvan Hills.
LR Hall at MILLS (6): Hall beat LR Fair 28-0 last week, notching its first win in nearly five years. Mills pushed Jacksonville in a 27-26 loss. The Comets beat Hall 34-12 a year ago.
NETTLETON (14) at Mountain Home: Nettleton has defeated Mountain Home the past two seasons. The Raiders beat Pocahontas 42-20 last week, while Mountain Home fell to Harrison 21-13.
Watson Chapel at PINE BLUFF (14): Pine Bluff whipped Watson Chapel 50-13 a year ago. The Zebras pushed Class 7A No. 3 Cabot last week in a 28-27 loss. Senior QB Simeon Blair accounted for 315 total yards. Pine Bluff committed 11 penalties, including five on Cabot's game-winning drive.
Searcy at BATESVILLE (7): Searcy junior QB Mason Schucker and junior receiver Trenton Turner fueled the Lions last week in a 41-33 win over Valley View. Batesville generated 484 total yards in a 65-41 loss to Jonesboro.
WEST MEMPHIS (7) at Blytheville: See Hootens.com Game of the Week.
JACKSON, MO. (7) at Marion: Jackson (3-0) averages 44 ppg. The Indians totaled 528 yards in last week's 42-7 win at Sikeston, Mo. Junior QB Cooper Callis passed for 417 yards and five TDs. Jackson's enrollment would make them one of the larger Class 6A schools in Arkansas. Marion lost to Wynne 42-17 last week. Junior QB Jacob Green left the game with a knee injury and will likely miss the rest of the season.

6A WEST
CABOT (7) at El Dorado: Cabot rallied last week to beat Pine Bluff 28-27. Senior QB and Arkansas commit Jarrod Barnes leaped into the end zone on the final play to cap a 76-yard scoring drive. Barnes also returned a kickoff 85 yards for a score. El Dorado forced four turnovers in a 34-7 win over Camden Fairview. Junior defensive tackle Terry Hampton, who has a scholarship offer from Arkansas State, returned a fumble 90 yards for a TD. Senior RB Anthony Thomas ran 19 times for 109 yards. Junior QB Darius Holly (145 yards passing) completed 15 of 19 passes to six different receivers.
GREENWOOD (8) at FS Southside: Greenwood has won 20 of its past 23 games against Class 7A schools, including nine in a row. The Bulldogs beat FS Northside 33-25 last week, while Southside fell at Har-Ber 47-0. Greenwood has defeated Southside the past four seasons.
Heritage at RUSSELLVILLE (4): Heritage dropped its opener last week to LR Central 31-14. Central scored 21 points off three Heritage turnovers. Russellville edged Morrilton 14-11. Junior CB Josiah Woodard intercepted two passes, returning one 40 yards for a TD.
LR Parkview at BENTON (14): Parkview (idle last week) debuts under interim head coach Kenny Stephens. Benton's defense played well in last week's 10-7 loss to Bryant.
Harrison at SILOAM SPRINGS (2): Harrison opened last week with a 21-13 win over Mountain Home. Siloam Springs lost to Rogers 45-9. The Panthers have won the past two meetings with Harrison by an average of 14 points.
Malvern at LAKE HAMILTON (14): Malvern lost to Class 3A No. 1 Glen Rose 36-13 last week. Lake Hamilton defeated Hot Springs 28-17. Junior QB Dafavioun Haywood rushed for 44 yards and two TDs and completed Lake Hamilton's only pass, a 35-yarder to senior Jacob Graves.
Sheridan at ARKADELPHIA (3): Sheridan outgained Class 2A McCrory 407-80 in last week's 35-0 victory. Junior QB Justin Pruitt passed for 102 yards and two TDs and rushed for 97 yards. Arkadelphia has defeated Sheridan two of the past three seasons. The Badgers beat Stuttgart 41-30 last week.
PLEASANT GROVE, TEXAS (7) at Texarkana: Both teams lost last week. Pleasant Grove fell to Paris, Texas 23-22. Senior RB Logan Wesley ran 26 times for 168 yards. Texarkana managed 160 total yards in a 37-7 loss at Texas High.